Have you ever thought about taking a road trip with your dog? Follow along on our Dog Friendly Tour of America, for ideas on where to go and what to do!
As we mentioned in yesterday's post, we ended up getting a last minute hotel room in the town of Alpine, Wyoming. While it was not the town we had anticipated staying in, it was only about a half hour away from Jackson Hole and as it turns out, was an awesome find!
Alpine, Wyoming
Alpine is a small town Southwest of Jackson with a population of under 1,000. It sits at the junction of Rt. 89 and Rt 26 and at the edge of the Palisades Reservoir. Gorgeous mountain scenery surrounds the town in all directions.
Bull Moose Lodge
Our hotel, The Bull Moose Lodge, sits right in the heart of the town and it's across the parking lot saloon seems to be a popular spot for locals to grab a drink and hangout. The lodge itself is a small 3 story motel with beautiful, rustic, wood paneled rooms. We found that everything was clean and kept up nicely, and the staff was very friendly. Nothing too fancy, but just what we were looking for.
We grabbed a burger at the saloon next door just after checking in, and quickly began catching up on some much needed rest.
Coffee Cabin
It felt so nice to wake up on day 9 already in the place where we were going to be spending the day. Not only that, but we were actually going to be hanging around the area for a second day as well! Hooray for some time outside of the car!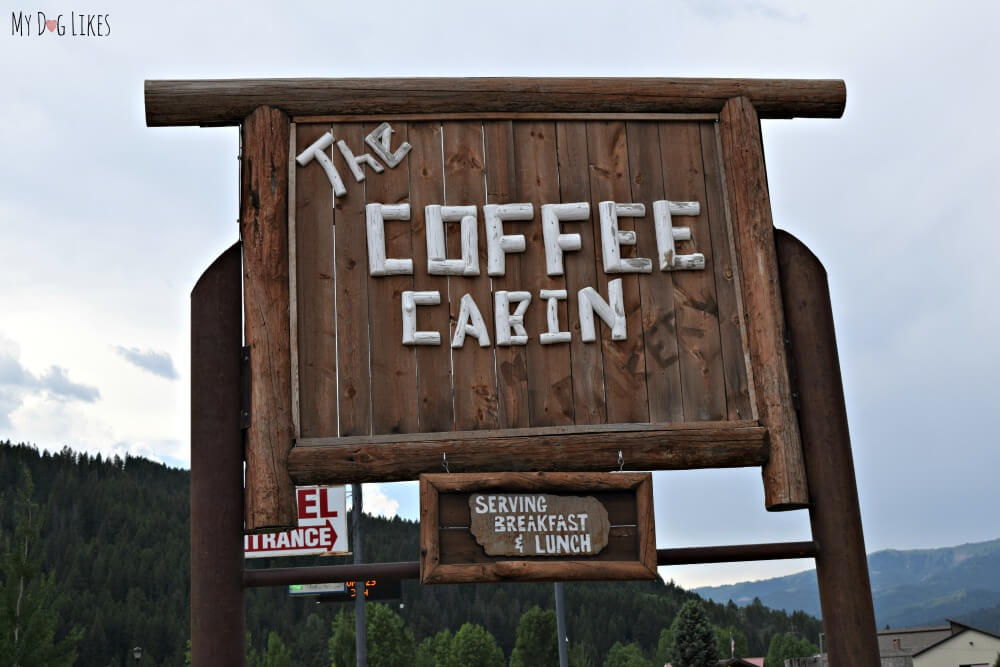 Since we had a big day of hiking planned, I wanted to pick up something hearty for breakfast. I hopped on Yelp and found a place called the Coffee Cabin – it was almost directly across the street and had great reviews!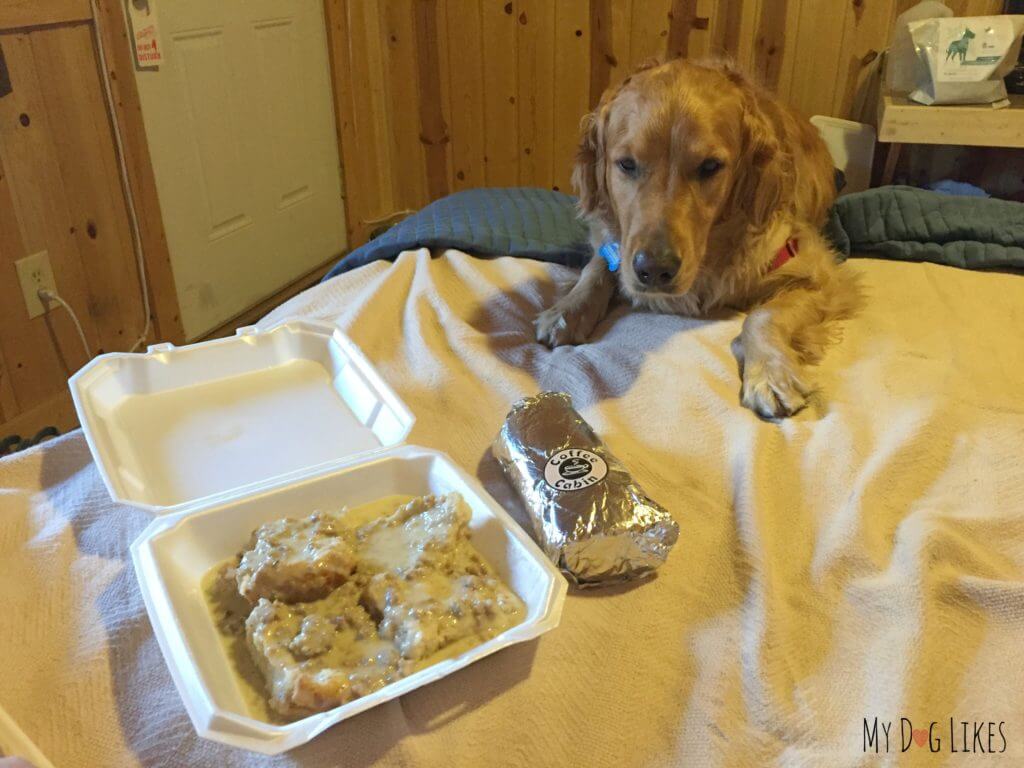 I picked us up a breakfast burrito AND an order of biscuits and sausage. (Vacation, remember!) Both were delicious and humongous. We also got some great coffee which we had been having trouble finding throughout much of the trip.
Hiking in Bridger-Teton National Forest
We wanted to avoid another Grand Staircase hiking situation so made a preemptive stop at the Alpine Forest Service to gather some trail recommendations before heading out. The woman at the office was beyond helpful and gave us great directions to some trails and swimming holes popular with local residents. We were also very happy to find out that dogs are welcome in their Visitor Center! We weren't even kicked out after Charlie (allegedly) attempted to steal a souvenir stuffed animal!
Overlooking Palisades Reservoir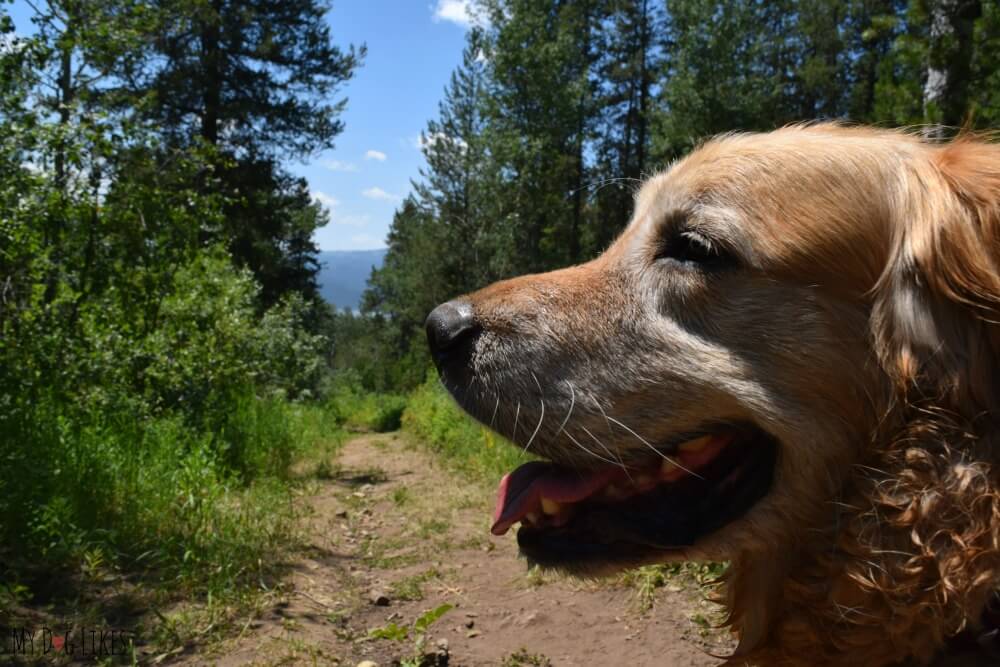 For our first hike of the day, we were directed a couple of miles North on Rt. 26 toward a hike with a great panoramic view. It was a relatively steep climb and got to be a bit much for Harley, so after 20 minutes or so, Rach headed back down with him while Charlie and I ventured on.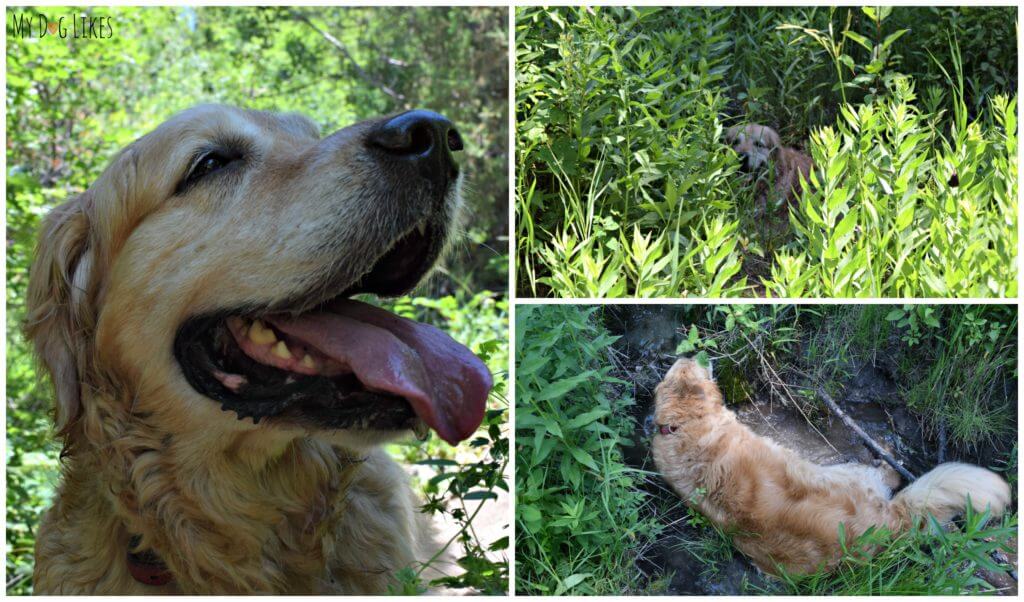 Harley, who refuses to drink from a collapsible bowl, was pretty warm on the way down and decided the best way to cool down was to take a rest in a small meandering creek that touched the trail. He laid here for about 5 minutes before standing up and deciding it was time to move down the trail!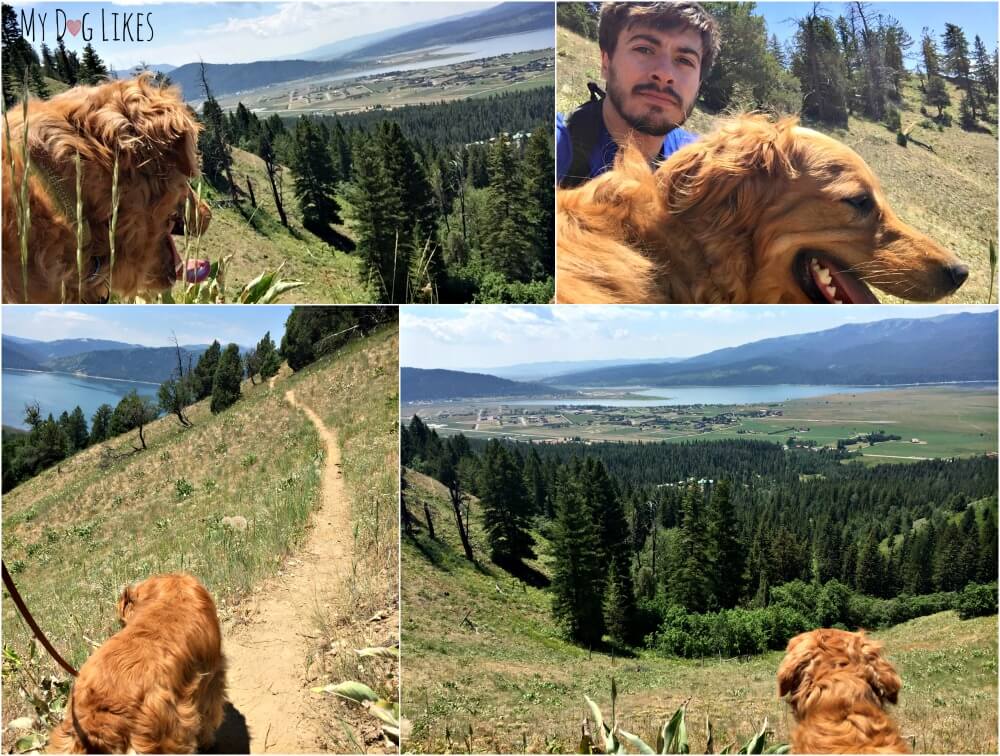 My and Charlie's persistence was rewarded when we finally reached a clearing in the forest and a skinny path winding along the top of the mountain. We could see for many miles overlooking the town of Alpine and the Palisades Reservoir – a view Charlie and I enjoyed for a good while before heading back down.
Squaw Creek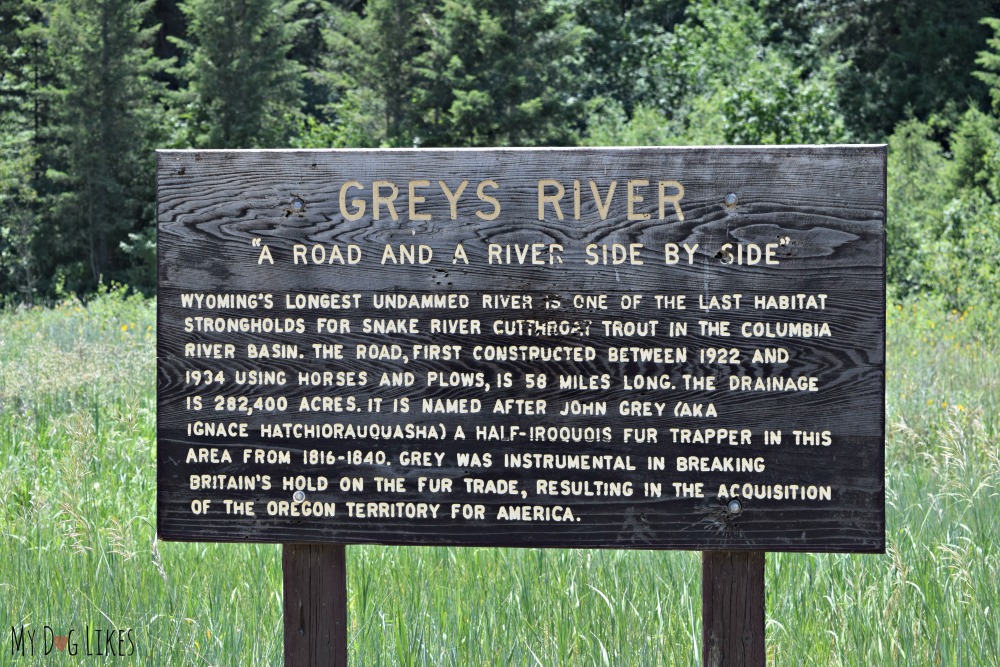 After working up a sweat on the hike we wanted to get the boys cooled off in some fresh mountain streams. We took another recommendation and headed down Grey's River Road toward Squaw Creek. Grey's River quickly becomes a dirt road after leaving Alpine and has many side roads that continue in either direction and lead to camping sites and other streams. Squaw Creek was recommended to us and was easy to find, we simply continued down Grey River Road roughly 5 miles until we reached Forest Road 10001 on our Right.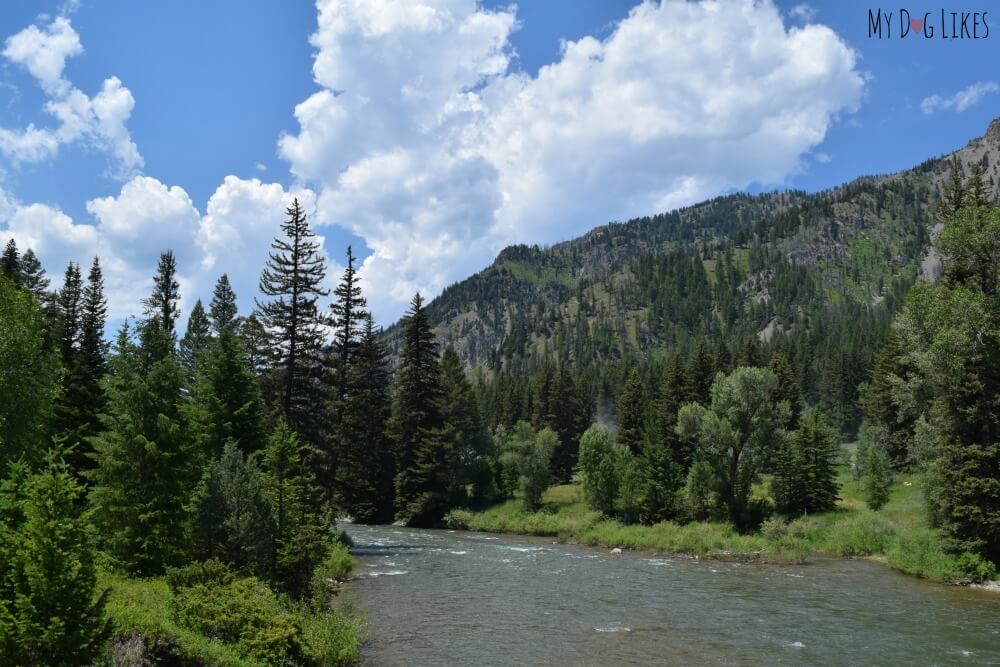 Once you reach this forest road, head over the bridge crossing Grey's River and you will see Squaw Creek entering on your left. Since there were a few fisherman and campers at the bottom, we continued up the road for a while looking for a good spot to enter the stream.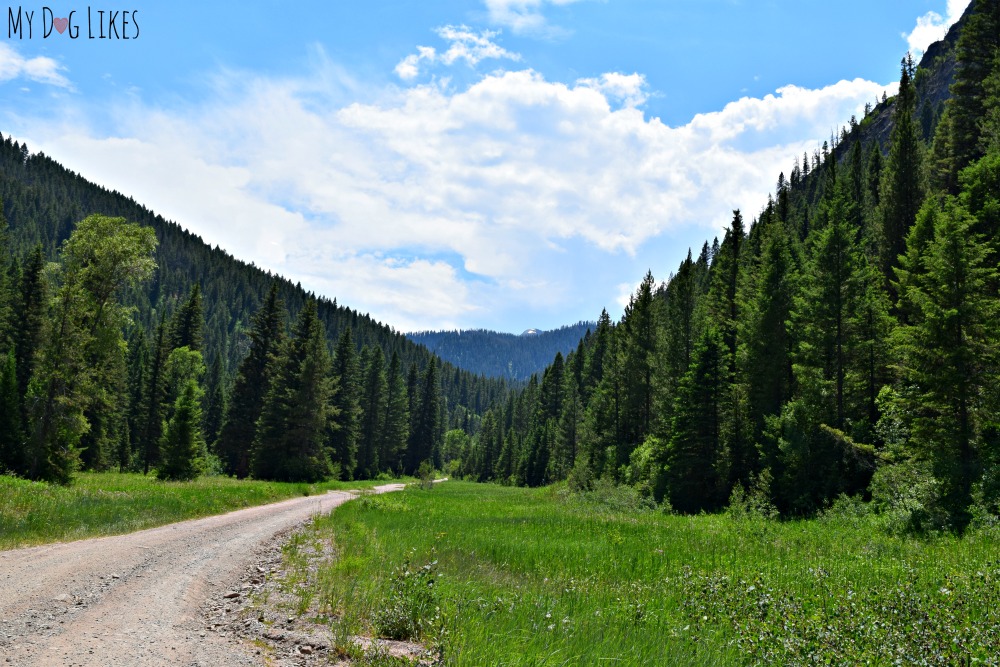 Warning – This road is not meant for a minivan! It was in rough shape and we really put the Town & Country to the test winding around huge holes in the road. If you do decide to venture up, you will not be able to turn around for a good distance so sending someone to run up ahead may not be a bad idea!
We actually made it up as far as we could go this time of year and found that the swimming was better down below. We turned back down and finally let the boys take a dip!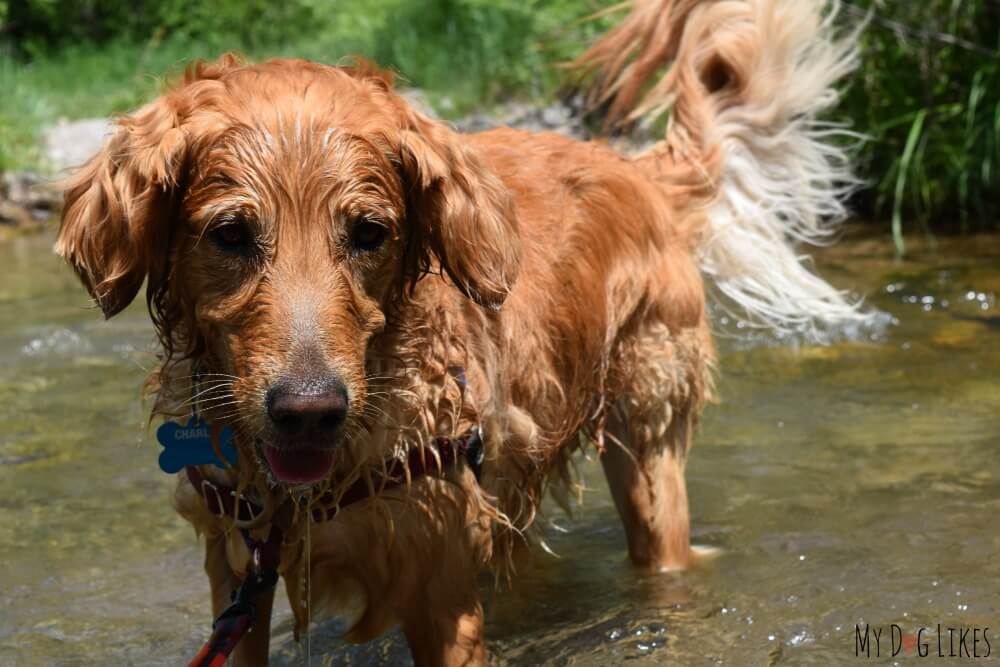 Harley and Charlie were thrilled to be splashing around and we took off our shoes to join them. Be warned, this water is COLD!
Exploring Grand Teton National Park with Dogs
After all of our hiking and swimming we decided the boys could handle some time in the car and headed up toward Jackson Hole and Grand Teton National Park.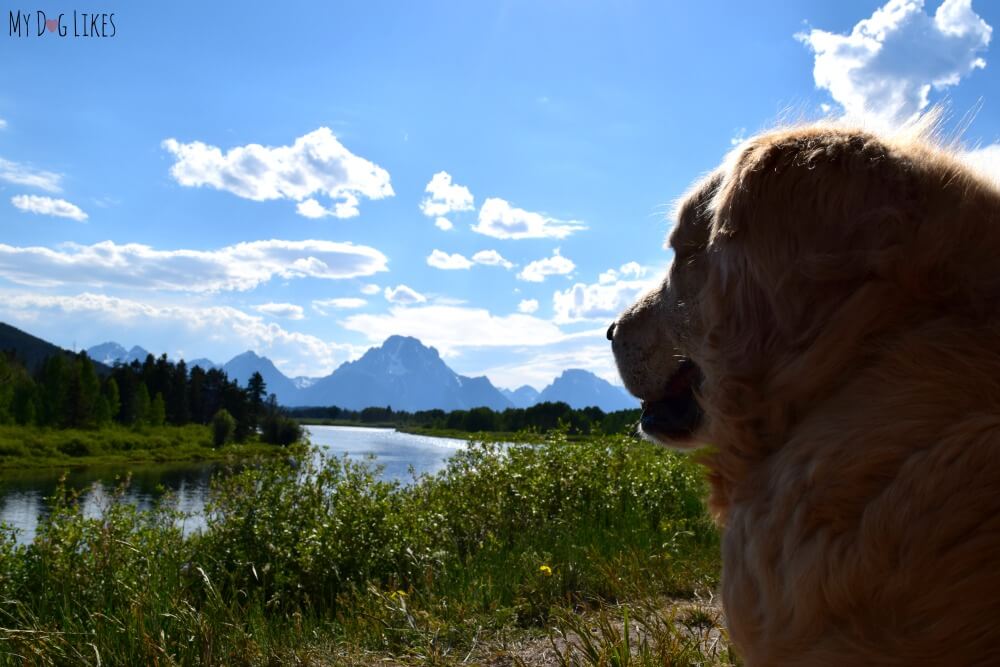 Driving the Grand Teton Loop
Heading North from Jackson Hole on Route 89, you will find the breathtaking Grand Teton's on your left. This road continues all the way to Yellowstone, or you can make a left and stick to the Grand Teton Loop. Since we had Yellowstone penciled in for the next day, we took the left onto Route 191 near Moran. Here you will hit a ranger station and have to pay $30 for a Grand Teton Park Entrance Fee.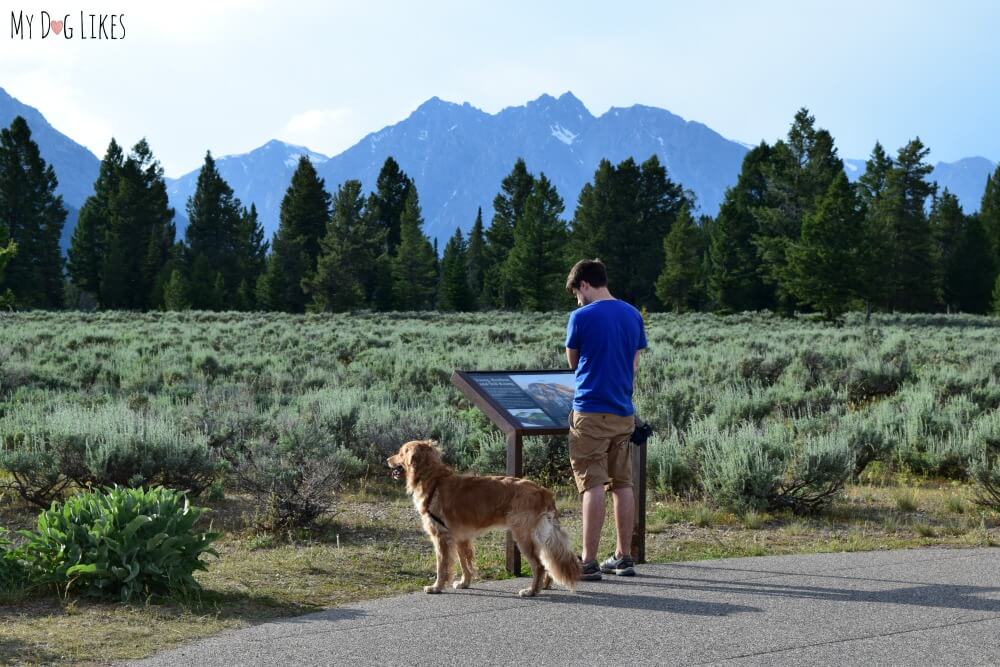 This route takes you very close to the base of the Teton range and Jackson Lake, where the views are absolutely stunning! We took a side road up Signal Mountain for more of an aerial view of the park and this was definitely worth the detour. We will detail our visit much more in a later post, but in total we explored Grand Teton for several hours, saw some amazing scenery and some great wildlife as well!
Dog Friendly Hotels in Jackson Hole, Wyoming
We knew we wanted to spend the night in Jackson Hole, and as we touched on briefly in yesterday's post, it is an expensive area. Perhaps we should have realized this being a popular ski town, but nonetheless, we had not booked ahead. The cheapest room we found was a Motel 6 for $180 a night! We weren't thrilled but that was going to be our best bet! Oh well, we were very excited to make the drive past Grand Teton the next day and then into Yellowstone National Park!
What we Learned on Day 9
Ask a Local for Trail Recommendations
Who know's the area better than the locals? We were so pleased with both recommendations from the Alpine Visitors Center. This info allowed us to get right down to business and start hiking as soon as possible, instead of aimlessly searching the internet or driving around looking for a trail.
Motel 6 Wifi is a Ripoff
It has been quite a while since I stayed at a place that did not offer free wifi. Our Motel 6 in Jackson, Wyoming had wifi available for $2.99 or $4.99 per day, depending on if you would like to be able to stream. We opted for the higher plan since we are blogging from the road. Rach and I work as a team, one writing and setting up the post while the other edits and uploads photos. This adventure is a big deal for our business and we didn't want to deal with slow connection headaches. Well, as it turns out, the wifi code (that you also have to retrieve in person from the front desk) is only good for one device. Seriously?!! This means that only one of us could work at a time and it was extremely frustrating. None of this was explained up front which made the situation all the more annoying. You may be thinking "well it is a Motel 6", but it was still $180/ night!
Quick Stats
Miles traveled: 121
States passed through:  1 – Wyoming
Gas fill ups: 1
Stay tuned for our Yellowstone visit tomorrow!