We were blown away by the scenery when we awoke on day 8 in Provo, Utah. Having arrived so late at night we had completely missed the surrounding mountains and beautiful Provo River on the way into town! The general plan for the day was to make our way into Wyoming and hopefully settle into the Jackson area for a couple of days…
Baymont Inn & Suites
Last night marked our first stay at a Baymont Inn & Suites and we were extremely pleased. We have started to realize that "pets allowed" does not necessarily mean "pet friendly" when it comes to the grounds and surroundings. The Provo Baymont Inn & Suites was a wonderful exception however with a great space for letting the dogs out to use the bathroom. Not only that, but the hotel itself backs up against the Provo River Parkway which is a 16 mile paved trail winding along the Provo river. This is a great path for talking a walk and getting the dogs some exercise. Rach was able to take advantage of this trail while I loaded up the car before we left.
Dr. Harvey's – Breakfast of Champions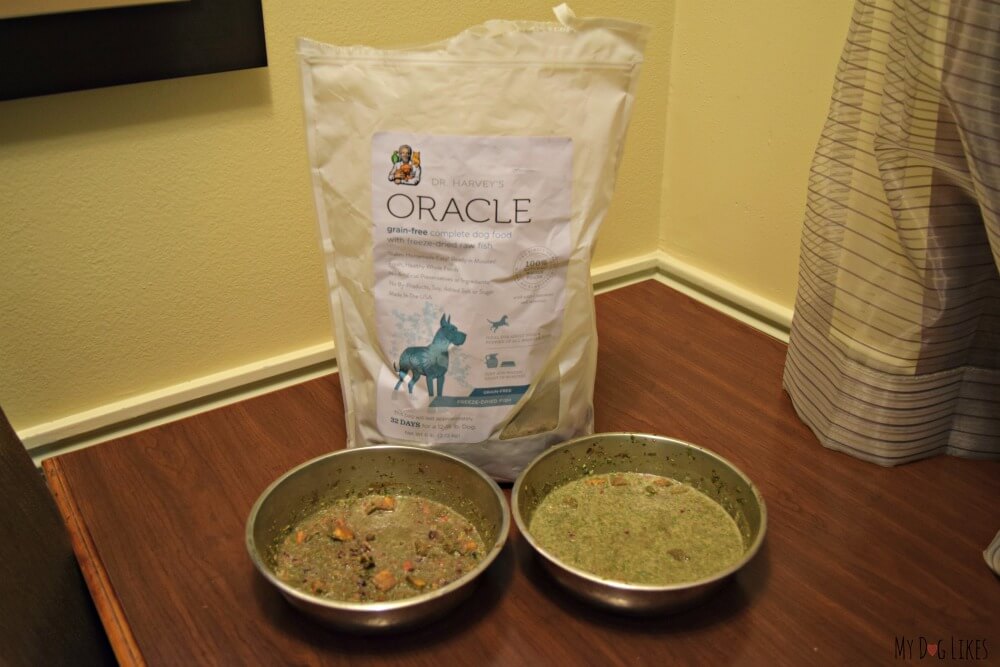 When we are at home we feed the boys a homemade diet with the help of Dr. Harvey's Veg-to-Bowl and other supplements. For this reason, many of you have been wondering what we chose to feed the boys on this two week road trip. Well, there was no way we could bring along enough prepared food (or keep it cold) during this entire trip! Thankfully, Dr. Harvey's offers another product, Oracle, which is a complete balanced diet for dogs. As trip sponsors, they were kind enough to supply us with enough food for our journey, and we were thrilled to be able to continue giving them the level of nutrition that they are accustomed to.
Oracle is a dehydrated food which means it saves us big time on space, and it also does not require refrigeration! All we need to do is mix with water and it is ready to eat!
Tip: Another thing that we love about Oracle is that you control the water content. As you can see in the photo above we have been making it a bit "soupy" to encourage the boys to take in more water in this oppressive heat!
Driving from Utah to Wyoming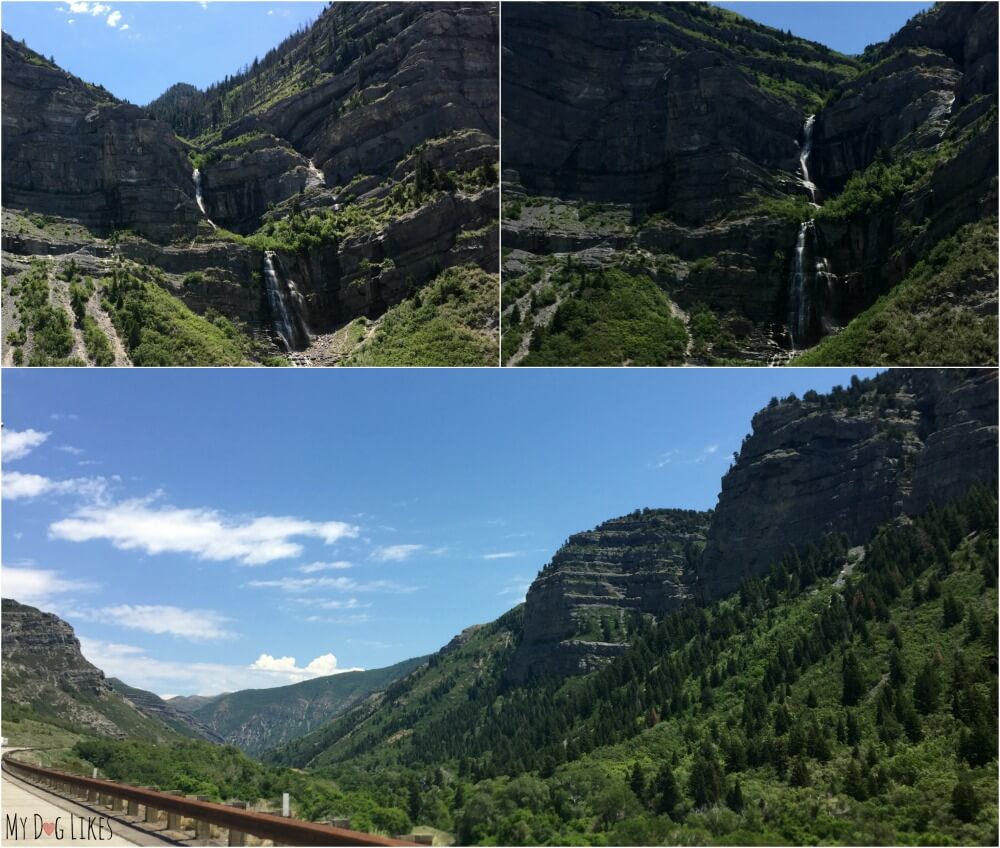 The drive out of Provo, through Orem and into Wyoming was absolutely picturesque. Gorgeous snow capped mountains surround luscious lakes, rivers and streams. I imagine the hiking in this area is just phenomenal. This is definitely a place we would love to come back to and explore on a future trip.
Hello Wyoming!

Bear River State Park
Shortly after hitting Wyoming, while driving along I-80, we saw a sign for Bear River State Park and decided to take a look and give the dogs a chance to stretch. This turned out to be such a great find! Not only were there nice facilities to use the restroom, but there was a great path to take the dogs for a walk.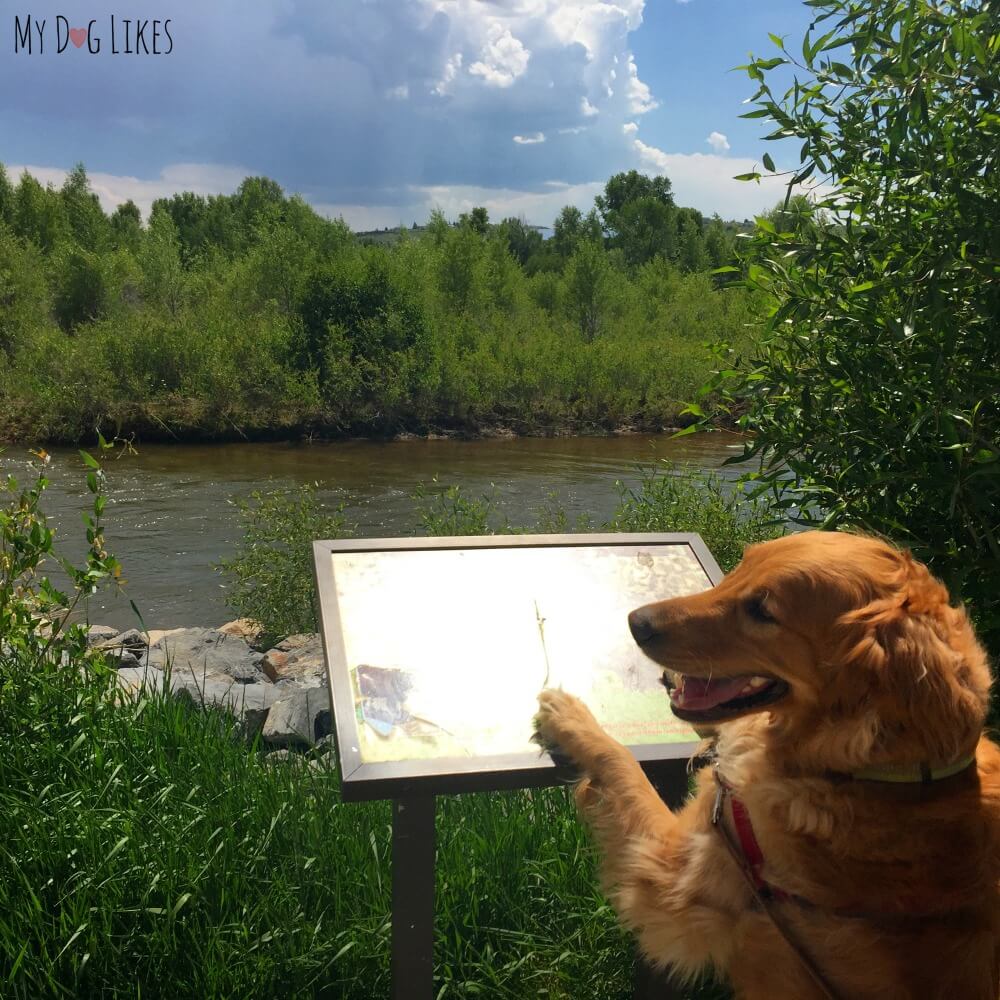 As it turns out, this park is home to a small herd of elk and bison and moose also frequent the area! Although we we did not see any wildlife during our visit, we really enjoyed the walk along the river and reading the displays about the local wildlife. This turned out to be the PERFECT stop, and was literally within a mile of our route!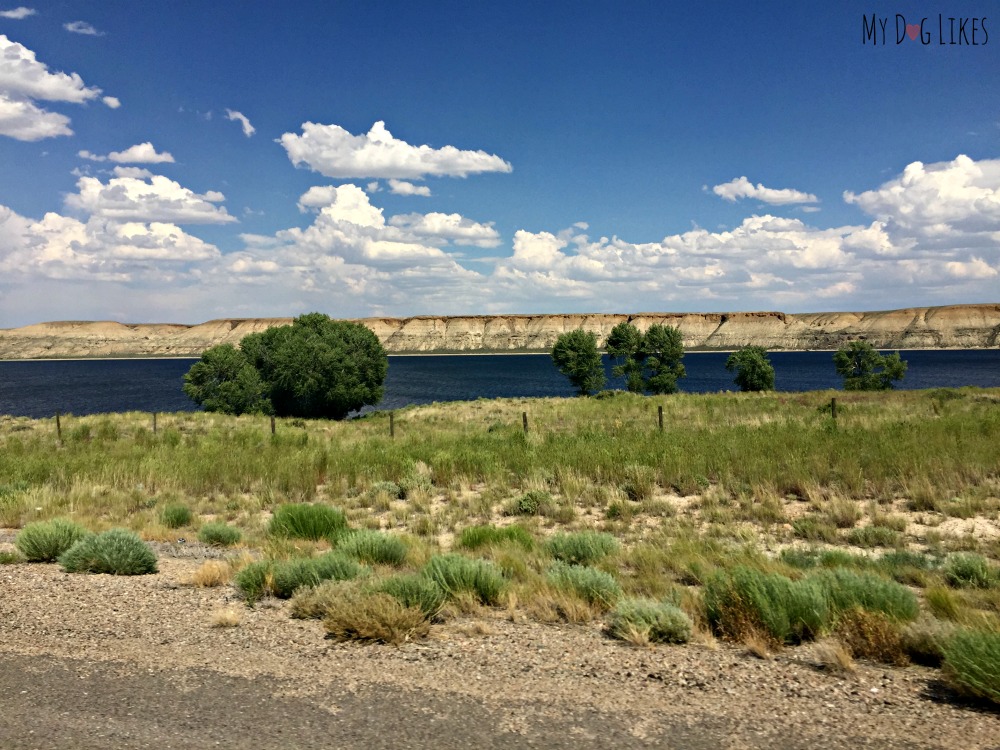 After this stop, our route through Wyoming was wide open and flat, although we were surprised when we ran into the gorgeous Fontenelle reservoir! Other than that we saw lots of oil fields and salt deposits along the way which were actually quite interesting. Check the video below to get a idea of what this leg of the drive was like…
We had hoped to reach Bridger-Teton National Forest and have the chance to hike around a bit. As tends to happen, we got on the road a bit later than expected so did not have the time, but we were able to drive around and get acquainted with the area. No worries, we have the time built in to explore tomorrow!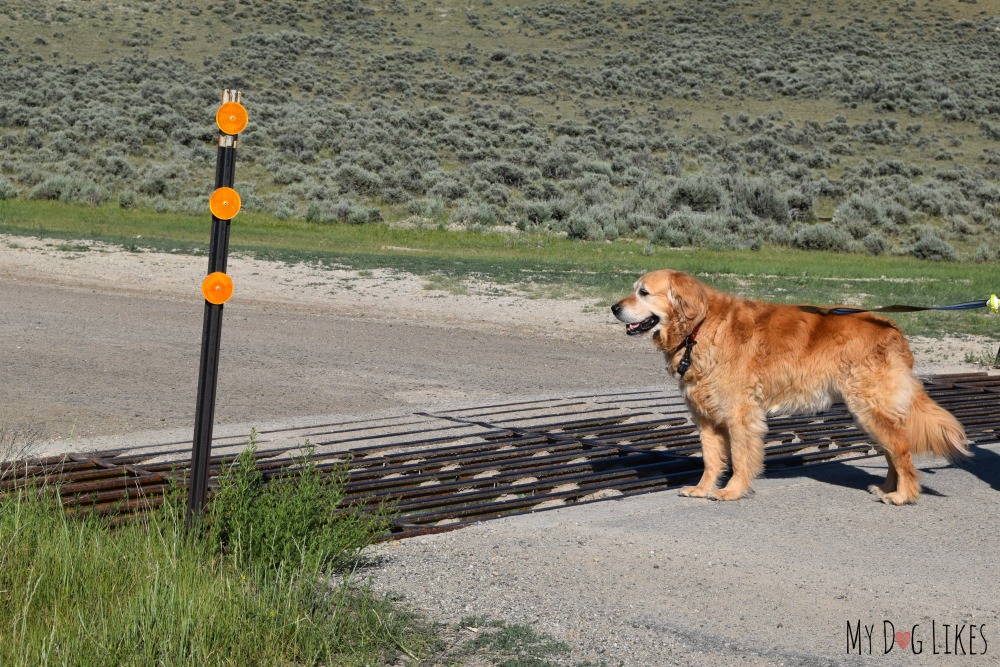 Turns out a cattle grate will stop a dog in his tracks as well!
Entering Bridger-Teton and Hoback Junction
We planned to spend the night in Jackson, WY but did not realize how expensive of a town it is! There are a few surrounding towns to consider however if you are booking a stay including Hoback, Alpine, Bondurant, and Moran. Hoback serves as sort of a central junction point where you can head North toward Jackson, Southwest toward Alpine, or Southeast toward Bondurant. Here you will also find a gas station and a market to stock up on supplies.
We lucked out and secured the last room at the Bull Moose Lodge in Alpine, Wyoming to spend the night. As it turns out this was a fantastic find. We will talk more about it in Day 9, but the lodge also has a bar and restaurant right next door!
What we Learned on Day 8
Fill up on Gas in Southern Wyoming
Whether you are taking Route 189 or 191, you will want to fill up on gas as you can on your way North through Wyoming. We filled up as we left Provo, Utah but opted not to top off in Kemmerer or Big Piney. As it turns out, most of the small towns on the way up toward Hoback do not have gas stations. We started to get a bit nervous in this 1.5 hour stretch, but did find one (luckily) in Bondurant. We made it, but it was not worth the nerves or extra cost (it was no doubt a bit more expensive than we would have paid back in Big Piney!)
Consider booking ahead for the Jackson Area
We had been having great luck with last minute Priceline deals, but had no idea how expensive the Jackson area would be. The only options left at the time of our search (same day) were between $200-400/night! 
Watch your speed in Wyoming
There is always a grace period when it comes to speed limits – or at least that's what we thought. As it turns out, 70 means 70! Rach was pulled over for 75 in a 70, which is right where most consider the "safe zone." The officer was very kind and let us off with a warning, explaining that in Wyoming the speed limit is the speed limit!
Quick Stats
Miles traveled: 321
States passed through:  2 – Utah, Wyoming
Gas fill ups: 2
Stay tuned to see where we visit tomorrow!