This post is sponsored by Absorbine and the BlogPaws Professional Pet Blogger Network. We are being compensated for helping spread the word about Woof Pouf but MyDogLikes only shares information we feel is relevant to our readers. Absorbine is not responsible for the content of this article.
I love my pups. Every stinky, smelly, and oh so sweet part of them.
Even though they are oh so wonderful, from time to time they have just a little too much stink even for a Momma to love. Like today for example, when Charlie laid in a bed that another dog had peed in (unknown to me). He smelled a little ripe for picking and I knew he needed a bath, BADLY.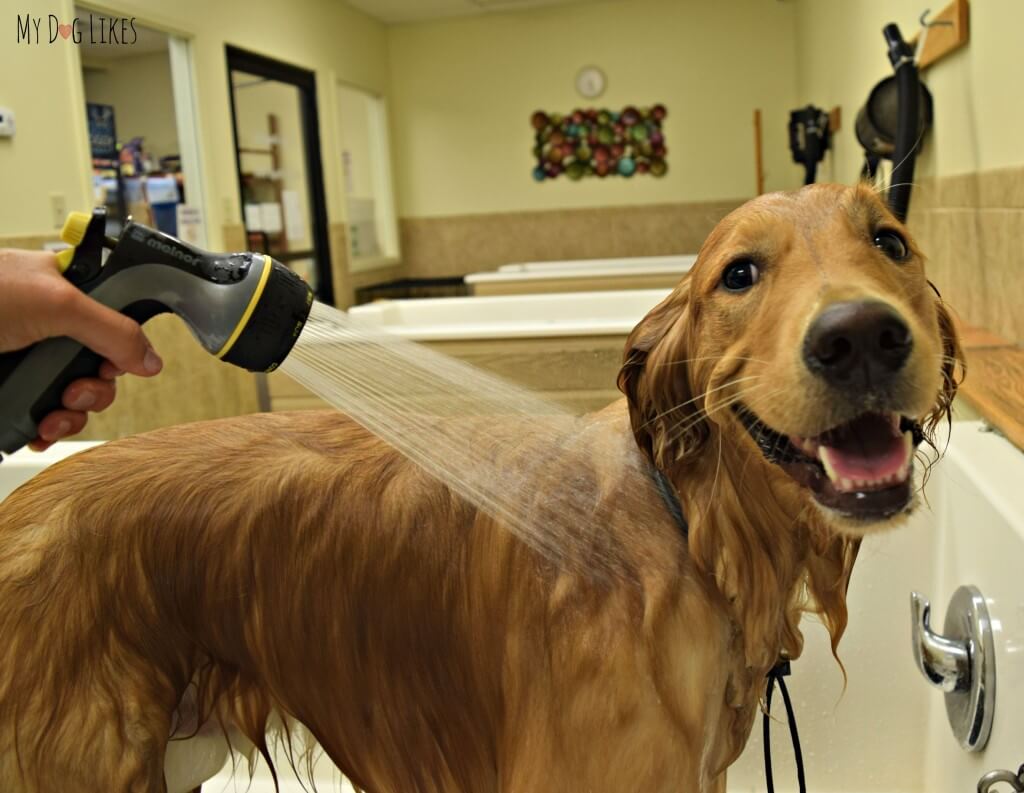 Since we are always looking for ways to make life a little easier I took Charlie to the self-wash on my way home from work. My typical practice is to have twice as many people as dogs, but I had a stinky pup and knew this was going to be a solo mission.
You know what stinks more than my pup, washing said pup, alone.
Click here for our Guide to Bathing a Dog
My Top Bath Pet Peeves
so many wiggles, not enough hands

soap spilling everywhere

hard to reach spots and small delicate areas
Today, I had an ally.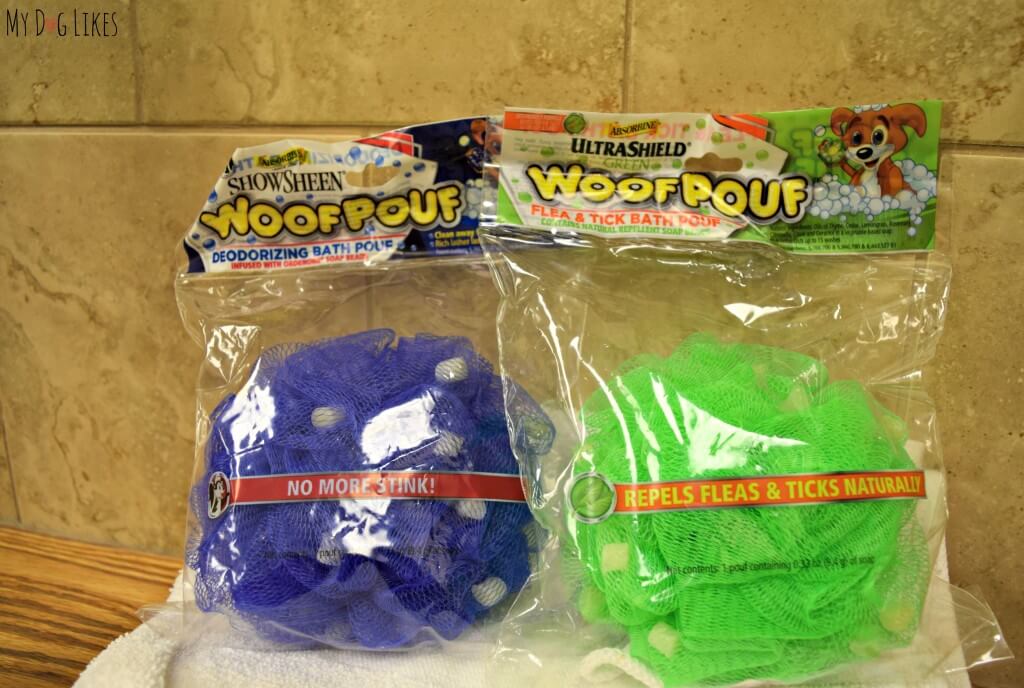 The  Absorbine® Woof PoufTM
The Absorbine Woof Pouf is a patented bath loofah designed to keep your dog fresh and clean with the convenience of an all in one product. Gone are the days of dropping the shampoo bottle while you wrestle with a wiggly puppy, this pouf has all the soap you need to get your pup "so fresh and so clean"contained within. How you ask? The Woof Pouf is made with unique soap beads that gradually dissolve, producing a rich and luxurious lather.

Baths are simplified and your ingredients for an easy bath are in hand, literally. All you need is a Woof Pouf and some and water! No more fumbling around with a slippery bottle of shampoo every 30 seconds!
The Woof Pouf comes in 2 varieties:
The ShowSheen® – This pouf contains Ordenone® soap beads that work great on a wide variety of odors. Ordenone works by trapping and neutralizing the molecules that cause odors, and can even be used for skunk odor elimination! Last but not least, this soap is eco safe as well containing no sulfates or parabens.
The UltraShield® – This pouf contains soap beads with a natural herbal extract that work to repel fleas and ticks without the use of harsh chemicals and pesticides!
Pouf Its Magic
While it's not out of the ordinary for our playful pup to make a mess, I knew I needed an extra helper at the self-wash to ensure that Charlie smelled "sweet as can be" and not like pee! So, how did the Woof Pouf work for us?
Great!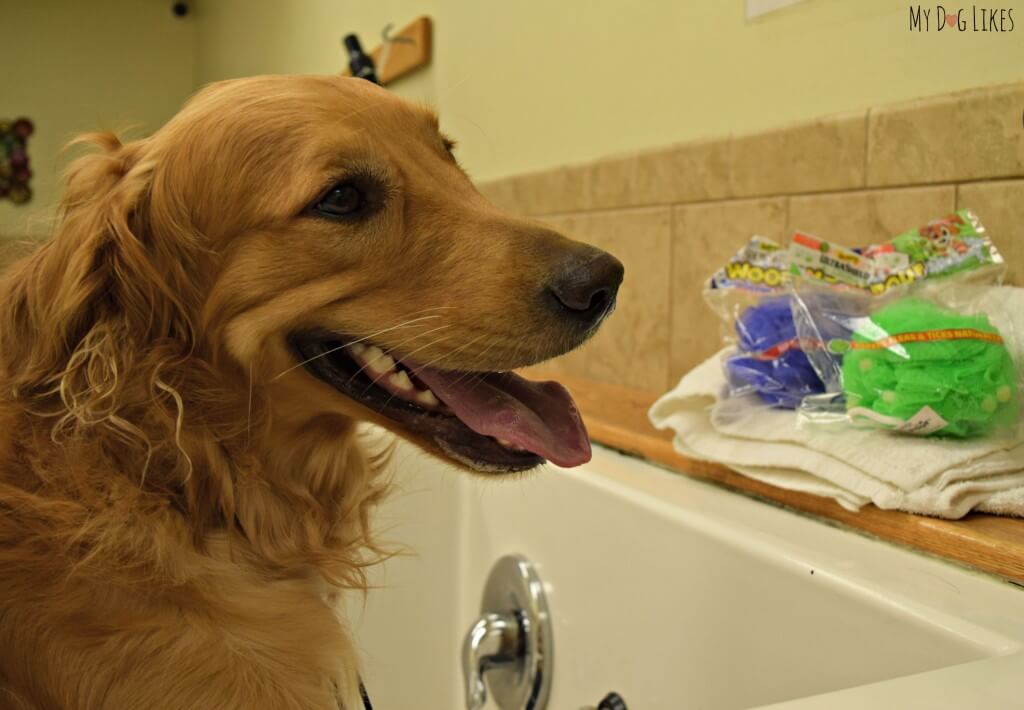 Top 5 features of the ShowSheen Ordenone Woof Pouf:
1. Simplified and ALL-IN-ONE – One of the features I loved right off the bat was the ability to have just one product in the tub. With a little bit of water, the shampoo beads lathered up nicely and prevented me from fumbling with a wet, slippery bottle.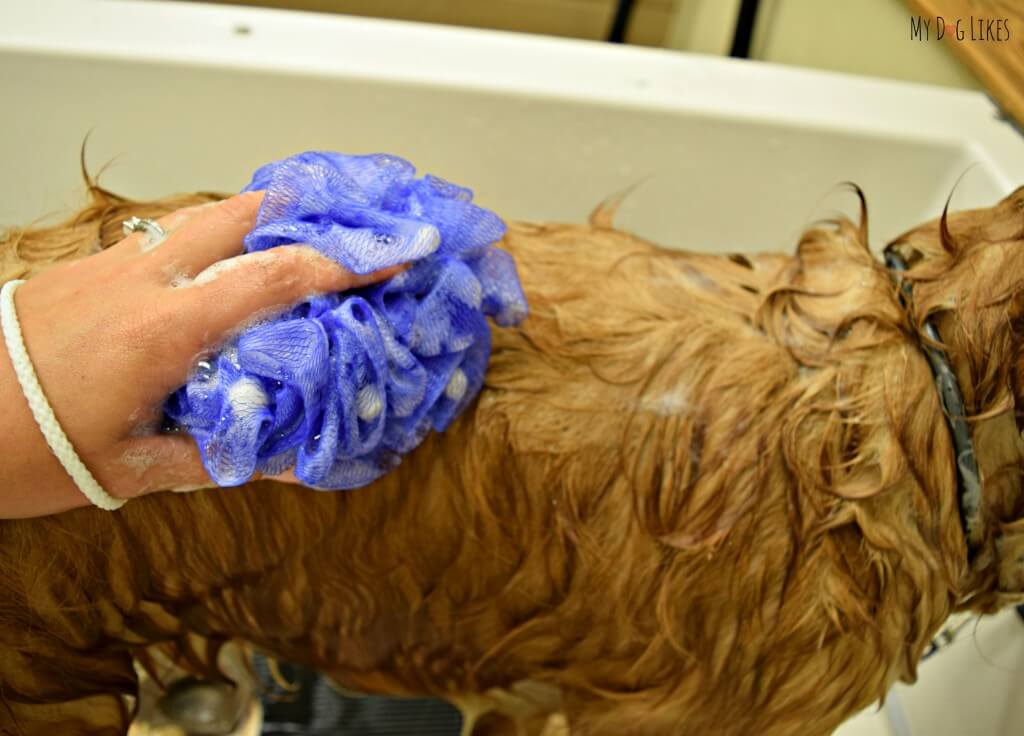 Though the Woof Pouf could be convenient enough to take on vacation and then toss, the makers indicate it can be used as many as 15 times before it's time to re-up and purchase a new one. Given that the poof looked EXACTLY the same after one use, I totally believe it!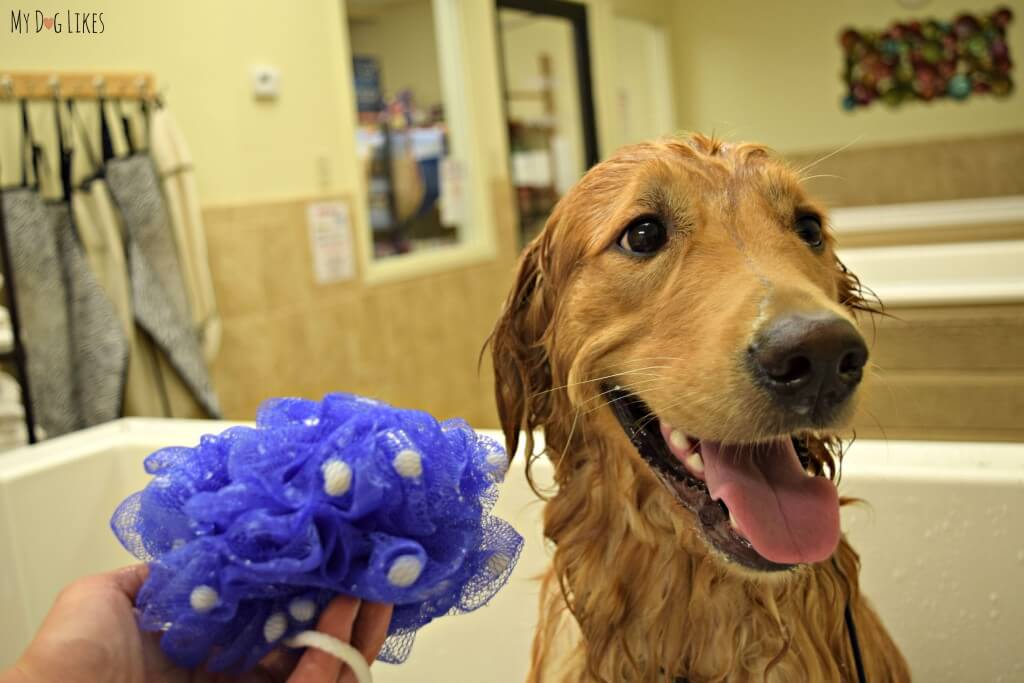 2. Soap-On a ROPE-Since there was only one of me, I loved being able to put the rope of the Woof Pouf around my wrist-giving me hands free access to my slippery escape artist (a.k.a-Charlie).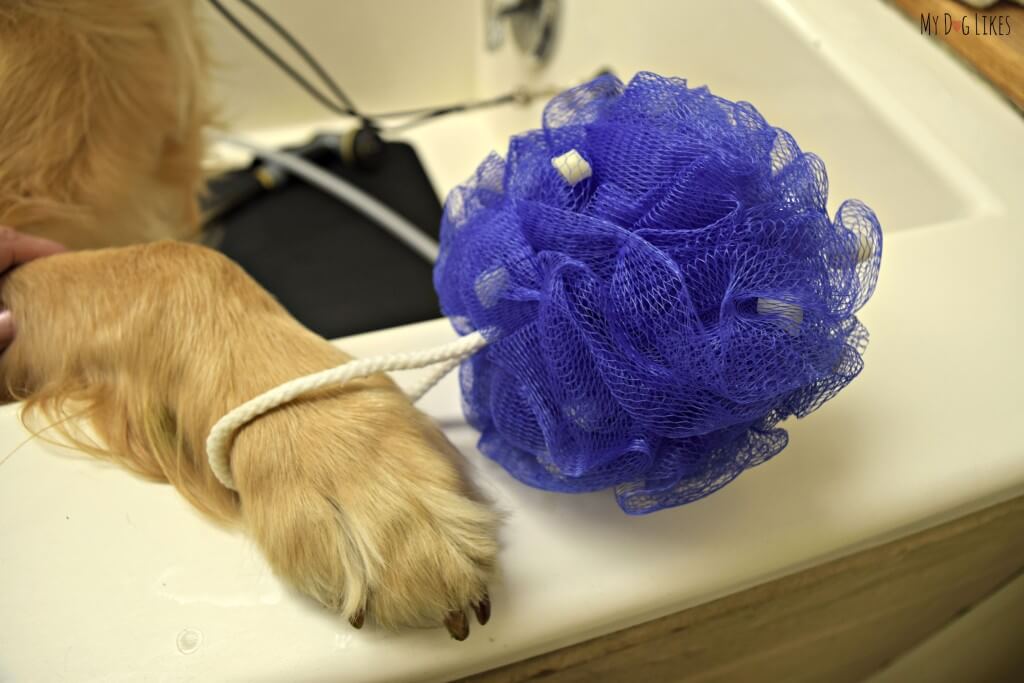 I also liked that I could hook it around the faucet when I was rinsing or getting more water from the hose and not be forced to fumble around looking for it afterward.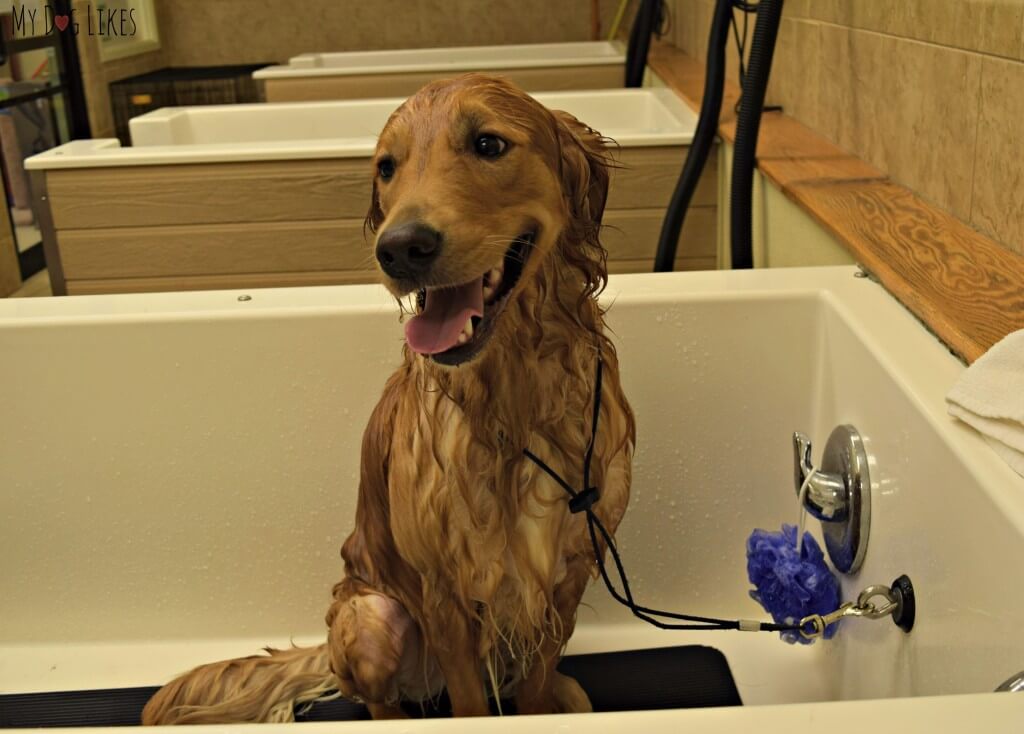 3. Smells be GONE-Did it work? You betcha! Charlie didn't smell like urine anymore! While this is a victory on its own, I loved that Charlie's odors were neutralized rather that covered with heavy scents or perfumes. Charlie didn't smell like anything in particular after his bath-just fresh, clean, and natural.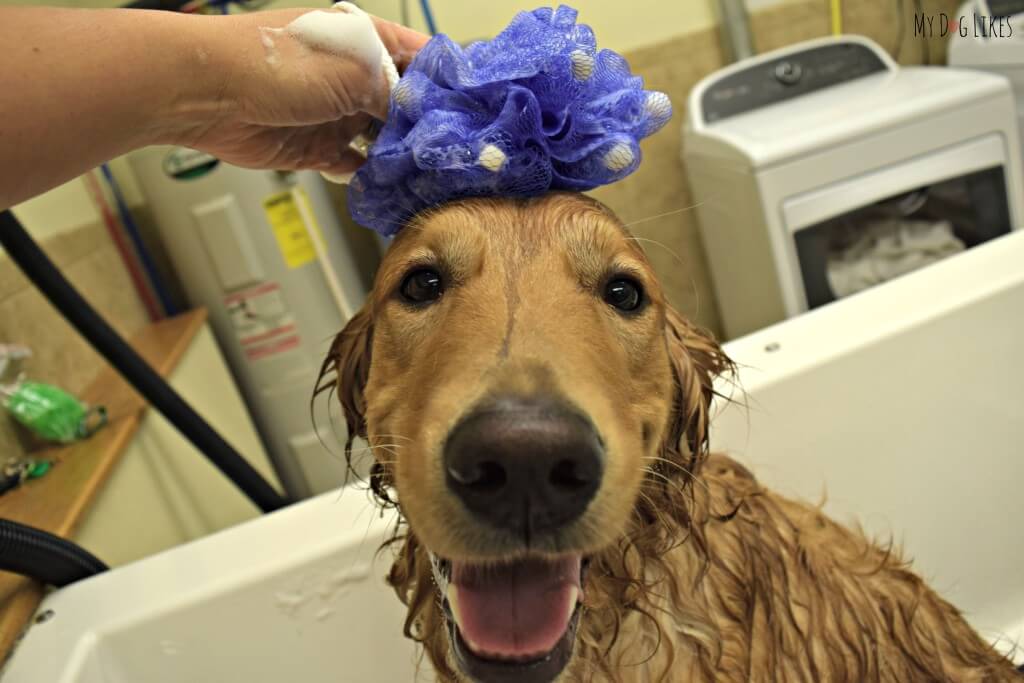 4. Tough on Odors, Gentle on Sensitive Skin – Surely if it works well to neutralize odors, it must be hard on sensitive skin? Wrong! Charlie has been an itchy friend all summer, but his skin was cool and calm after use.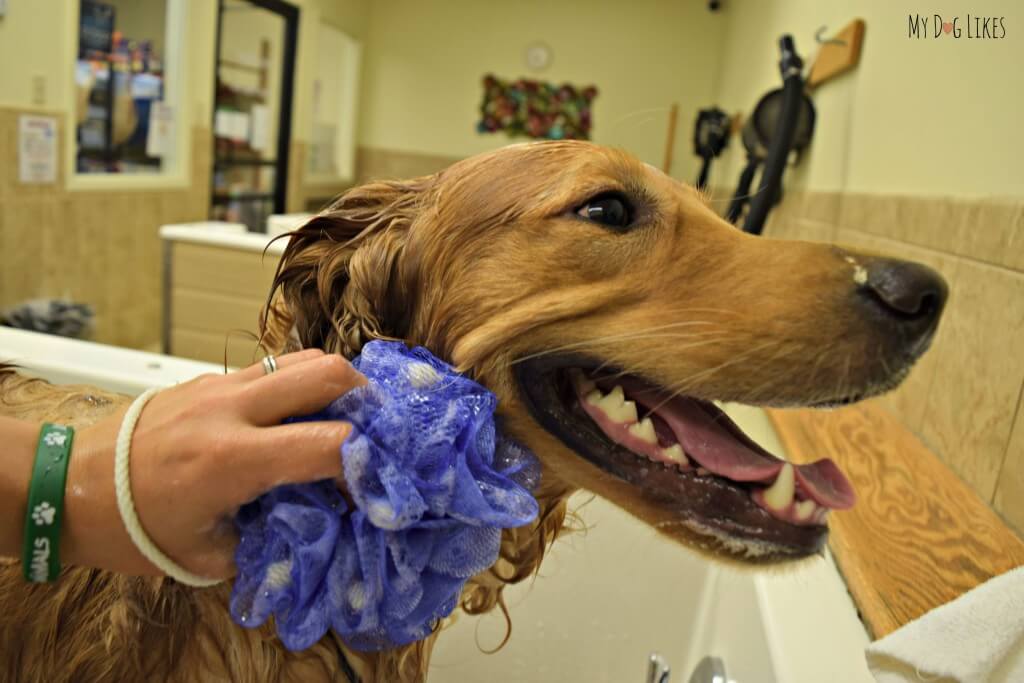 5. Tough to Reach/Special Areas – Last,but certainly not least, my favorite feature was the ability to scrub in difficult to access areas like the underbelly, legs,and paws. What happens so often during our baths is that I pour shampoo into my hand and watch as half of it drips off before making it to these difficult to reach areas. Since the shampoo is right in the pouf, I was able to access all of these difficult areas with ease and without waste. It worked great on delicate areas like Charlie's head and face as well. I was able to use it to manipulate these smaller and tighter spots with no soap getting in his eyes!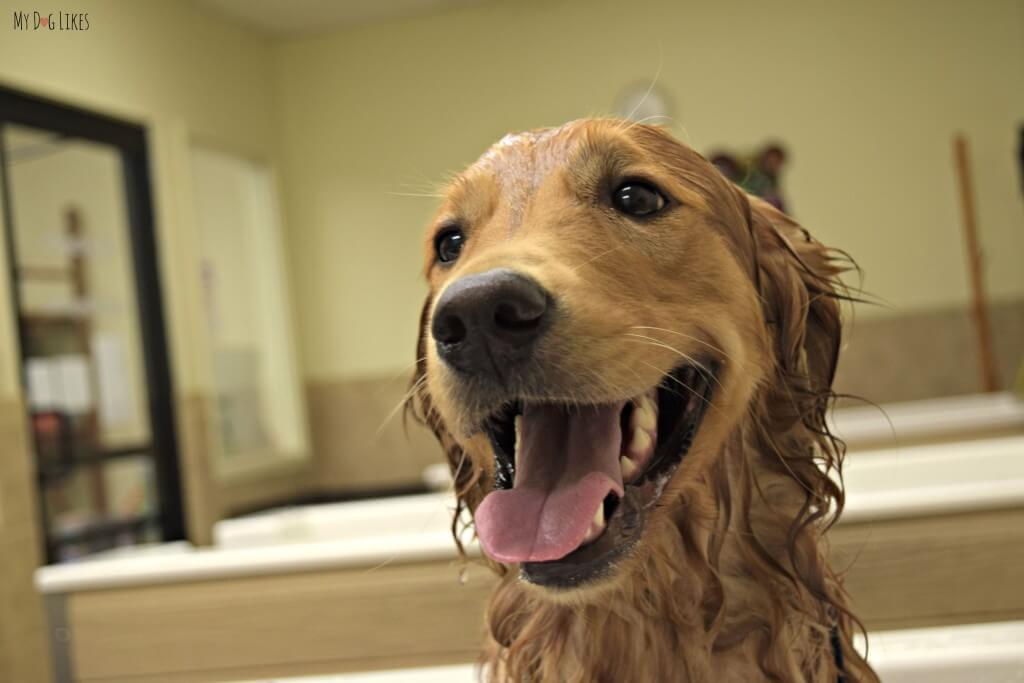 Even the most tolerant of dogs can be difficult to control in the bathtub. How many times have you accidentally dropped or knocked over that open bottle of shampoo? We love that the Woof Pouf has soap build right in and lets us focus on the task at hand. 
Overall, we loved the Woof Pouf and would recommend it for people with dogs of all shapes and sizes. Not only was it really convenient and would be great for traveling, but it really works!
I

nterested in picking up a Woof Pouf of your own?