This post is sponsored by Stella & Chewy's and the BlogPaws Professional Pet Blogger Network. We are being compensated for helping spread the word about Meal Mixers, but MyDogLikes only shares information we feel is relevant to our readers. Stella & Chewy's is not responsible for the content of this article.
If you spend any amount of time on the internet, you have likely read an article or two about the benefits of raw feeding.
Sure, the experts agree that raw feeding is good for dogs, but is there a single soul out there who doesn't shudder at the idea of prepping even one more meal (we have enough trouble getting healthy meals on the table, let alone in the bowl). We're with you, even with the best of intentions, the thought of planning and preparing raw meals feels a bit overwhelming to us.
With the desire to balance optimal health for our dogs with time and money to do so, we have spent most of the past year experimenting with various methods of raw feeding. Today, we are very excited to tell you about our latest discovery –  Stella and Chewy's® Meal Mixers.
Stella & Chewy's Meal Mixers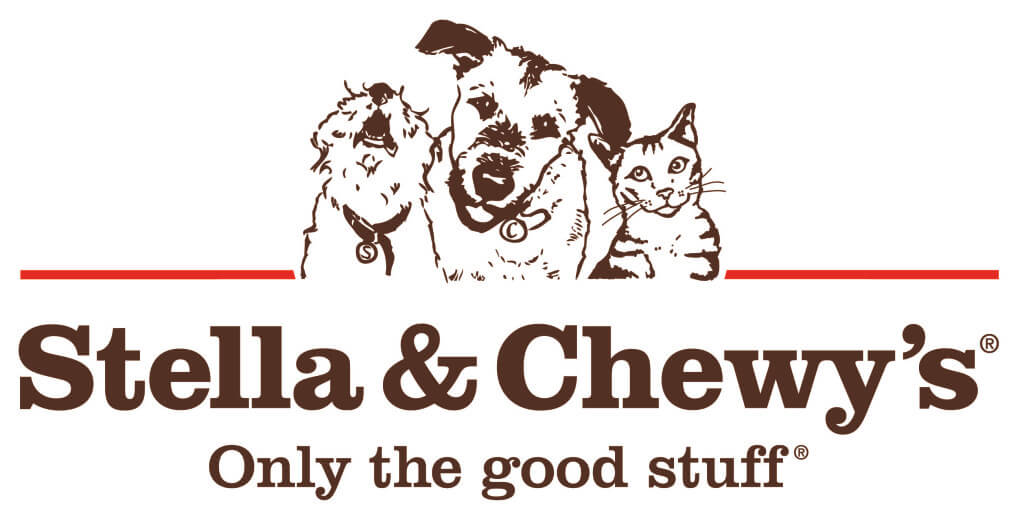 Stella and Chewy's Meal Mixers are a convenient way to incorporate raw into your dog's diet. This freeze dried raw pet food can be served on its own or as an addition to your dog's current kibble. The ingredients list includes 95% nutrient-rich meat, organs and bone, which is complimented with organic fruits, vegetables, and probiotics & antioxidants. It is also completely grain and gluten free! Take a look at these ingredients!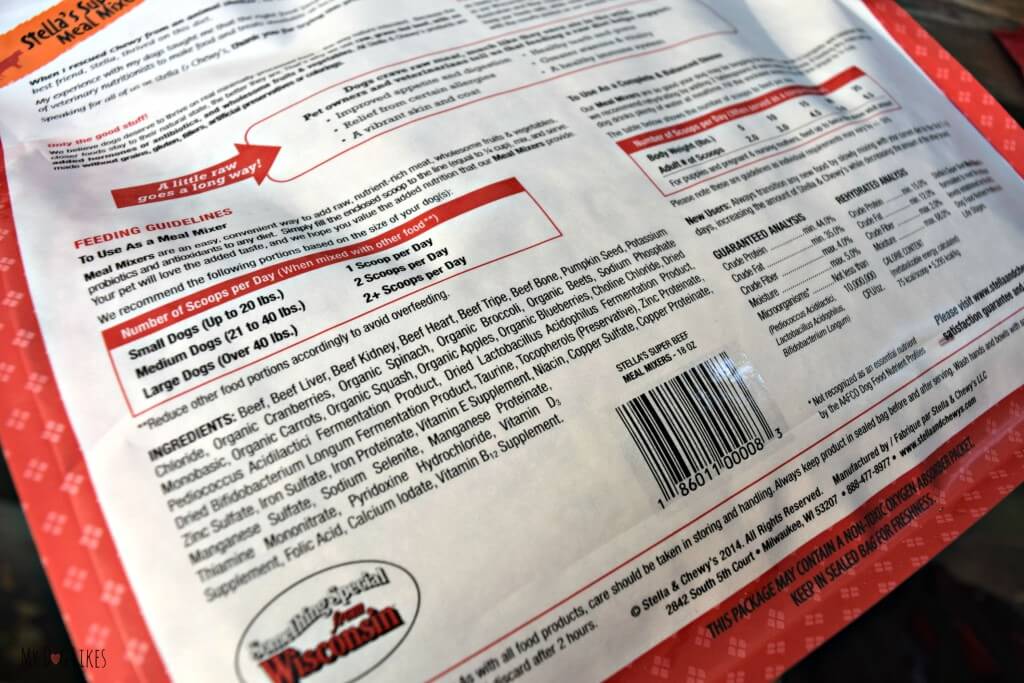 Meal mixers come in 4 tasty flavors including: Savory Salmon & Cod, Tantalizing Turkey, Chewy's Chicken, and Stella's Super Beef!


How to Prepare Stella & Chewy's Meal Mixers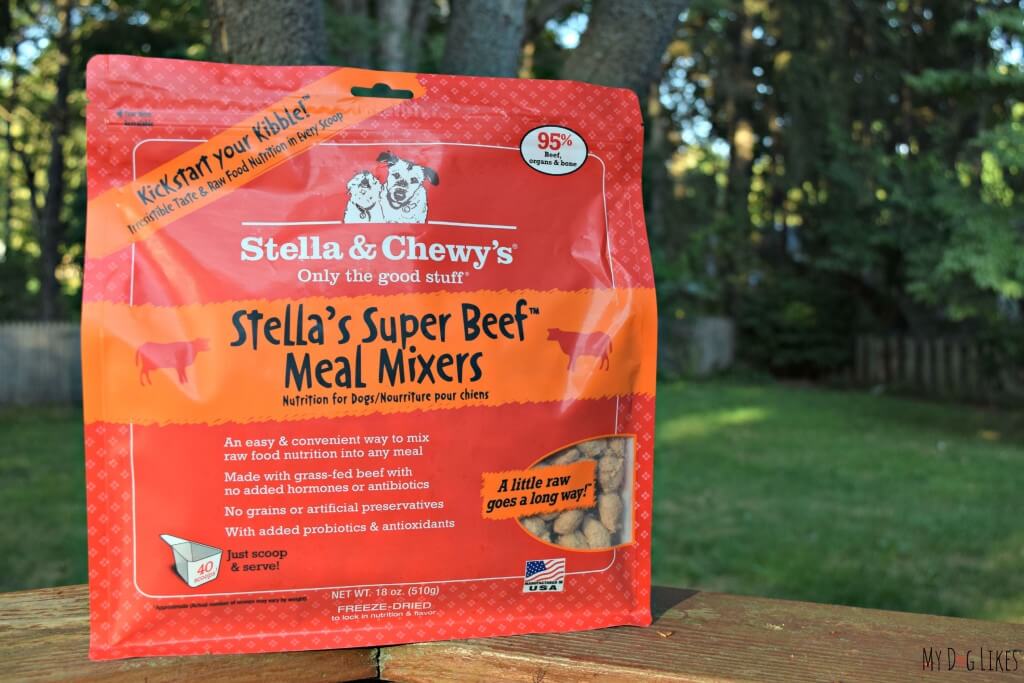 Serving Stella & Chewy's Meal Mixers is a complete breeze. No advanced planning is necessary; the food is ready to eat right out of the package! All you need to do is…
Scoop, Mix, and Serve!

Wanna talk about convenience? Not only do they take the guesswork out of calculating the correct proportions of raw/kibble or just raw (directions are right on the bag), but Stella & Chewy's Meal Mixers include a scoop right in the bag!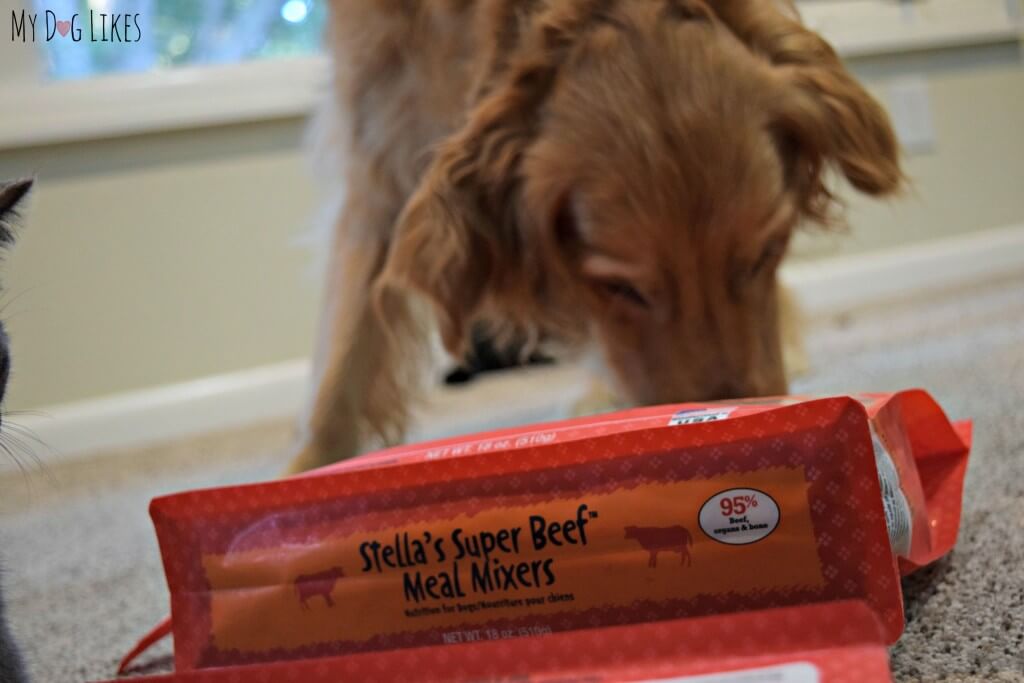 Have questions about the safety of raw food?
Stella and Chewy's uses High Pressure Processing (HPP) to help ensure the safety of all of their high quality product. Under this process, the raw food is subjected to pressures of up to 87,000 psi where bacteria can not survive. Furthermore, each lot is tested by an independent lab and held until the results are in.
Want proof? Just head on over to their website and type your bags lot number into the purple box in the corner to see all of the relevant safety clearances!
MyDogLikes Stella and Chewy's Meal Mixers Review
We were provided with a bag of the Super Beef Meal Mixers for the boys to try and give their thoughts on. We love that Stella & Chewy uses grass fed beef with no added hormones. With the added security of third party testing and their transparency in reporting, we felt 100% comfortable feeding this food to the boys.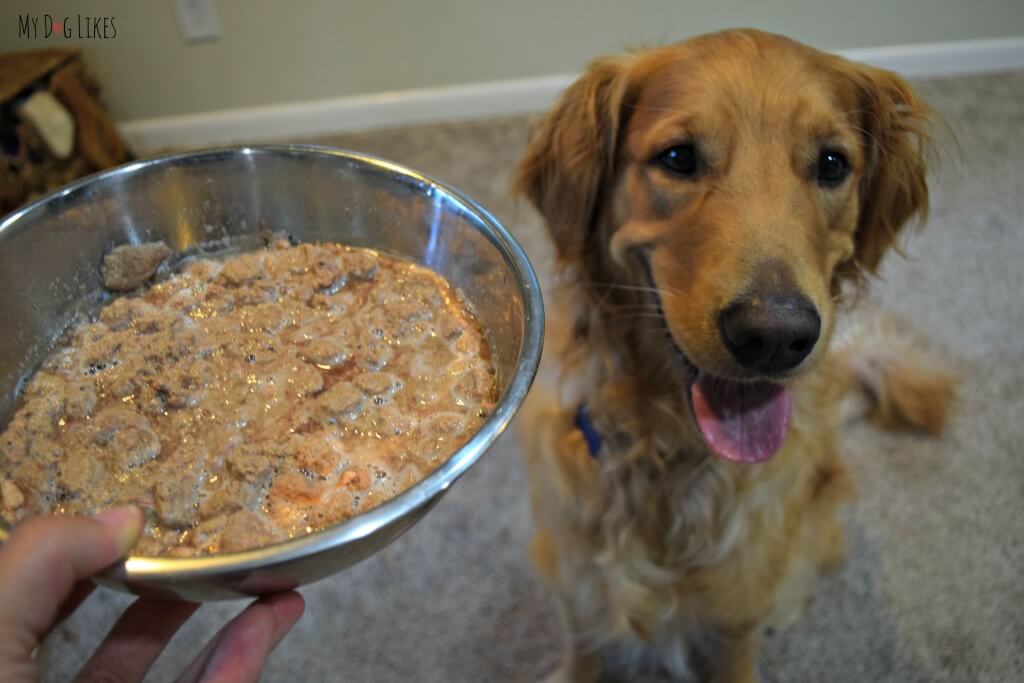 After doing some (very) basic math to calculate the correct amount of Meal Mixer to serve the boys, we were ready to go! While the bag indicates that freeze dried raw can be fed without moistening it,  I would definitely recommend adding water. Pouring warm water over the food released an aroma reminiscent of beef stew and got the boys super pumped about their dinner. While I measured the water for Harley's meal, I used the proportions only as a guide for Charlie; adding more water since he doesn't drink very much on his own and needs a little encouragement to do so.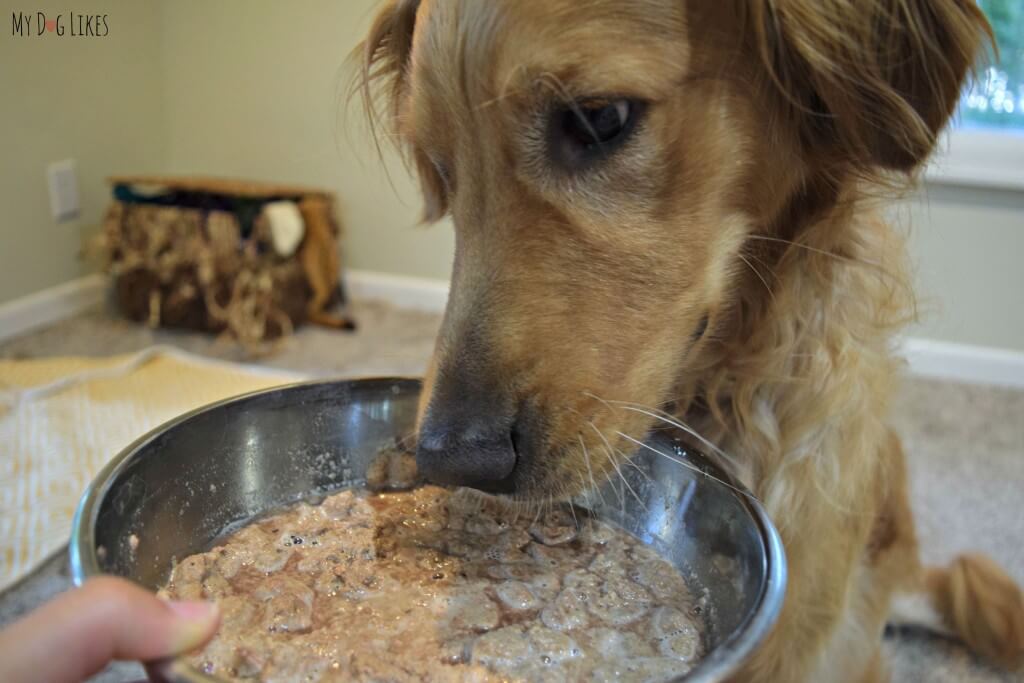 When the bowls hit the ground, everyone was interested in sampling the wares.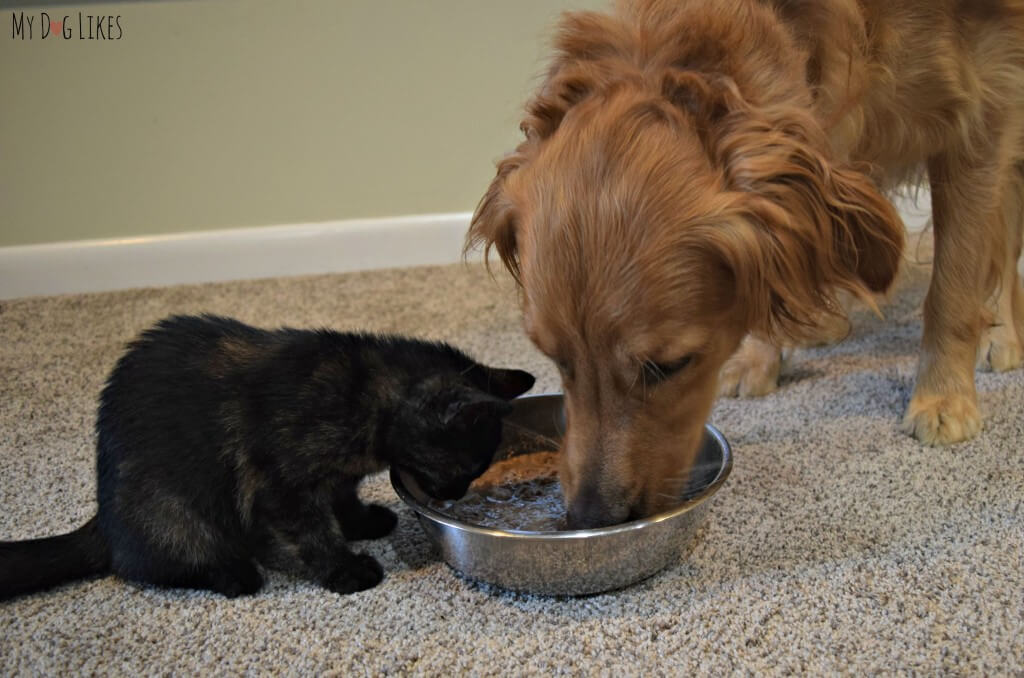 Can you blame them? The food was a big hit and the boys lapped up every last bit of it!
MyDogLikes favorite things about Stella and Chewy's Meal Mixers
Amazing Ingredients – 95% meat, organ and bone

Versatile – Can be served standalone or as a compliment to your dog's current kibble

Safety is a Priority – Each lot subjected to test and hold process

Resealable Bag – Locks in freshness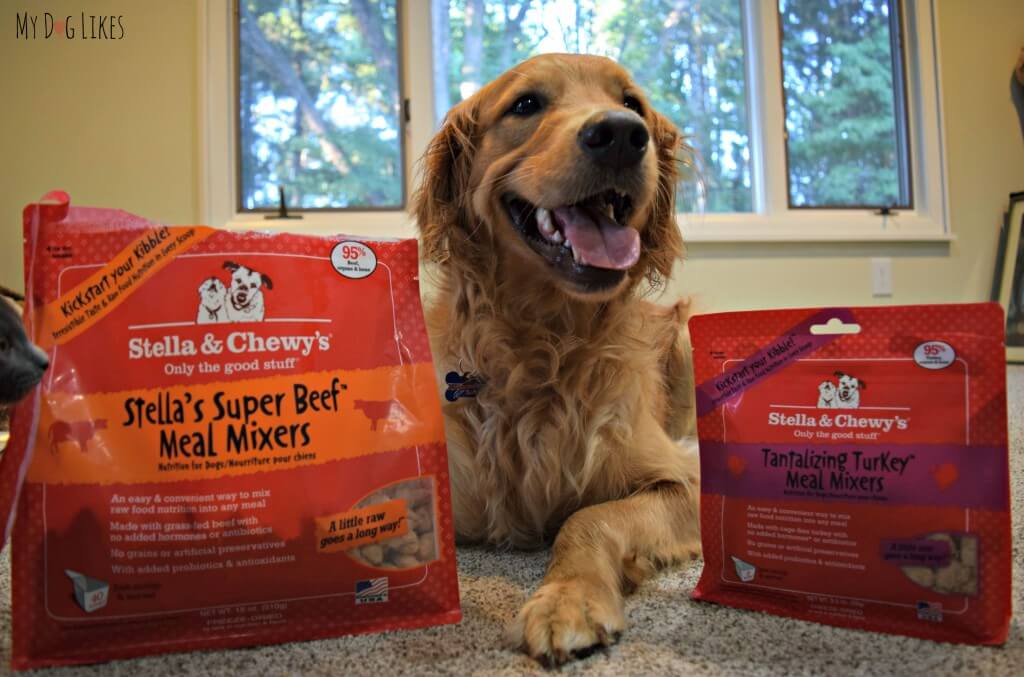 Want to give Stella and Chewy's Meal Mixers a try?
Use this handy tool to find out where Stella & Chewy's is sold locally or ….