The original itinerary for our time in Asheville, North Carolina was to explore nearby Chimney Rock State Park on our first day and the city on our second. Our thought was that downtown Asheville may be less crowded on a weekday and as a result, easier for our family to stumble around (and not make a scene).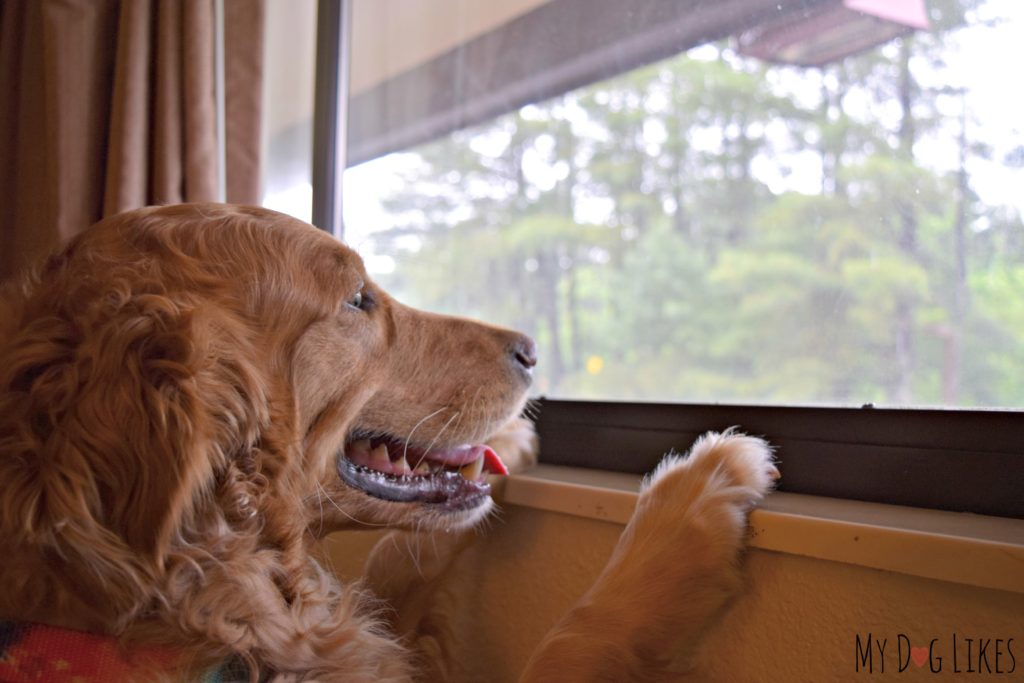 Adjusting Our Plans for Asheville…
Unfortunately, we woke to some torrential rain. A check of the forecast threw a further wrench into our plans. Not only was the rain to continue all day, but all week, in fact the entire region was going to be getting several inches of precipitation! What timing!
While we would have considered hiking in the rain with the pups, doing so with a baby was of course out of the question!
Biscuit Head
We clearly needed to figure some things out, so I ran out to pick up some breakfast (and coffee) to get our brains in gear.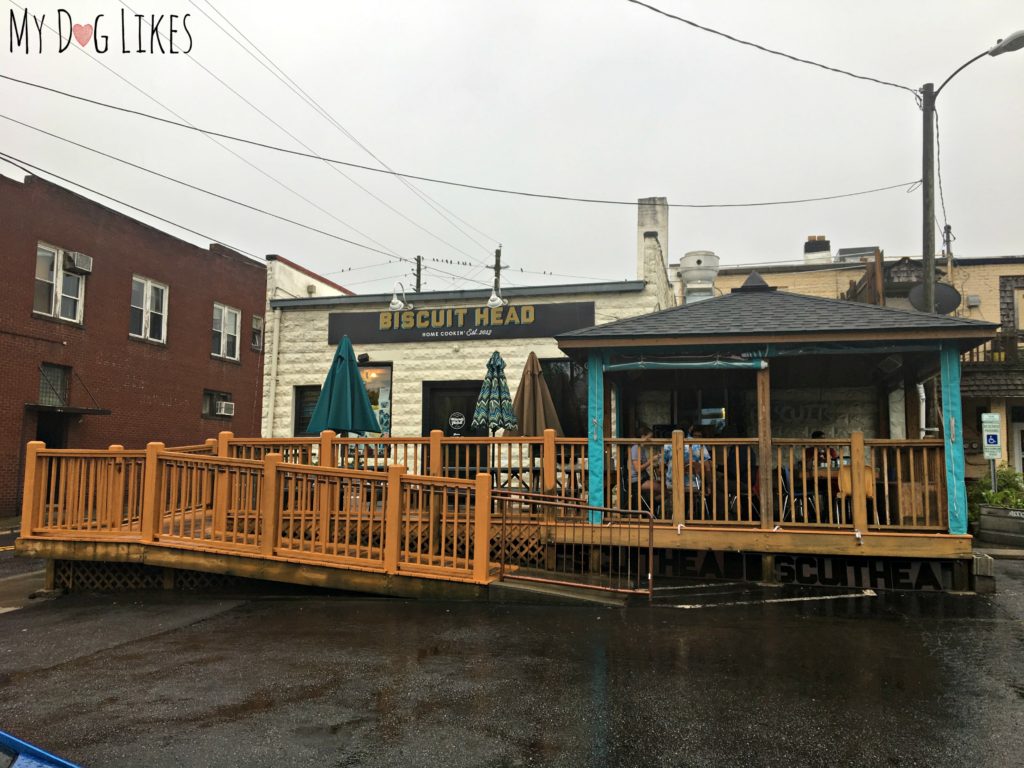 As I mentioned yesterday, we already had our breakfast spot picked out after reading some amazing reviews of Biscuit Head on Yelp!
Only a few miles from our hotel in West Asheville, Biscuit Head serves a huge variety of breakfast dishes atop homemade biscuits. They are also known for their jam and butter bar which has dozens of unique flavor combinations to take your meal to the next level!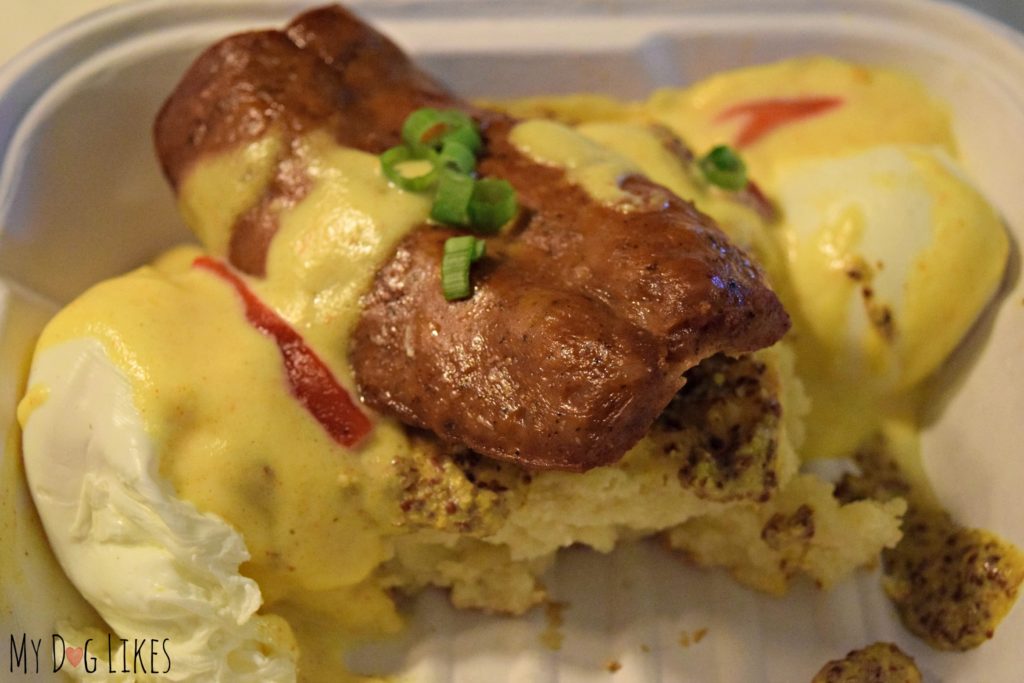 The Cajun Benedict
There was a line out the door when I got there so it was a good thing we called ahead to place our order for pickup (They told us over the phone to skip the line and head straight to the register!).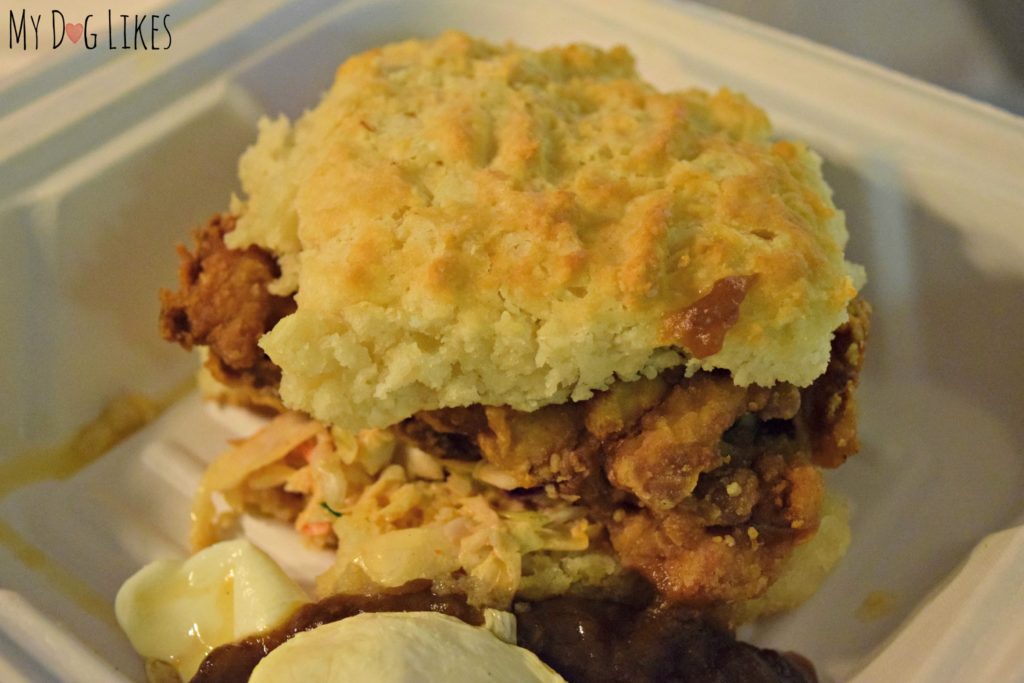 Mimosa Fried Chicken Biscuit
Everyone inside was super friendly and I loved the atmosphere. Plus, I found out that the large covered patio actually welcomes dogs!
Rach ordered the Mimosa Fried Chicken Biscuit and I had the Cajun Benedict. Both were delicious – as I'm sure you can tell from the photos!
Relaxing at the Red Roof
After breakfast we decided to stay put for a while. Partly to see if the rain let up and partly due to our food comas. We did a bunch of research online and discovered that many of Asheville's shops and restaurants actually allow dogs INSIDE!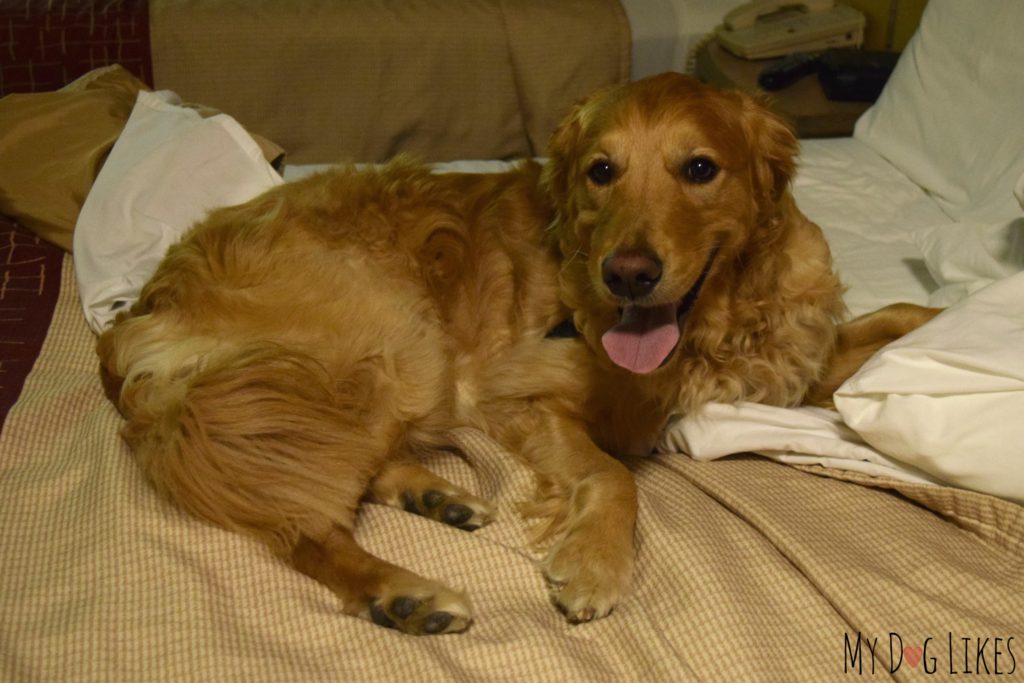 Of particular interest was a dog friendly brewery which seemed like the perfect place to hang out for a couple of hours and pass the time. Not until early afternoon did we finally muster up the ambition to brave the weather and try to explore the downtown area a bit!
Dog Welcome Center
It was only about a 15 minute drive to downtown Asheville, where we began our walk near The Dog Door.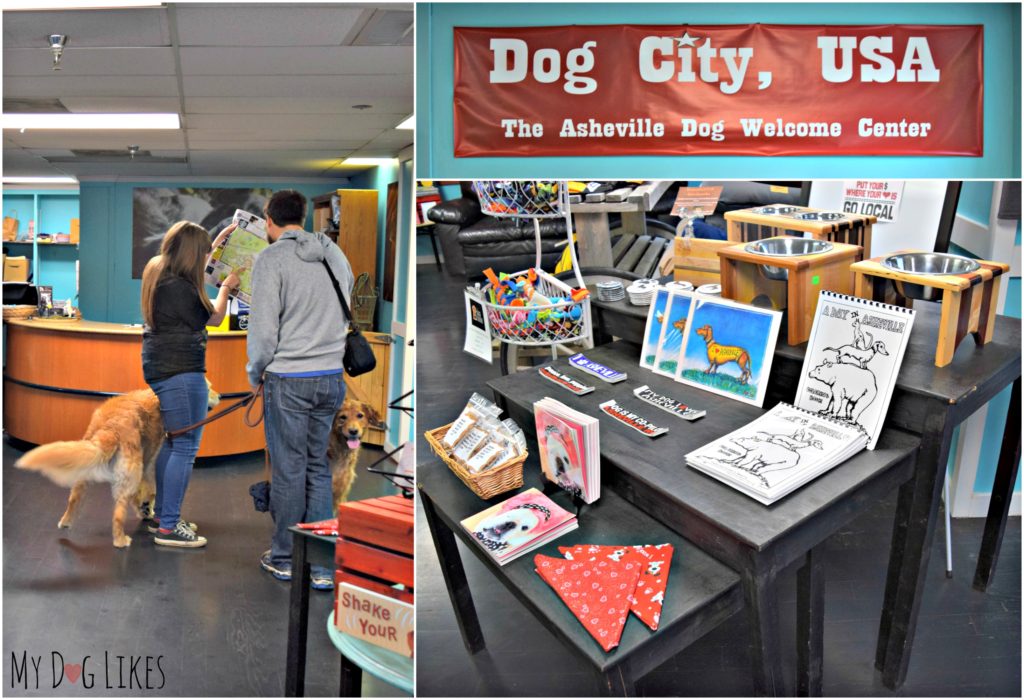 This adorable shop also serves as a dog welcome center with info on all the dog friendly things to do and see in the area. The store clerk was friendly and helpful and also didn't mind the boys leaving wet footprints all over the floors! ?
Unfortunately, it seemed as if the rain picked up while we were inside and it became clear that we couldn't handle a walk in this weather with our crew. Talk about stressful!
We decided instead to head over to the brewery I mentioned above to settle in for the afternoon. Further exploration of Asheville would have to wait until tomorrow!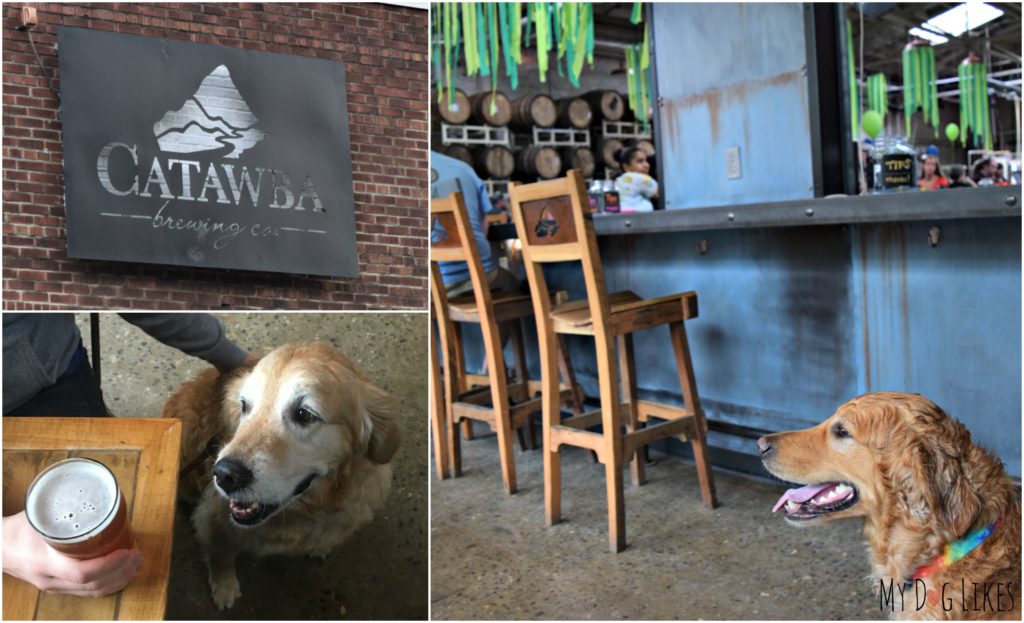 Catawba Brewing
We arrived at Catawba Brewing around 3PM and were thrilled to find out that when they say dog friendly they really mean it! Several other pups came and went during the few hours we spent there.
No one batted an eye when our gang strolled in and it turns out there is a whole room (with bar access) where the dogs are welcome. Plenty of space for our big guys to spread out!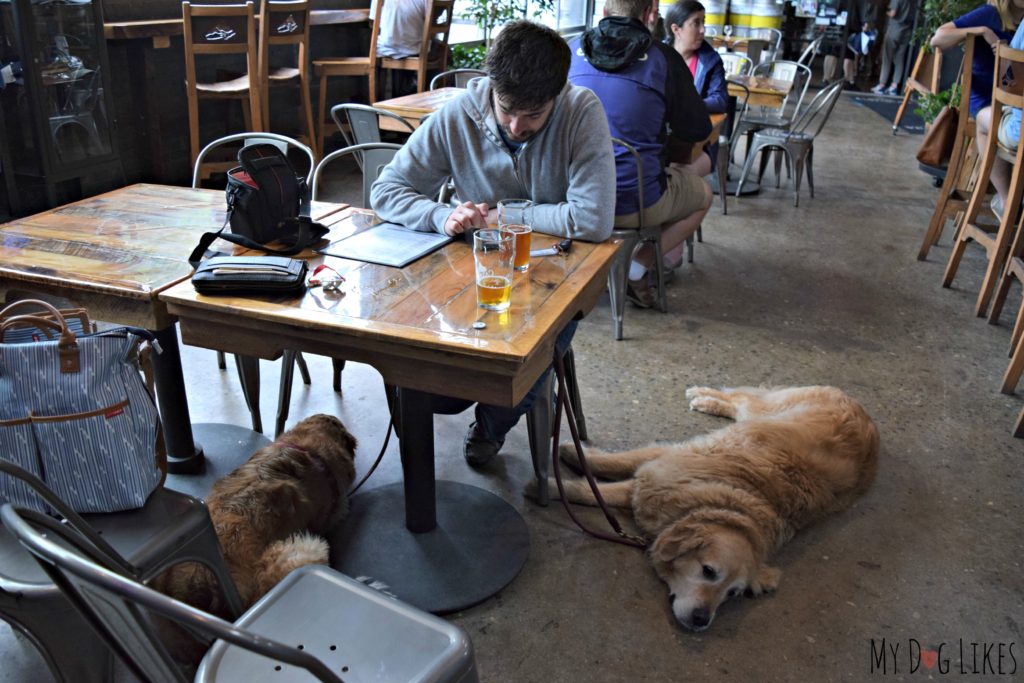 We enjoyed a couple of excellent beers while chatting with locals and other travelers. As usual Harley and Charlie drew quite a bit of attention from customers who were missing their pups at home!
Buxton Hall BBQ
Located just next door to Catawba Brewing is a BBQ restaurant called Buxton Hall. A bit of research on Yelp confirmed what our noses were telling us – this was the place for dinner!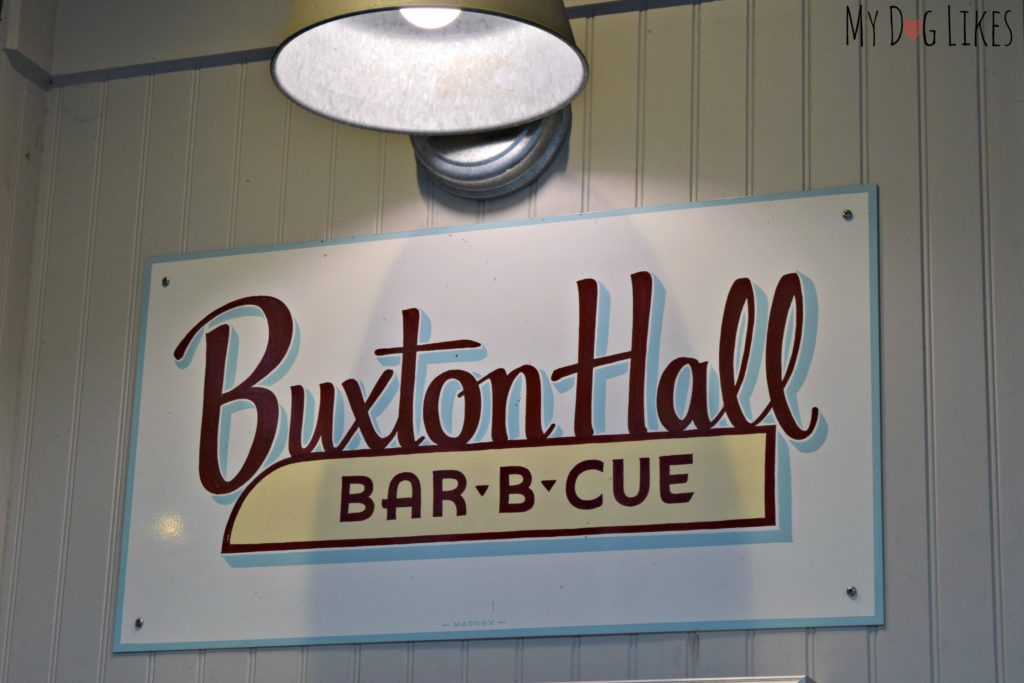 Best of all? They even let you bring the sandwiches back over to the brewery to enjoy.
I am not exaggerating when I say that this is the best fried chicken sandwich that I have ever had. (Upon further research, I found out that I was not alone in this opinion…)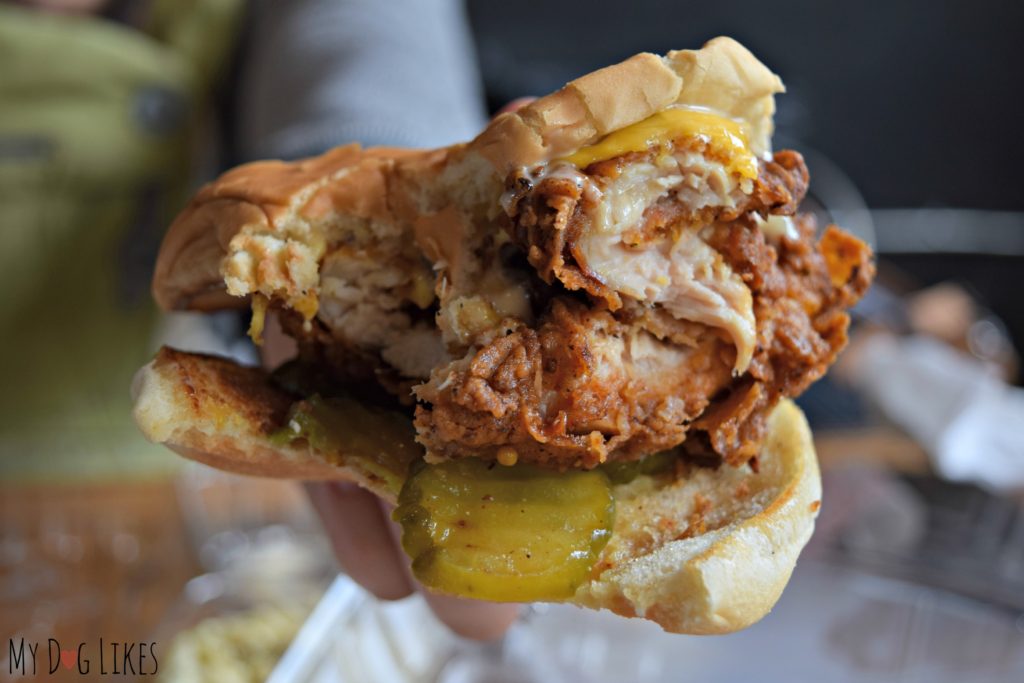 Needless to say, Harley and Charlie were a bit jealous, but we were so happy to be able to enjoy a meal out WITH them!
Vortex Doughnuts
As if we haven't sold Catawba Brewing enough, right on the other side of the building is Vortex Doughnuts. Regular readers will know that trying donuts as we travel is kinda our thing so this just seemed meant to be.
We got there with only a few minutes to spare before closing but were able to pick up an assortment of donuts to enjoy back at the room later that night. Even better-because we were there in the last hour before closing we got BOGO donuts! (Buy One, Get One Free).
What we Learned on Day 7
Be flexible – Travel (particularly travel with dogs) requires a certain willingness to go with the flow. Things will never go exactly as planned and though we were bummed to not be able to go for a hike as originally intended, this ended up being one of the most fun days of the whole trip.
Try the Mother Trucker Pale Ale – I am a big fan of pale ales and Catawba's is easily one of the best I've had!
Quick Stats
Miles traveled – 21
States visited – 1 (NC)
Gas fill ups – 0!
What's Next?
Downtown Asheville take 2? Or perhaps a hike? Let's wait and see how the weather holds up!