Far too many of us know the heartbreak of losing a pet to cancer; but could you imagine finding out that you yourself have cancer on the very same day? This is the heartbreaking situation that Melissa from 4-Legger found herself in just 2 years ago.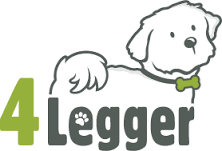 After the diagnosis, in a quest to live a more natural life, Melissa and her family began to take a closer look at the food and products they put into and onto their bodies. What they found was that many products – whether labeled "natural" or not – contained ingredients that left them scratching their heads. This was especially true of pet products, whose ingredient and labeling requirements are largely unregulated.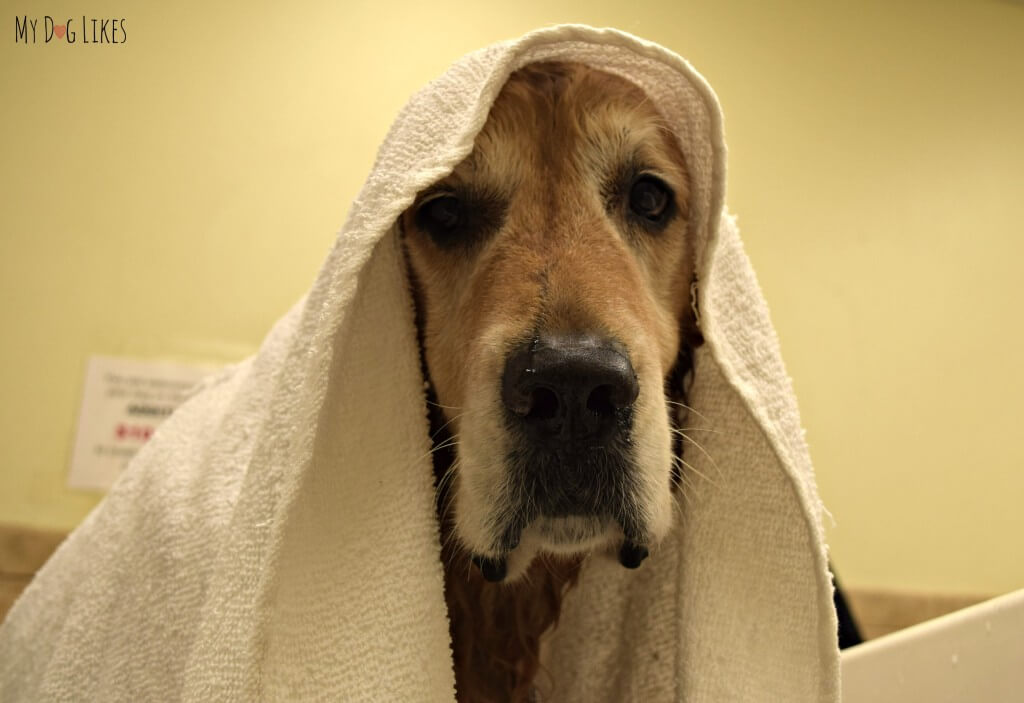 We know Harley, stuff on the label can make us want to hide under a towel too!
They worked hard to remove these potentially harmful products from their lives, vowing to live a healthier life one day at a time. After a tough battle, Melissa's cancer went into remission. With a renewed sense of purpose, her natural journey inspired her to co-found a company where pet parents can really trust the quality and claims of it's products-4-Legger !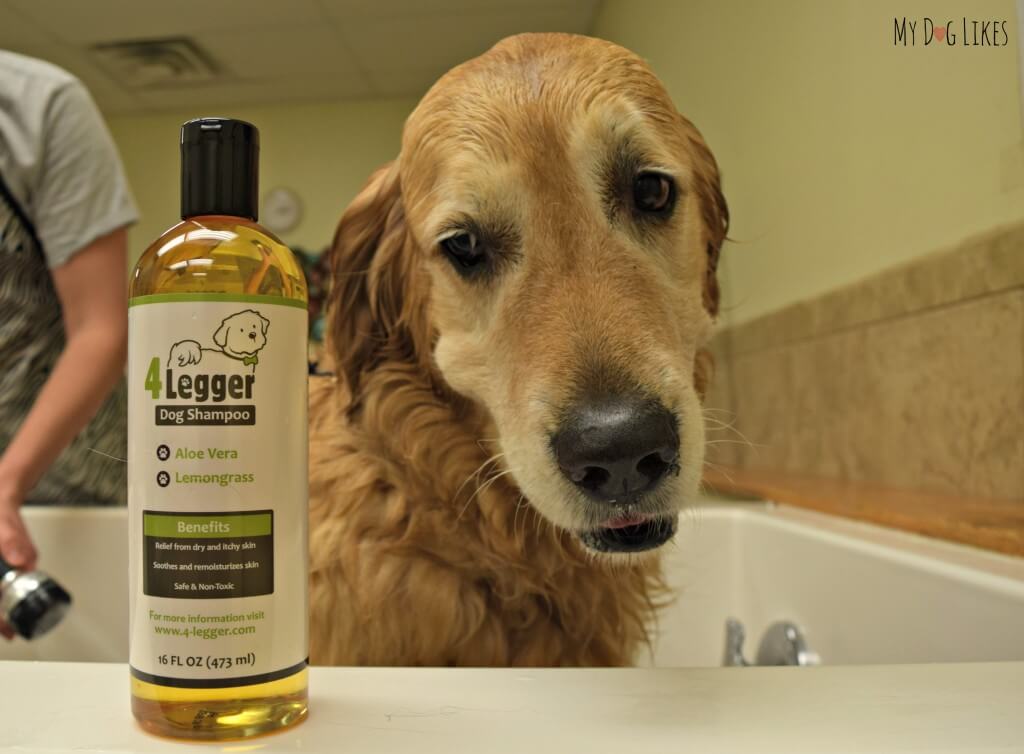 4-Legger – A Brand with a Purpose
4-Legger believes that the "4-Leggers" in our home are just as much a part of our family as anyone else – we couldn't agree more! With this philosophy they have put together a team with diverse backgrounds to bring to market pet products whose safety and quality can be counted on.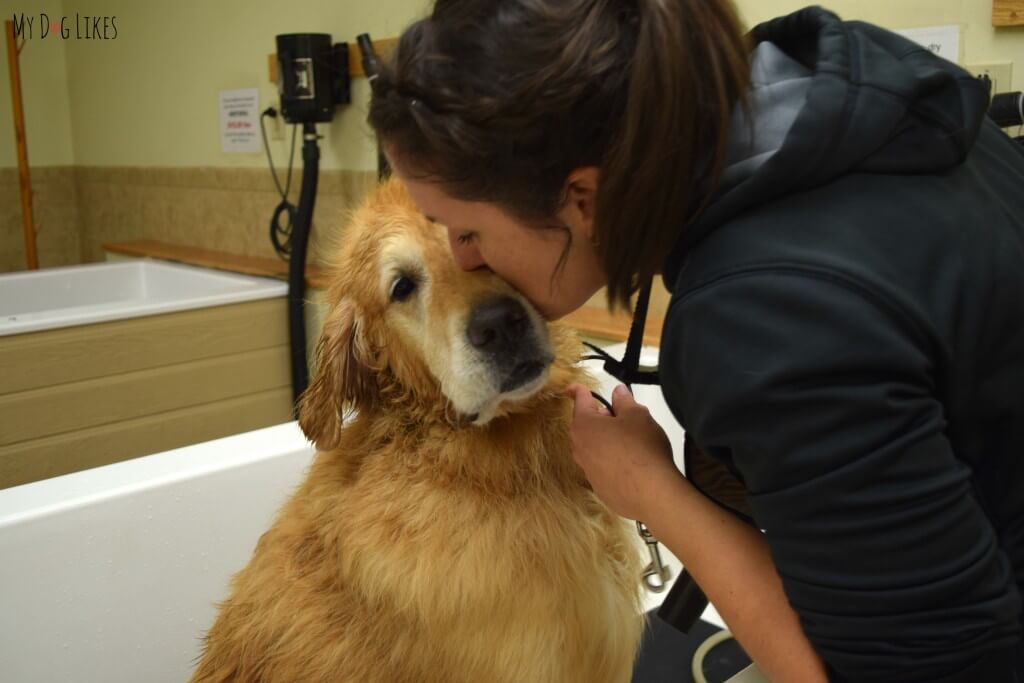 When 4-Legger reached out with their inspiring story and mission, we were very excited to learn more. They were kind enough to send us a bottle of their first product: an organic dog shampoo to test out with Harley and Charlie. 


UPDATE: (Click here for our 4-Legger Lavender Shampoo Review)
4-Legger's All Natural Dog Shampoo
After first learning about all the ingredients that should be avoided in human or animal shampoo, the 4-Legger team set out to work with veterinarians, doctors, groomers, herbal experts, and pet shampoo manufacturers to develop their own formulation. Curious what you will and will not find in their dog shampoo's? Click here for an exhaustive list!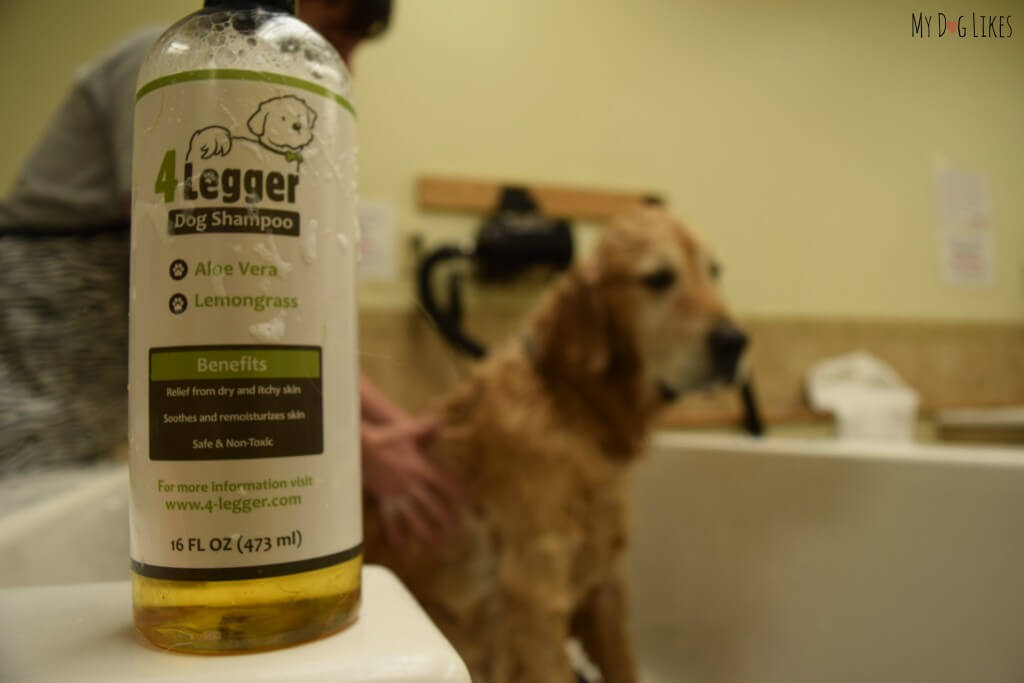 In short, 4-Legger's products can be honestly described as natural and organic – with no greenwashing!
What in the World is Greenwashing?
Don't worry, this was a new term to us as well. Greenwashing is a form of marketing to make products appear to be more natural or environmentally friendly than they actually are. This can be achieved through creative advertising and believe it or not, there are NO pet industry regulations for what can be labeled as "natural" and "organic".
With 4-Legger, however you can rest assured since their shampoo is USDA certified to food grade standards, it truly is organic.
4-Legger Aloe and Lemongrass Organic Dog Shampoo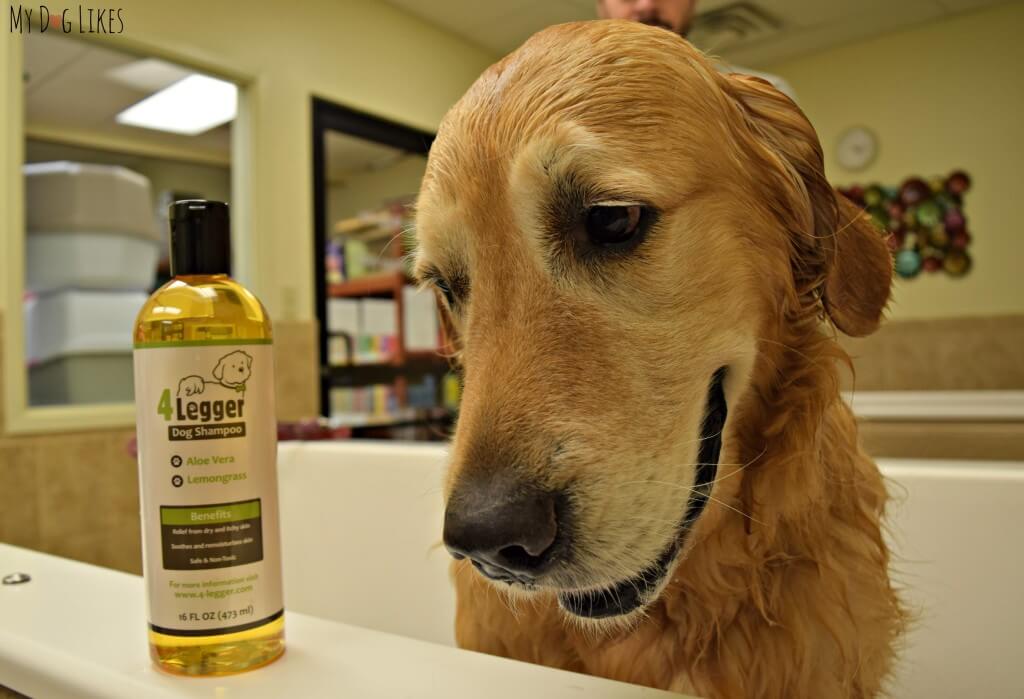 Lets take a quick look at the ingredients of 4-Legger shampoo:
Saponified organic oils of coconut, olive, and jojoba

Natural essential oil blend of rosemary and lemongrass – 

Lemongrass has antibacterial properties and can even provide a boost to the immune system. You may also recall that it has

natural flea and tick repellant

properties as well.

Rosemary extract

Organic aloe vera
Everything looks good here! But you don't have to take our word for it. 4-Legger wants everyone to start taking ingredient labels more seriously – so if you have any questions for them go ahead and ask!
Splish-Splash Harley's Taking a Bath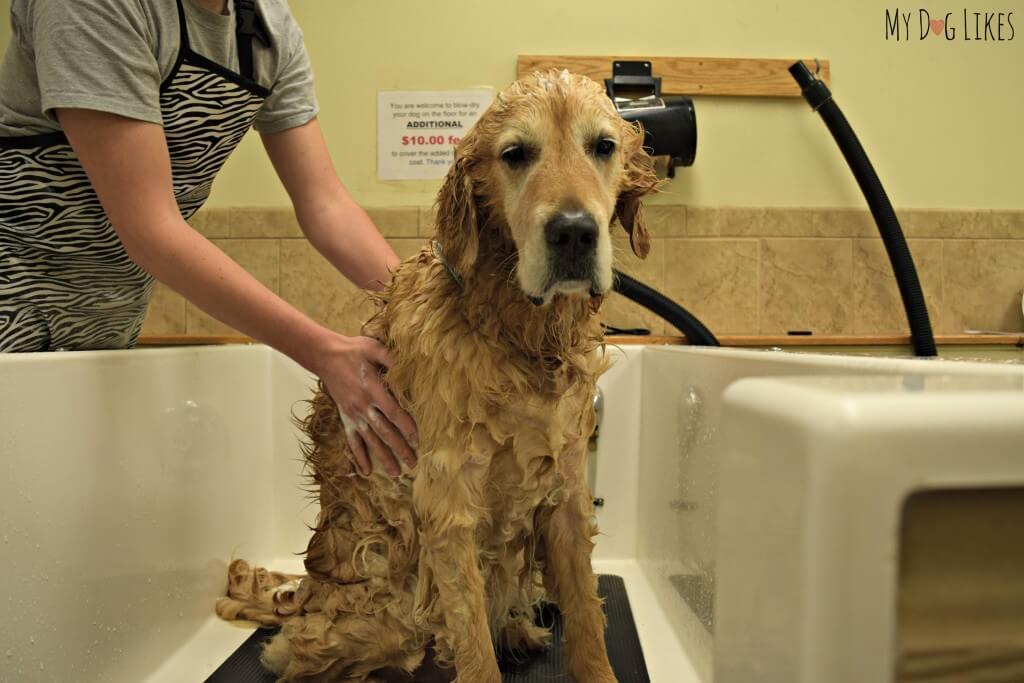 Harley has been looking a bit scraggly lately (don't tell him we said that!), so we headed on over to the self wash station at our local PetSaver Superstore to give 4-Legger a try!
Click Here for our Tips on Bathing a Dog!
First things first, you will note that this shampoo is much less viscous than most – so be careful not to tip it over! They recommend giving it a good shake before using to assure a nice even suspension. Because this shampoo is a little bit runnier than others we have tried, we found it easiest to squirt a slow steady stream right onto Harley's fur so we didn't lose any down the drain!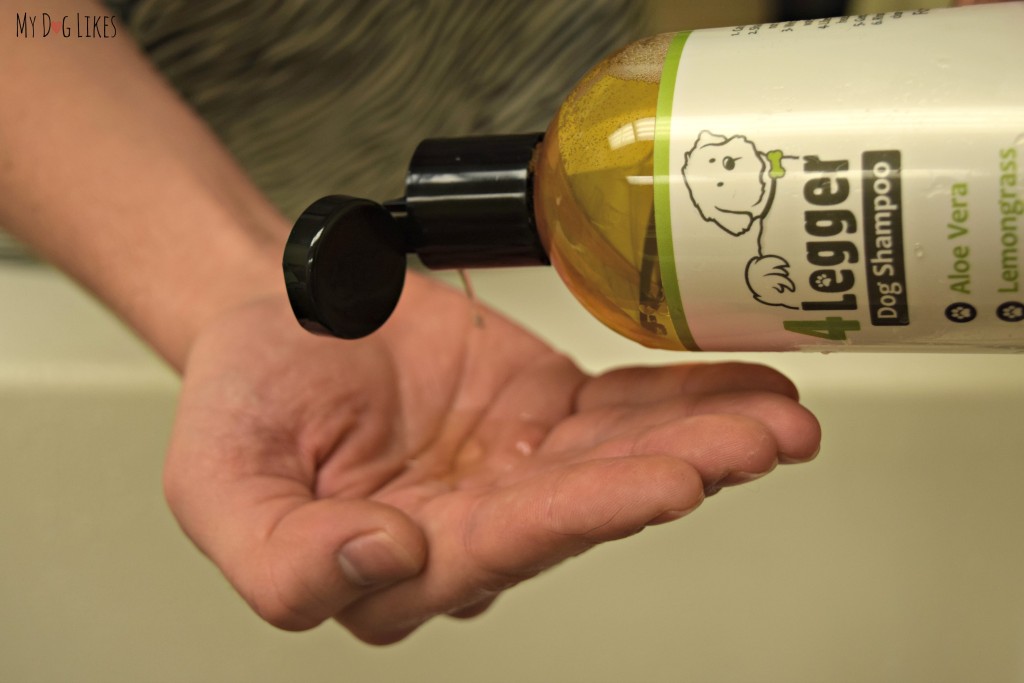 We were really amazed at the lathering action of this shampoo. When you are trying to get all spots on a big, hairy beast like Harley, it is nice to be able to know where you have already reached. 4-Legger produced more lather than any other dog shampoo I can remember-ensuring full body coverage!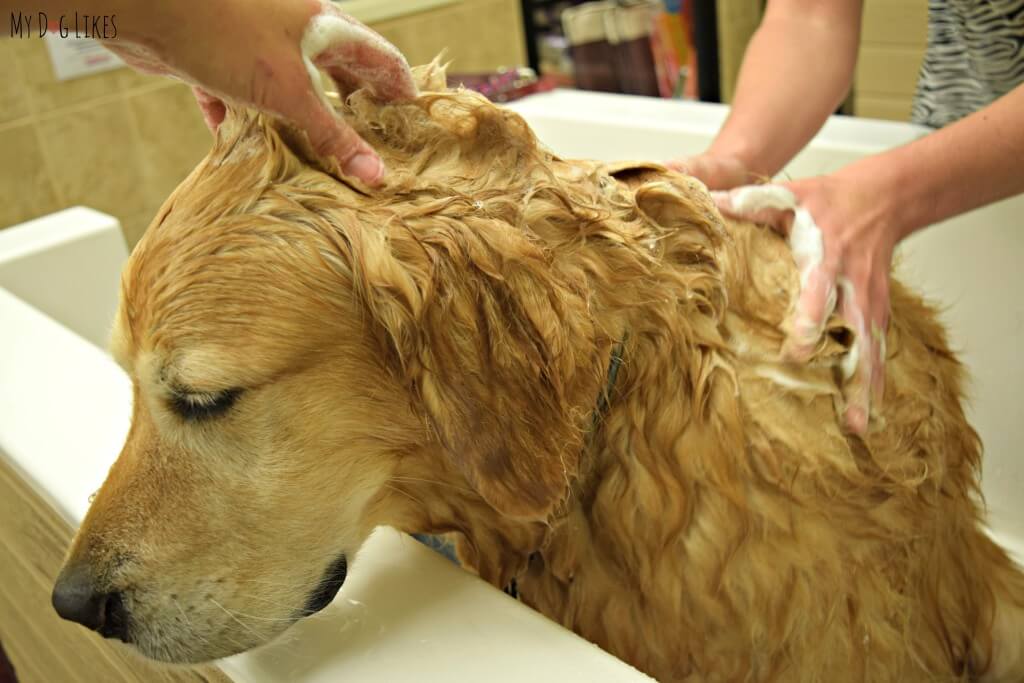 So much lather, we were able to make a full body faux-hawk!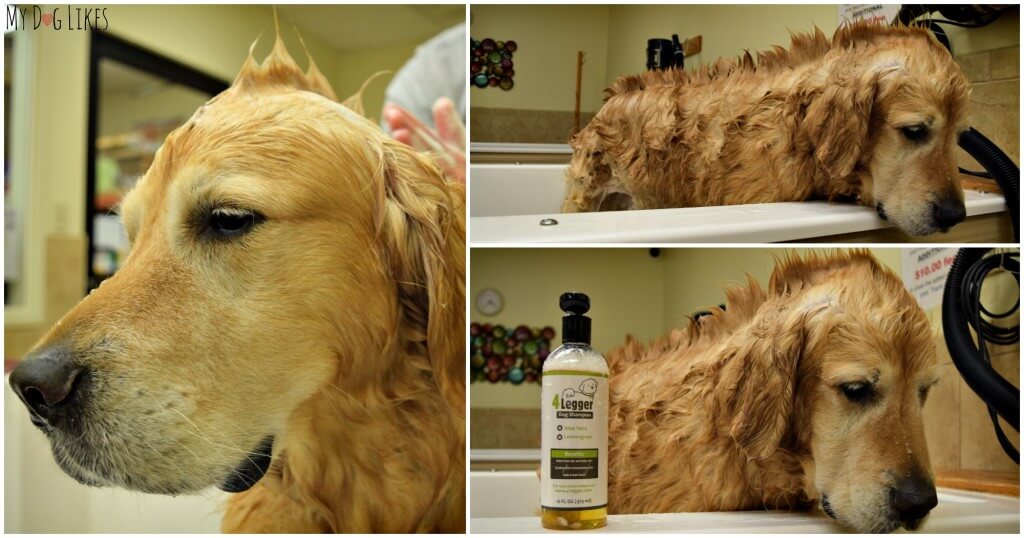 The more we lathered Harley up, the more the scent from the natural oils filled the room. While baths are not typically known for their relaxing moments, a busy dog parent has to take the relaxing moments as they come and it was easy to pretend that essential oils were being diffused around the room! The scent of the shampoo can best be described as a spicy lemon drop and I loved how it enveloped the room with its simple and clean smelling aroma!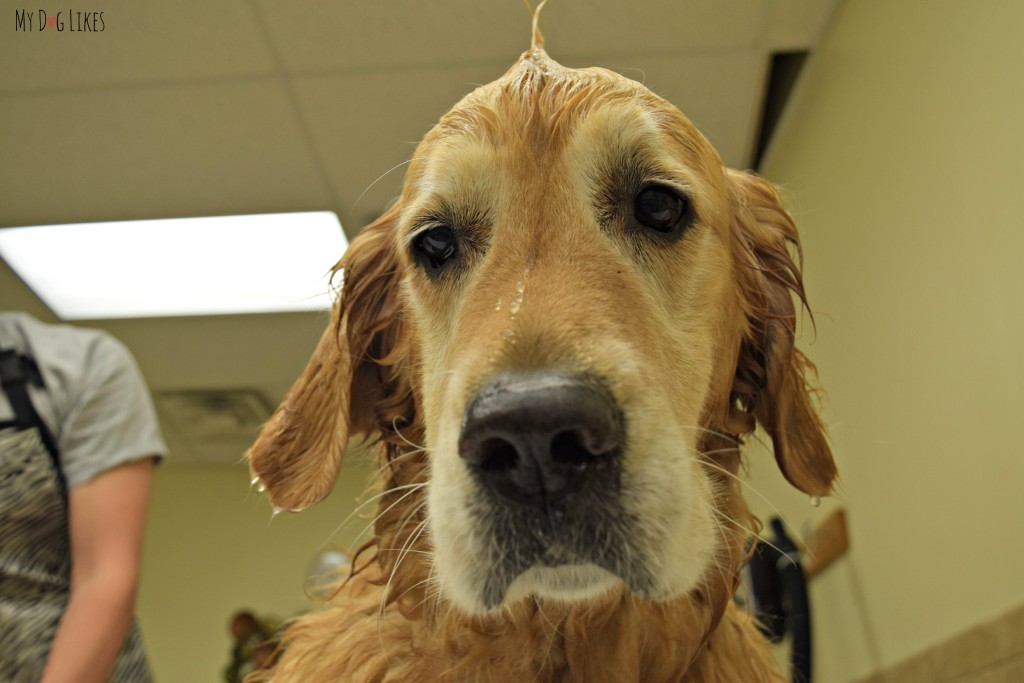 Harley thinks smelling like a spicy lemon drop is better than some of the yucky perfumes in other shampoos!
After letting the shampoo sit for a moment, we also found that it rinsed out very easily. Hair like Harley's which is dense and thick often requires several passes with a pressurized water stream as well as some hand scrubbing to remove all the suds. With 4-Legger it only took one pass with the hose and there was no oily or greasy residue left behind! 
The end result was a clean and fluffy puppy. While typical shampoos can strip dogs of their natural oils, this product harnesses the power of natural cleaning agents to leave fur soft and shiny, and skin irritant free. Dogs work hard to make sure they get nice and smelly but you will be left with a clean, neutral (and not heavily perfumed) pup!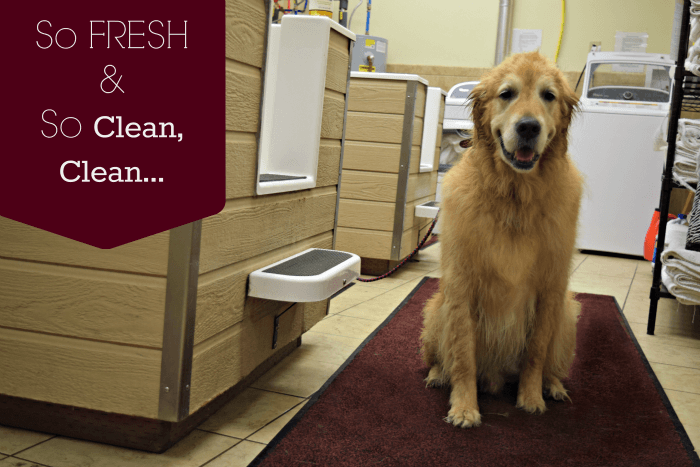 Looking for more reasons to switch to 4-Legger?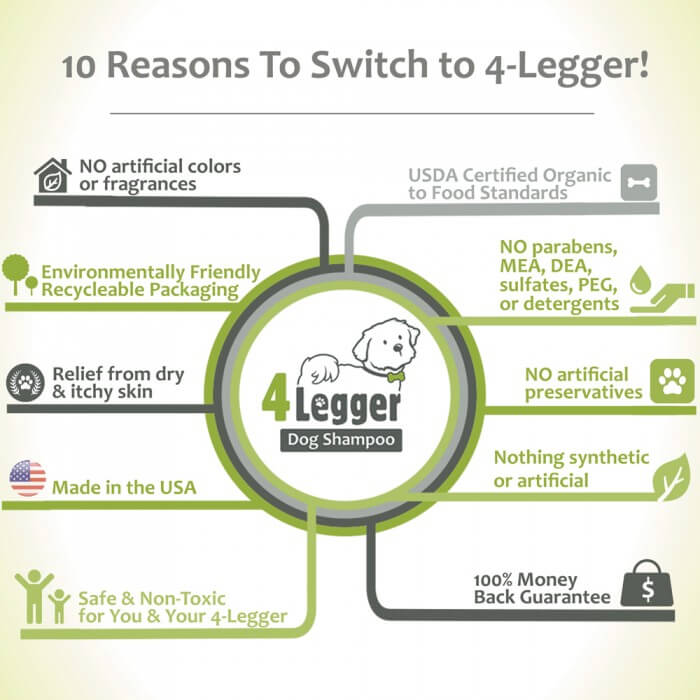 Why MyDogLikes 4-Legger's Organic Dog Shampoo
It is so nice to find a company whose values align closely to our own. We are always striving to live more naturally and 4-Legger is going to help us to do just that. Their dog shampoo is not only all natural and organic, but hypoallergenic as well.
Harley has sensitive and itchy skin which is often aggravated by the chemicals or perfumes that can be found in typical shampoos. Not only did Harley get sudsy and clean, but this shampoo rinsed so easily, cutting significant time off of our rinsing process! While we loved the scent of the shampoo during bath time, Harley was left smelling fresh and neutral after his bath (and not heavily perfumed). Most importantly, his skin was not at all irritated and the scratching and discomfort that he typically experiences post bath was non-existent!
Want to Give 4-Legger Dog Shampoo a try?