Taking advantage of some beautiful weather this weekend, we took the boys down to Corbett's Glen for their first swim of the year. After a couple mile hike in the heat we finally reached the stream and beautiful waterfalls that make it such a special place. As soon as they heard the sound of rushing water, Harley and Charlie were pulling to jump in! After lots of fetching and romping around in the water, the boys were exhausted and dirty!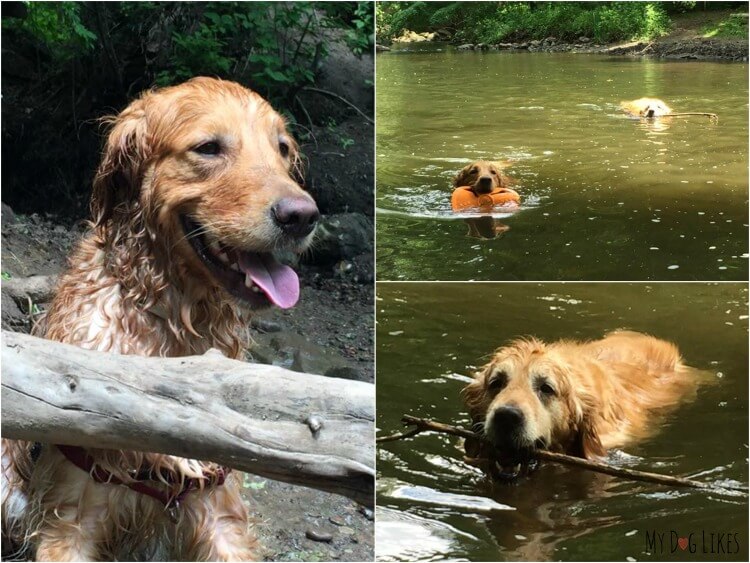 While swimming is always tons of fun, we have learned (the hard way) that our sensitive skinned and allergy prone boys can pay the price afterward if we aren't careful. Even though we only let them swim in clean, running water, when left on their skin, environmental irritants and allergens can lead to itchy, uncomfortable skin. Sometimes skin infections will develop and a round of antibiotics is needed!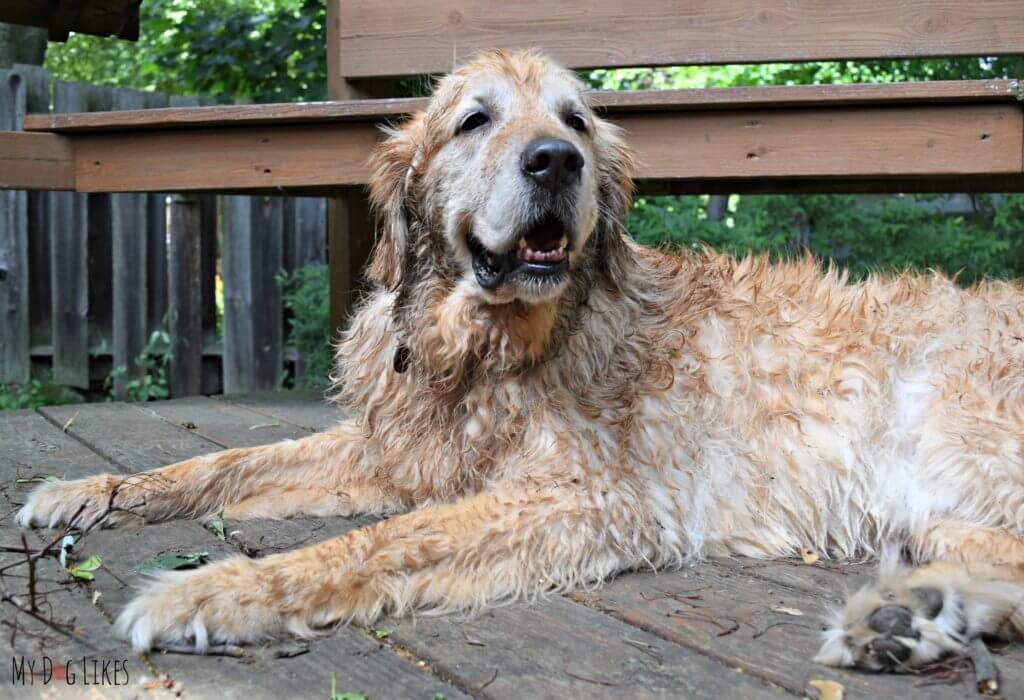 Thus, we have come to the conclusion that swim time is all about compromise. The boys still get to swim, but then always have to take a bath afterward to wash away anything that may cause problems for them later in the week if left to sit on their skin.
Taking Care of Business – Staying Ahead of Dog Allergies
When it comes to taking care of our boys and their sensitive skin, there are few products we trust as much as 4-Legger Organic Dog Shampoo. Recently, our friend Melissa from 4-Legger, contacted us about a brand new scent that has been developed, Lavender!

Though Melissa was nervous that Harley and Charlie would think the new scent was too "girly", we reassured her that they would be quite comfortable with the new scent, especially if it brought more pets from the ladies! Since we already knew that 4-Legger has worked great, left our boys coats super-soft, and made them smell like delicious spicy lemon drops, we were eager to see if the new scent had the same great results!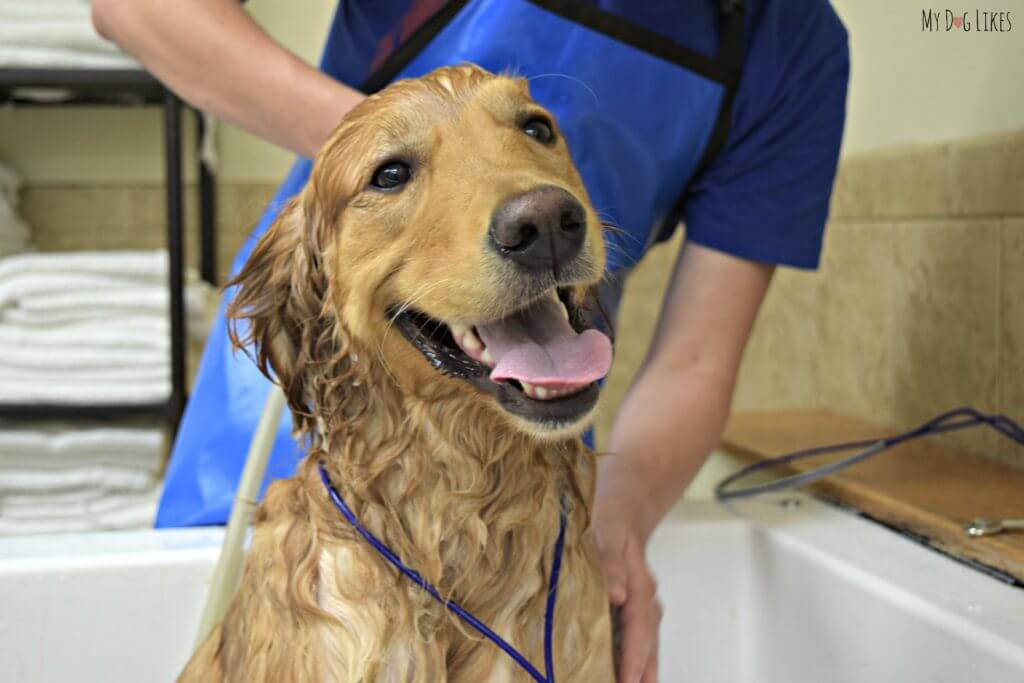 About 4-Legger Dog Shampoo
4-Legger was founded with a determination to lower your pet's exposure to environmental toxins.
Here are a few startling statistics to help explain why this mission is so important to them.
Nearly 50% of dogs will die from cancer
Studies have shown that up to 95% of canine cancer can be attributed to environmental factors
These non-hereditary factors can include anything from the food they eat, the places they live, the medications they take and the grooming products they use. It only makes sense to limit the use of anything with a questionable safety record.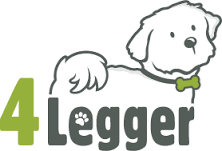 Rest assured, everything in 4-Legger's shampoo is natural, organic and human grade. 
Make sure to visit their blog for a wealth of information on organic ingredients and a thorough explanation of shampoo industry jargon used by the competition. Hint: There is a severe lack of transparency and oversight in the industry – This extends from the mainstream brands even to others that may tout organic ingredients!
Taking a Closer Look at the Ingredients
4-Legger is completely natural, certified organic, and even cruelty free. They also use no artificial colors or fragrances, sulfates, parabens, or alcohol.
What will you find? Well, in the new Lavender formula:
Coconut Oil
Olive Oil
Jojoba Oil
Aloe Vera
Organic Oatmeal Glycerite
Lavender Essential Oil
That's it. Everything has a purpose, and is included for the benefit of your dog. No extra chemical nonsense to achieve a desirable color, scent or consistency.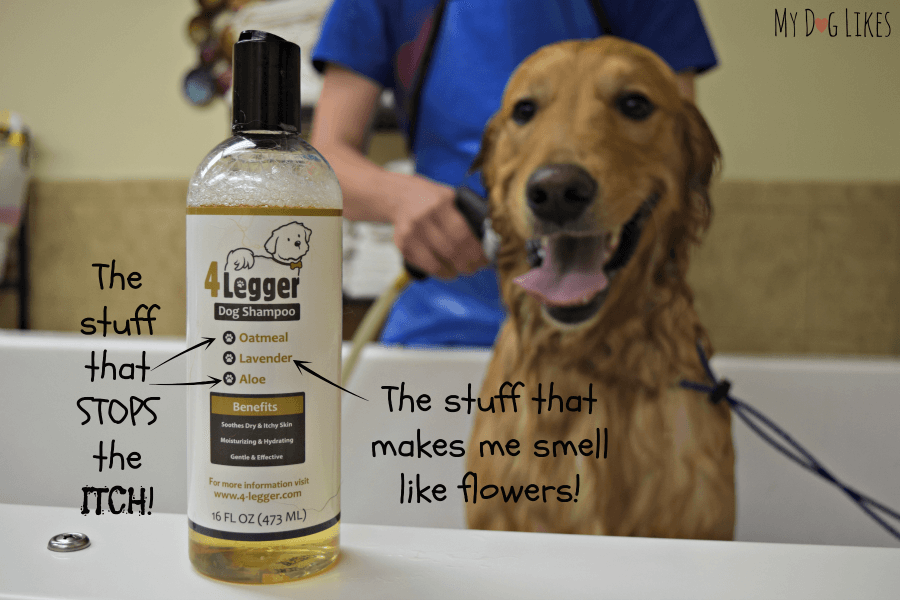 Bath Time! Reviewing 4-Legger Dog Shampoo
Make Sure to Check out our Tips for Bathing a Dog!
Knowing that our boys needed a serious scrub-down, it was off to PetSaver Superstore to use their Self-Wash Station. We love to use the self-wash station because for a low price, we get access to a tub the boys can easily climb inside (and be kept inside) and best of all – they take care of the clean up! The boys are old pro's at the self-wash and hopped right in the tub to get sudsy when we arrived. Though our self-wash offers shampoo, we were eager to use our brand new bottle of 4-Legger for this dirty job.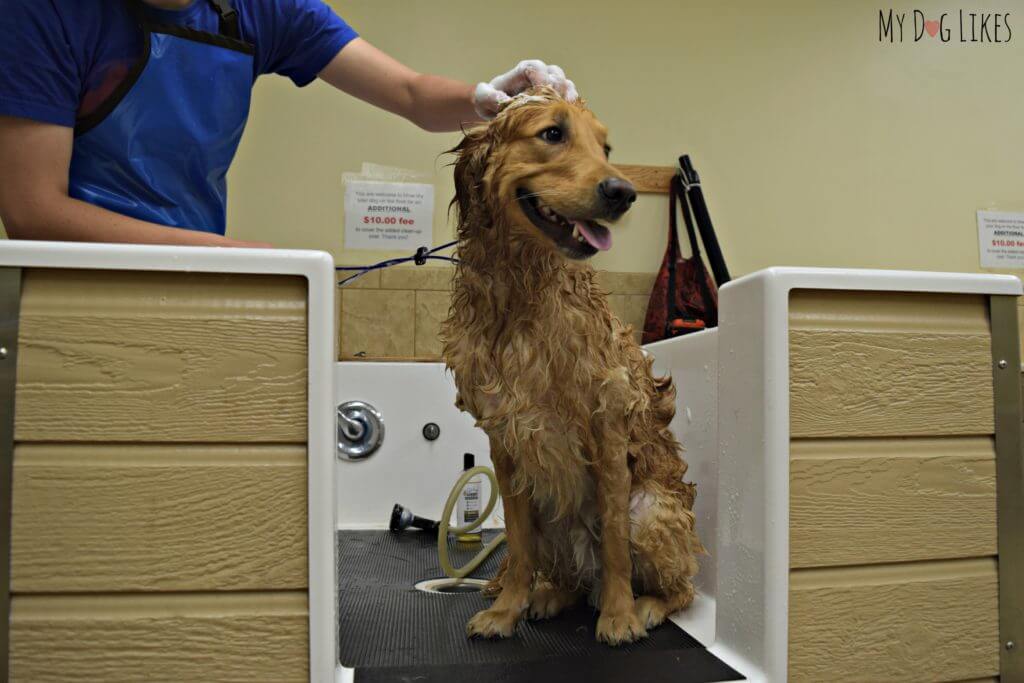 Based on our experience when we opened the original formulation of 4-Legger, we expected the lavender shampoo to fill the air with a refreshing natural smell. We were not disappointed! Rather than smelling like a spicy lemon drop, the scent made me feel like I was being transported into a field of flowers. Not in a perfume-y way, but just a fresh and pleasant aroma.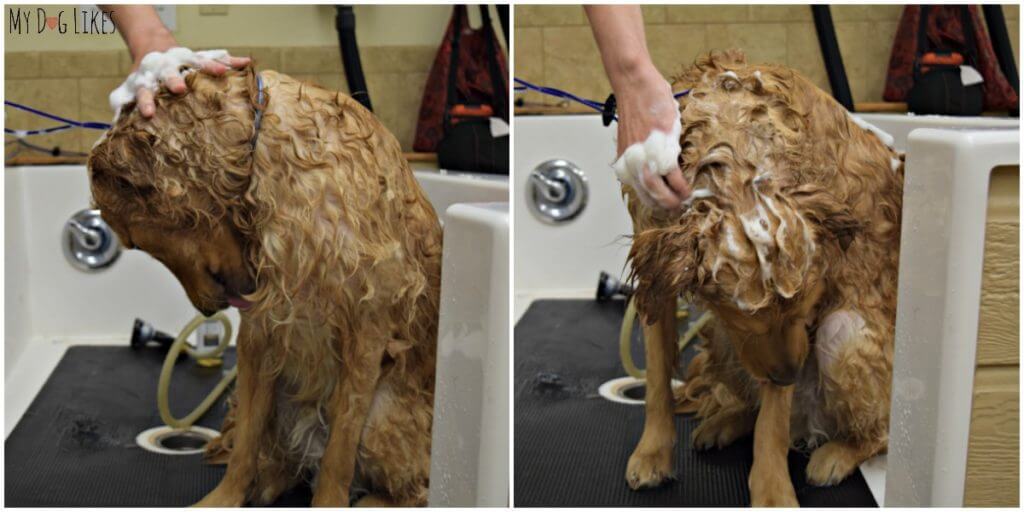 The scent was so enticing to Charlie that he wanted to lick himself clean while we rubbed him down! Although it is if course not meant to be ingested, we felt at ease knowing that there is nothing in the bottle that could harm him.
You will note that 4-Legger shampoo is a thinner consistency than most others you have probably tried. This doesn't mean it is watered down, but instead free from sulfates that are used to thicken and boost the lathering action of other non-organic products. If an ingredient has no benefit to a dogs skin or coat it isn't included!
Don't worry, 4-Legger shampoo still provides plenty of lather. In fact, we were actually very pleased with how much lather was created.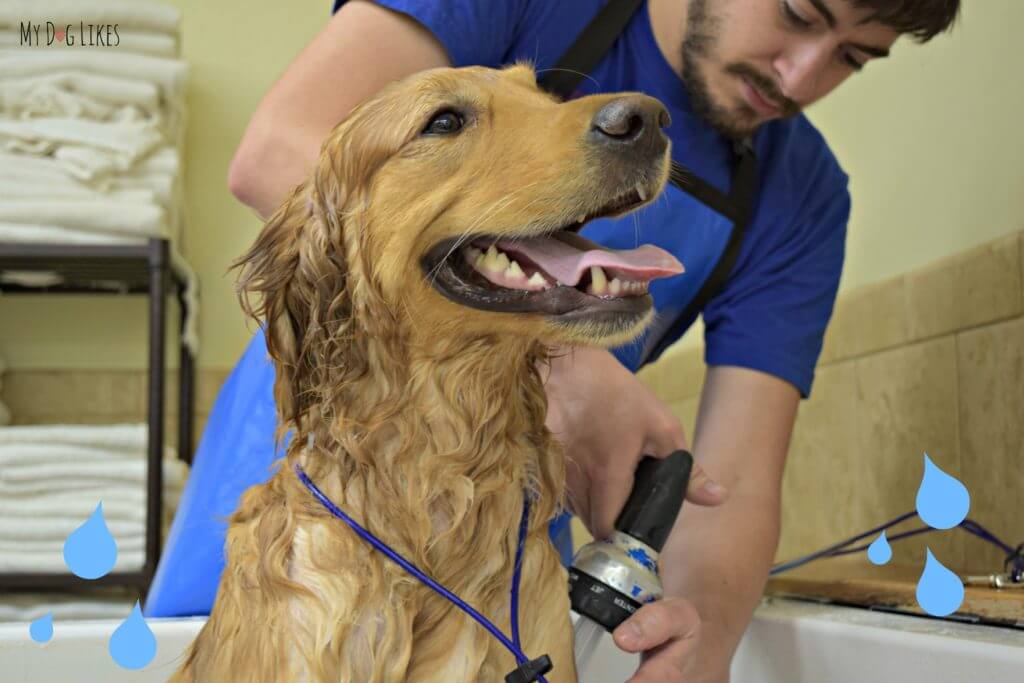 Another finding was that 4-Legger was significantly easier to rinse out of the coat than commercial dog shampoo brands. There was no slimy residue left behind and our boys were suds free in no time.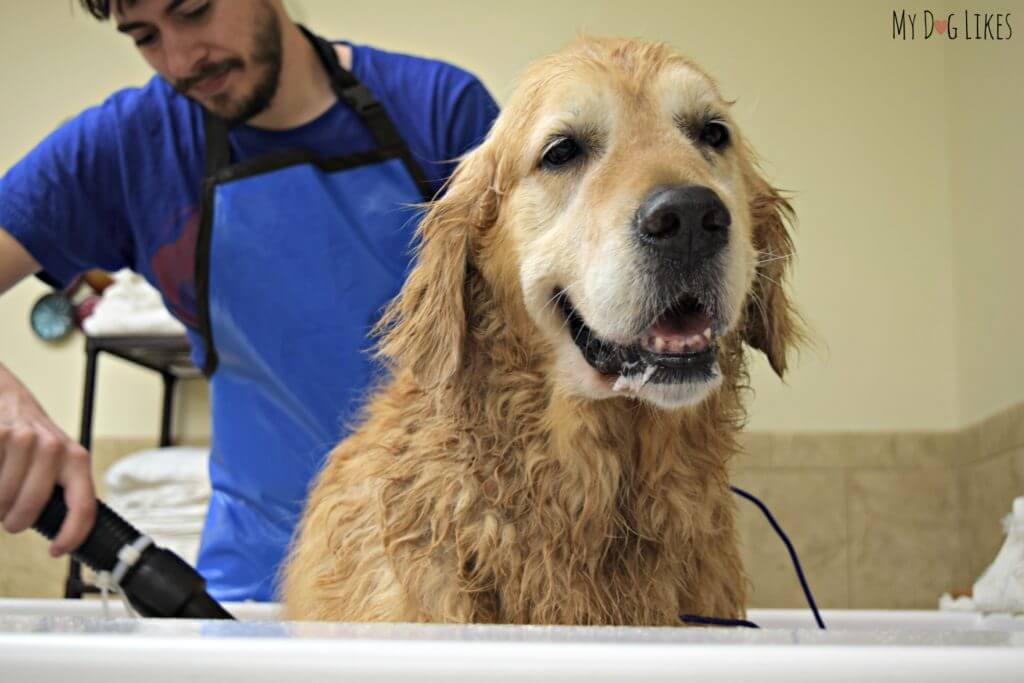 Not only do they smell fantastic, but their fur is incredibly smooth and soft. I can't stop rubbing Charlie's head in particular!

Why MyDogLikes 4-Legger Organic Dog Shampoo
The more we dig into and learn about common ingredients in dog foods, treats, and healthcare products the more we are pushed toward natural solutions. As we test their latest shampoo, we are once again impressed with 4-Legger's commitment to keeping things natural. 4-Legger is hypoallergenic, organic, non-toxic and (equally important) works great! Even that wonderful lavender scent is not artificial – instead a carefully concocted blend of essential oils.
Have a question? Feel free to contact them – 4-Legger is as transparent as they come and eager to share their knowledge to help us all have safer pets. If for any reason you aren't satisfied (we can't imagine why) they also offer a Wagging Tail Guarantee for a full refund.
Want to give 4-Legger a try?