Last week we let you know about Dognition – a unique testing system which was designed to help you develop a better understanding of your dog and how they approach the world around them.
Well, after having a chance to test it out for ourselves, we are very excited to tell you more about the process – and of course show you our boys' results!
Completing the Dognition Assessment
Dognition was kind enough to provide a membership to both Harley and Charlie so that we could give their testing a try and share the results with you. Of particular interest to us was just how similar or dissimilar their profiles would be – as they are both Golden Retrievers!
The testing process is simple, fun and inexpensive.
Click Here to Visit Dognition and Learn More!
Registering and Completing your Dog's Profile
When you first sign in to Dognition, you will be asked for some basic information about your dog including age, sex, and breed. Pairing this data with your dogs testing results helps Dognition to look for trends and make new discoveries in the field of canine cognitive science.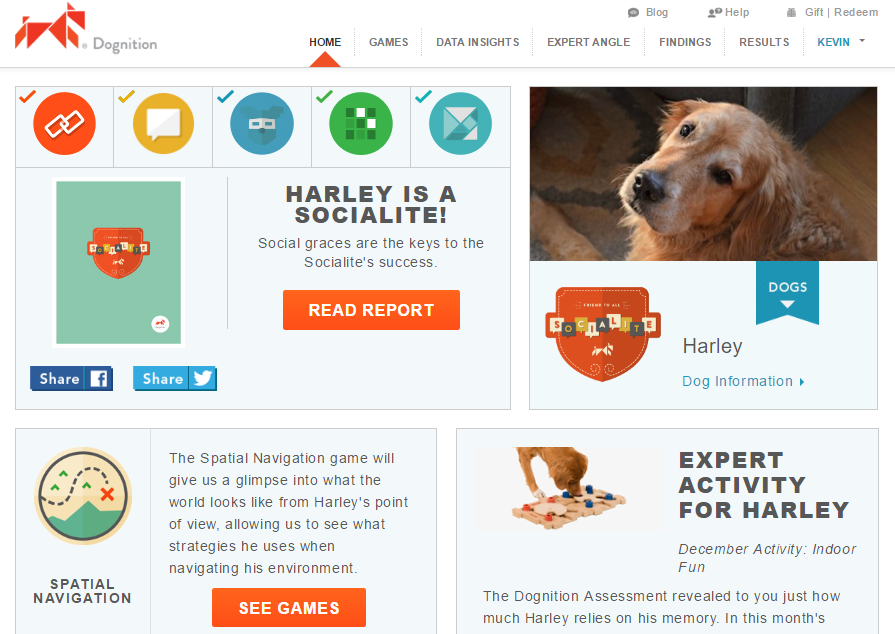 You will then be prompted with a series of questions designed to get to know your dog. These questions deal with how they behave in certain situations and how well they read various social cues from you.
The Structure of the Test
The Dognition assessment is broken down into 5 different modules – each focusing on a different aspect of cognition. Within each module is 2-5 short games with detailed instructions AND videos so that you know exactly what to do.
The testing will take around 2 hours in total to complete, but it is best separated over small increments throughout the day or even over multiple days!
What you will need for the Test:
Sticky Notes
2 Plastic Cups
Several Sheets of Paper (we liked a stiff paper like card stock)
LOTS of treats!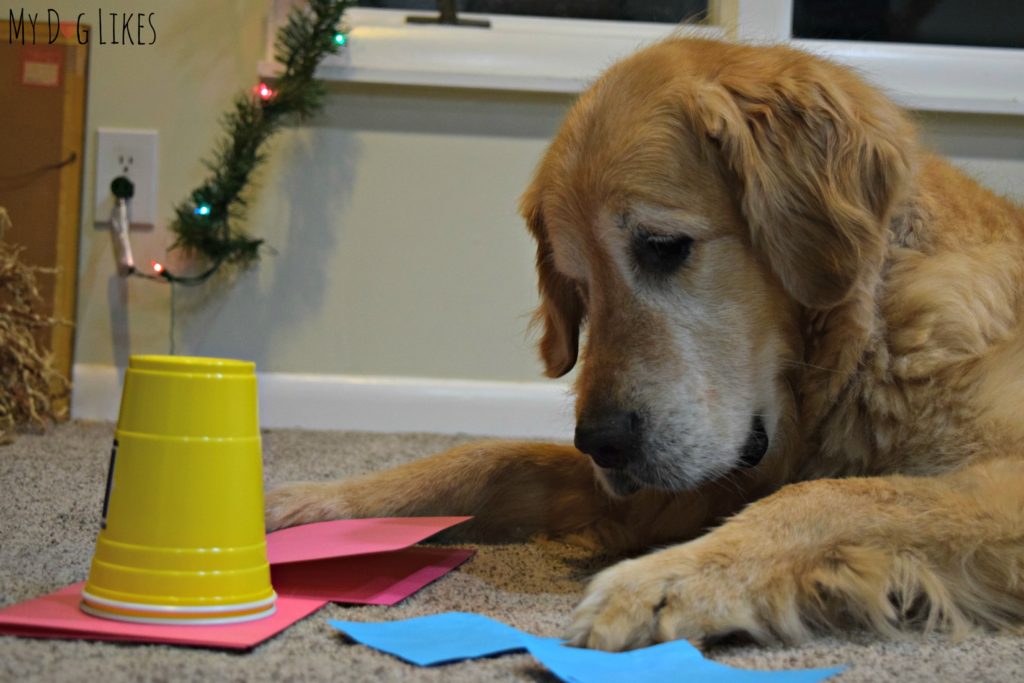 Testing Tips:
You will want to break up the assessment into at least 3 sessions, as this type of activity is very mentally challenging for your dog.
Perform the tests when your dog is at their most alert (often early morning) and also a bit hungry. This will make them more treat motivated and willing to follow directions. We recommend 3 sessions and broke ours up first thing in the morning, around their usual walk time, and before dinner (we eat a little late).
If you have multiple dogs, separate those not being tested and give them something to occupy themselves during this time. Otherwise they will likely be barking or scratching at the door wanting to see what they are missing out on! (We used a bone stuffed with almond butter, but a KONG would be great too). Testing should be done in a room that is closed off from other parts of the house, but you could always use a baby gate if your home is more open. It helped also to remove distractions (for us their bed and toy bin) from the room so we had their full attention!
While the testing is easier when done with a partner, it can be done alone – read this article for more info!
You will be giving your dog lots of treats throughout the course of this testing, so you will want to choose something that is highly rewarding – yet low calorie. Click here for a rundown of our favorite dog training treats.

Dimensions of Cognition Modules
Empathy – The empathy portion of the test examines your dogs ability to read emotions. How do they react to verbal and social queues? How bonded or individualistic is your dog?
Communication – This section looks into the way your dog react to your physical gestures. Can they follow a point with the hand or foot? Do they communicate with you or do they tend to rely on their own instincts? 
Cunning – Cunning examines the way your dog behaves when they know you are not watching them. Will they take advantage of opportunities that present themselves? Or will they heed a previous command?
Memory – This portion of the test explores whether your dog prefers to rely on their memory or other stimuli when given a problem to solve. Basically, are they more "in the moment" or retrospective?
Reasoning – The final section of testing looks into your dogs ability to infer or utilize physical reasoning to complete a puzzle. In other words, do they tend to be more impulsive or thoughtful?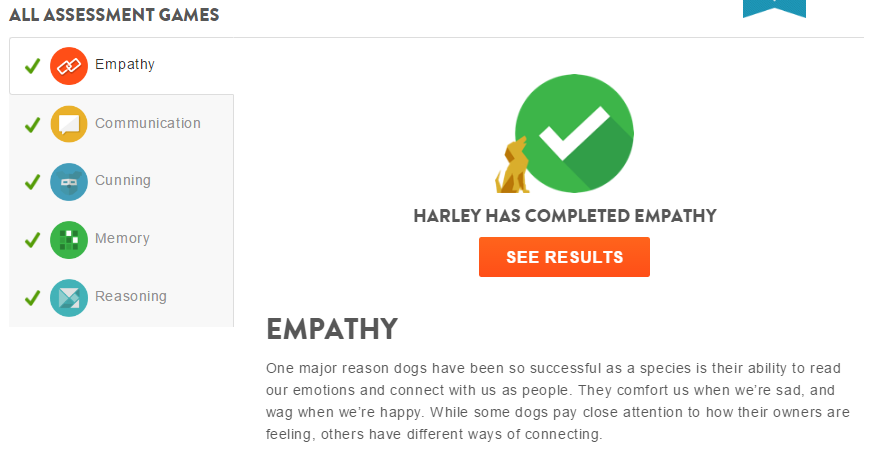 Reviewing your Dognition Profile
Using various aspects of psychology, neuroscience and computer science, Dognition will examine the strategies your dog has used to solve these problems and compile a personalized cognition profile. This report will match your dog with a profile that best describes the strategies they utilize to solve problems.
On top of this information is an in-depth look at your dogs performance on each test – and what that says about him or her.
NOTE: It is not always what you assume!
Harley – The Socialite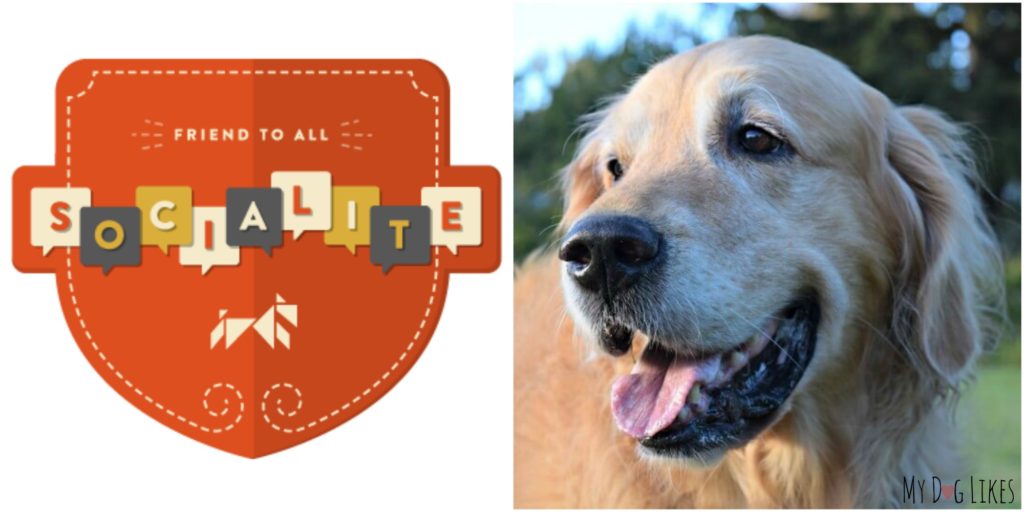 A socialite is a dog which is especially adept at interacting and communicating with humans.
Harley tested as highly empathetic and collaborative which means that he is great at reading social cues and understanding what it is we want from him. Of course this was no surprise to us! What was a surprise was to see the way that his communication and bond with us changed the way he problem solved. Like a toddler that looks to his parents for reassurance before trying something new, Harley looked to us before problem solving and trying something new!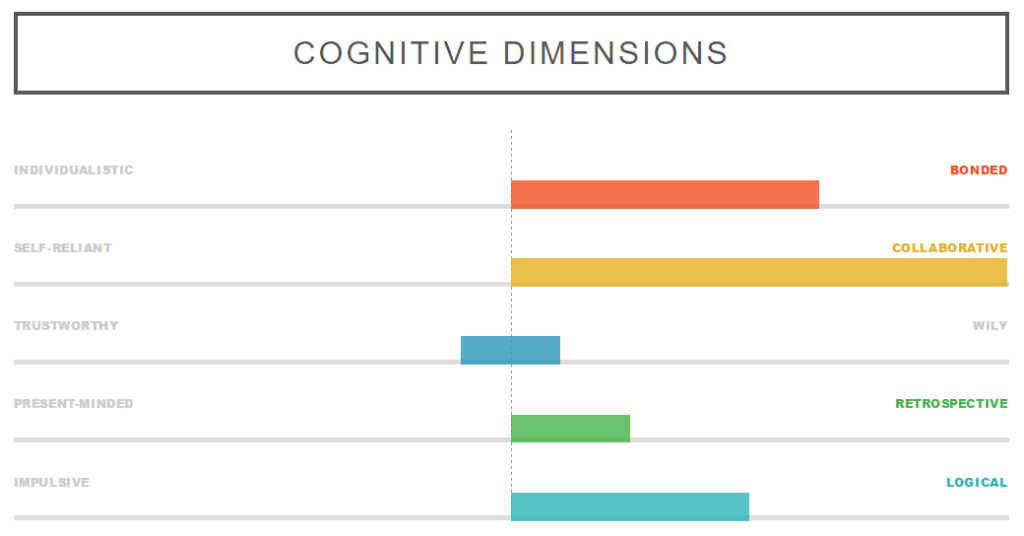 We were particularly struck by this line in the report: "Harley relies on a very specific strategy – using you and other humans in his pack to get what he wants." This sentence describes Harley to a tee! He is extremely intelligent, but will always defer to one of us before acting. He knows his Momma would never guide him wrong!
In some cases where it seemed like he wasn't performing as well, we learned that it was more about relying on different information when faced with a problem. For example, Harley was actually more likely to test his boundaries when we were watching him, than when we were not. Instead of being a sign of audacity, Dognition explained that it actually shows his trustworthiness. Even though he can read our cues and gestures with ease – he does not use this information to deceive us when given the opportunity!
Charlie – The Protodog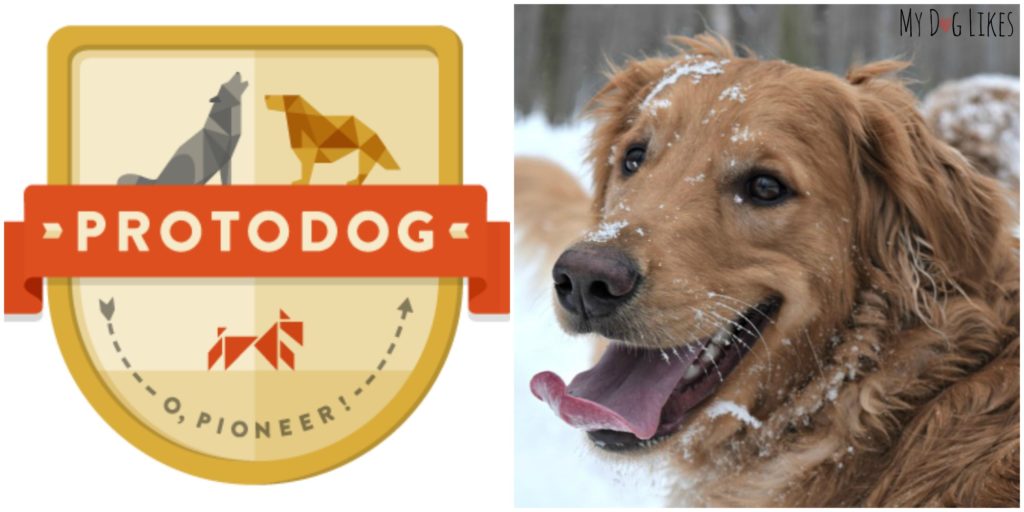 Charlie was matched as a Protodog – meaning that he is reminiscent of early dogs beginning a relationship with mankind. While he has a strong desire to communicate and connect with humans, he does have a bit of an independent streak and can be impulsive at times!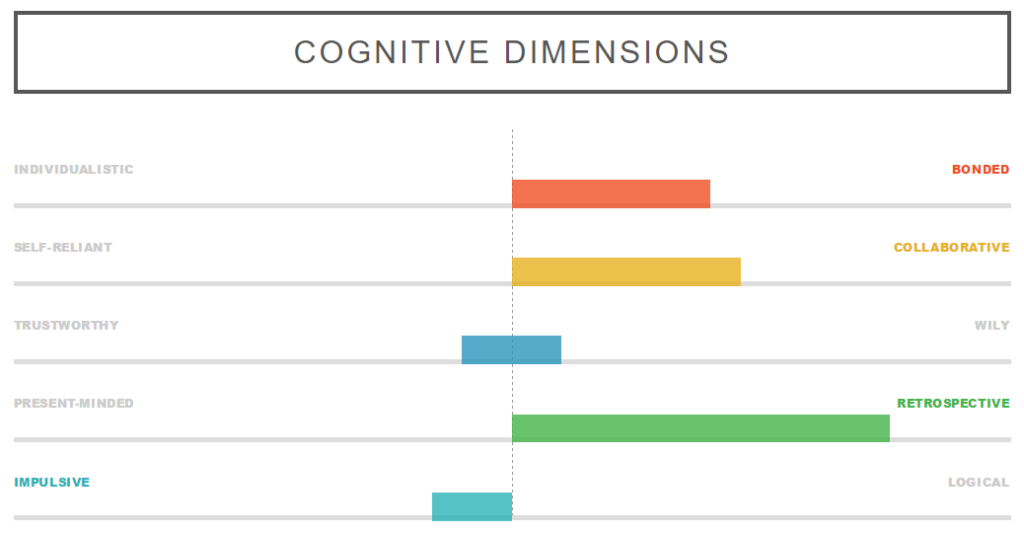 Charlie tested as being highly bonded and collaborative, but excelled in memory. We really loved this quote from the report:
"If Charlie is an avid fetch player, you've probably noticed that no stick or ball escapes for long. Charlie skillfully searching for an object that has briefly disappeared is a perfect example of him using his working memory to solve a problem. For Charlie, out of sight is definitely not out of mind."
Wow. Simply could not be more true for our frisbee-obsessed friend!

What's Next – Where Do We Go From Here?
Now that both Harley and Charlie have taken the Dognition assessment and have been matched with a profile, we will be sent monthly emails with new activities and tests specific to their profile. We will also have the ability to explore Dognition's data insights where we can see how they compare to other dogs based upon all sorts of parameters. Last but not least is access to Dognition's panel of experts and latest findings!

Why MyDogLikes the Dognition Assessment
First and foremost, the Dognition assessment was a ton of fun!!
Dogs love to be challenged, and also to spend time with you. The Dognition assessment is a great mixture of both and we had a blast working on the various tasks with Harley and Charlie. It was truly fascinating to watch their brains work and see how they respond to different situations.
After completing the testing, we were amazed at how accurate the profiles turned out to be. Rachael and I found ourselves constantly nodding our heads as we read through the reports describing how the test data likely presented itself in their daily behavior and personality. We also gained new insight into many of their individual behaviors – and our understanding of what they meant was sometimes off base!
We are very excited to continue our Dognition adventure as we explore the portal of the members area, so stay tuned to learn more!
Dognition would make an amazing Christmas gift for any dog lover!
Click Here to Visit Dognition and #DiscoverYourDog!