We are recapping each day of our Dog Friendly Tour of America! Stop back daily to see where we have been and what we were up to. Hopefully you will be inspired to plan your own dog friendly vacation!
Day 6 marked the end of our BlogPaws stay in Pheonix, and the beginning of the sightseeing portion of our road trip across America. On the docket for the day was Grand Canyon National Park which is roughly a 4 hour drive from the Phoenix area.
We had hoped to start the day early but blackout curtains and general exhaustion from the trip put a wrench in our plan. We ended up waking up close to 9am -panicking about the day that we had planned and how unprepared we felt! After a few deep breaths we decided to just let the day roll out naturally, saying goodbye to friends, packing up, and making any stops that we wanted along the way to the Grand Canyon. We have read that it is not particularly dog friendly so we did not anticipate spending too much time there anyway!
Golden Photo Shoot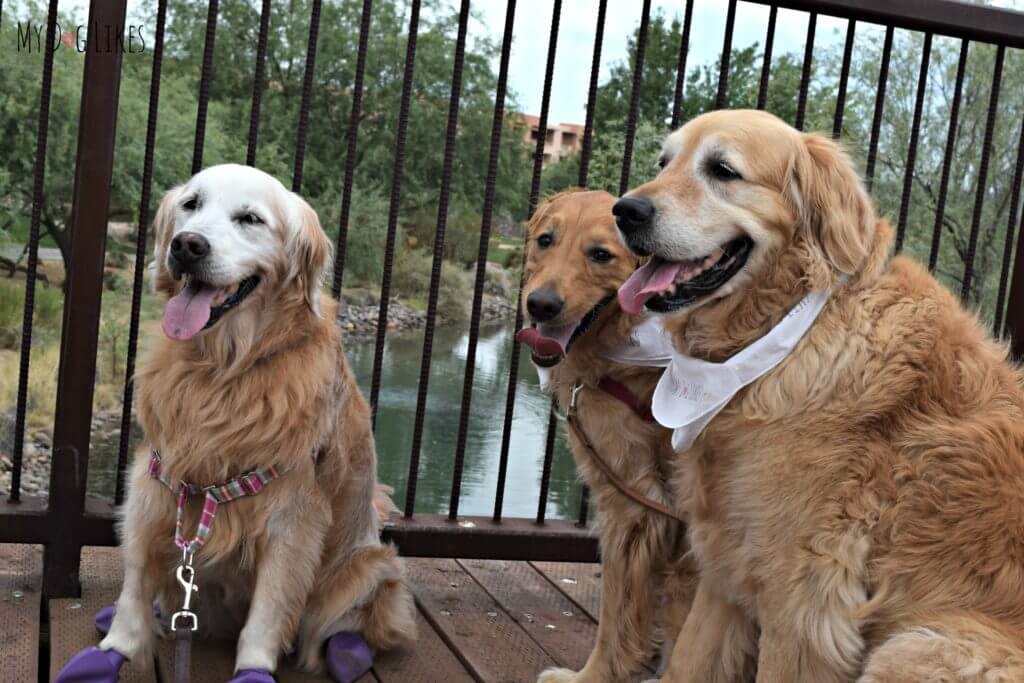 First things first, we needed to say goodbye to our friend Sugar, of Golden Woofs. We were so excited to have finally met her and her Mom (Rosalyn) in person (after years of knowing them online) and wanted and send Sugar some extra barkday love! We met up in the morning before getting on the road for one totally adorable photo shoot! We love Sugar!
Packing up – So much Swag!
After our visit with Sugar it was time to pack up. Oh my…we had a lot more stuff than what we came with! Every BlogPaws attendee gets a huge swag bag (X2 for Kev and I), plus we were handed out extra goodies at the exhibit hall!
Thankfully as conference alumni we came prepared for the level of loot we would be heading home with. Like Kev mentioned before, we packed all of our supplies for the trip in clear plastic totes. We purposely left plenty of room in these bins and even brought along an extra tote! We had plenty of space and this system made loading up our swag a breeze!
We were also able to pass along some duplicate goodies to members of the staff who had been so welcoming and helpful during our stay!
Grand Canyon – With some stops along the way
Confession: I am a bit of a Type A, planner.
I like to have plans and feel prepared for things. I guess I just like to know what to expect! Kevin, who is my opposite in this sense, planned this whole trip and wanted it to be more of a play it by ear sort of thing. There was a basic outline of what we would explore and how far we would travel each day, but he wanted to have the flexibility to change plans as needed.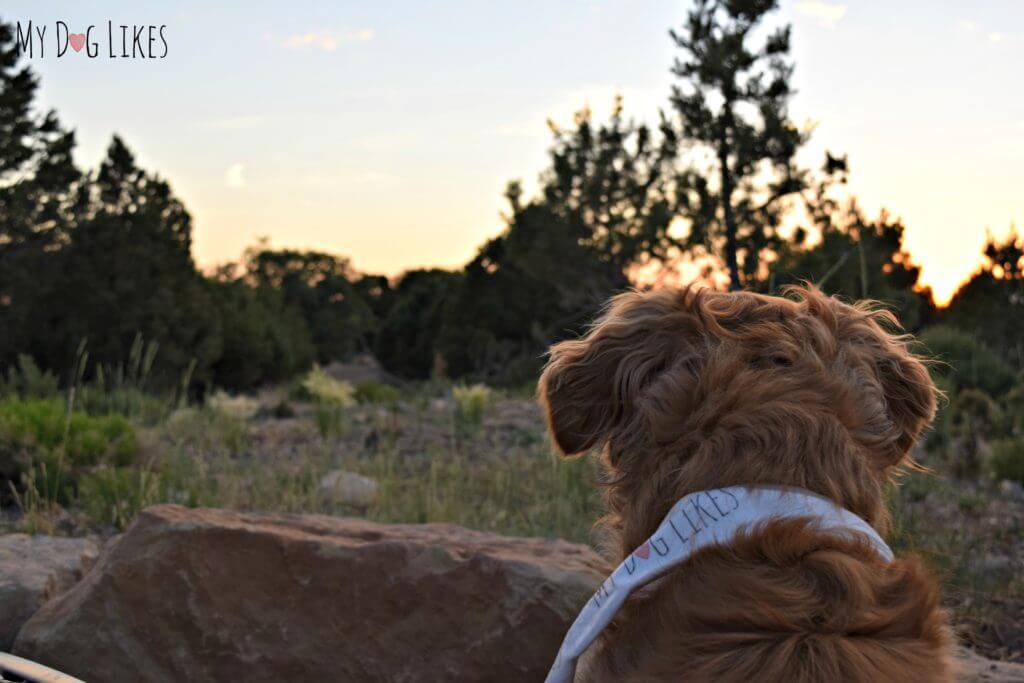 As the trip has progressed, I've started to realize it was going to make me stretch in some uncomfortable, but exciting ways -starting with our drive to the Grand Canyon.
Wanting to avoid getting to the Grand Canyon while it was still scorching hot (105 Degrees), we decided to take our time and make stops that spoke to us. Yes, you read that right; no plan!
LaMar's Donuts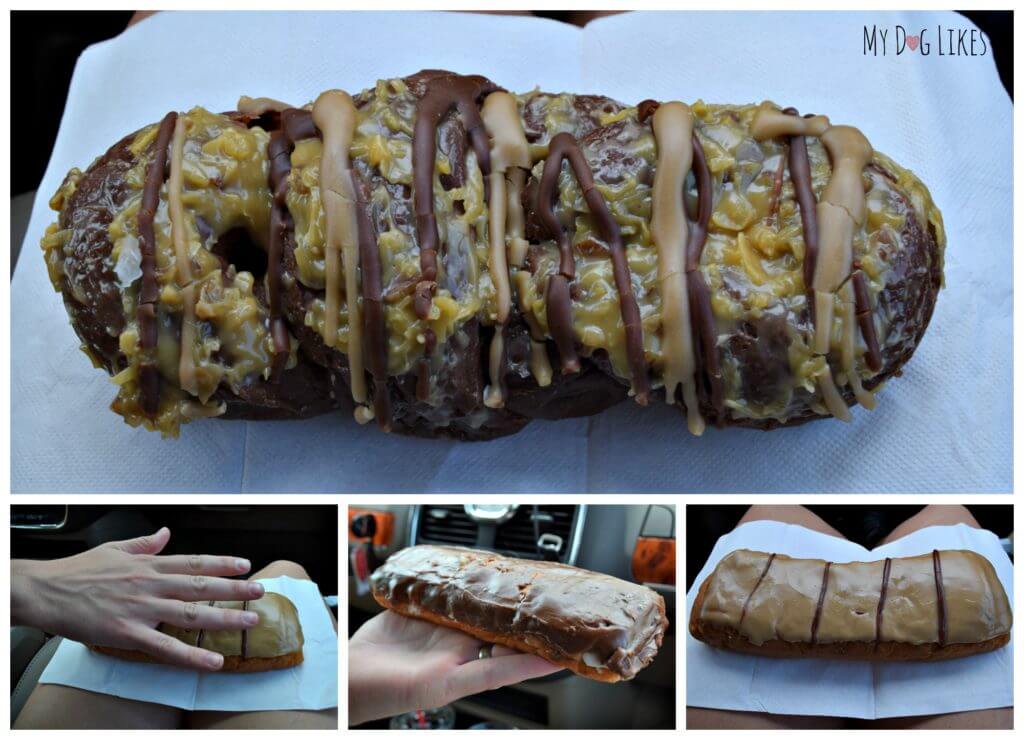 We hadn't found the time to eat (or get coffee!!) before heading out, so finding something along the way was a priority. We came across a place called Lamar's Donuts in a Google search and figured we'd give it a try. Boy are we glad we did! Check out the size of these donuts – and don't judge – we are on vacation!
Yes they were delicious!
Coconino National Forest
In prior trips to Flagstaff and Sedona we have driven through the gorgeous Coconino National Forest. Since we were passing through again, in less of a hurry,  we decided to finally take the time to explore it a bit.
Plus, the oppressive heat of Phoenix had left the boys a little stir crazy. We really wanted to get them out for a bit of exercise – and let's face it – after those donuts we could spare a few calories as well!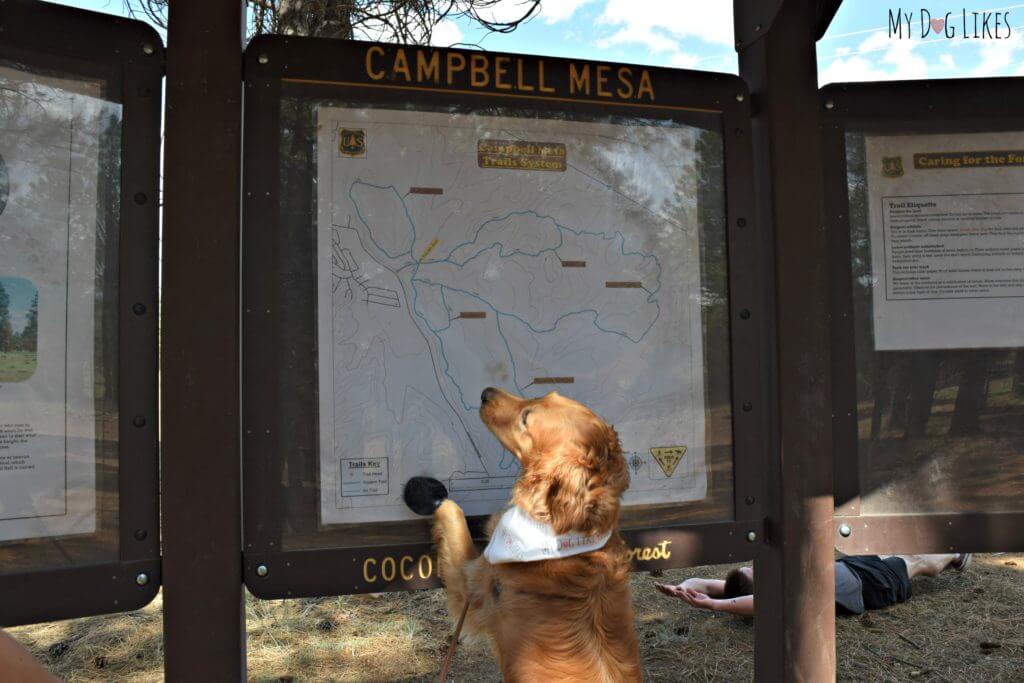 Using TripAdvisor and Alltrails.com, we found a trail system just south of Flagstaff that would offer some shaded hiking for the whole crew. A quick detour off our route and we were there.
Campbell Mesa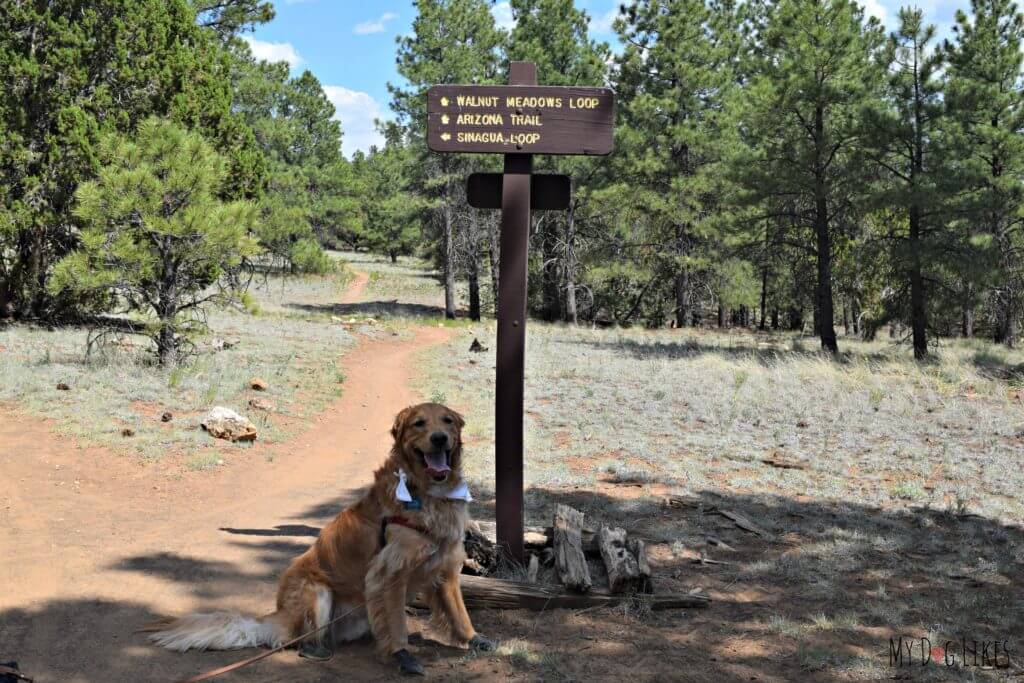 Located just outside of Flagstaff, Campbell Mesa in Coconino National Forest offered several different trails of varying length. We chose the 4 mile Walnut Meadow Loop, because from what we could tell, it would be partially shaded by Ponderosa Pine Trees and provide a much needed refuge from the sun.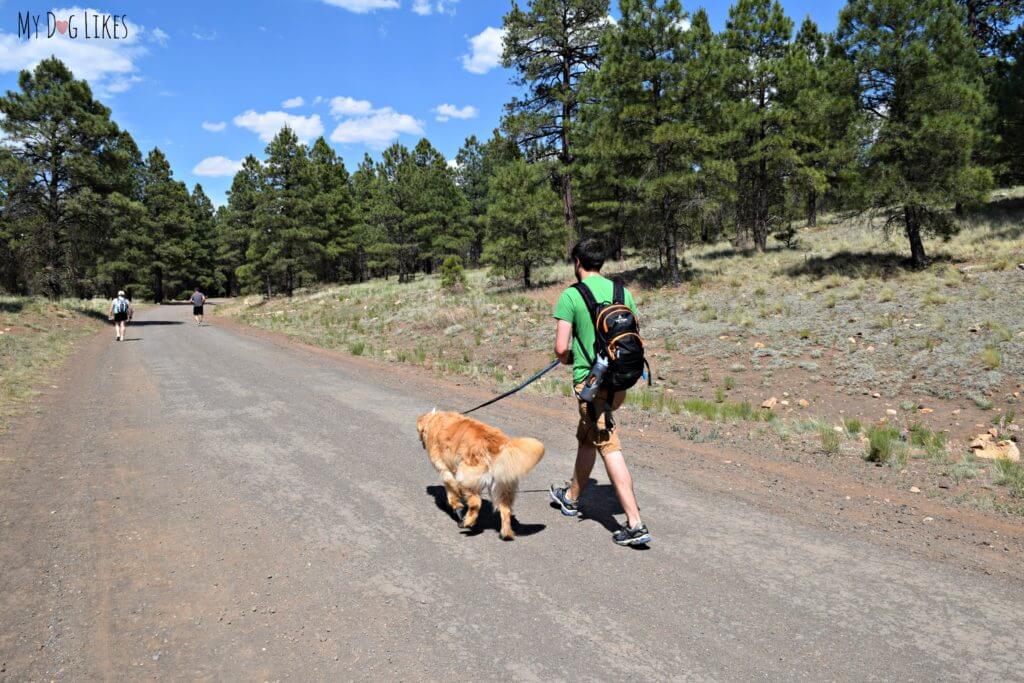 The location was beautiful and, as expected, partially shaded by trees. We hiked for about 2 hours, stopping frequently for water breaks, and enjoyed the solitude. In fact, we only ran into a few other hikers during the entire trek!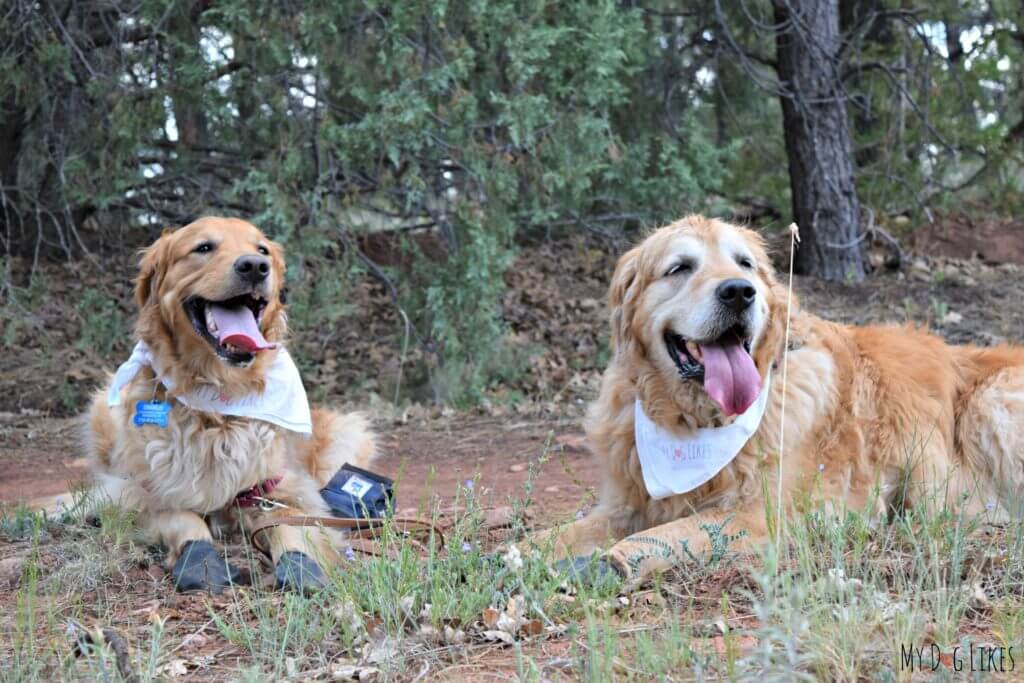 We will write more about this hike at Campbell Mesa in a future post, but suffice it to say it was just the sort of hike we were looking for.
MartAnne's
After our hike at Campbell Mesa, we had worked up quite an appetite. We checked the map and realized we were only a few miles outside of Flagstaff and one of our favorite restaurants, MartAnne's.  MartAnne's specializes in Chilaquiles, a traditional Mexican dish smothered in cheese and red, green or both (Christmas style) salsa. Kev and I had the AMAZING fortune to eat breakfast/lunch here a couple of years in a row and knew we couldn't pass up the opportunity. Although we didn't have much time to get up to the Grand Canyon, we knew we had to stop!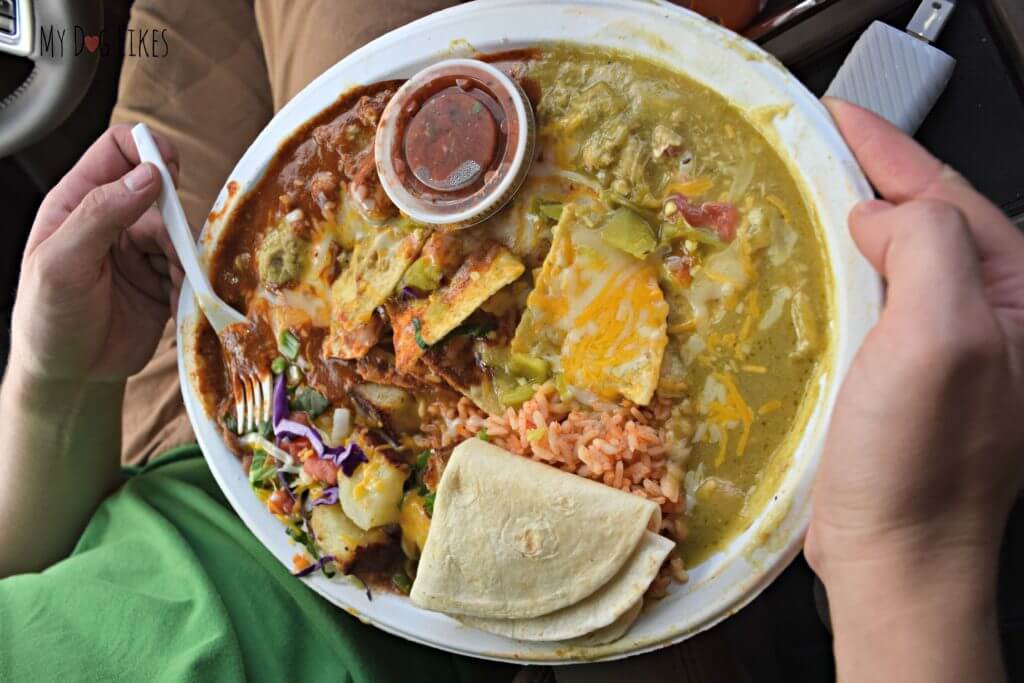 We ordered to go and ate quickly in the car before heading the last hour North.
Grand Canyon National Park – South Rim Trail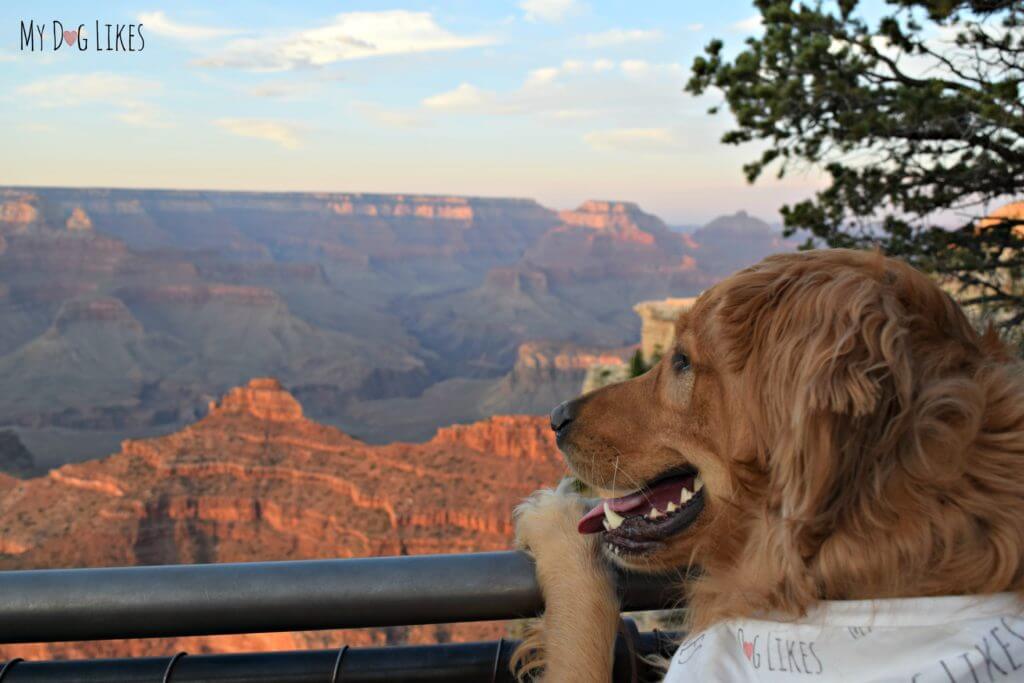 We made it to Grand Canyon just before dusk, paid the $30 entrance fee and headed in. It was still relatively crowded and we only had time to take in a few overlooks before the sun set. Pets are only allowed on the South rim trail and honestly there was less to explore in the main area than I expected.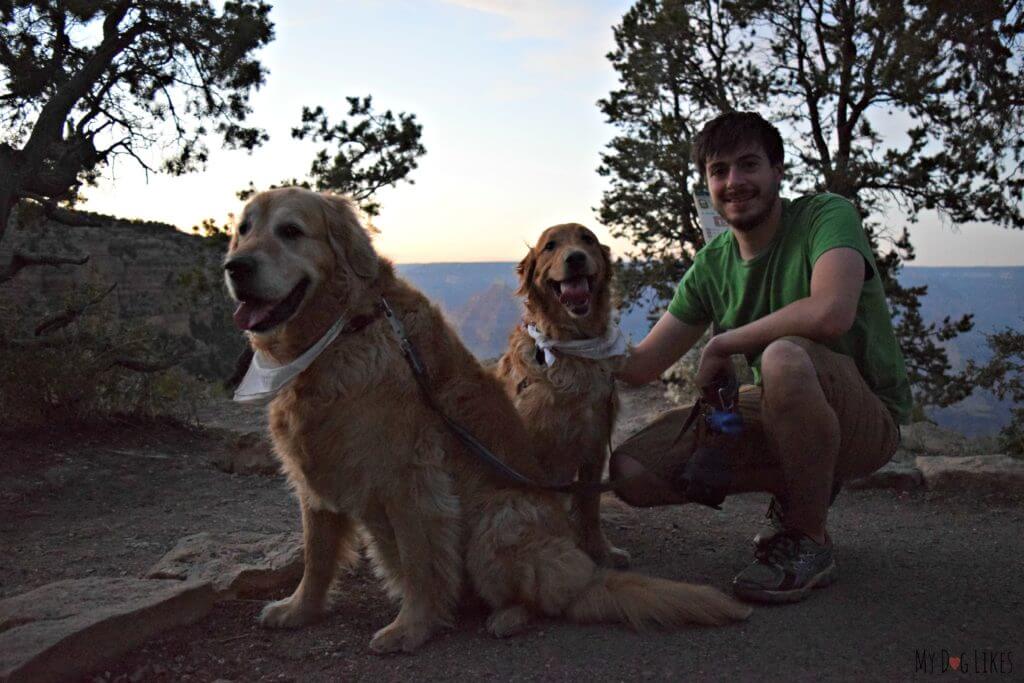 We left out of the west side of the park. Though we were driving in the dark, I got the impression that it would have been a bit more seclude and provided more overlooks on this side. If you are planning on traveling to the Grand Canyon with your dog, the North Rim Trail is also dog friendly.
Hotel in Kanab, Utah
We left the park around 9 and the goal was to make it up to Kanab, Utah. While Kanab is only 70-80 miles due north of the canyon, that pesky canyon is in the way and extends this trip to a long 200 miles and a 3 hour drive! Kev decided he could power through and I got to work finding a good deal on a pet friendly hotel. Priceline Express deals to the rescue! We landed a Pet Friendly Best Western in Kanab for only $78 ($94 after taxes)!
What We Learned
Go with the flow, take your time – Stopping at MarteAnnes was so much fun. Most places will create a to-go container for you if you ask. Don't let having your dogs with you prevent you from eating some great food on your trip!
Never too much water – Collapsible dog bowls and a backpack with water bladder are amazing. You can never have too much water – Especially when you have your dogs along since they can easily become overheated. We actually brought enough water along to splash onto their bodies as needed to cool down without running out of drinking water.
Grand Canyon with Dogs – If you are going with a pet, you won't need as much time as you would anticipate. Only the rim trails are pet friendly, so as a result the experience is limited. We did learn that the only thing that can distract people from the Grand Canyon is two beautiful golden retrievers visiting the Grand Canyon!
Quick Stats
Miles traveled: 460
States passed through:  2 – Arizona and part of Utah
Gas fill ups: 1 (We had filled up right before getting to Phoenix)
Stay Tuned Tomorrow – Trip to Best Friends Animal Sanctuary!