After a day of rest, we were eager to get out and explore more of our beautiful country. Ahead of us was the longest drive of the trip: Baltimore, MD to Myrtle Beach, SC.
With no stops the drive was expected to take a little under 8 hours. Knowing that we needed to stretch legs (ours and the dogs), refuel, and feed the baby every few hours, we estimated that it would take us a minimum of 12. Our plan was to get up bright and early and hit the road. Funny how babies, dogs, and family change those plans – we weren't on the road, in earnest, until nearly 12pm.
First Things First
Little known fact, Kev and I basically don't function until we have had some coffee. Unlike our trip last year, one thing that we have really enjoyed is being able to get some Dunkin Donuts coffee regularly! We were so shocked last year when traveling out west that coffee shops basically don't exist. Now, I know what you are thinking, we live in New York – of course there are coffee shops everywhere but we live in Western New York – basically about as far as you can get from New York City in the state and much closer to Canada, Eh!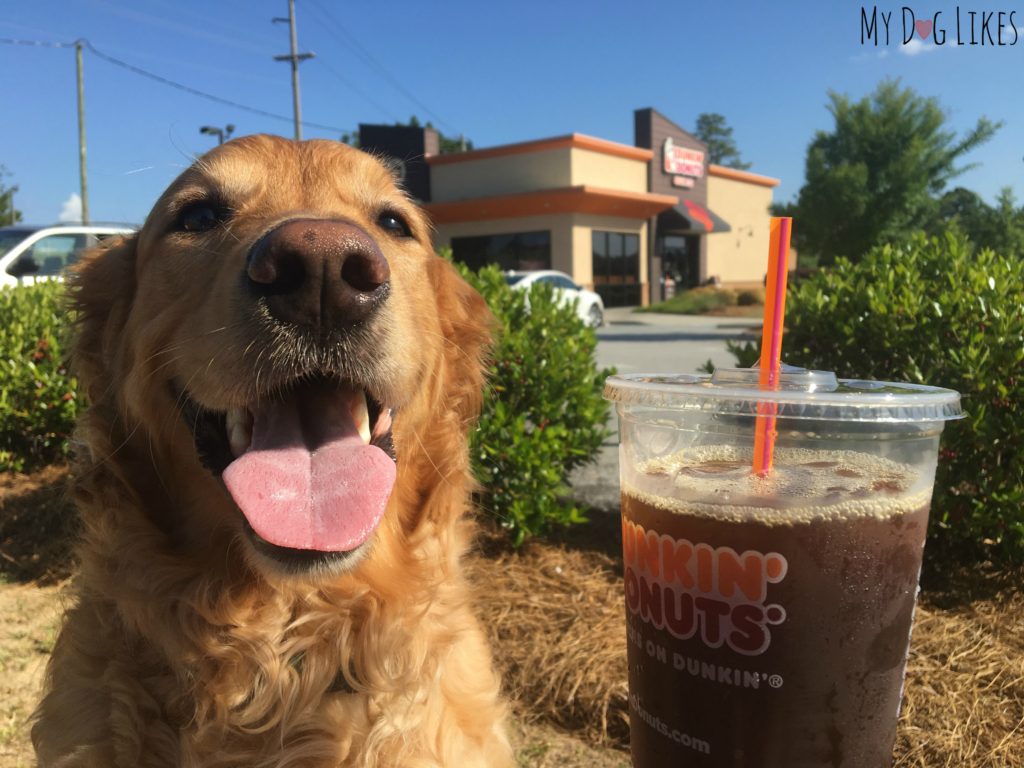 Regardless – we are loving the ability to fuel up with a big iced coffee before the day starts!
On the Road to Richmond, VA
We cannot be nearly as spontaneous with our traveling these days. So before getting on the road we had decided that our first planned stop would be in Richmond, VA. Specifically, Kev had planned for us to stop at Belle Isle.
Having learned our lesson from Day 1, we researched this park and found out that the island was a popular spot for locals to hang out, sunbathe, and float in small estuaries created from rock formations. Consisting primarily of a 1.8 mile loop and pedestrian bridge, we knew this walk wouldn't be too challenging for Harley and that a soak in the water would be an excellent payoff for their efforts.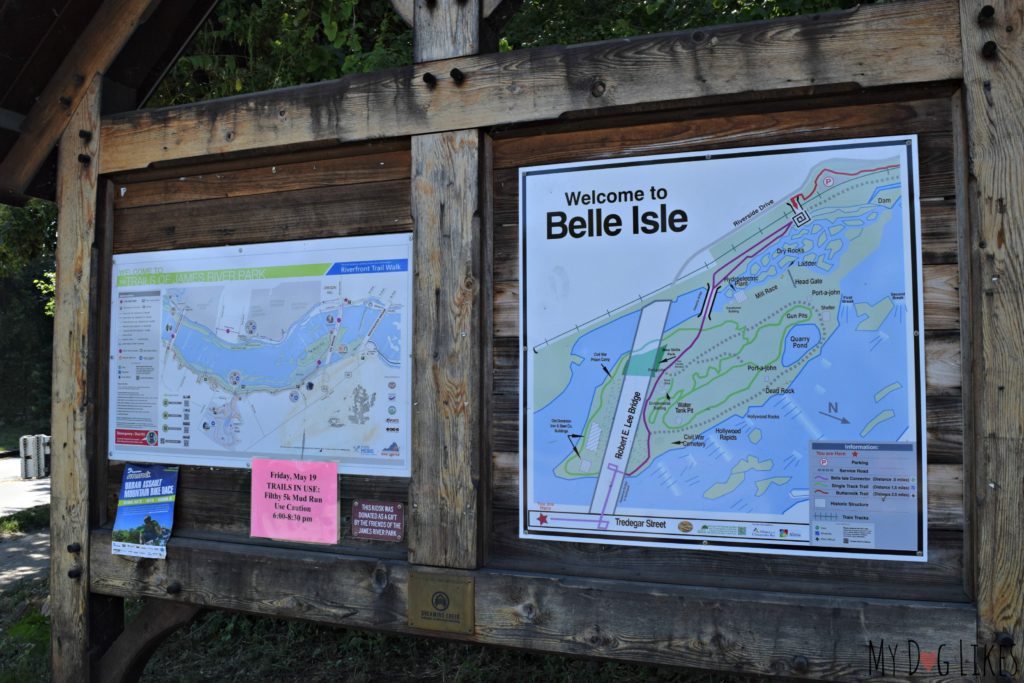 Belle Isle – Part of the James River Park System
With temperatures in the high 90's , Kev and I were concerned that the dogs and the baby would be too hot to enjoy this trip, however knowing we needed a stop for everyone we decided to play it by ear – stopping for only a couple of minutes if the situation called for greater caution.
We arrived to the park a little after 3 pm which was perfect because we missed the intensity of the afternoon sun. It was hot but also very breezy, so the air temperature was comfortable. The fates seemed to align for us and we located the main parking area and found a shaded spot to park the van. After crossing our fingers that the heat wouldn't melt the snacks in our car, we sprayed the dogs down with natural flea spray, put on their paw protection booties (keep in mind that paved surfaces get much hotter than the air temperature), and ventured out!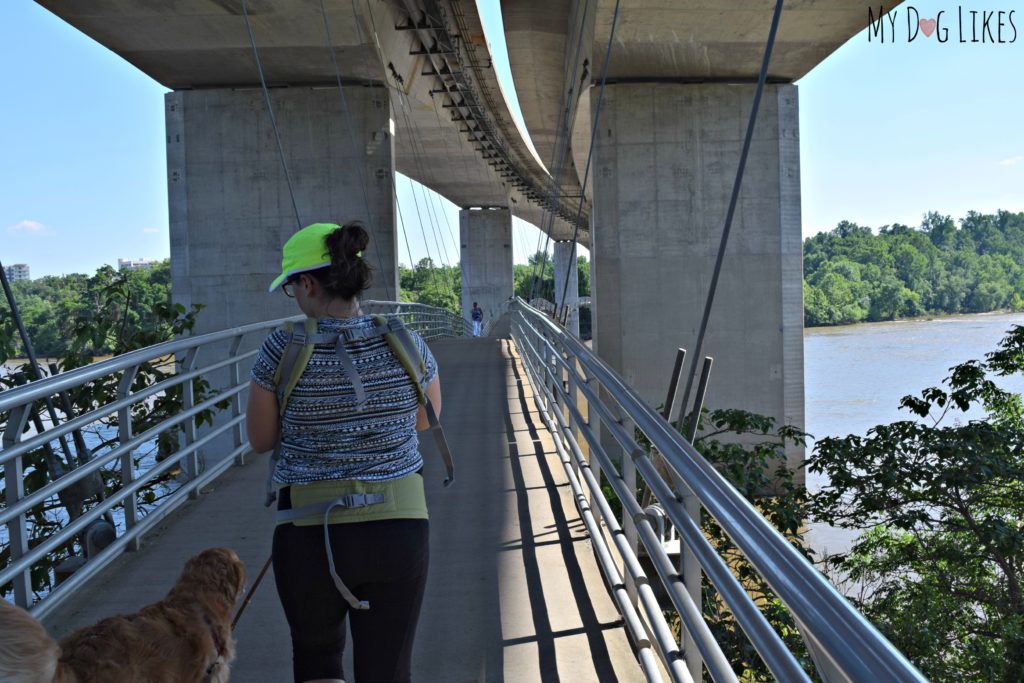 The first part of this walk to Belle Isle was over a pedestrian bridge that crosses the James River. We were pleasantly surprised to see that the bridge was covered by a motor vehicle bridge leaving it shaded from the sun.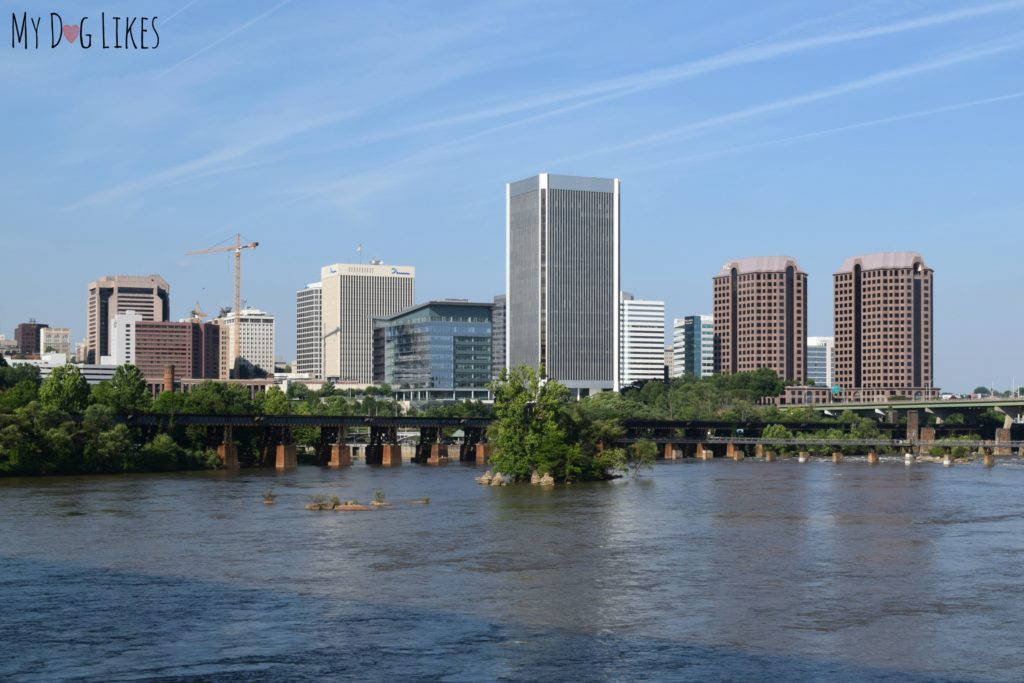 View of Richmond, VA from pedestrian bridge
The boys were so excited to cross and loved seeing all of the people. Harley had some trouble passing over the bridge and we weren't sure whether he was uncomfortable with the subtle movement of the bridge (which Charlie and I were oblivious to) or if it was his vision that was making him nervous. Regardless, with a little encouragement and taking it slow, he successfully crossed.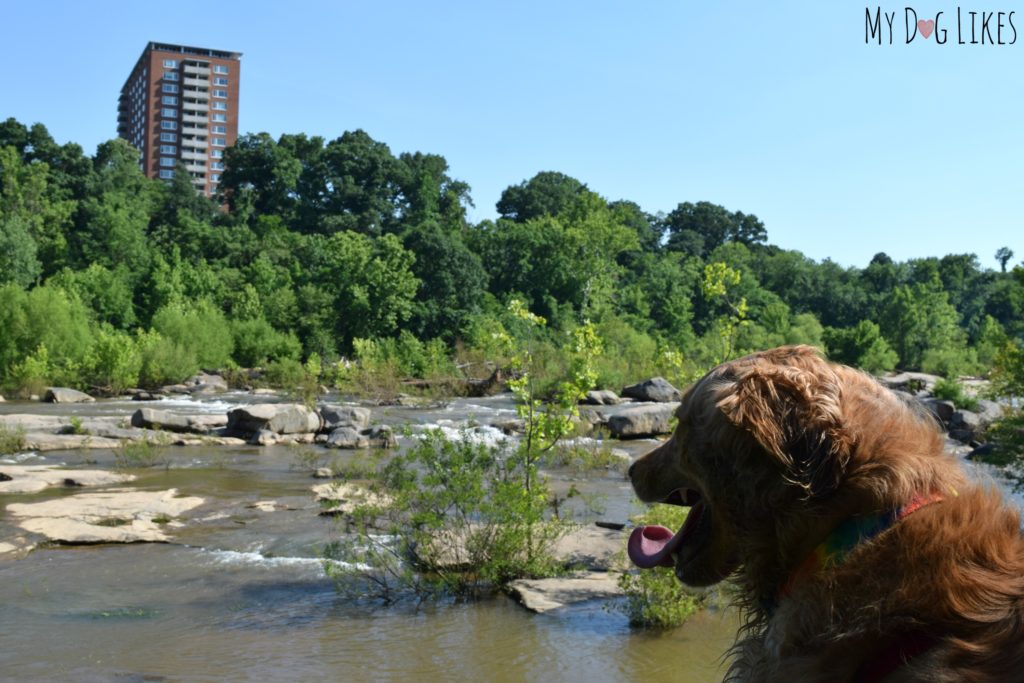 We walked around the 1.8 mile loop checking out the various estuaries and people who were hanging out. Once we found an area that was well blocked from the rapids, the boys took a dip!
Not only was it refreshing, but it helped the boys to calm down since they had been pulling toward the water the whole time! As you can see, Harley did not want to leave…You just can't keep these guys out of the water!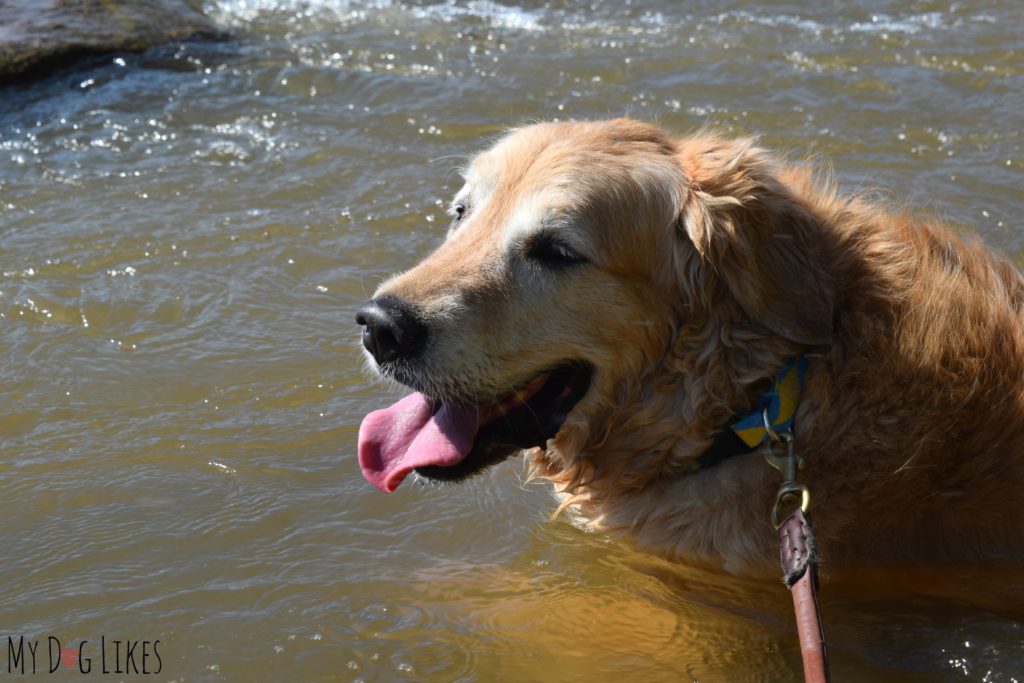 After a swim and some exploration, we found a shady spot to eat an early dinner that we had packed and let the baby stretch his legs after being in the car seat or carrier for much of the day.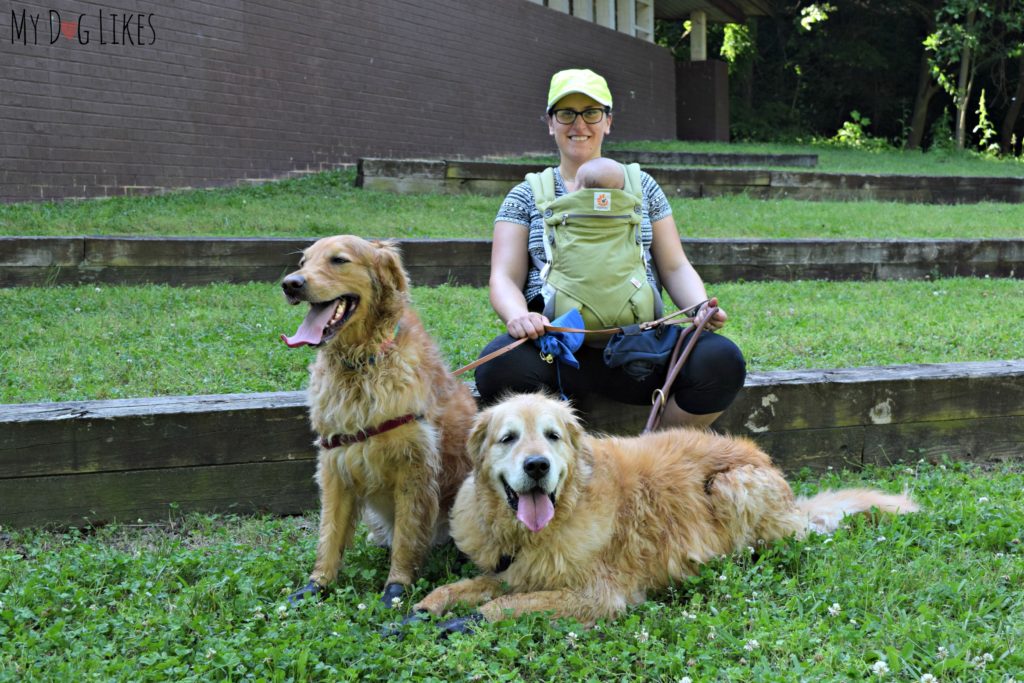 With tired pups we loaded back into the car and got on the road around 6pm. After a couple of stops to refuel and stretch our legs, we arrived in Myrtle Beach around 1am to check into the hotel we would be staying at for Blogpaws!
The boys were very excited to see they had a room on the top floor 🙂 and were going to meet up with their blogging friends over the next few days! 
What We Learned on Day 3
Don't rule out an adventure simply based on the thermometer. Proximity to water and a nice breeze can work wonders in keeping you (and your dogs) comfortable.
Take a deep breath and relax. Early in our drive we accepted the fact that it would be a late night regardless, so why rush? We took our time and stopped when we needed to, and enjoyed the both the sights and the journey.
Quick Stats
Miles traveled: 481
States passed through: MD, VA, NC, SC
Gas fill-ups: 1
Stay tuned for our next post where we will detail our experience at the 2017 BlogPaws Conference – where we connect with other pet bloggers and learn how to create more useful content and reach more readers!