On this episode of True Life we are following a couple of dogs named Harley and Charlie who are totally in love. Sparks flew when these hungry dogs met the Wellness TruFood crew at the BlogPaws Conference in May 2015. Harley and Charlie were smitten kittens and soon had new leading ladies in their lives. As you can tell, the feeling was mutual!
After the boys received sufficient loving (and treats!), we were able to chat a bit about the Wellness brand and their new TruFood line. We liked what we heard (and the treats were a big hit), so when our friends at Wellness asked us to put together a Wellness Trufood review for our readers, we were eager and excited to do so!
Wellness Pet Food
The roots of the Wellness company stretch back over 80 years – all the way back to a dog biscuit company named Old Mother Hubbard. After several decades of selling these treats throughout the Northeast, the company was purchased by Jim Scott, Sr. in the 1960's. As an expert in animal nutrition, Scott reformulated the entire line to use only natural ingredients – a novel concept at the time.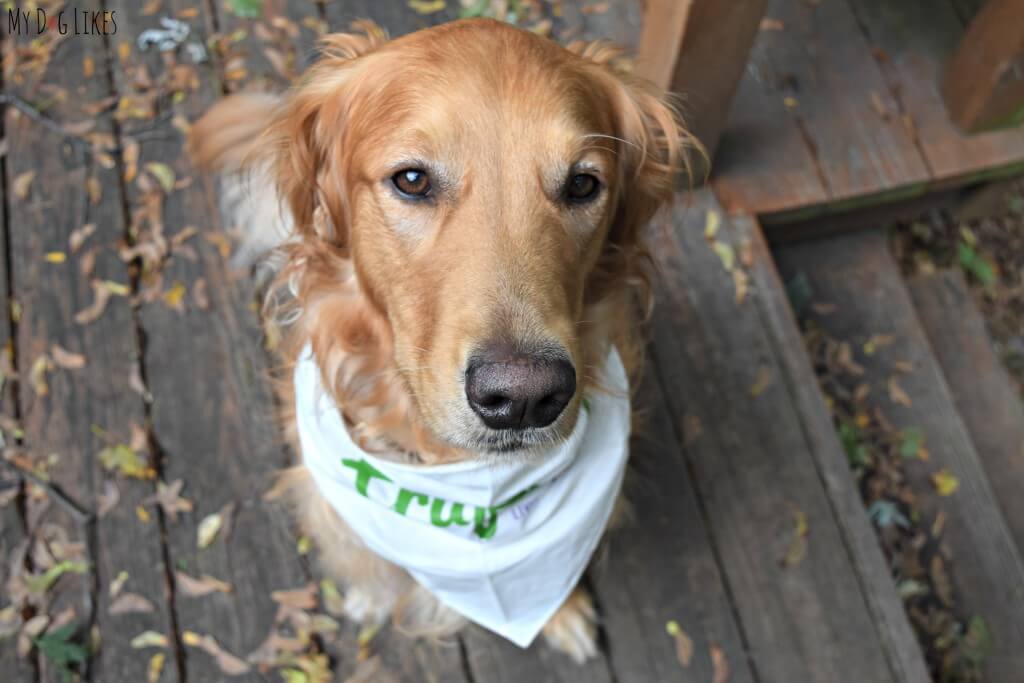 Fast forward to the 1990's and Old Mother Hubbard put together a team of veterinarians, scientists and pet nutrition experts to create a revolutionary new dog food; one that would contain only whole foods, no preservatives or fillers like wheat, corn or soy. The resulting formulation was aptly named "Wellness" to symbolize the positive effect of a wholesome diet.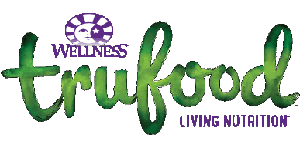 Unconditional love. Uncompromising nutrition
The Wellness brand has come a long way since its inception, expanding to include grain-free, limited ingredient, and most recently with TruFood, raw inspired lines of cat and dog treats and food.
Wellness TruFood
TruFood is a grain-free, raw inspired, line of treats and food that uses all natural ingredients prepared in small slow-cooked batches. If you've walked through a  pet store in the last couple of years, you've probably heard or seen similar claims, but taking a closer look at the Wellness TruFood line and you will quickly see what helps Wellness to be a standout in the natural and healthy pet food market.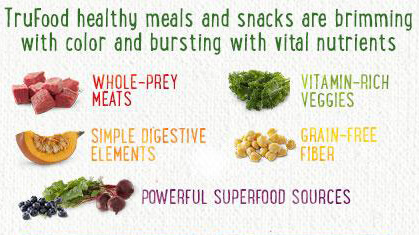 Why Slow Cooked? – 

Slow baking at low temperatures allows for the food to retain more of its innate nutrition. In fact, TruFood contains up to 70% more protein that similar foods on the market.

Grain-Free (For Real)

– Grain free in and of itself is not a promise of healthy food. Did you know that many grain free dog foods replace the carbohydrates from grains with cheap and nutritionally sparse ingredients like white potatoes and rice? A diet that is out of whack and contains too much protein and too little fiber can cause all sorts of digestion issues.  Wellness TruFood is full of healthy high fiber carbohydrates likes those from fruits, vegetables, flaxseed, lentils, and chickpeas.

Raw Inspired – TruFood has been c

reated in order to give your dog as close of a replica as can be achieved with a store bought dry diet. So what does it mean to be raw inspired? Wellness TruFood is NOT raw but follows the premise of healthy, whole ingredients that are minimally processes and work to support the whole health of your furry friend.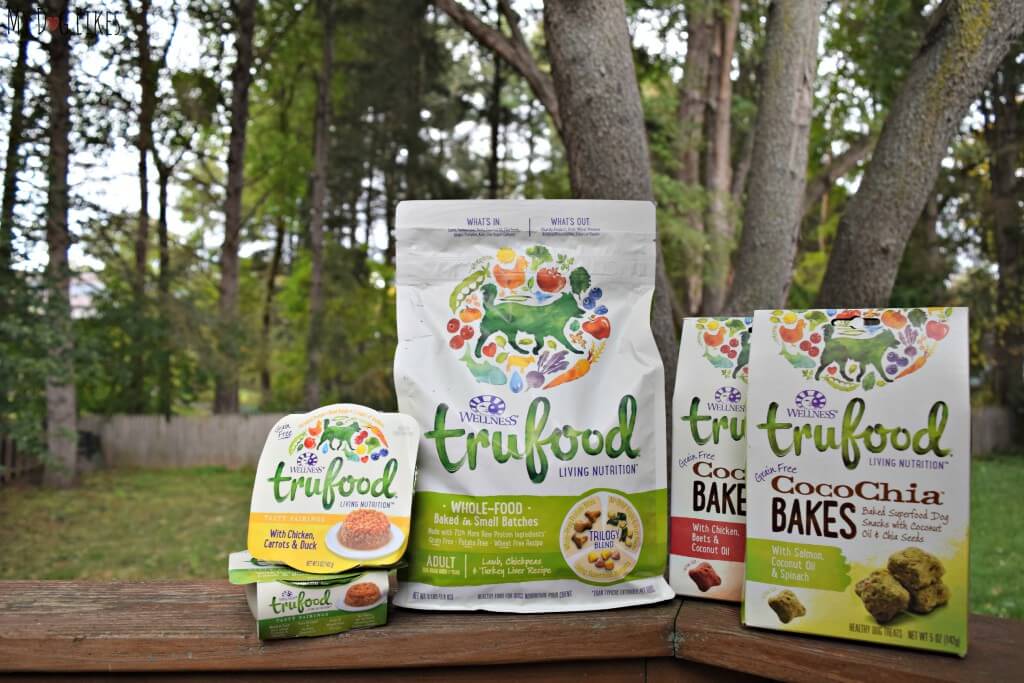 TruFood Baked Blends – Dry Dog Food
Starting off with the highest quality meats from trusted sources, Baked Blends contain fiber rich fruits and vegetables. On top of that you will find their Superfood Nuggets which are loaded with vitamins and antioxidants. These nuggets are also coated with live yogurt cultures to give your dog the probiotics he/she needs for healthy digestion.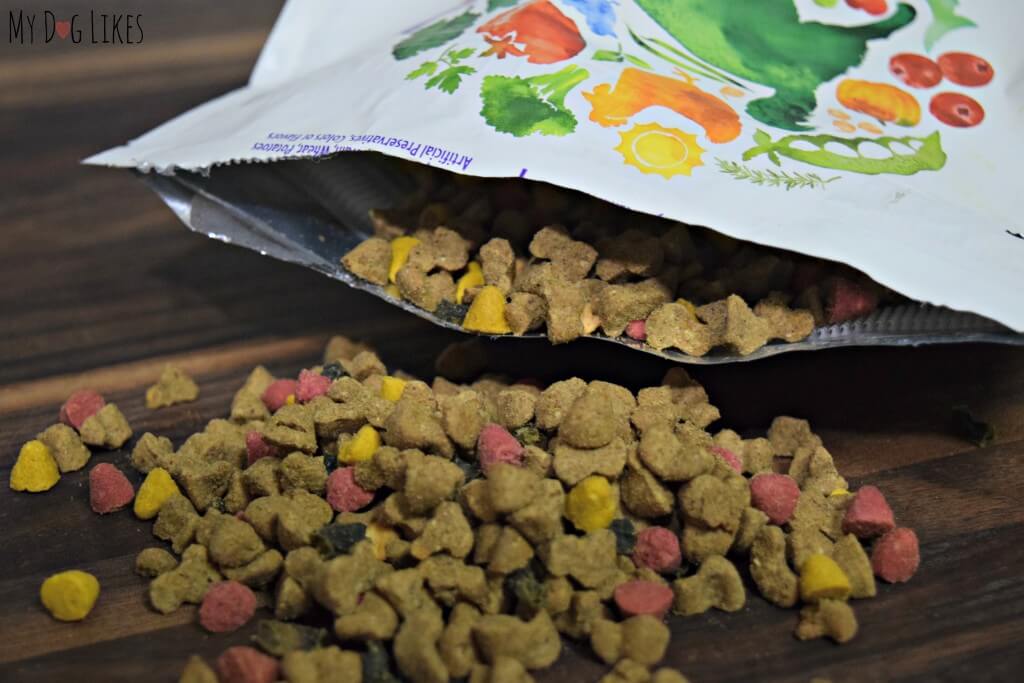 While we are not at all shy about the fact that we feed a home cooked diet for the boys, we know that feeding raw or homemade is not a viable or realistic option for every person or every situation. Sometimes when life gets a little crazy its good to have a backup plan (and if you are like me, a back up to the backup plan).
In order to ensure that my boys are optimally cared for and healthy – I continue to research dry dog food to ensure that when I feed kibble, either as a training treat, a travel option, or as a back up during a busy time of the year, I can offer my boys some of the healthiest, most wholesome options out there. For us, Wellness TruFood is a backup plan that doesn't feel like a compromise!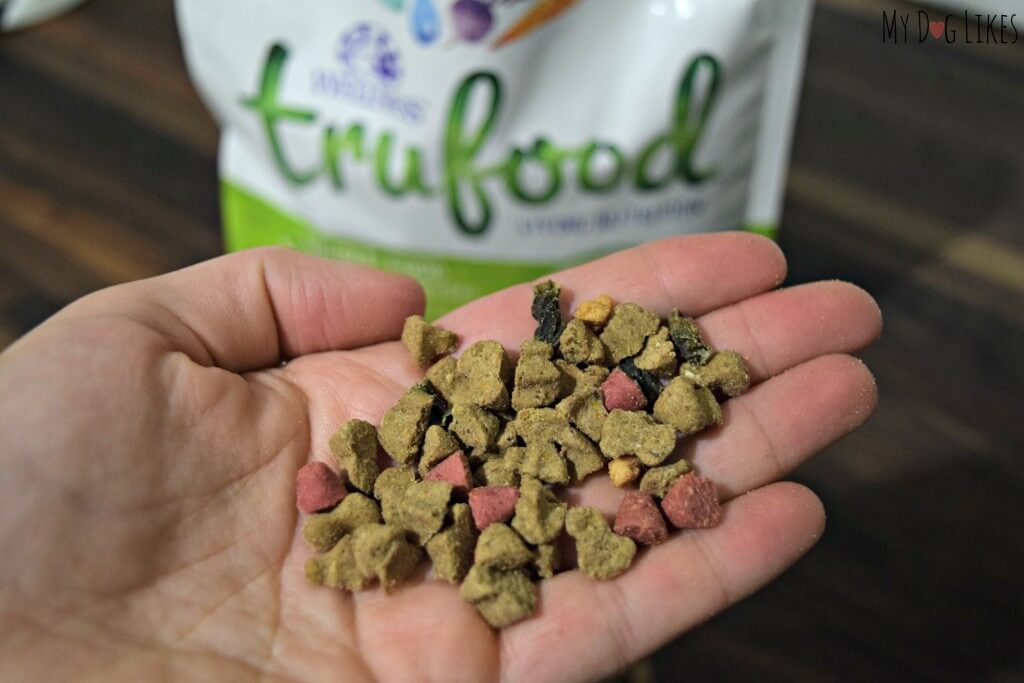 Don't be confused by the colorful pieces of food in my hand. These colors come from the whole ingredients (like beets) that are baked right into the food. The TruFood line contains no meat by-products, potato, wheat, corn, or soy fillers, or artificial colors, preservatives/flavors!
Tasty Pairings Wet Cat Dog Food

Just like the dry variety, the wet version of Wellness TruFood is comprised of high quality protein and is free of fillers, byproducts and artificial preservatives/colors. All you will find inside is diced proteins and vegetables –  in a tantalizingly moist form. Just look at all the choices!
Pumpkin, Lamb and Duck

Chicken, Pumpkin and Beef

Chicken, Green Beans and Chicken Liver

Chicken, Carrots and Duck

Green Beans, Beef and Lamb Liver

Carrots, Salmon and Cod
While this is not a cat food (Max and Lucas kitty – I'm talking to you!), they do indeed make a line of moist pairings for cats. Our boys are way to big to eat wet food alone, but this makes a great addition when mixed in with the Dry Blend, especially since our boys are used to eating a homemade diet which is naturally higher in moisture/water content.
CocoChia Bakes Dog Treats

Last-but not least in the Wellness TruFood line are the treats! These treats combine protein, antioxidant rich superfoods, probiotics, coconut oil and chia seeds into a tasty, all-natural dog treat.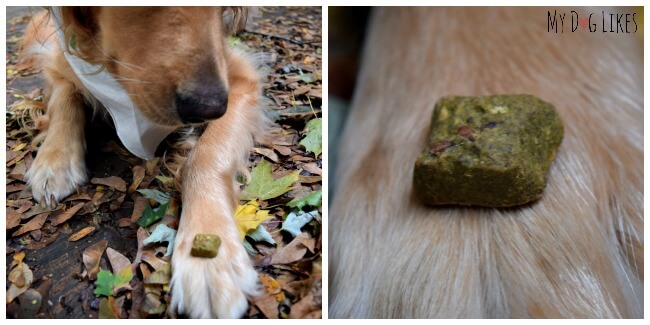 Cocochia Bakes come in three tasty (or so I hear) varieties:
Chicken, Beets and Coconut Oil

Salmon, Coconut Oil and Spinach

Lamb, Purple Carrot and Coconut Oil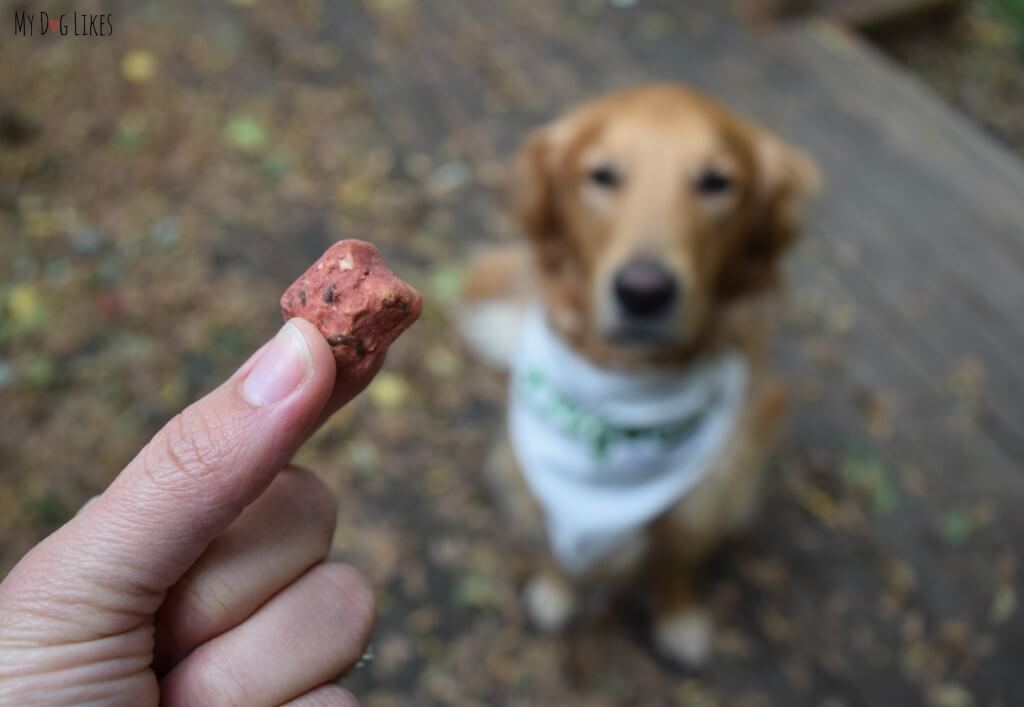 With bright natural colors from beets, spinach, and purple carrot as well as specks of chia seeds, TruFood's CocoChia Bakes exemplify their whole food philosophy. These crunchy, dime-sized snacks are perfect for animals of all sizes. 
So What Did They Think?
These treats have a strong enough scent to be enticing, but not such an odor to be unpleasant. We set up a quick "hide-and-go-seek" game with a handful of these treats and let Harley and Charlie earn their taste test.
Can you guess who won?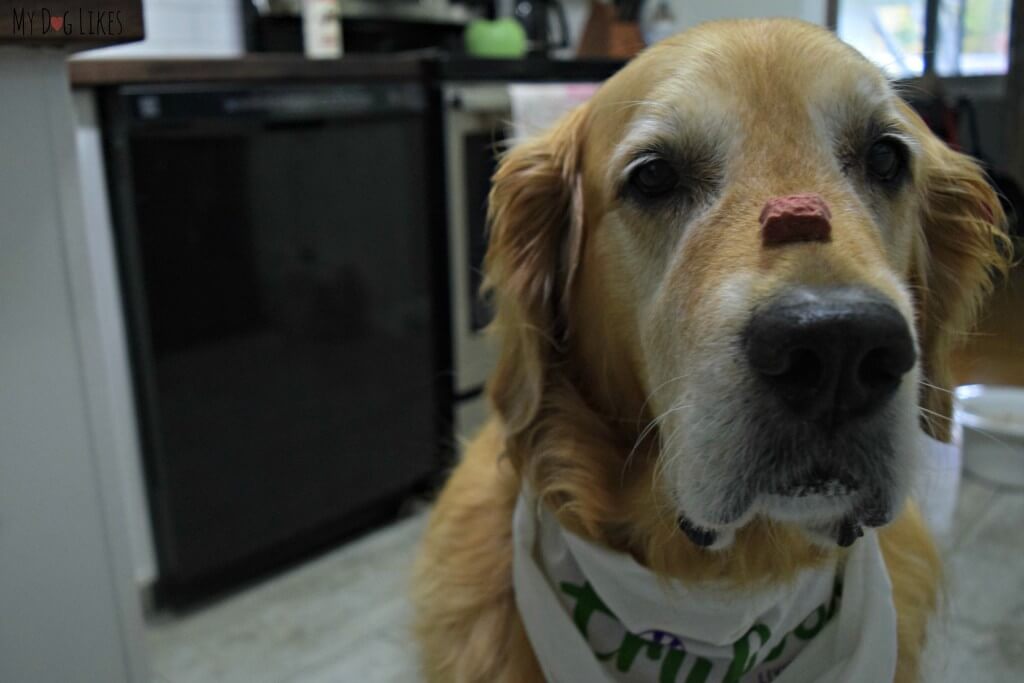 That's right – the big guy – and it wasn't even close. Harley went 4 for 4 in the search before Charlie could locate a single one! I guess little Charlie needs some more practice with his sniffer! Don't worry though, he got a taste as well and they both were very pleased.
At only ~3.5 calories per treat, CocoChia bakes would be a great option for training sessions as well. 

Why MyDogLikes the Wellness TruFood Line
Wellness has a long reputation of making healthy, wholesome treats and complete diets for dogs and cats. The TruFood line goes one step further by creating treats and dry/wet food of the highest quality, made with the highest quality ingredients. While we primarily feed a homemade diet, we love having a healthy, ready-to-go option that we feel good about feeding the the boys. The line is consistent in its use of high quality ingredients and the treats are no exception. They are a great option for dogs of all sizes and at only 3.5 calories per piece-all shapes.  
Want to give the Trufood line a try? Wellness is sponsoring a giveaway for one lucky MyDogLikes reader! Enter below!
This contest is now over!
Click Here to Browse Wellness Trufood on Amazon
True Confession: What part of the TruFood line would your dogs go crazy for?