It has been quite some time since our last dog food review as Harley and Charlie have been on a consistent diet for well over a year now. That being said, we do still like to keep tabs on the market and try out new healthy dog food options when the opportunity comes up…
We were recently given the chance to try out the new dehydrated dog food from Spot Farms. This food is all natural, human grade, and uses antibiotic-free meats. Hitting all of our major checkpoints, we excitedly agreed!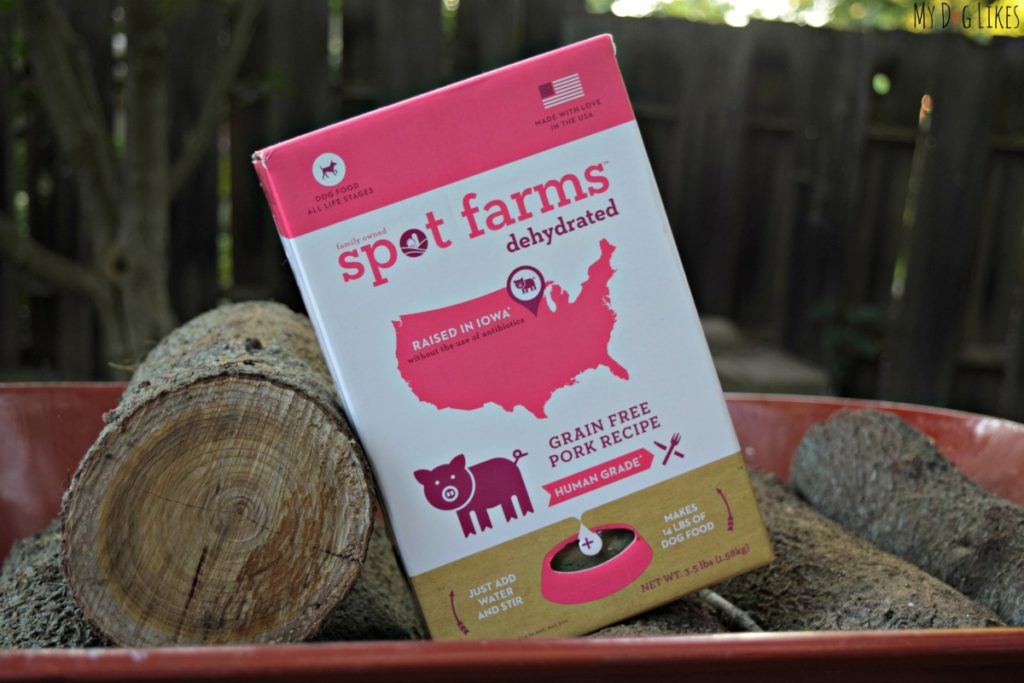 About Spot Farms
Spot Farms is a family owned company that is focused on providing the highest quality dog food and treats. Everything they sell is sourced and processed right here in the United States using ingredients certified for human consumption. Additionally, all products are cooked in small batches without the use of artificial flavors or preservatives.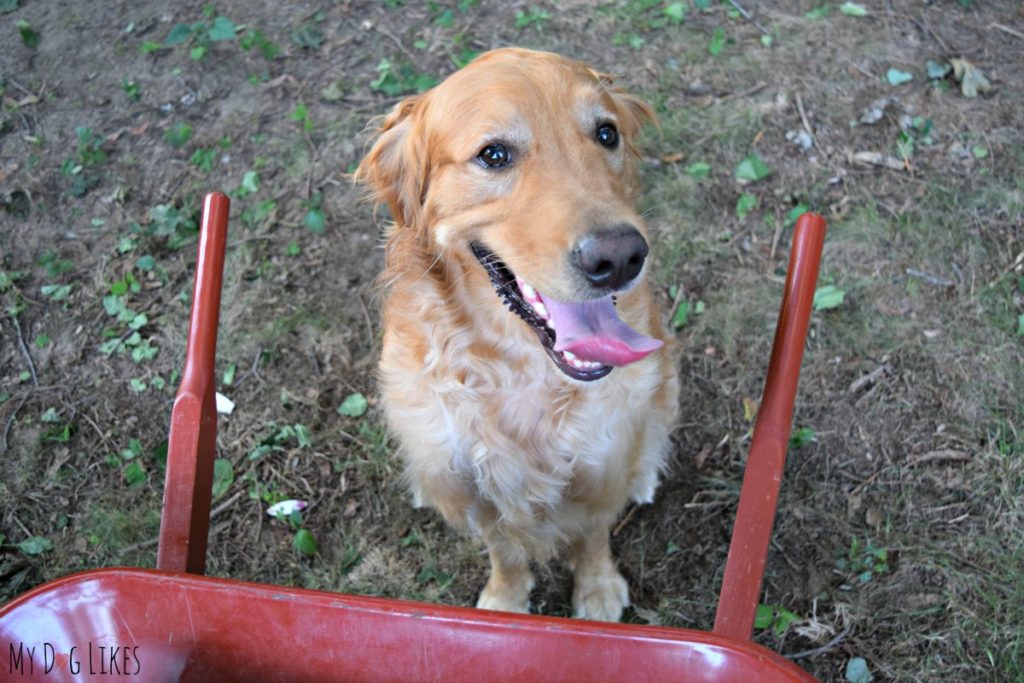 One thing that really sets Spot Farms apart is the quality of their meats. They have built a network of family farms across the country in order to regionally source all proteins. Aside from being environmentally friendly and helping to assure quality, these personal relationships also allow Spot Farms to only work with those that share their philosophy of raising antibiotic free meat.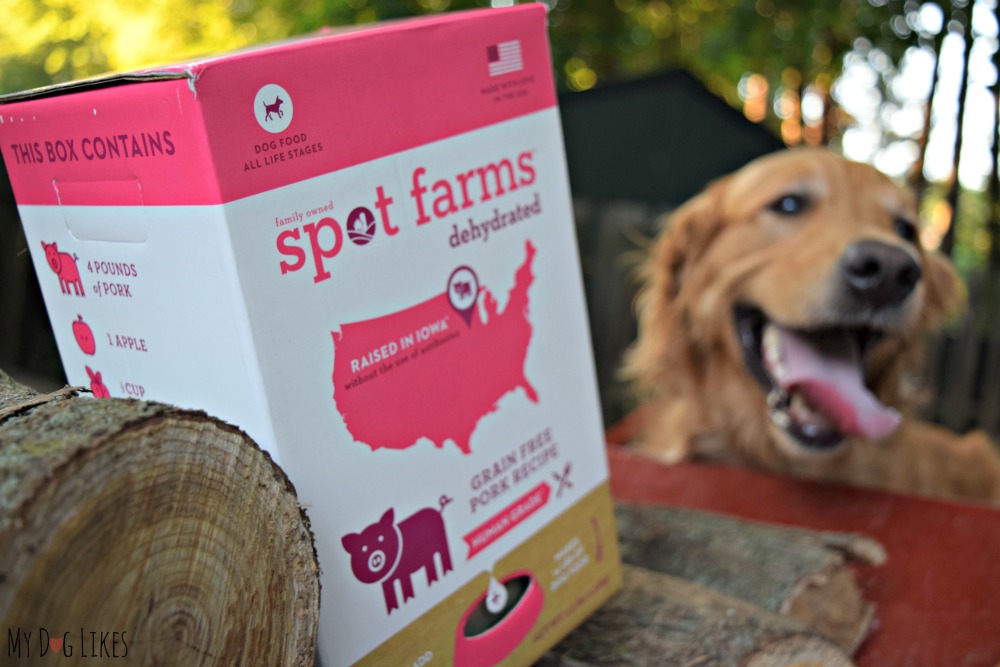 While Spot Farms has been making dog treats for several years, they only recently branched out into the dog food market. They were kind enough to send us a 3.5 lb box of their Pork variety for our resident experts to weigh in on.
Make sure to read the entire review because they are also sponsoring a giveaway for 3 lucky readers!
Introducing Spot Farms Dehydrated Dog Food
Spot Farms dog food is available in several different protein options including:
Grain Free Chicken
Grain Free Turkey
Grain Free Pork
Chicken and Whole Grain
Turkey and Whole Grain
The food is available in 3.5 and 8lb boxes. While this may not sound like a lot, the 3.5lb box alone will make roughly 14 lbs of food!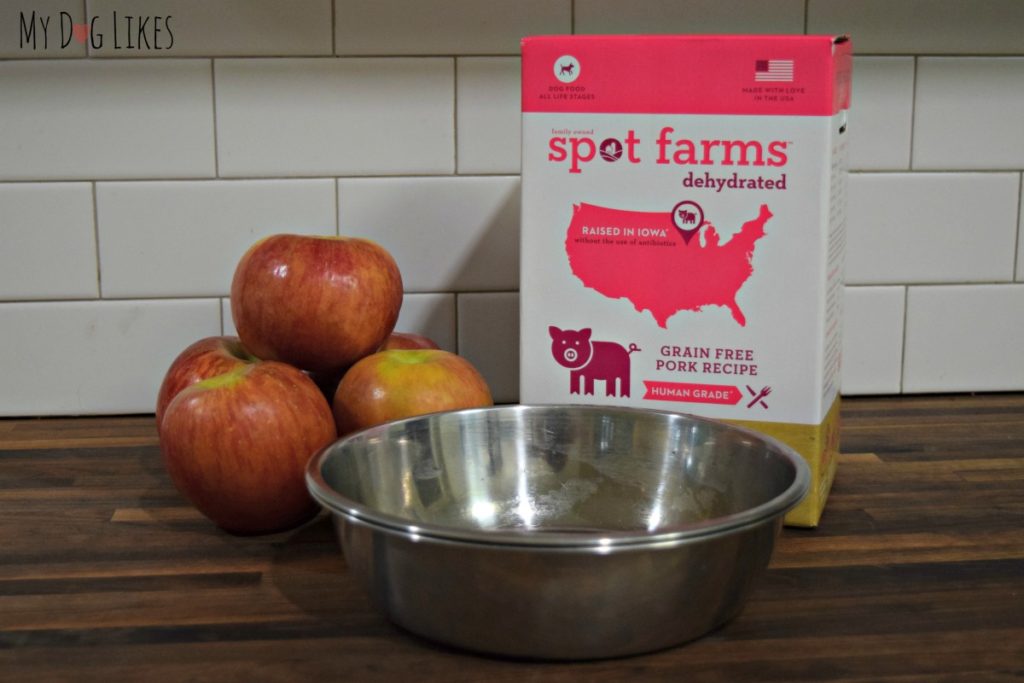 One unique aspect of this food is that it is sold in a box as opposed to a standard bag. If you have never dealt with dehydrated dog food before, there is not much form to it, so the box makes it much easier to manage and store. Inside of each box you will find the food within a conveniently resealable bag.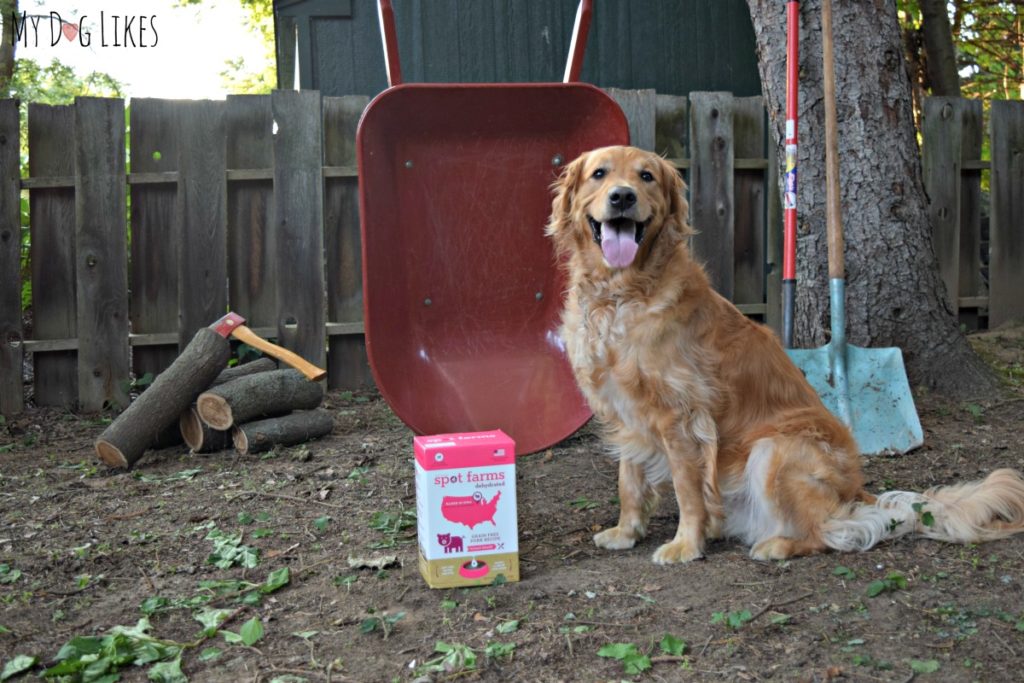 Taking a closer look at the ingredients
All ingredients are clearly labeled on the outside of each box. Right off the bat we see that in our case, Pork is the #1 ingredient. Just like we want to see!
Spot Farms won't use just any Pork however. Instead they form relationships with small family farmers whom they know and trust. This way they can assure that all meat is raised to their standards.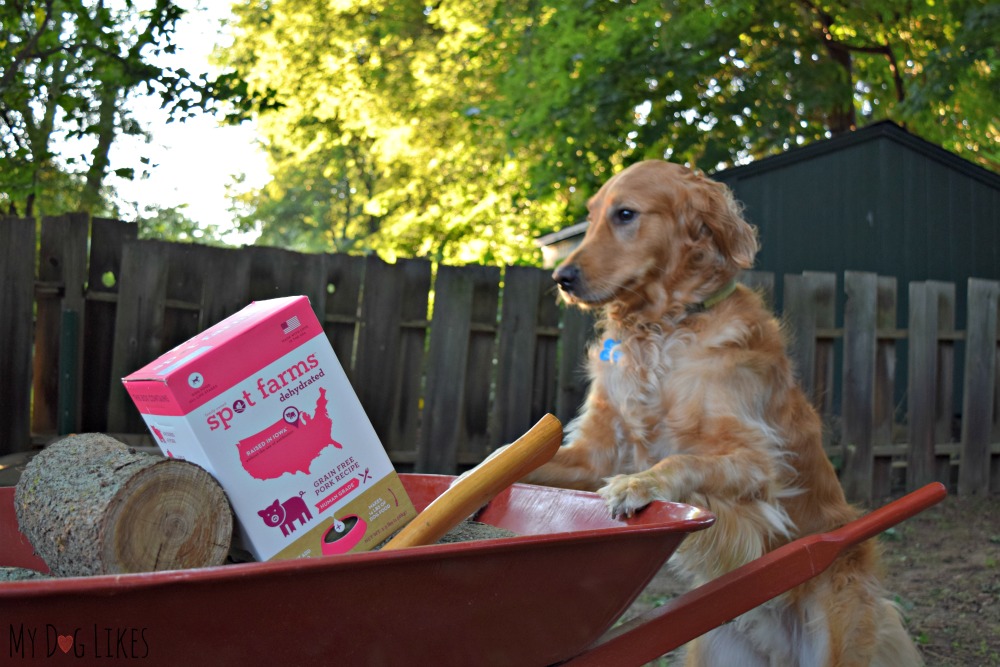 Farmer Charlie is insistent on the quality and safety of his meat
The next most significant ingredients are in order as follows:
Potatoes
Flax Seed
Red Lentils
Dried Spinach
Dried Apples
Dried Honey
Dried Pomegranate
Dried Blueberries
Looks good to us!
How to Prepare Spot Farms Dehydrated Dog Food
Preparing dehydrated dog food from Spot Farms is a cinch – just follow the instructions below and your dogs dinner will be ready in minutes.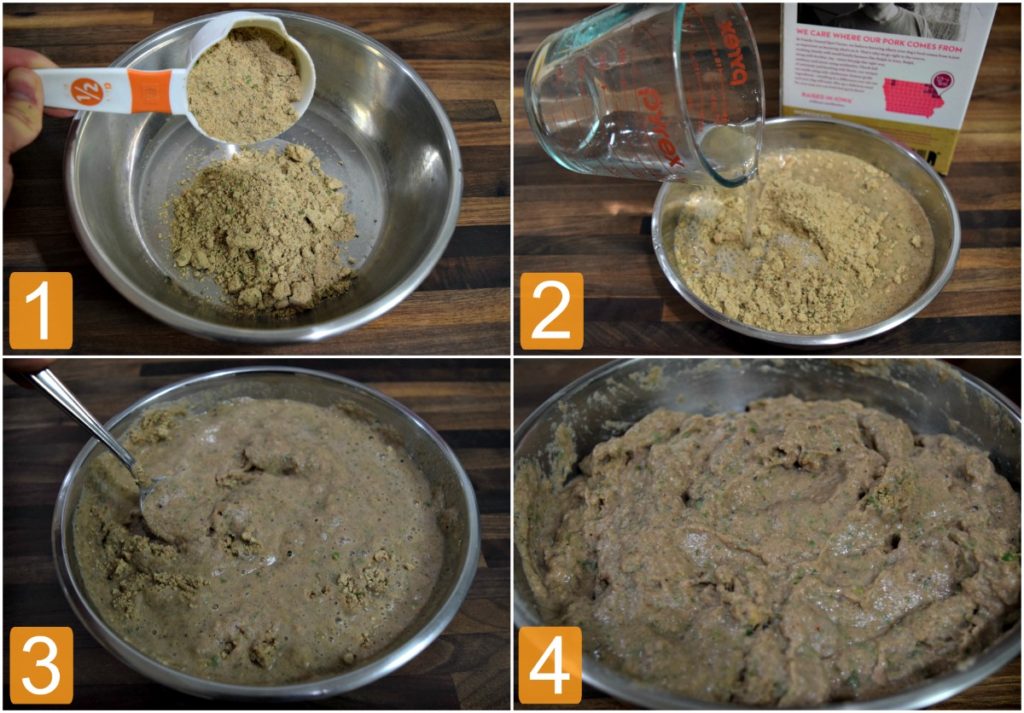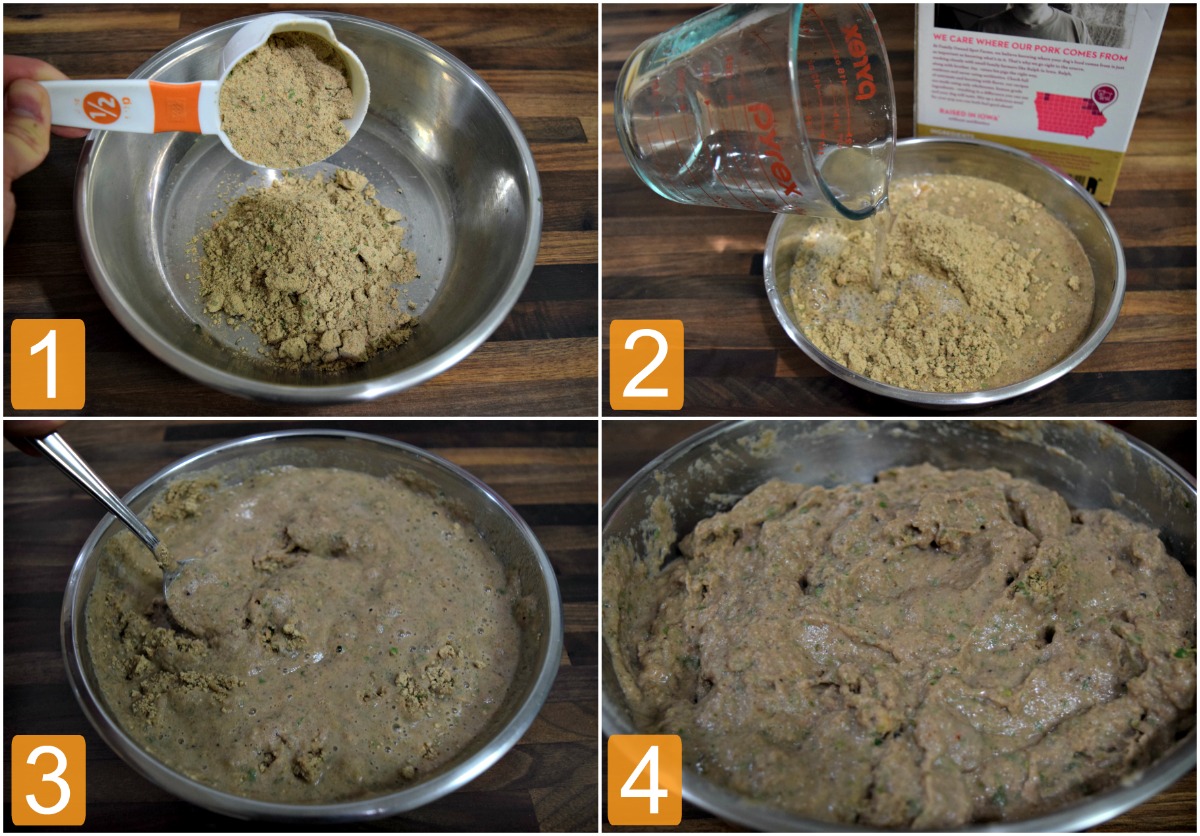 Scoop – Using a measuring cup, add dry food into a bowl in the quantity recommended on the back of the box.
Add Water – Add warm water to the bowl to re-hydrate the food. The instructions suggest a roughly 1:1.5 ratio of dry food to water.
Mix – Using a spoon, mix until all the food the food has absorbed all the water and the texture is nice and smooth. Add more water if a thinner consistency is desired.
Serve – Your Spot Farms dog food is now ready to eat – and you will likely have a drooling dog waiting nearby!
Time for the Taste Test! – Our Spot Farms Dog Food Review
Per the box instructions, we used 1.5 cups of dehydrated food per meal, per dog. The powder was lightweight but dense, and in terms of volume, certainly seemed like a large quantity of food. Since you never quite know with dehydrated dog food, we decided to stick to the feeding guidelines and adjust the quanitity as needed based on the boys' behavior, hunger, and activity level.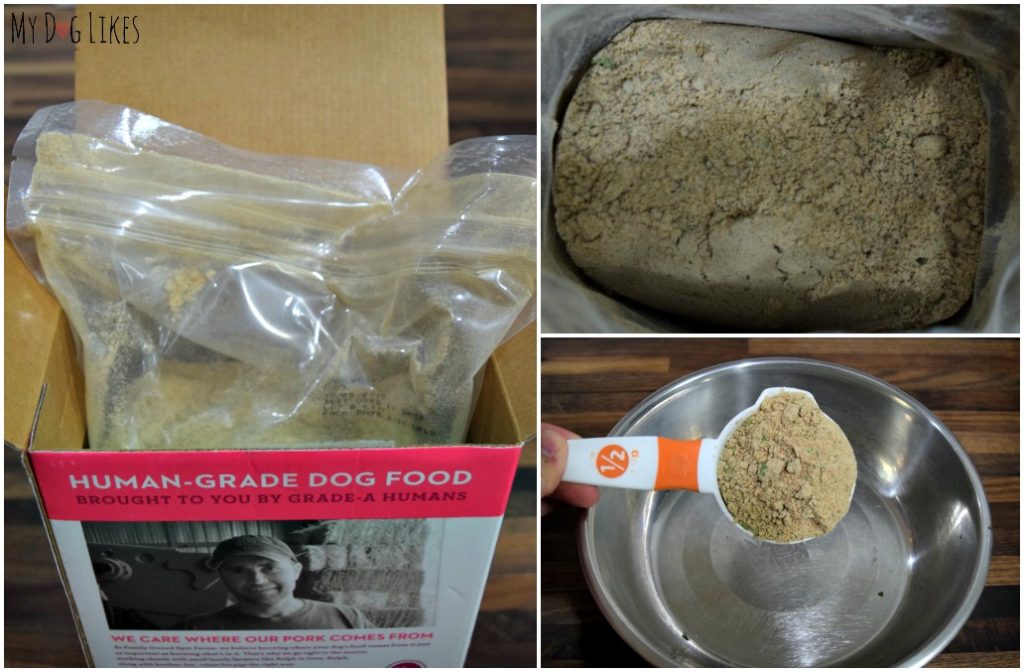 We also noted that this food is more finely ground than other dehydrated dog foods we have tried which contain whole vegetables or chunks of meat. Spot Farms' dehydrated food is so finely ground that you can't really pick out the individual ingredients. That being said, our dogs certainly don't care, and it allows for more food to fit in each box.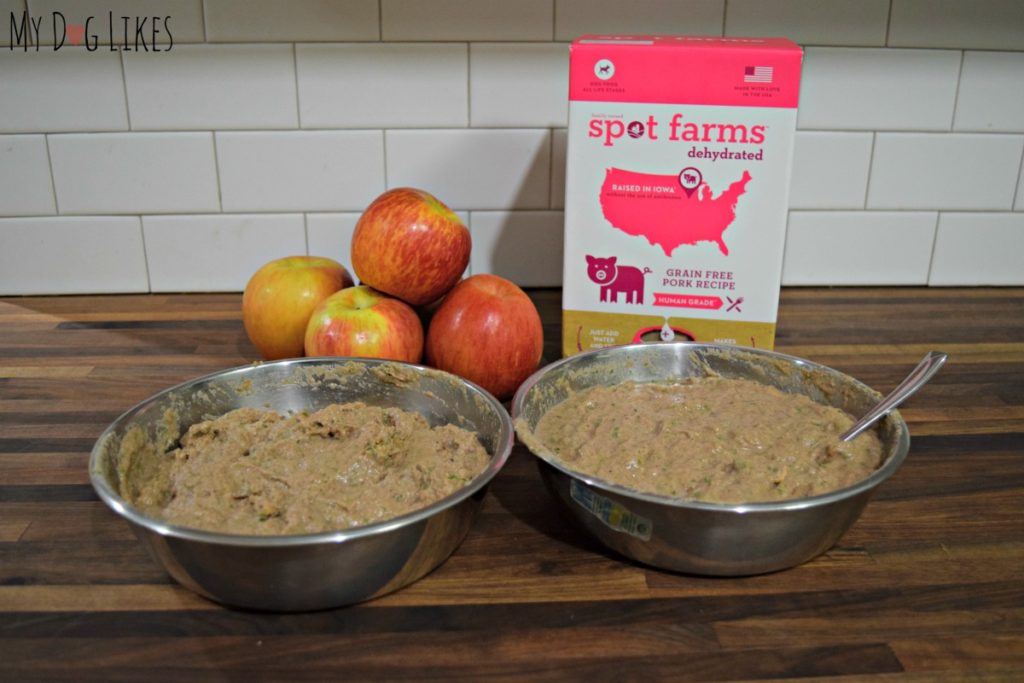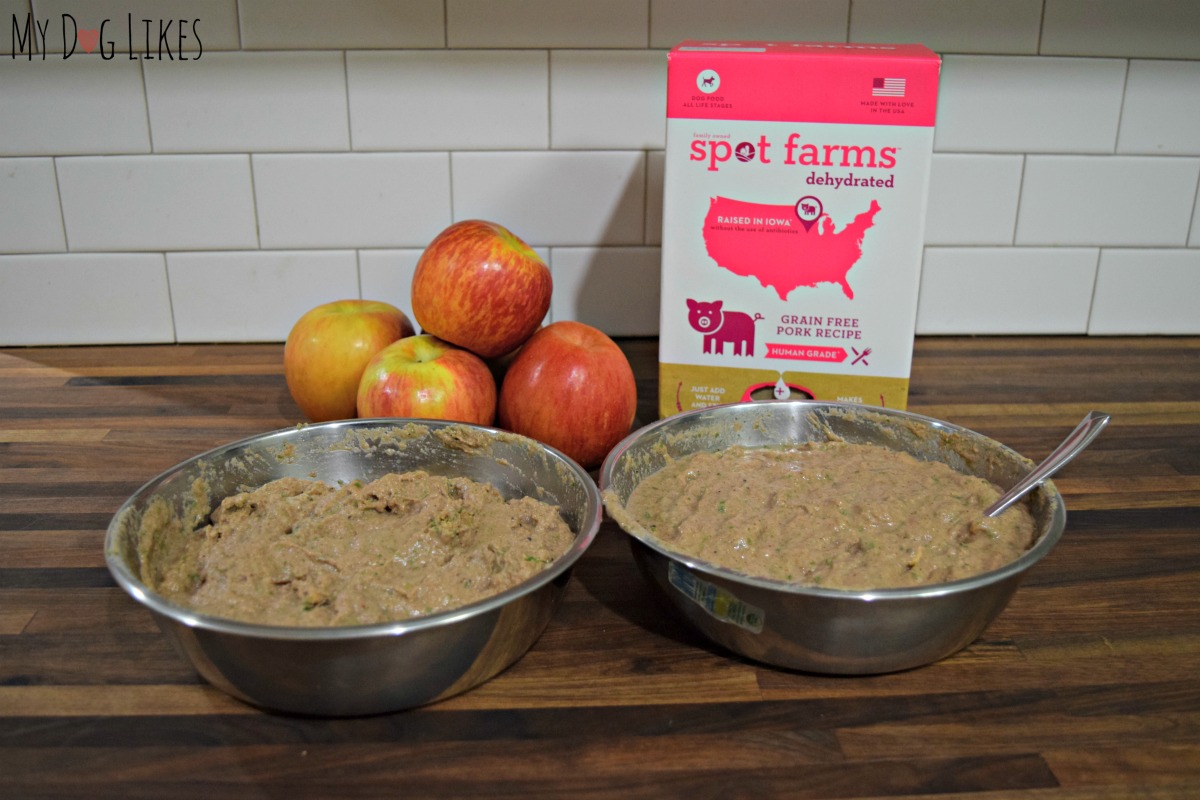 After adding the recommended amount of water and stirring, we were quite surprised at how thick the food turned out to be. Additionally, as we stirred, we found pockets of dry food that had yet to be rehydrated. These two observations led us to add more water in order to get a thinner final product. We thought the dogs would have an easier time eating the slightly more watered down version pictured on the right above.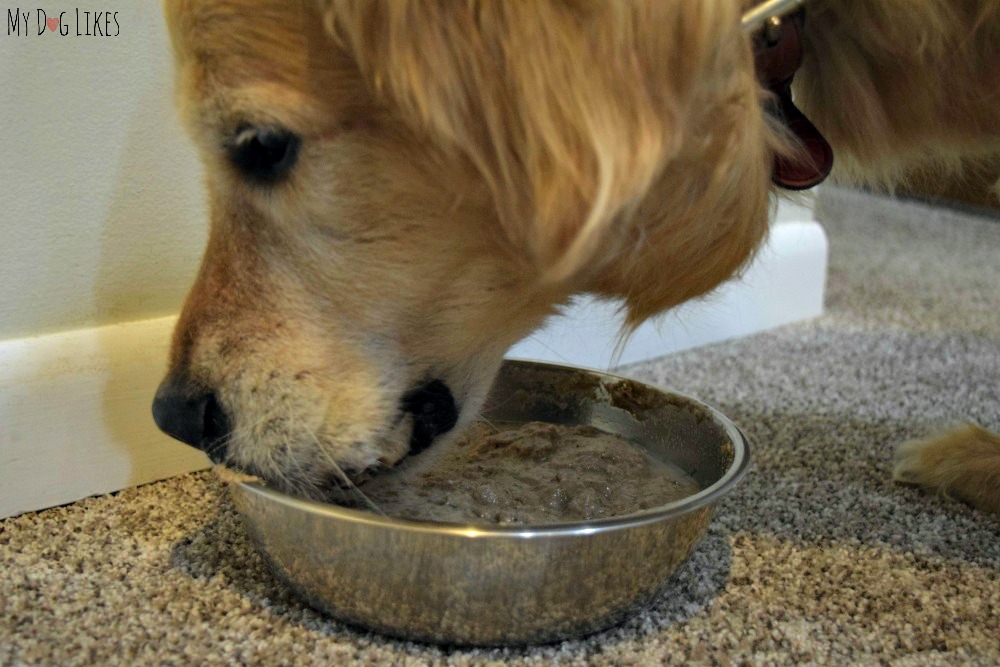 Harley and Charlie were both growing quite impatient as I took my time (in their eyes) photographing their food. I suppose this is a sign that they approved of the smell!
As soon as I set down the food, they dug in immediately – chomping away with big mouthfuls. It was quite clear that they very much enjoyed their first taste of Spot Farms. As a matter of fact, they even returned to their bowls several times to make extra sure that they were licked completely clean.
Why MyDogLikes Spot Farms Dog Food
We are always happy to learn of and review new grain free dog foods. Spot Farms dehydrated food has excellent ingredients and a taste that the dogs really loved. We also greatly appreciate their commitment to supporting family farms and utilizing locally sourced meats.
Spot Farms dog food comes at a very reasonable price and is a great option for those looking for a high quality, easy to prepare dog food!
Want to try some Spot Farms for yourself?
Spot Farms food is available at Petco, Unleashed and Petco.com. Plus, it is currently 20% off at select stores for a limited time! Additionally, you can…