We are constantly fielding questions from pet parents (both new and experienced) who are looking to improve the health of their dogs.
While we are happy to dole out our amateur advice, oftentimes it feels like a more professional opinion is in order. For that reason, we are very excited to now have the
perfect place to direct our readers
…
7 Simple Ways to Keep your Dog Healthy
We were recently contacted by fellow blogger (and Veterinarian!) Dr. Rachele Baker – author of 7 Simple Ways to Keep your Dog Healthy, to see if we could help spread the word about her new book.
Dr. Baker is highly respected in the field so we were excited about the opportunity to get an early viewing. She was kind enough to set us up with a complementary copy, so keep reading to hear our thoughts and see an excerpt of this wonderful resource for pet parents.!
About the Book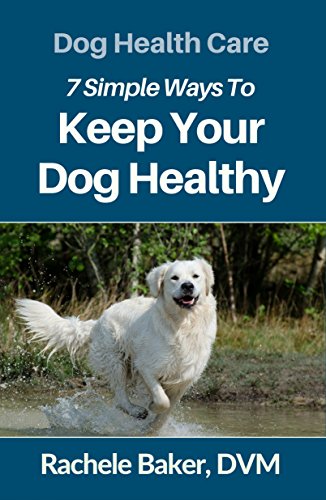 The must-have book for dog owners written by an experienced veterinarian and dog lover.
You may be able to help your dog avoid developing medical problems like skin infections, ear infections, and more, by following the simple preventative care recommendations that Dr. Baker discusses in this book.  Preventative care is much less expensive than paying for veterinarian exams, diagnostics, and treatments for your dog when your dog develops medical problems.
Dr. Baker answers some of the most asked questions from dog owners. Is it normal for dogs to have bad breath? What vaccines does your dog really need? Does it really matter what food you feed your dog? In this book, Dr. Rachele Baker shares the knowledge that she has acquired during more than sixteen years as a practicing veterinarian. Even people who have had dogs for years will be sure to learn something new in this book!
Dr. Baker received her B.S. from the University of California Davis in 1997 and her Doctor of Veterinary Medicine degree from Michigan State University College of Veterinary Medicine in 2001. Dr. Baker wrote this book to provide dog lovers with the information they need to keep their dogs healthy in a simple, brief, yet comprehensive, manner.
Praise for this book
"Loved it from start to finish. Informative, creative, and intelligent." – Denise, Goodreads.
"Clear, comprehensive, and easy-to-read. Refreshingly well-written and covers everything one might need to know as a dog owner." – Bella, Amazon

About the Author
Dr. Rachele Baker is a veterinarian, an author, an award-winning blogger at Rachele Baker, Veterinarian and Author, and, of course, a pet lover.
She lives in the beautiful state of California. Rachele likes to try new restaurants, go to local festivals, hike the many beautiful trails around her home, and explore California wine regions.
Rachele has been working as a veterinarian in California caring for dogs and cats for seventeen years. She received her B.S. from the University of California Davis in 1997 and her Doctor of Veterinary Medicine degree from Michigan State University College of Veterinary Medicine in 2001.
Rachele has written and published a number of interesting and helpful articles about pet health and resources for pet lovers on her website.

Check it out, and follow her on social media!
---
Why MyDogLikes 7 Simple Ways to Keep Your Dog Healthy
Far too many pet parents dive into dog ownership on a whim, without much consideration of the real responsibilities involved. This book serves as a wonderful starting point for proper care, and the fact that it comes from a well-respected veterinary professional certainly doesn't hurt! Despite being packed with medical information, Dr. Baker keeps the messaging concise and straightforward – so that it is accessible to all audiences.
We like to think of ourselves as pretty experienced dog owners, but that being said, we still picked up a great deal from this book. Chapters are broken down into major components of health like nutrition, dental care and vaccinations, with a strong emphasis on preventative care. Bonus sections like "Tips and Tricks for Giving Medications to Your Dog" and "Important Information to Take to your Dog's First Veterinarian Visit" will be particularly helpful for first time dog owners.
Last but not least, we love that the education doesn't end on the last page. Rachele has also compiled a cheat sheet which is available on her website (along with TONS of other great information)
We would definitely consider Dr. Baker's new book essential reading for all pet parents!
Now, lets get a sneak peek at whats inside….
---
Chapter 1: The Best Nutrition For Dogs and Puppies
The six basic nutrient categories
A good quality diet for your dog will contain all the essential nutrients in the proper proportions. The six basic nutrient categories are water, carbohydrates, protein (essential amino acids), fat (essential fatty acids), minerals, and vitamins.
Water
You may be surprised to learn that water is considered the most important nutrient. Water is vital to life. Water is one of the largest constituents of an animal's body and can vary from forty percent to more than eighty percent of the total.
Water provides shape to the body. It acts as a solvent in which substances are dissolved and then transported through the body. Water is necessary for the digestion of proteins, carbohydrates, and fats. Water in bodily fluids helps lubricate the joints and eyes and keeps the airways moist.
Water helps regulate body temperature as it is evaporated from the skin or from the respiratory tract during breathing. That is why you will see your dog pant when he or she gets hot. Panting helps to cool your dog down. Panting is the primary way that dogs get rid of excess body heat. When your dog pants, water and heat are evaporated from your dog's lungs, tongue, and mouth.
It is very important, therefore, to make sure that your dog always has fresh, clean water. You should clean your dog's water bowl with dish soap every day to remove bacteria and debris before refilling it with clean water. I do not recommend leaving your dog's water bowl outside in a place where other animals in the area can drink from it due to the potential for contamination with bacteria and diseases from other animals.
---
Want to read more? Click the links below to purchase!