As an engineer by profession, I am always excited to hear about technology reaching into my other passion – the dog world. Today we are going to be sharing with you a REALLY cool pet product that helps you to stay connected with your best friends at all times…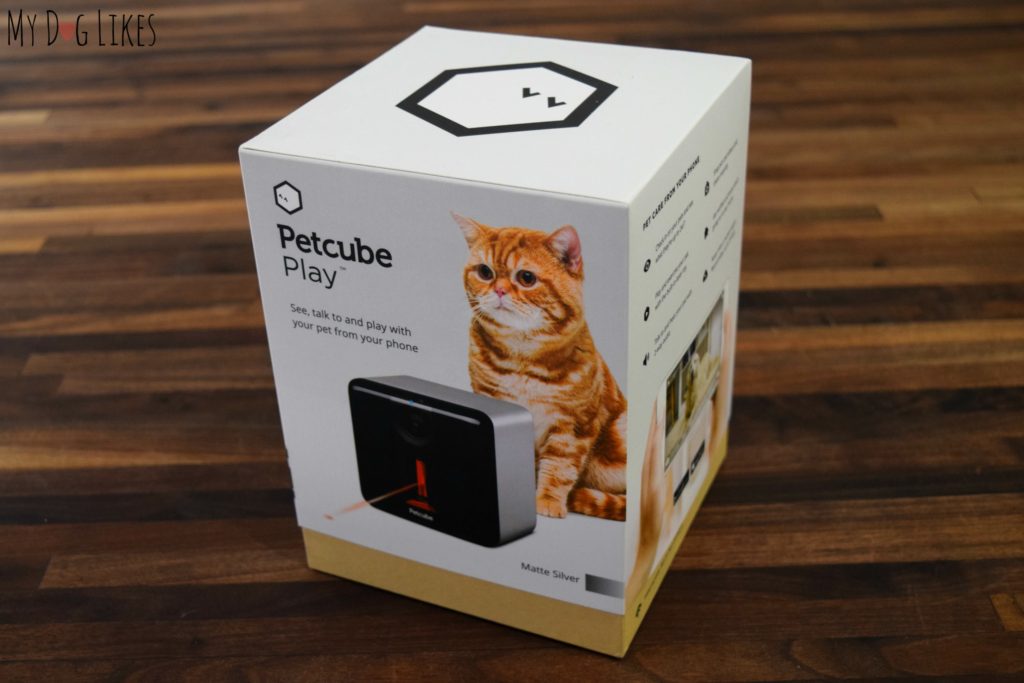 Introducing the Petcube Interactive Camera
The Petcube is a unique device that pairs with a mobile app to allow you to keep an eye on your animals (or home) in real time. That's not all however – the Petcube also allows you to speak with, listen to, and even PLAY with them!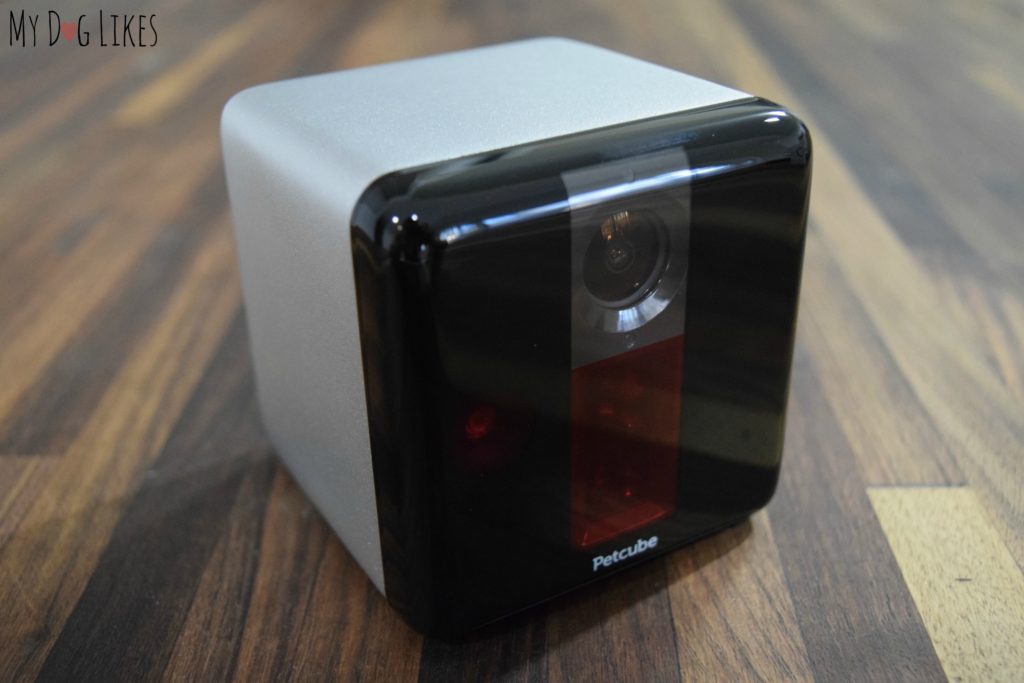 Thanks to it's compact cube design, it can fit almost anywhere with a tiny foot print of only 3″ square! The Petcube has a sleek design with rounded corners, brushed aluminum finish and comes in 3 different colors – carbon black, matte silver and rose gold.


Petcube was kind enough to send us a unit to test out and sponsor this post so that we could share this awesome technology with you!
Camera Specifications
The Petcube's camera provides 1080p real-time video straight to your phone or tablet via a mobile app. It also has a 138° wide-angle viewing lens to give you excellent coverage of whichever room you decide to place it in.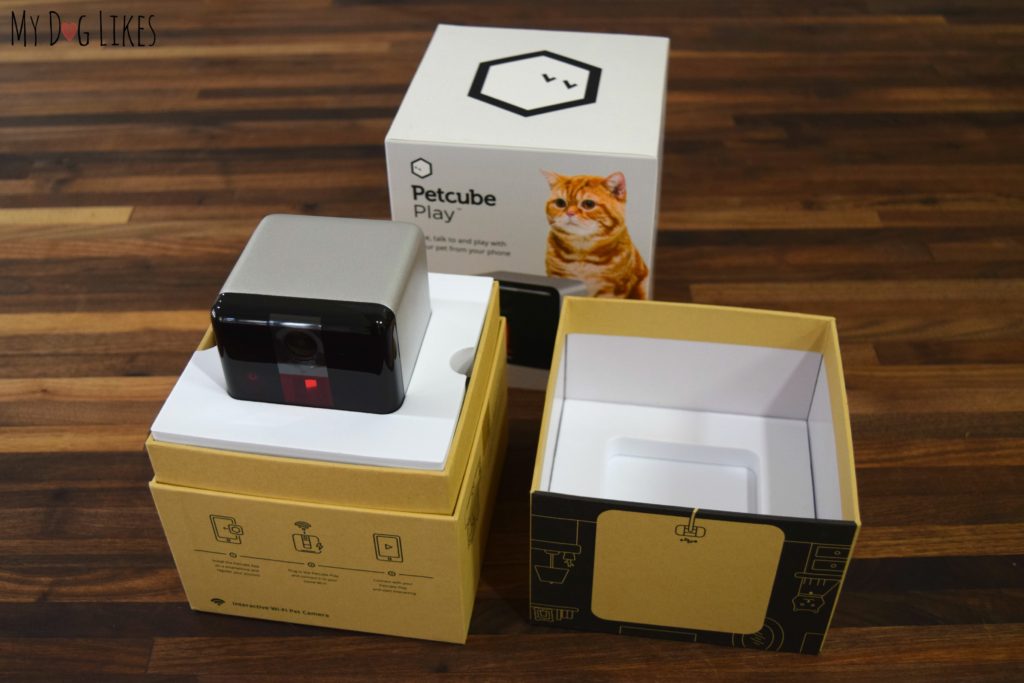 Want to take a closer look at something? The camera even has a 3X zoom which can be activated by pinching your fingers on the touch screen!
Features of the Petcube Play
Wifi Enabled – Connects to the internet withough the use of an Ethernet cord.

Night Vision –

 The Petcube's usefulness doesn't end in the dark, thanks to built in night vision. Using an infrared sensor, the camera will automatically switch to a black and white stream whenever light is low.
2 way sound – With a built in speaker and microphone, you can talk directly to your pets and also hear what is going on whenever you wish.
Notification Alerts – Set up your Petcube to notify you to sounds or motion so that you can always keep tabs on what is happening in your home. Seeing a motion alert can also be a pleasant reminder to check up on your dog or cat to see what they are up to!
Built in Laser – What really sets the Petcube apart from other wifi enabled cameras is the built in laser toy. This certified pet and human safe laser can be operated via the app by simply sliding your finger around. Call your pets name and get them up and moving with a few minutes of play time!
Petcube Care – This "freemium" service provides cloud based video recordings straight from your camera. The purchase of each Petcube unit includes 4 hours of rolling storage, but up to 30 days of additional storage are available for a fee.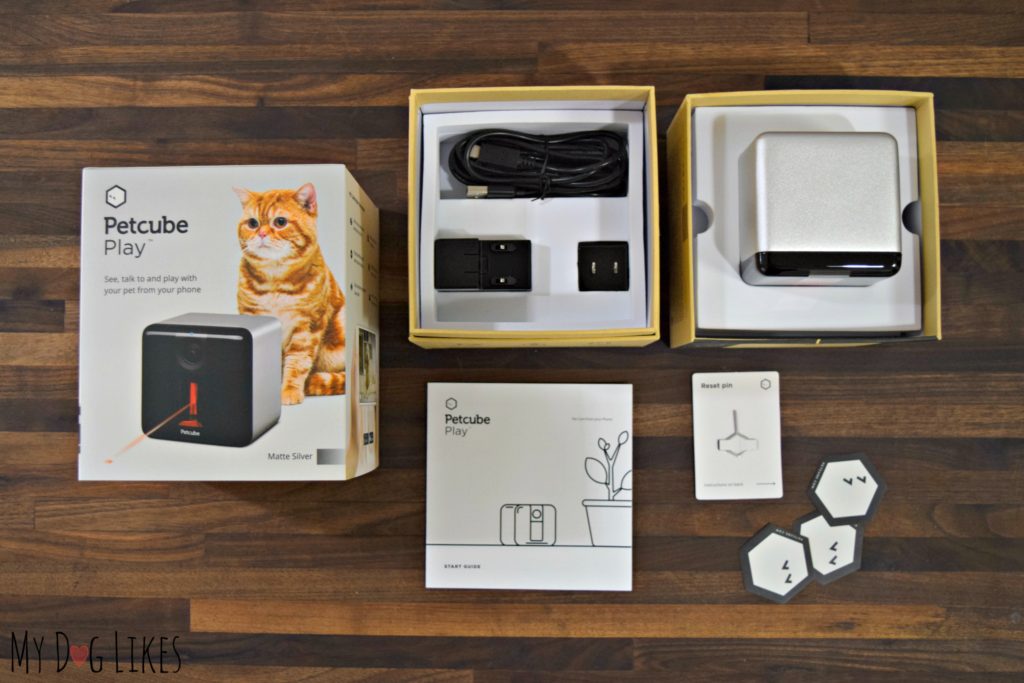 Setting up Your Petcube
Getting your Petcube up and running only requires a wall outlet, a wifi connection and a few minutes of time.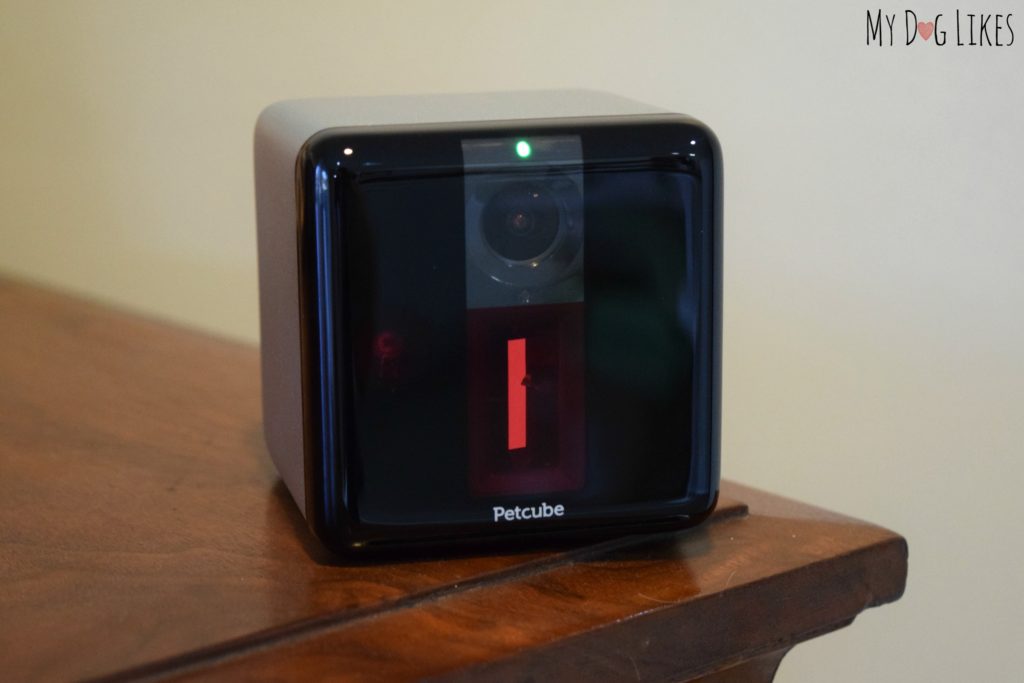 Choosing Where to Place the Camera
First things first, you will need to pick out a convenient spot to place your camera. Thanks to the Petcube's wide viewing angle, you don't need to take too much care in this in order to capture an entire room.
The Petcube comes with a tripod screw mount or it can be simple placed on a table or shelf. A rubber bottom will keep it from sliding around if the surface is bumped.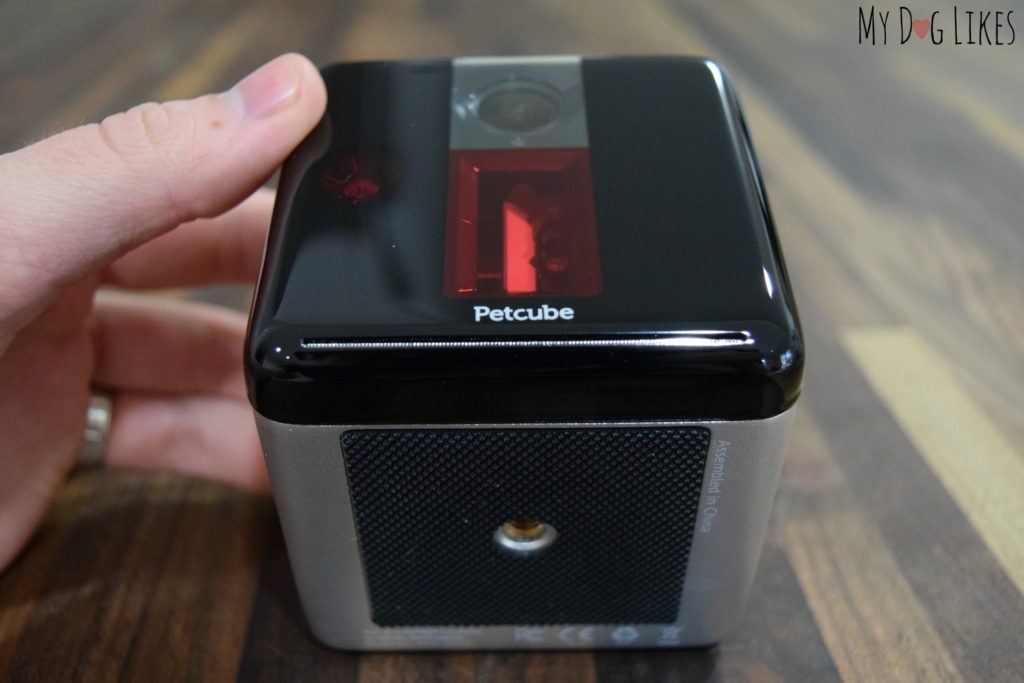 Assemble the charger by sliding the outlet prongs into the adapter and inserting the USB cord. Next, connect your Petcube to a wall outlet and wait a few seconds for the light to turn green.
Connecting with the Petcube App
In order to use your Petcube, you must first download the Petcube App onto your smartphone or tablet (available in both Android and IOS). Once you have the App installed, create an account and follow the instructions to find and connect to your device. The on-screen prompts make this a very straightforward process!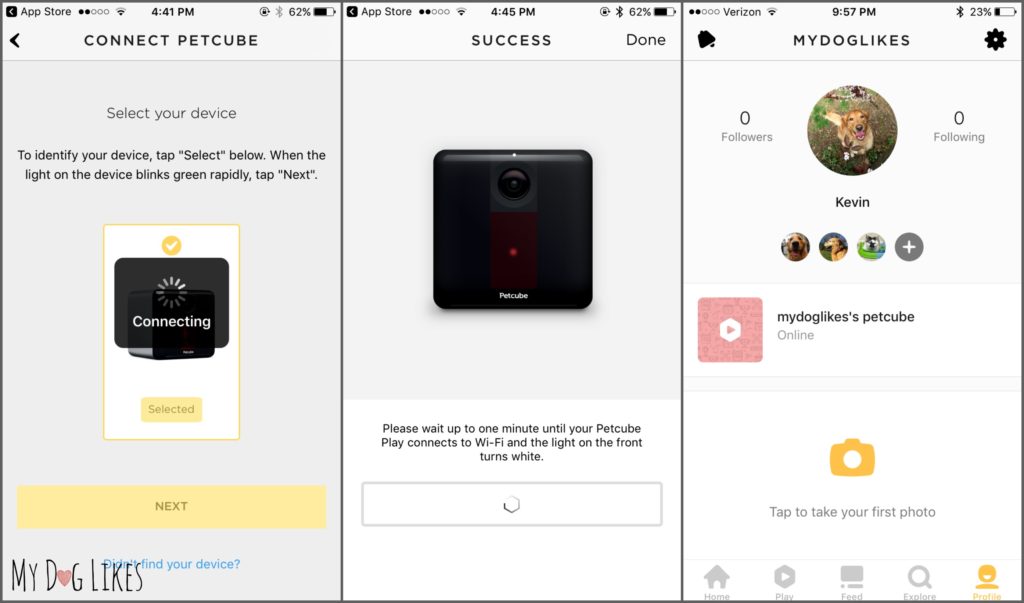 If the app has difficulty locating your Petcube, you may need to use the handy reset key before trying again. Simply insert the pin into the tiny hole on the bottom of your unit and hold for a few seconds until the light turns green.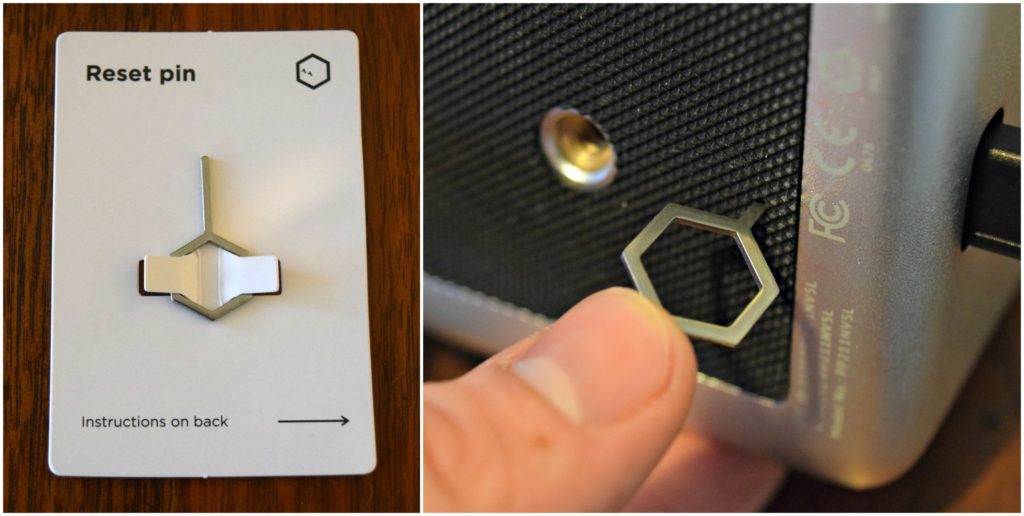 The light on your Petcube will turn white when everything is properly connected and ready to use!
Configuring your Settings
Via the App, you have several settings which you can configure based upon your preferences. These include:
Volume Levels (For the speaker on the PetCube)
Sound and Motion Alerts (Would you like to be notified every time the Petcube detects these?)
Sharing Preferences (Do you want others to be able to see or access your camera to play with your pets?)
Laser Auto-Play (You can set the Petcube's laser to activate and move around if you are don't have time to play around with it yourself)
So What Did We Think? (Our Petcube Review)
We found the Petcube extremely easy to setup and configure. Even though we did need to use the reset key to find the WiFi, the entire process still only took about 5 minutes.
The photo below was taken via the cameras snapshot feature, and gives you an idea of the quality of the picture. You also have the ability to record videos directly through the App. We found that there is only a very small amount of lag between real time and the video display (which is at least partially caused by the location of our wireless router!).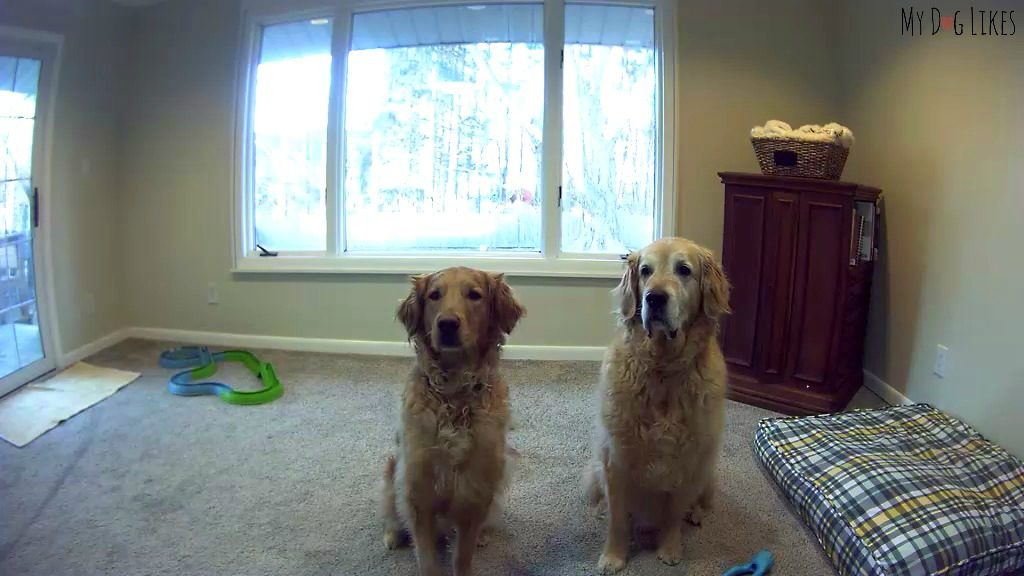 We tested the camera in some low-light and no-light situations and in both cases were very pleased with the visibility. The video stream instantly switches to night-vision when you turn off the lights and the picture is still extremely clear.
What About the Laser?!
As you can probably imagine, this was really fun. The laser can be turned on with just a click from the App and is then visible and controllable right on the screen. Though it doesn't always point exactly where you are pressing, we were generally impressed with the responsiveness and its ability to follow your movements.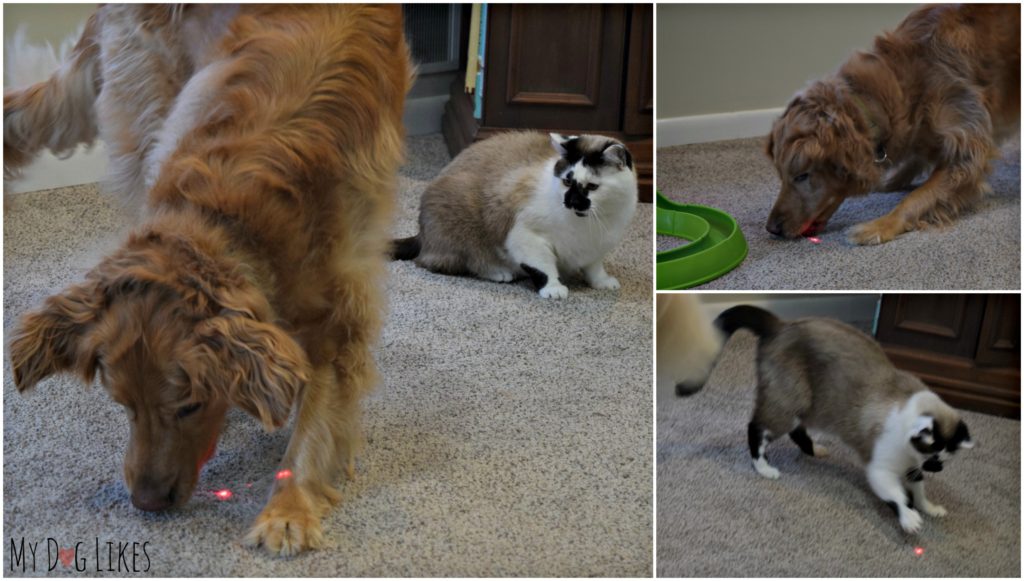 It was adorable to watch both Lucas (cat) and Charlie (dog) attacking the laser together. Unsurprisingly, the old man Harley was not interested! 🙂
Don't overdo it with the laser however, as some pets can get a bit obsessive or anxious about this object that they can never catch! Make sure that you are also giving them plenty of play time with a physical reward at the end!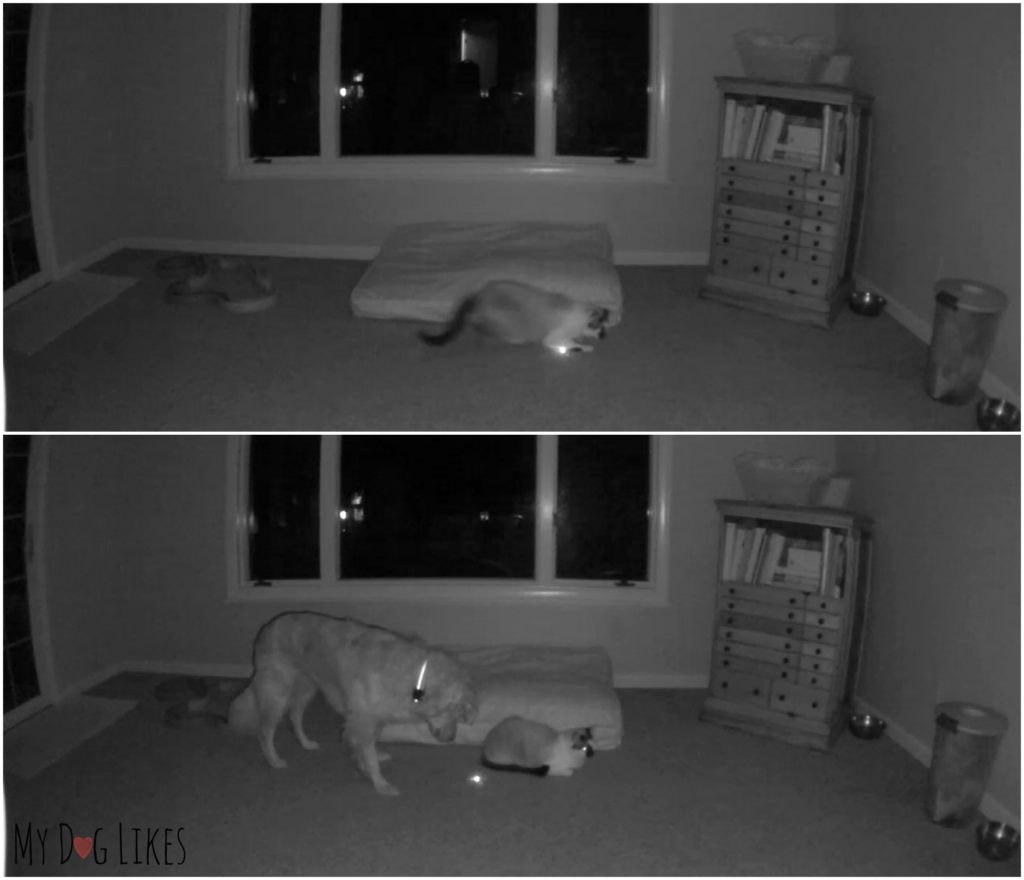 Screen shot of the Petcube and Laser in Night Vision
Why MyDogLikes the Petcube
We all hate leaving our pets home alone, but work and other obligations make it a necessity. The Petcube is an amazing tool that lets you see what they are up to while you are away. This is great for all pet owners, but can be particularly meaningful for senior pets, pets with separation anxiety or other health conditions.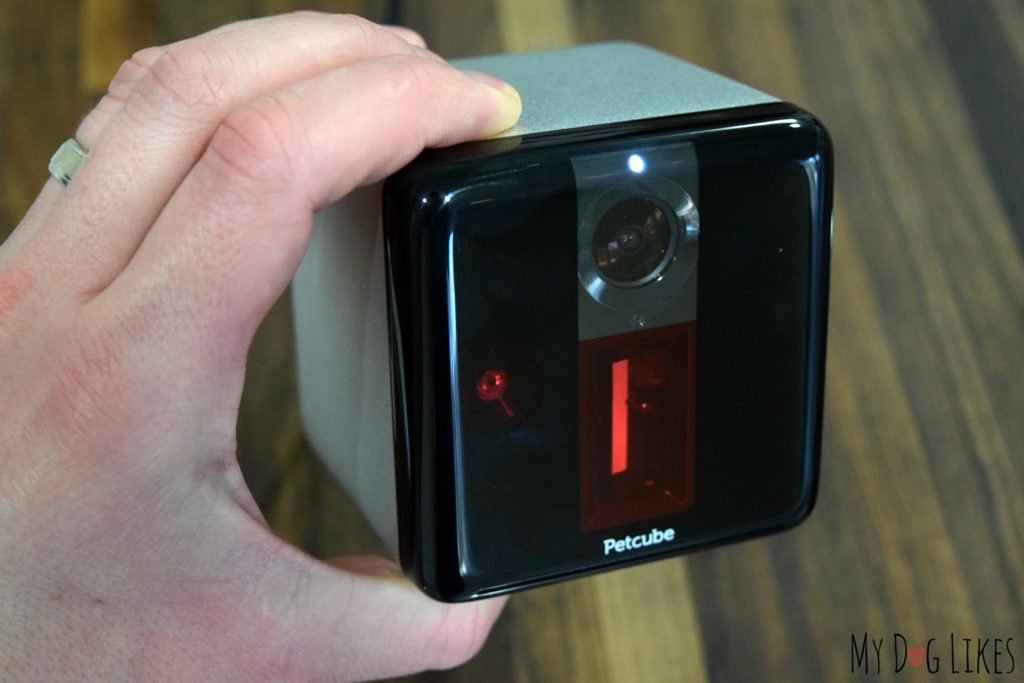 The Petcube is about more than just piece of mind however. Being able to speak to, and even play with your pet while you are not at home will bring a smile to your face and comfort to your dog. We have had a blast thus far with our Petcube Play and would highly recommend it for your home or as a gift for any pet lover!
Want to try out the Petcube for yourself!