It's the most stressful time of the year and that stress is felt throughout the household, including by our furry loved ones.
For our own four-legged family member, Rocky, he is in his absolute glory during summer when all three of his girls are home and the four of them play outside for hours on end.
Two weeks after school began, I noticed he had started to lick a spot on his foot, a sign of anxiety. Rocky is not a fan of cold weather and as the temperatures began to plummet here in WNY, our 90lb pit-shepherd mix lost his main form of entertainment and exercise. I give him one-on-one attention through play or cuddles but as a stay-at-home mother with three girls, a lot of my time is spoken for.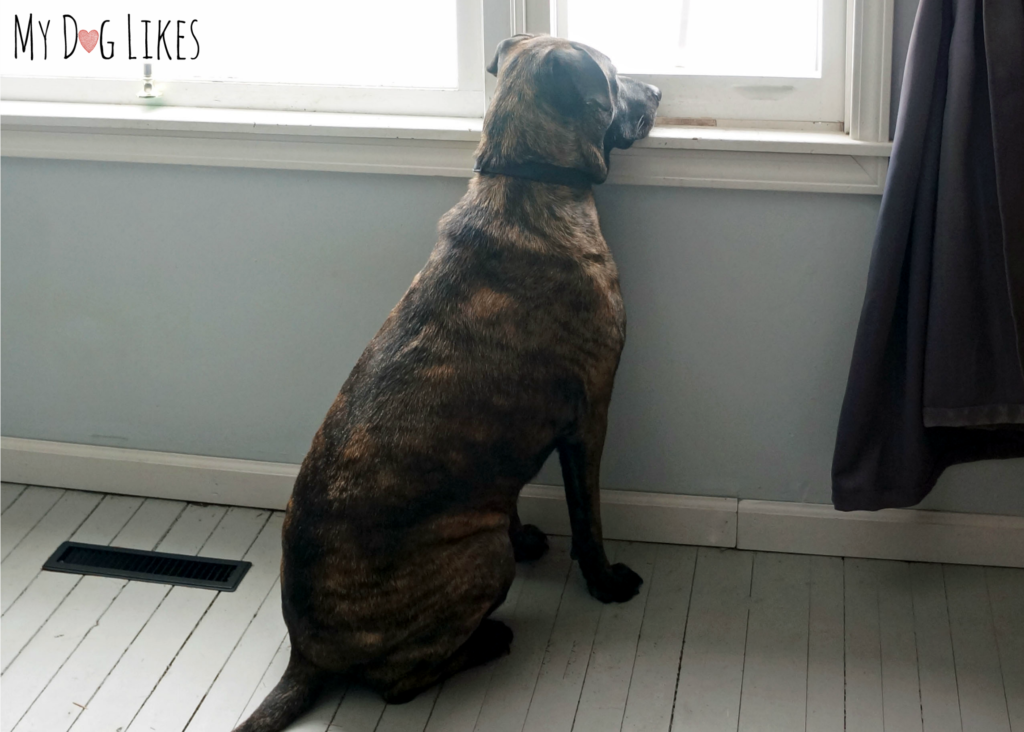 In the winter months Rocky is often found pacing from room to room and his anxiety radiates throughout the household.
When I was asked to try out some CBD pet products for Rocky, I jumped at the opportunity to give him some relief. Joy Organics was kind enough to sponsor this post so that MyDogLikes could help spread the word about their products.
Introducing Joy Organics
Several years ago, founder Joy Smith discovered the benefits of CBD for her own issues with chronic pain and difficulty sleeping. Unfortunately she had trouble finding a supplier with a consistent product. This frustration led her to start her own company dedicated to providing the most bioavailable, full spectrum cannabinoid products on the market.

All hemp is organically grown and processed in the United States (Colorado to be specific) with rigorous oversight and quality assurance. Every Joy Organics product is THC free and lab tested before leaving the facility to confirm concentrations.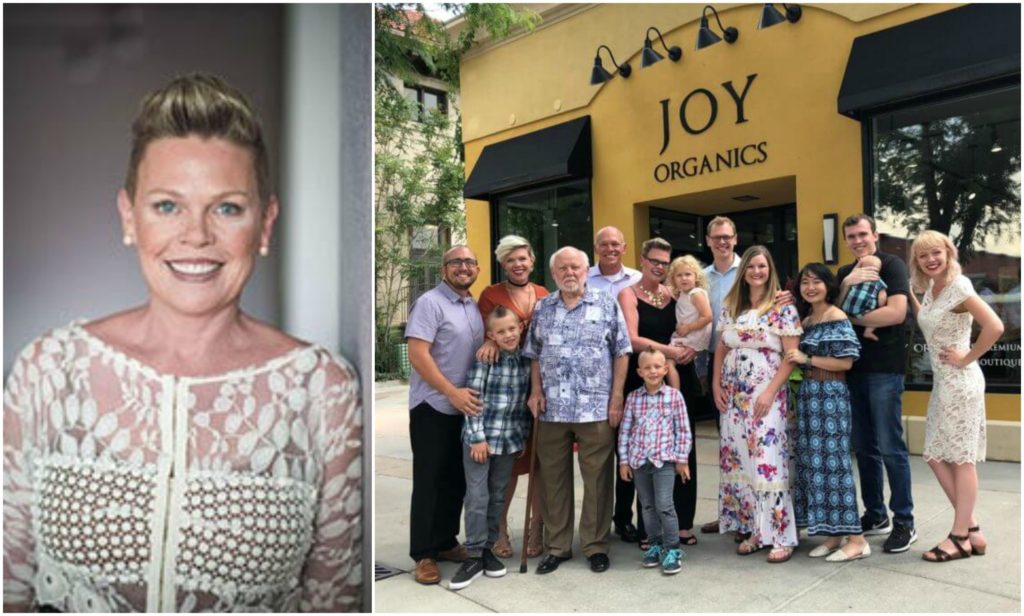 Joy Organics is a true family owned business – with her husband and all 4 children now helping out with different aspects of operation!
Our Experience with Joy Organics
While Joy Organics makes all sorts of products for humans, they also offer a few designed specifically with pets in mind. (Recent research and clinical trials have shown lots of promising results for CBD and our furry friends!)
Naturally, that is what we were most excited about trying, and therefore requested samples of their:
I decided to do a little test by giving Rocky one product at a time, first utilizing the dog treats until the package was empty, waiting a few days and then utilizing the pet tincture.
Browse and Save 10% with code "mydoglikes"
CBD Dog Treats Review
We tested the dog treats first and the beef aroma from the unopened bag was so appealing to Rocky I had to hide it in the highest shelf I could find to prevent him from ripping into it.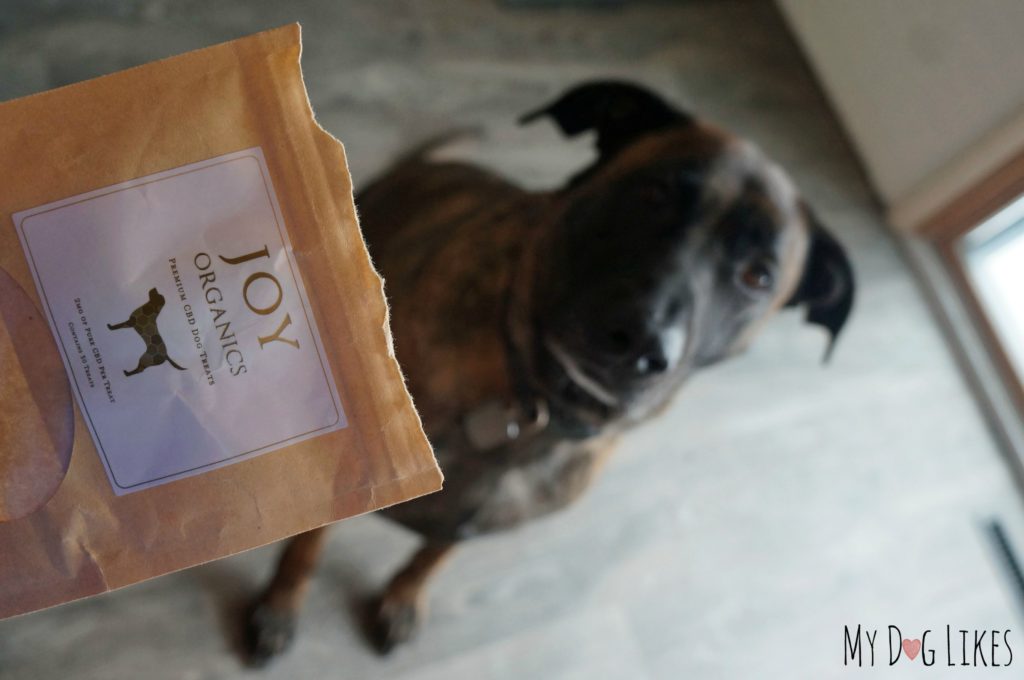 The dog treat instructions say to give one treat for every 25 lbs. your dog weighs. As this was my first experience with anything CBD related, I decided to ease Rocky into the full dose of four treats and started with two treats on his first and second day. On the third- and fourth-day Rocky received the full dose of four treats and aside from him nearly gobbling my entire hand each time, I didn't notice any change in his overall behavior until day five.
On day five, six and seven of receiving the Joy Organics Premium CBD Dog Treats, Rocky's anxiety was noticeably less. On those days he did not lick his paw or pace between rooms, and I even noticed his digestion eased a bit. The only draw back to the treats was the bag contained 30 servings based on a 25-pound dog, so for our 90 lb. guy the bag was empty after a week.
CBD Pet Tincture Review
After a three-day window passed, I gave Rocky his first dose of the pet tincture, which is actually intended for dogs, cats, and "more".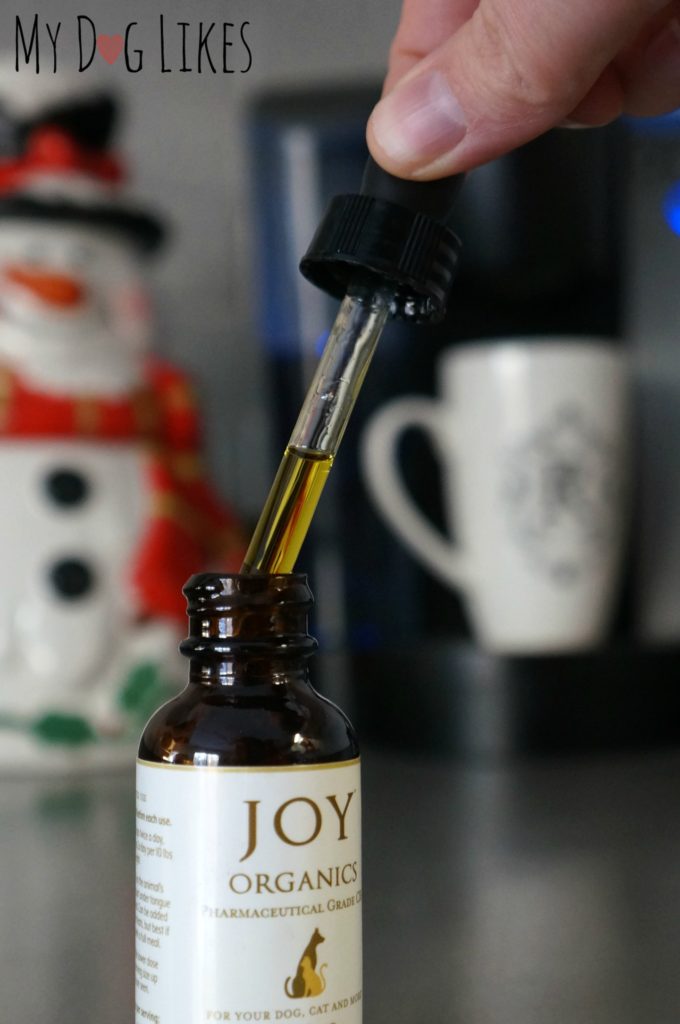 The suggested use instructions were a bit confusing as the dosage differs from the bottle label and the website, so I decided to start with four drops, put directly under Rocky's tongue for best absorption. The pet tincture may be mixed into your pet's food, but best absorption is either directly in the gums or under the tongue.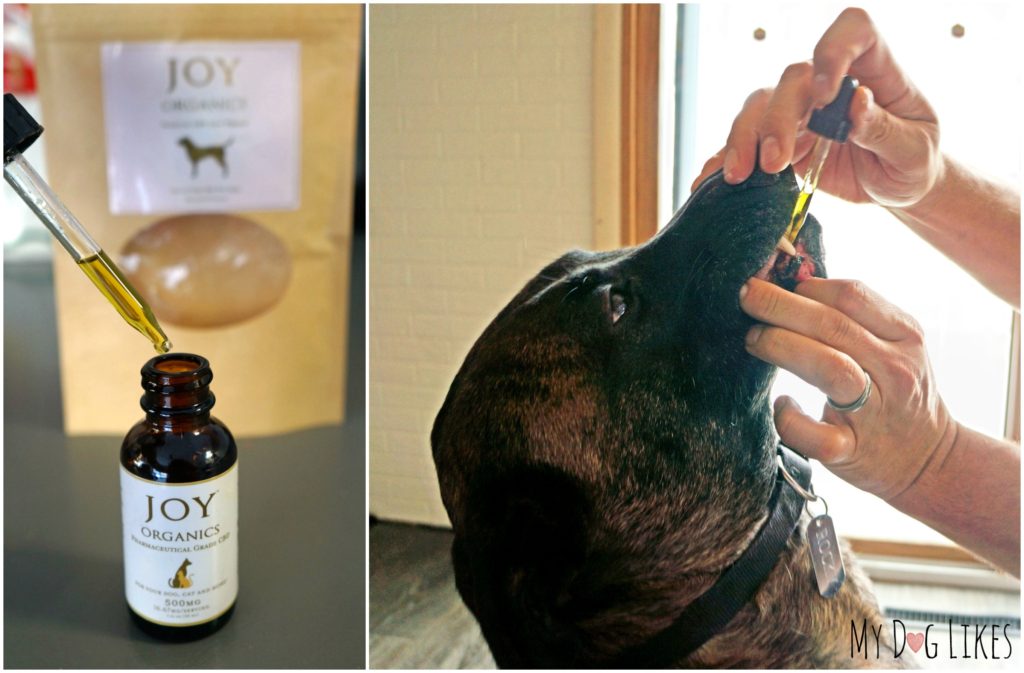 Though this process wasn't as fun for Rocky as the delicious treats, the pet tincture provided the same anxiety relief and ease of digestion, with plenty leftover for use over an extended period.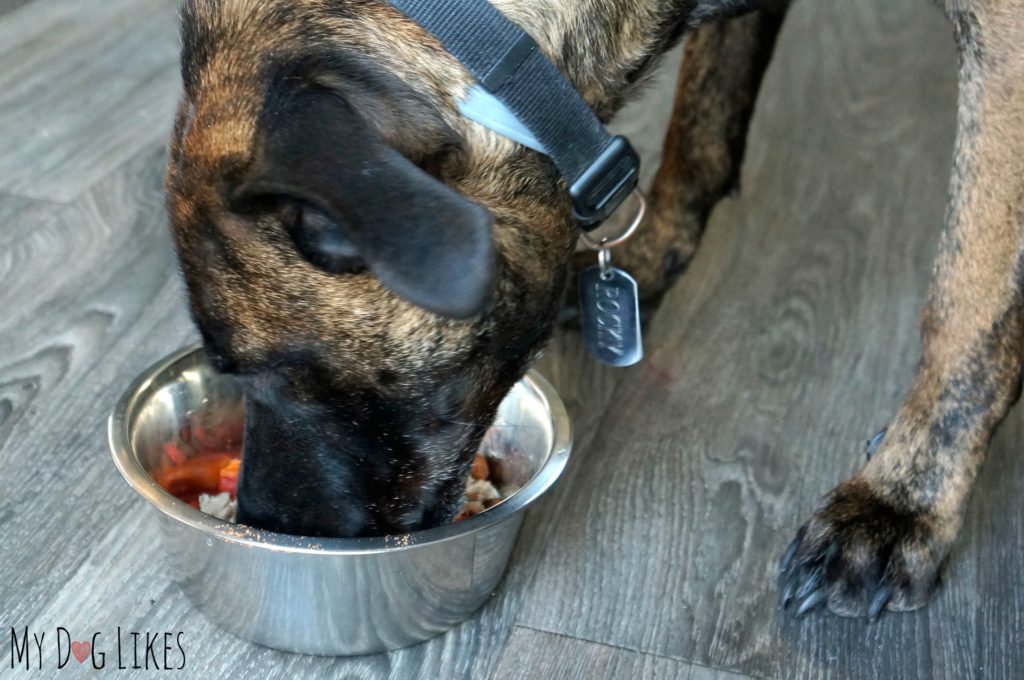 We also decided to try out the CBD oil on Rocky's food, and will update this post to let you know if we notice any differences in its effect.
Why MyDogLikes Joy Organics CBD Products
Most reviews for CBD products for pets provide testimonials for animals with health issues such as arthritis, cancer, etc. experiencing relief with use of CBD extracts.
Happy Dog, Happy Home
We are blessed with a younger and very healthy dog who also experiences anxiety when his family's schedule or the weather changes. After seeing a noted improvement in Rocky's mood, I'd recommend both products, the dog treats and pet tincture, for any dogs going through this type of blues.
Both products start at the same cost of $34.95, so the most cost-effective product would be the pet tincture as it will last much longer than the dog treats. If you are looking for an instant pick-me-up, however, your dog will go crazy for the aroma and taste of the treats!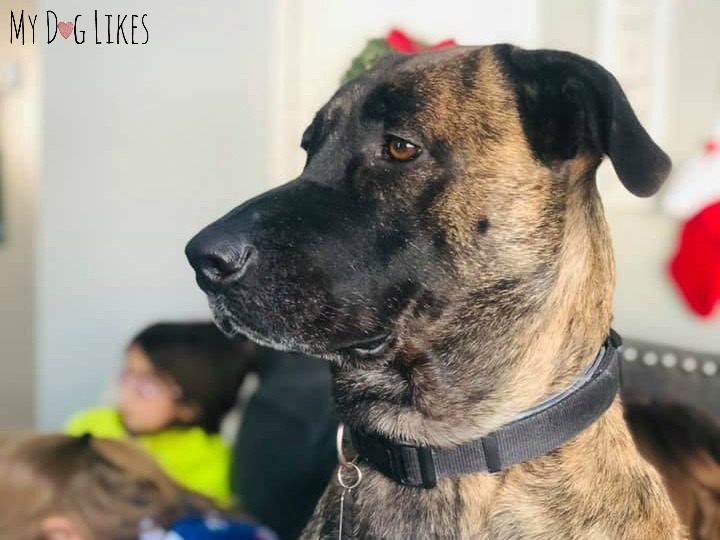 The Joy Organics website, has an easy to understand breakdown of the where, how and why explaining the process used to make every product as well as an assorted menu of products for humans.
This positive experience with Rocky has me curious about CBD products for humans!
Want to give Joy Organics a Try?