This post is sponsored by Natural Balance, and the BlogPaws Professional Pet Blogger Network. We are being compensated for helping spread the word the word about Natural Balance Wild PursuitTM or Natural Balance Treats, but MyDogLikes only shares information we feel is relevant to our readers. Natural Balance is not responsible for the content of this article.
All dogs have a wild side.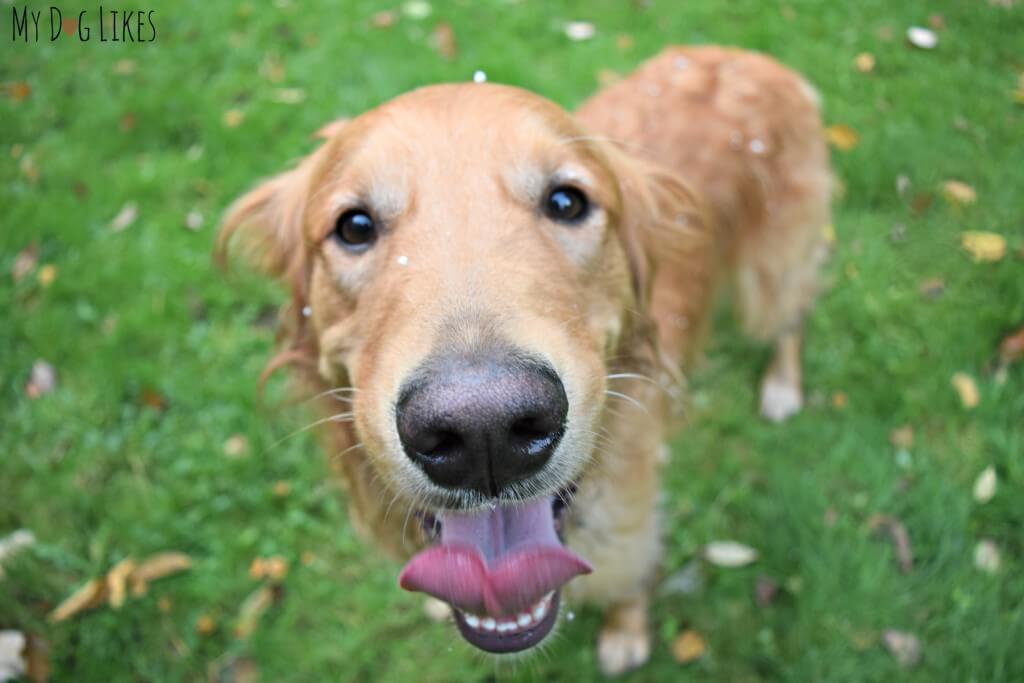 For Charlie, this is readily apparent. Always bubbling just under the surface and ready to be unleashed at a moment's notice – this wiggle butt struggles to contain his excitement and enthusiasm for life.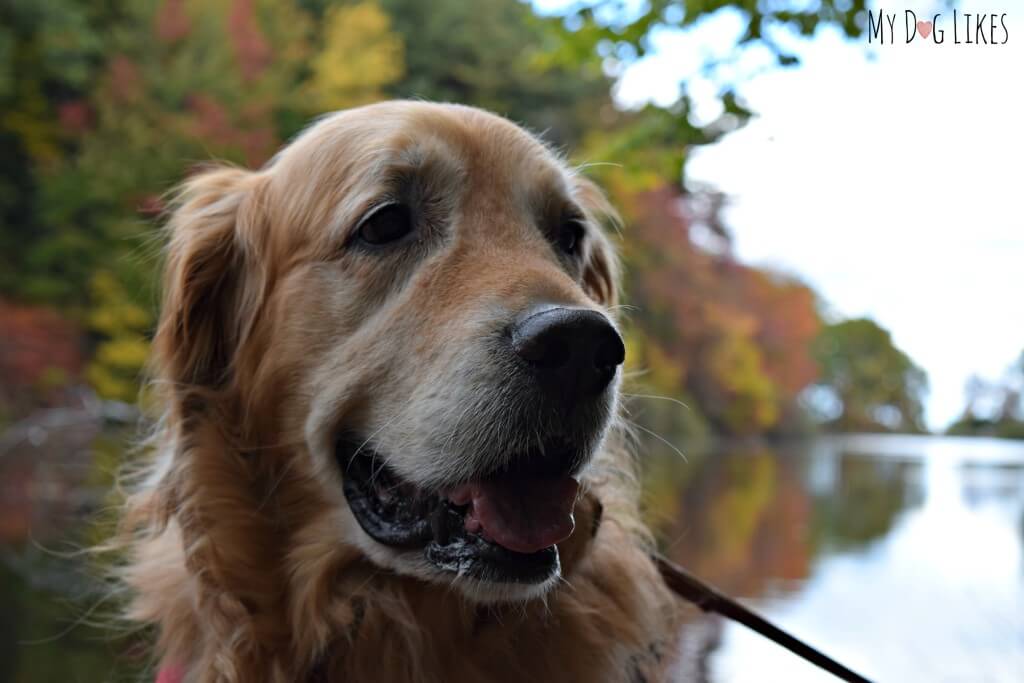 Harley on the other hand is the picture of calm. Invoking his wild side can be difficult; requiring just the right circumstances to show itself…
Stepping Out into the Wild
Aside from daily walks through our neighborhood, we try to get out into nature for longer hikes and adventures at least once a month. Sure, it is good exercise but all of the new sights and smells are just as important for the mental stimulation they provide.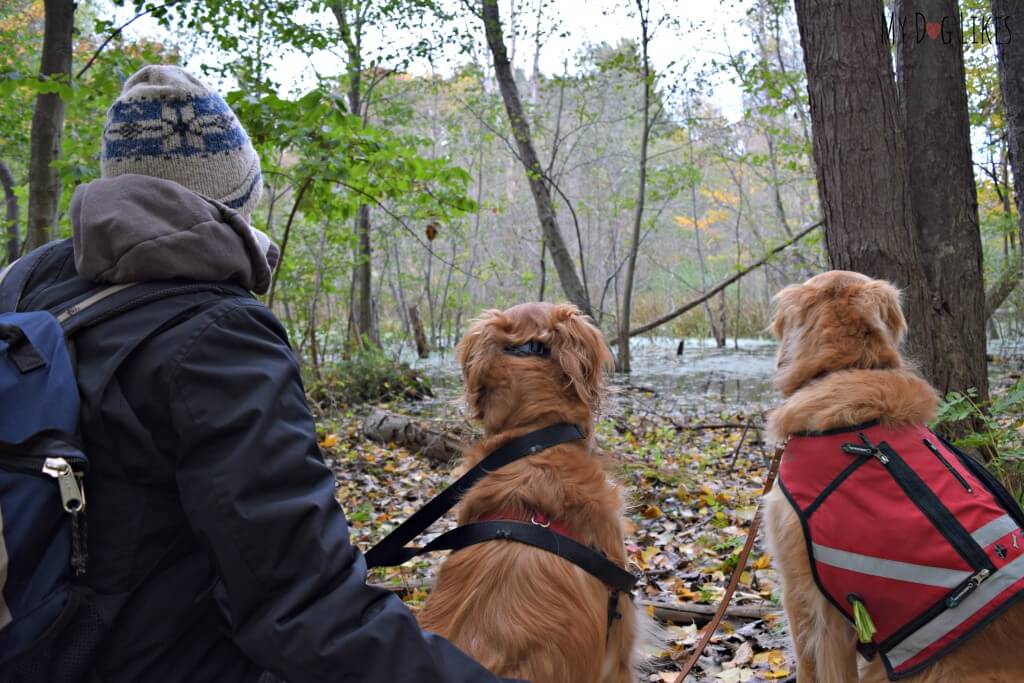 Last weekend we decided to take advantage of a crisp fall afternoon and took the boys out to explore Durand Eastman Park just outside of Rochester, NY. This park has multiple large ponds, hilly wooded terrain, and (since it borders lake Ontario) even a beach to splash around in. Talk about a perfect place to get a little wild!
Time for a Little Fun
Right as we began our hike however, the crisp and cool day took a turn for the worse. There we were, mid October and the first snowflakes of the year began to fall! Our boys do not mind the cold at all (in fact they really seem to relish in it) so we soldiered on. We did however decide that swimming would be off limits due to the falling temperature! As you may imagine, this proved to be pure torture for two Golden Retrievers. Everywhere we traveled was just a water wonderland begging to be explored.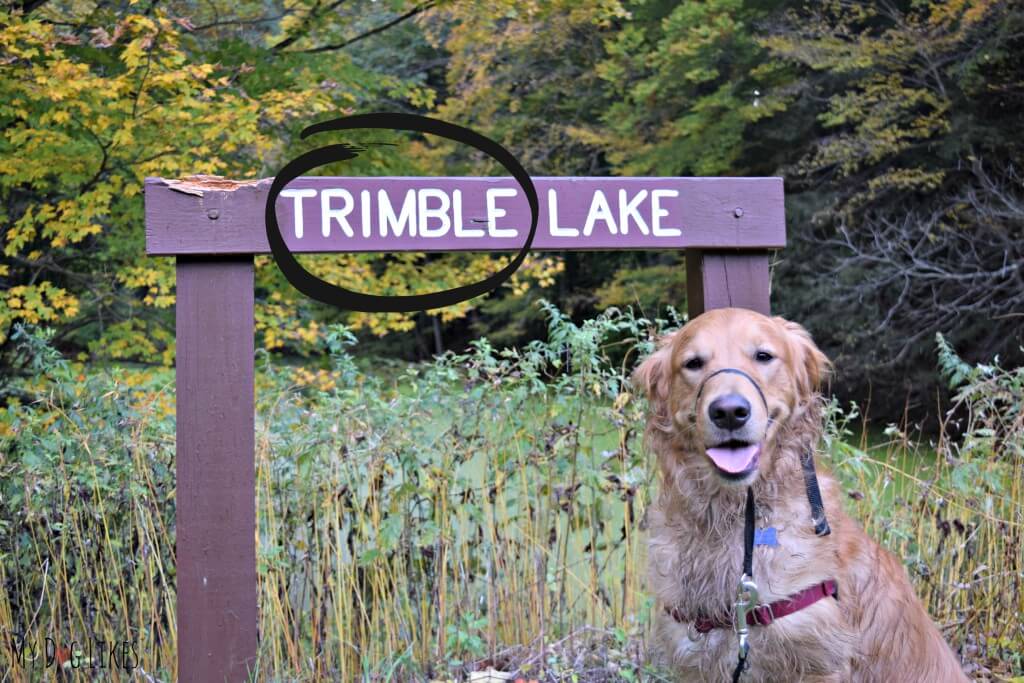 Perhaps this spot would be better known as "Trouble Lake!"
Charlie's Wild Side Comes Out
Charlie has been acting more and more grown up as of late, so we decided we would be able to grab one quick shot of him off-leash taking in the sights. NOPE! Instead of posing for the camera he headed straight into the pond – and a muddy area at that!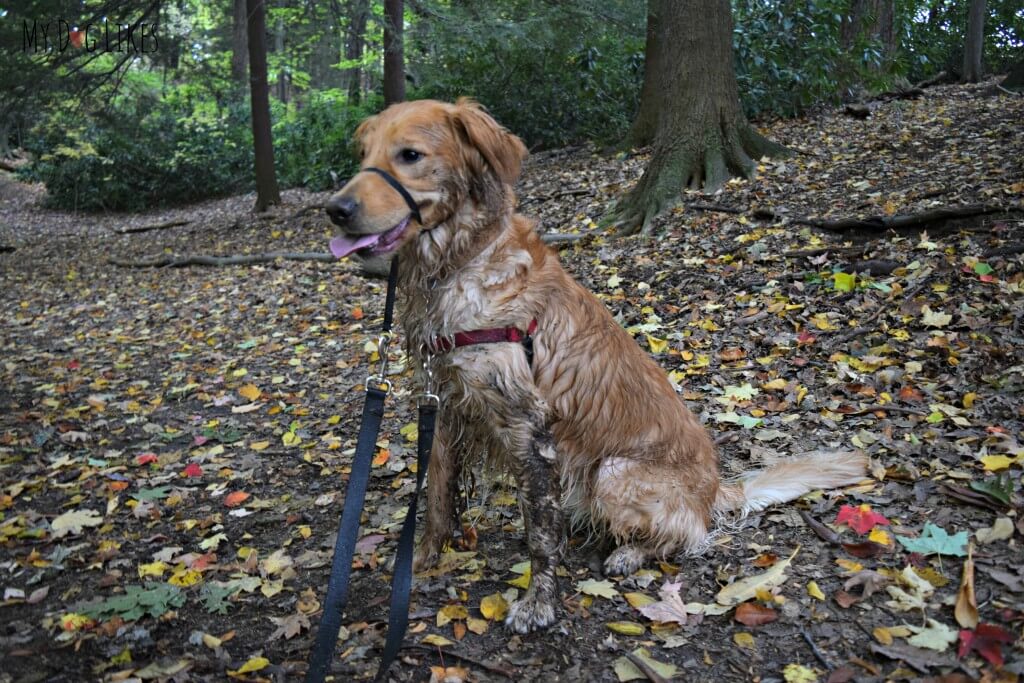 This momentary lapse in judgement proves that their is no suppressing that wild side! 
Harley's Wild Side Comes Out!?
What about our stoic gentleman Harley?
Well, he is always down for adventuring and feels right at home in the great outdoors. He is a natural hiker, a talented swimmer and always very cognizant of the wildlife around him. It is rare to see him acting goofy all on his own, so we usually take it upon ourselves to coax that playful puppy side out of him.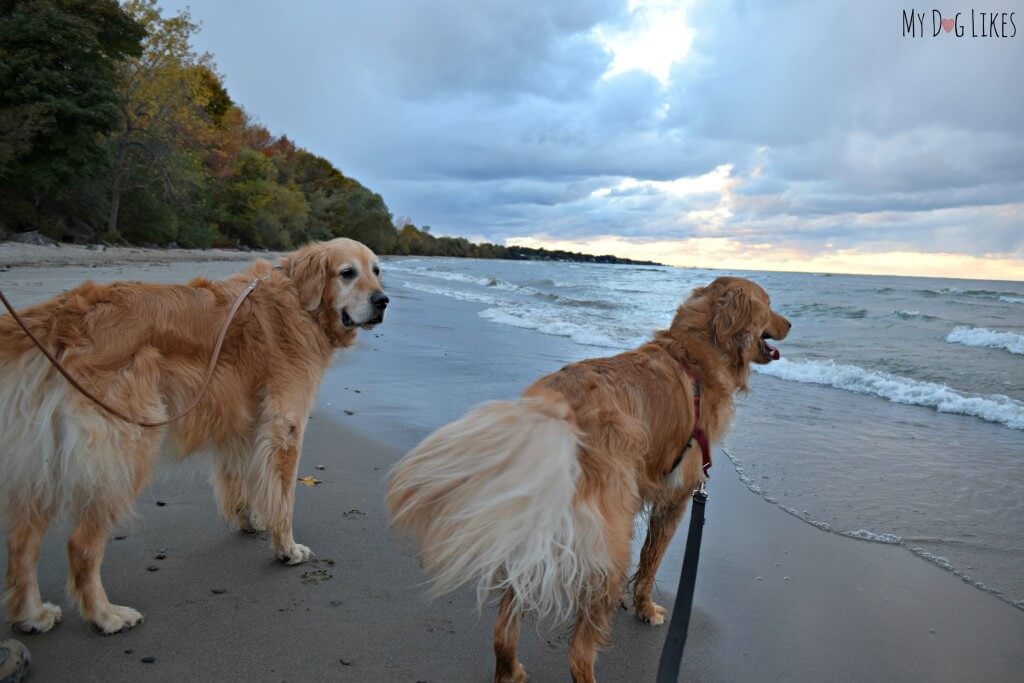 Since we ended our visit at the beachfront, we decided to show him that the soft ground we walked upon was great for digging. Like a flashback to puppy Harley, it was on!
Fueling their Wild Side with #NaturalBalance
As you can see even the most regal of dogs has a wild side!

Natural Balance® is feeding this wild side with Wild PursuitTM – their new line of grain free, high protein dog food and treats. These new formulas are based around an ancestral diet which better emulates what dogs would be eating in the wild. The perfect fuel for all those adventures that you will share together!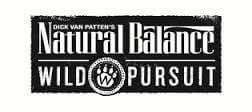 Wild Pursuit dog food incorporates a blend of 3 protein sources and freeze dried raw. Aside from the more traditional proteins like chicken, turkey and salmon, Natural Balance offers formulas with unique proteins such as guinea fowl, quail, trout, and walleye. Talk about satisfying your dogs primal cravings! This food comes in wet and dry varieties, for both dogs as well as cats.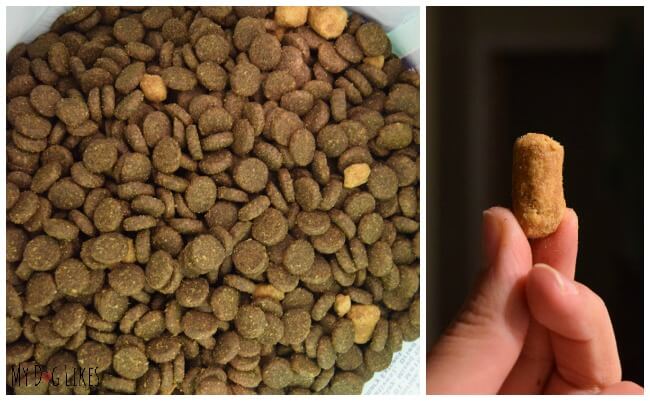 Health conscious pet parents will not only love quality of this pet food, but they can be assured of the safety as well. Natural Balance offers a Buy With Confidence Guarantee. All products are tested for contaminants before they reach store shelves. Curious to see the results? Simply visit the website linked above and enter in your bags info to see the specific test results!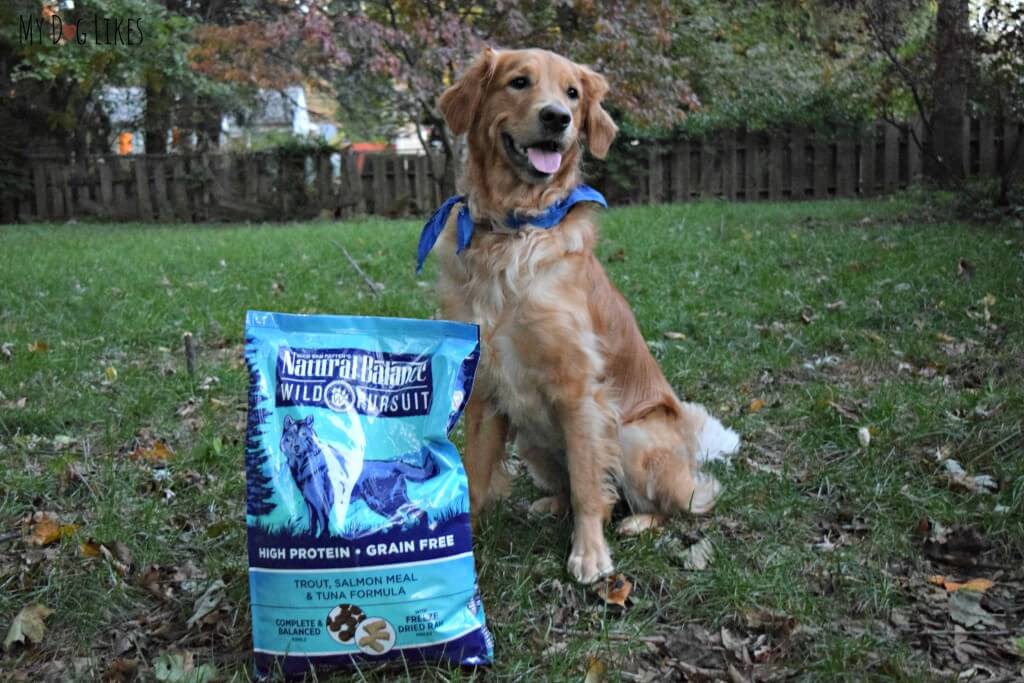 Interested in switching things up or getting started on a high protein grain free diet for your dog?
Check out the Natural Balance store locator to see where you can find Wild Pursuit near you. You can also visit Natural Balance on Facebook to learn more!