Obviously, we are huge animal lovers.
That affection does not end with our cats and dogs. We love all animals, and no matter what their destiny is, believe that they deserve to live a dignified life.
That is why we are very excited to tell you about a new dog food company who shares this love and respect for animals; incorporating these values into a product that you can feel good about feeding to your dog.
Introducing Tender & True Dog Food
Tender & True is a pet food brand focused on providing premium nutrition to our furry friends. Not only that, but they are also committed to animal welfare and sustainability.
Tender & True was kind enough to send us a box of food for our resident experts to try out and share with our readers. Make sure to read through to the end where they are sponsoring a giveaway as well!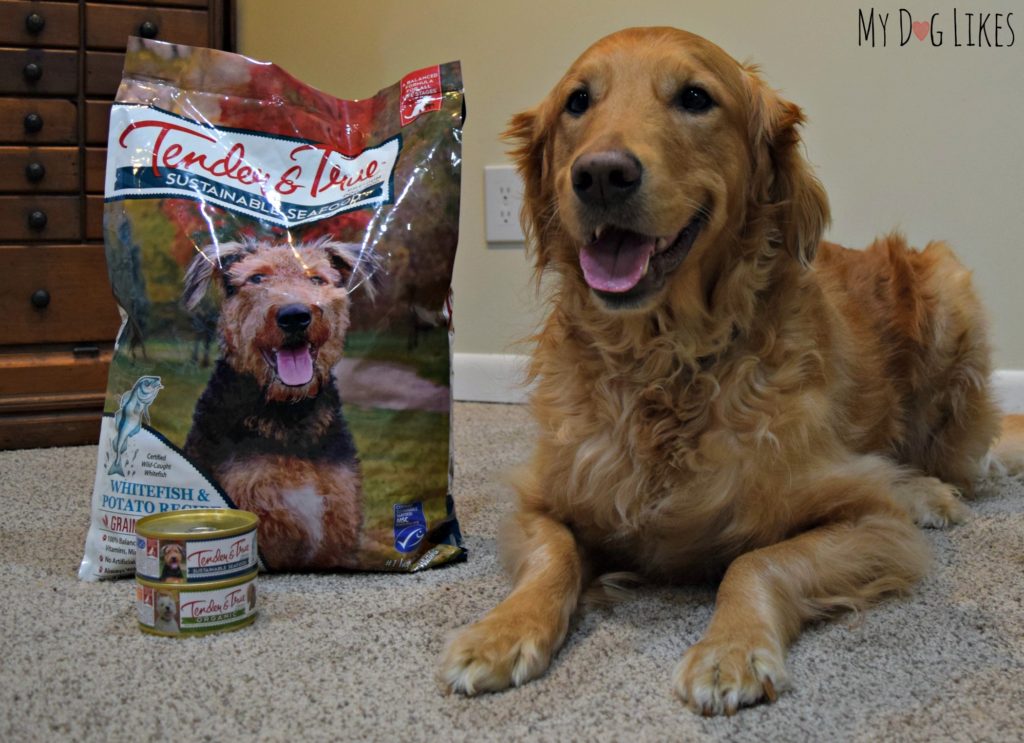 Flavor Options
Tender and True dog food comes in 5 different varieties, all of which are free of wheat, corn and soy. You also won't find any artificial colors or preservatives in their food. The kibble is available in 4, 11 and 20 lb bags, and they offer each varety as a wet food in 5 or 12.5 oz cans if your dog is so inclined!
Let's take a closer look at the different options:
Organic Chicken & Liver Recipe – #1 Ingredient is Organic Chicken, Grain Free
Organic Turkey & Liver Recipe – #1 Ingredient is Organic Turkey, Grain Free
Ocean Whitefish & Potato Recipe – #1 Ingredient is Whitefish (Certified Sustainable Seafood), Grain Free
Chicken & Brown Rice Recipe – #1 Ingredient is US Farm Raised Chicken
Turkey & Brown Rice Recipe – #1 Ingredient is US Farm Raised Turkey
Certifications

There can be a lot of misinformation in the organic and health food industry. It is not uncommon for companies to label things as "all-natural" or "human grade", without clear definitions about what exactly these labels mean and without the teeth to enforce the regulations that do exist. This is not the case with Tender and True – who backs up all of their claims with rigorous certifications.
Just take a look at the various standards that Tender & True Pet Food conforms to:

USDA Organic

This certification actually has the same requirements and standards as USDA Organic food intended for humans. This means that it has been grown or processed WITHOUT the following:
Toxic and persistent pesticides

Artificial flavors, colors and preservatives

Synthetic growth hormones

Antibiotics

GMOs

Irradiation
Always Antibiotic Free
This certification assures that no antibiotics were used on the animals – a common practice used in large industrial farming operations in order to prevent disease. Instead, antibiotic free farms must take other (more natural) precautions to keep their animals healthy such as sticking to natural vegetarian diets and probiotics.
Global Animal Partnership

The Global Animal Partnership (GAP) is a non-profit organization committed to improving the quality of life of farming animals. In order to achieve this goal, the GAP has developed a unique animal welfare rating system for producers which goes way beyond providing adequate food, water and space. They also look into things like an animals ability to behave in natural ways and a farmers ability to promote positive experiences and minimize negative ones from hunger, pain, or frustration.
Certified Sustainable Seafood
This certification, which was developed by the Marine Stewardship Council, assures that all fish used in the production of their food has been sustainably caught. In other words, the fishery must be managed and regulated in a way that the populations can continue indefinitely.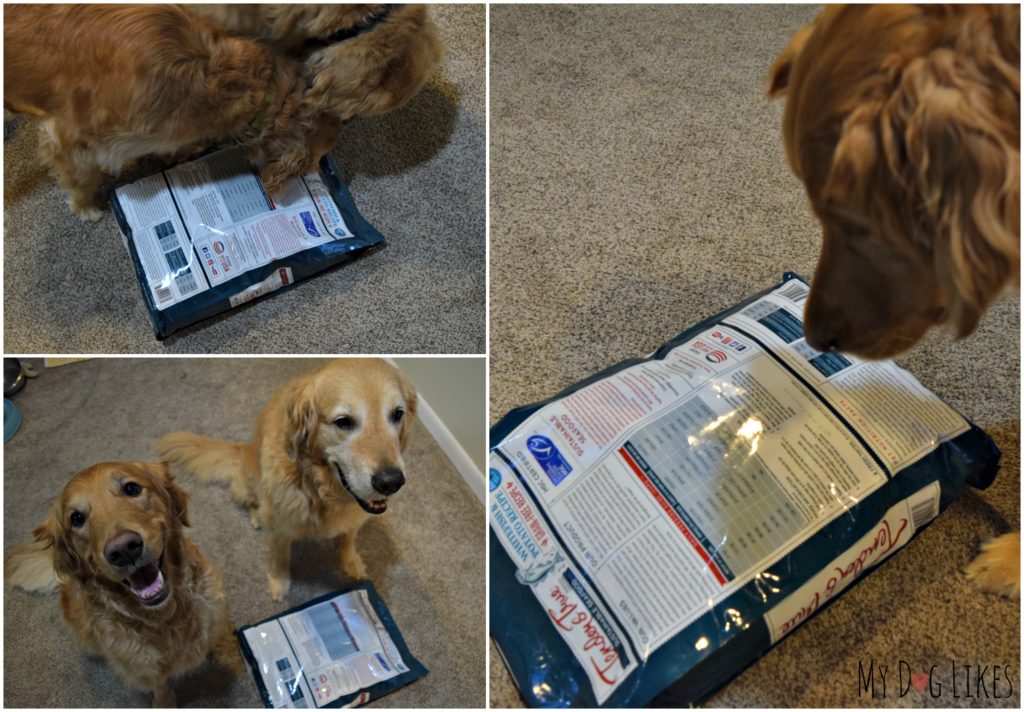 Checking the ingredient label before digging in…
Tender and True Dog Food Review
As many of you know, we primarily make our dogs' food and have for more than a year now. While we are very happy with our current system, we still like to keep tabs on the pet food market – since homemade feeding is not always possible or convenient for all of our readers! Even if you do feed raw/homemade, there are times when a busy schedule or traveling can make it difficult to bring this food along.
We like to keep a bag of kibble on hand for when we run out of food, are traveling, or are short on time. As Tender and True easily met all of our quality standards we were very excited to give it a try, mixing it into our current rotation.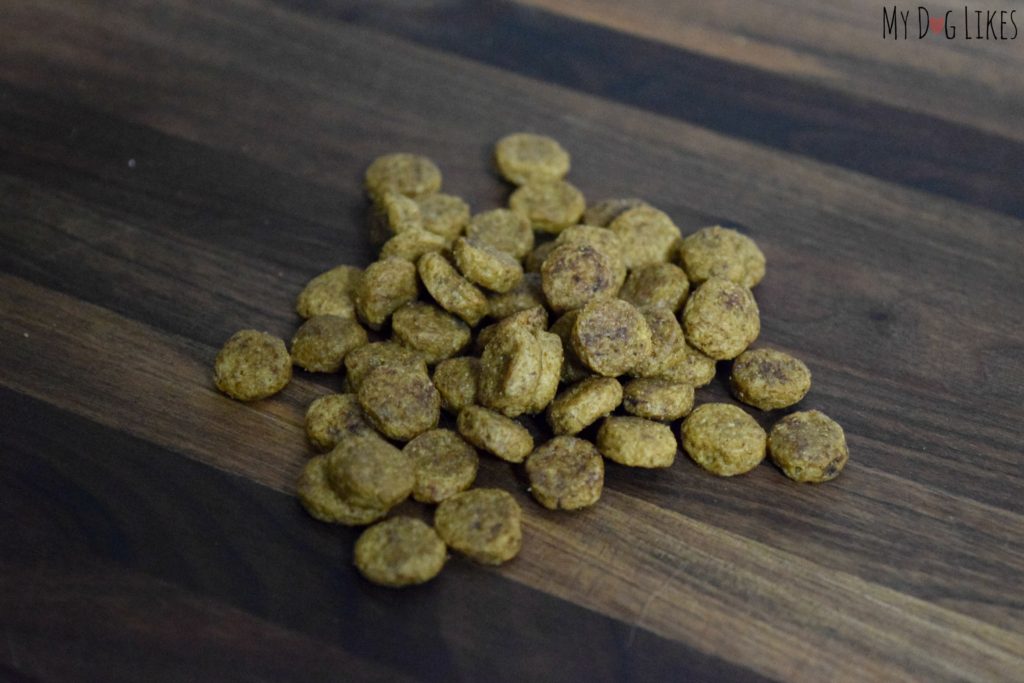 Time for the Taste Test!
Since the boys already eat turkey on a daily basis, we decided to start them out on Tender & True's Organic Turkey and Liver recipe to keep things consistent.
As we mentioned above, the title is always the number 1 ingredient. Organic Turkey is followed up with:
Organic chicken meal
Organic tapioca starch
Organic dried peas
Organic chickpea
Organic flaxseed meal
Organic potato starch
Organic dried liver
Organic pea flour
and so on…
We didn't find any ingredients of concern – to put it simply, these are some of the best ingredients we have ever seen in a dog food.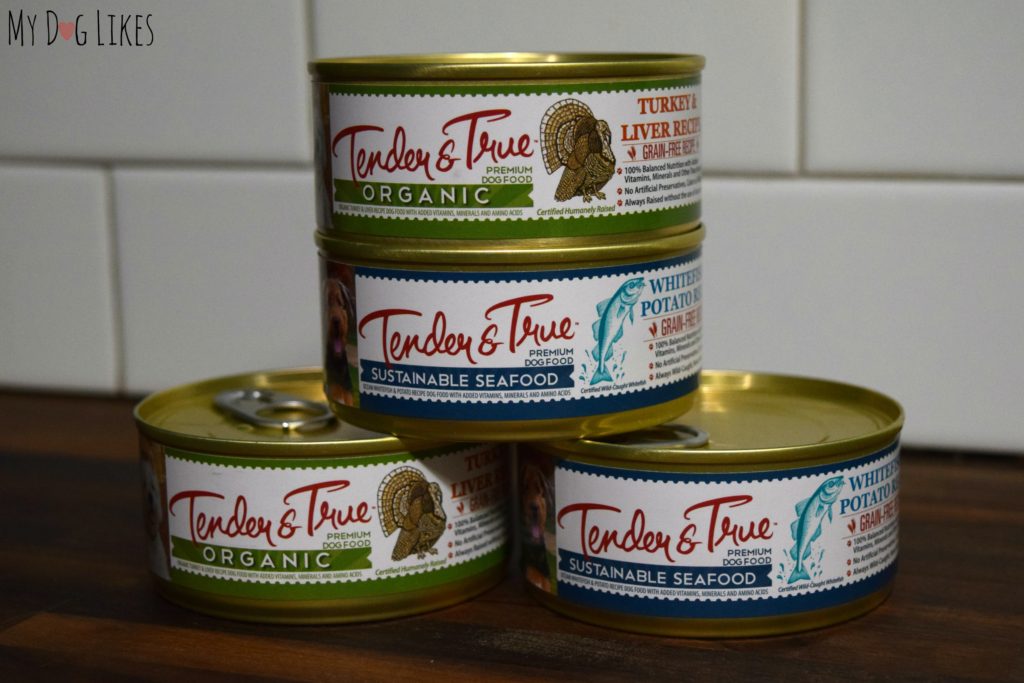 We also sampled the wet food, which as you can see below comes in a ground pate form.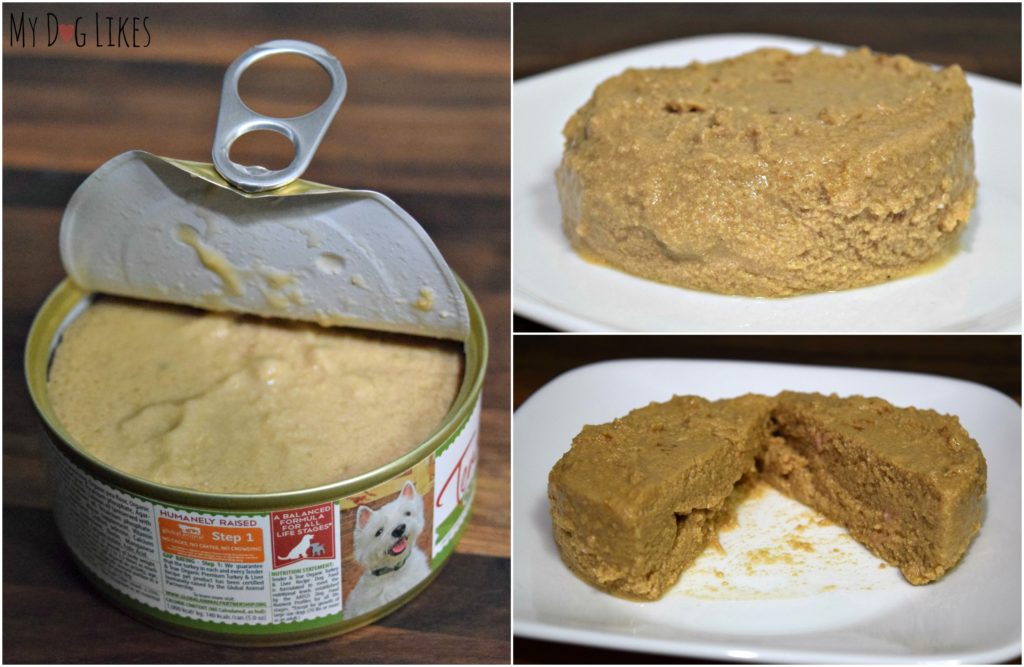 While this option would not be practical for large dogs like ours, Harley and Charlie certainly loved it! As dogs who are used to eating a homemade diet, making sure they get enough moisture/water content when feeding kibble is really important to us. To help make sure the boys got more moisture in their food, we mixed the pâté with their kibble!
The boys adjusted well to Tender and True. They ate both the kibble and pâté with enthusiasm and didn't have any stomach/digestive upset as a result of the transition. Our resident cat burglar was also interested in the food and was caught in the act-sneaking kibble pieces right out of the dogs' bowls!
Lucky for Lucas, we will be sharing some kitty cat varieties in the coming weeks over on MyCatLikes!

Why MyDogLikes Tender & True Pet Food
With Tender & True, you can feel confident that your dog is getting premium nutrition, but also feel comfortable with the industries you are supporting. As animal lovers, it is hard to reconcile the practices of a factory farming system that so often supplies the meat our dogs need with our conscious.
We love that Tender and True doesn't make us choose between what is best for our dogs and what is best for all animals. Tender and True is the high quality kibble and pâté that all animals deserve.
Tender and True absolutely makes the short list in our kibble rotation!
Want to Try out some of this food for yourself?