Of course not all things are meant to last, and the Hurley eventually disappeared.  With such a positive prior experience, we focused our search for a replacement on West Paw Design's similar toys.  We settled on the Bumi out of intrigue and curiosity, and from the picture you can likely see why.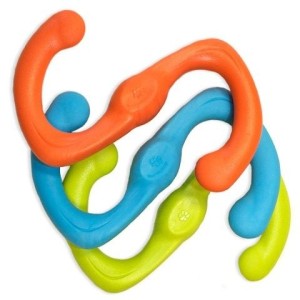 Introducing the Bumi
West Paw Design's Bumi is another Zogoflex toy with a shape that is particularly suitable for tugging.  This toy is durable yet very flexible, so try to imagine the possibilities of this unique shape.  The Bumi can be stretched, pulled, tossed or chewed.  It bounces unpredictably for added fun, and it even floats in water.  
To speak a bit about its durability, Harley has had his Bumi for 5+ years now and it looks like the day we bought it.  It has even stayed outside for months at a time with no ill effect!
Why MyDogLikes West Paw Design's Bumi
The Bumi's versatility and durability combine for an excellent dog toy.  This is truly another great product from a great company, and like all of their Zogoflex toys comes with a one time product replacement guarantee. Why not give it a try?!
Click Here to Pick up a Bumi on Amazon
Quick Summary