Have you ever had one of those days where you think it would be easier to blow your house up rather than face the disastrous mess in front of you? We love our pets, but sometimes, I feel like I live in a zoo. I know many of you can relate… between a husband that travels half of the week, starting a new job, working on our business, and trying to keep myself and the animals healthy, happy, and exercised, its pretty easy to fall behind on household tasks.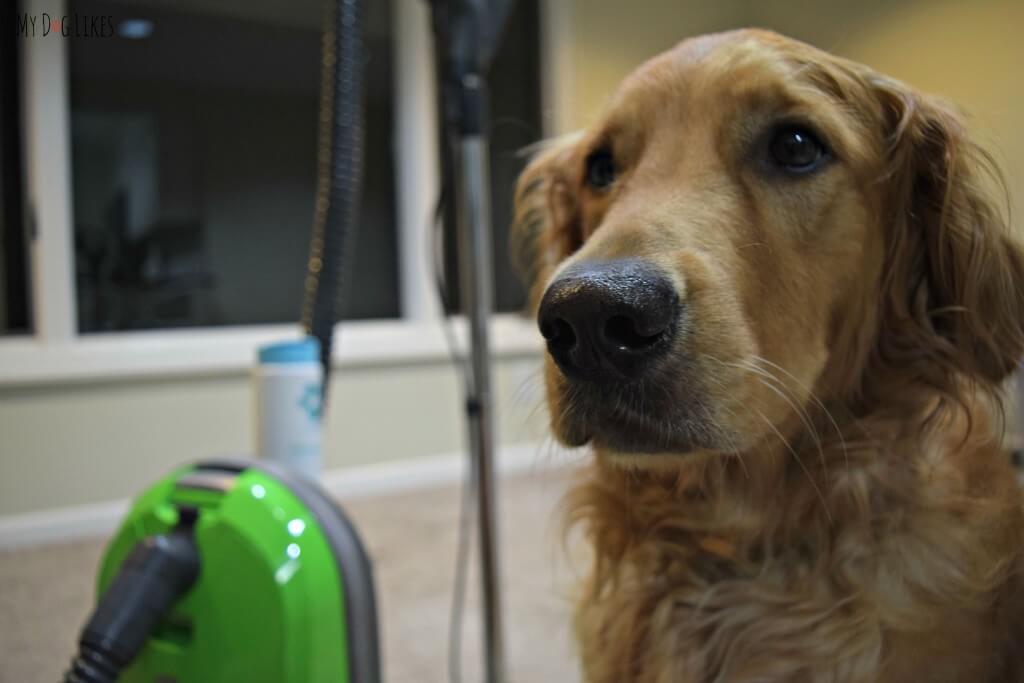 It's a Dirty Job-but I love it!
Despite all of the joy that our animals bring to our lives there are days when it's a bit overwhelming (and extremely disgusting if we are being perfectly honest) to own pets.  Since the last time I did a deep clean in the house we have: babysat for a not yet potty trained puppy, had two foster kitties whose use of the litter box was suspect, had an adult cat experience phantom litter box syndrome (using the facilities where the foster cat box was a.k.a peeing on the floor), had another cat who projectile vomited from on top of the refrigerator (yes-it was all over the kitchen), and have dealt with a grown-puppy who enjoys taking dirt baths more than real baths (and then bringing it all inside).
DEEP BREATHS.
Clean Home – Safe Home
While being in a clean home feels great, I wouldn't trade a single one of the messy little creatures that inhabits this house for anything. They are the lifeline of my family and most days, I simply remind myself to laugh at the absurdity of life with 2 cats, 2 dogs, a traveling husband, a revolving door of animal guests, and some random foster animals. This is the life I chose and I wouldn't have it any other way!
The reality of the situation is that despite my love obsession with our pets, I do LOVE living in a clean home. Way more important to me than a clean home is a safe one and Kevin and I refuse to use products that could be harmful to our family. We are always looking for great new products that make our busy lives just a little easier so we were super pumped up to learn about a brand new line of all natural, plant-based home care products from PL360.
About PL360
PL360 manufactures a variety of pet grooming, cleaning and health products with a common goal in mind: keeping pet care simple. This philosophy includes using only natural ingredients – that are safe for our precious pets.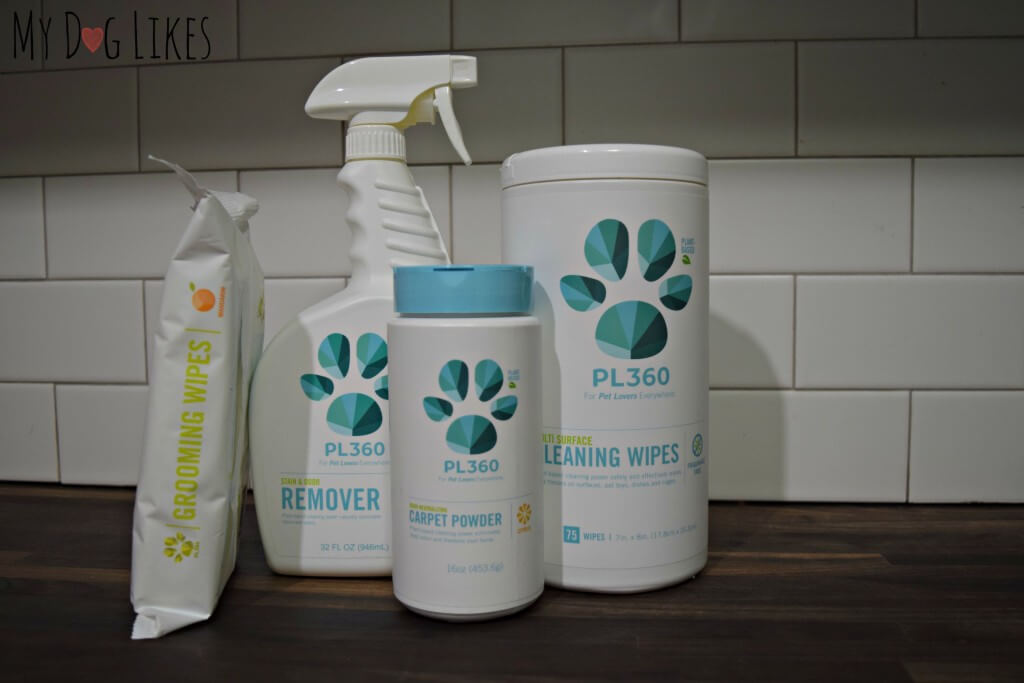 PL 360 was kind enough to send us a variety of their grooming and cleaning products to try out (as well as some to donate to our favorite shelter) and see how they fit into our lifestyle.
Click Here to Browse PL360's Products on Amazon
These are a few of my favorite things…
A few things you will notice about all PL360 cleaning products:
Utilize plant based cleaning power

Made in the USA

No ammonia, bleach, phosphates, phthalates or sulfates
Sounds great – Let's take a closer look and see how they work!
Multi-Surface Cleaning Wipes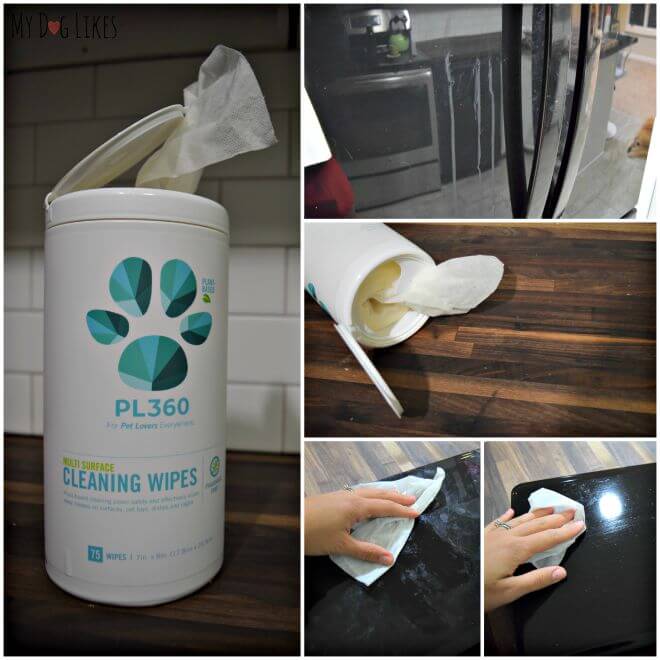 PL360's Cleaning Wipes are lightly moistened with an all natural solution that cleans without leaving a residue behind. Since there is no ammonia, bleach or harmful chemicals in the solution, there is no need to rinse a surface after cleaning. We love that these all-natural wipes can be used directly on dog and cat toys. These wipes are really convenient too! If you've ever taken a minute to consider just how many surfaces in your home get an occasional lick from your pup or have kitty paws traipsing over them, you won't go another day without these!
Turns out they work well to wipe up the wood counter before a photoshoot (we gotta keep up appearances here people) and all of those natural cleaners helped to moisturized our desperately thirsty counter top! They also work great for wiping down surfaces after your cat barfs off of the refrigerator, and cleaning your nasty lap top (that I spend entirely too much time on). Once I got to using these things, it was kind of hard to stop-they were so convenient, nicely moistened allowing them to cover a lot of surface area before drying up, and smelled so fresh and so clean-clean.
Stain and Odor Remover Spray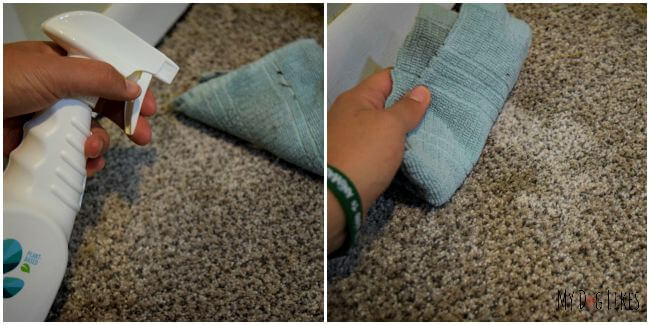 Nobody wants their house to smell like a litterbox-or worse-cat urine! After our foster kitties went back to the shelter to be adopted, I cleaned and vacuumed the bathroom-or so I thought. Imagine my surprise when out of nowhere, my sweet, perfect little kitty walked right into the bathroom and used the phantom litter box!!!!! OMCat!
I thought I had done a good job-I walked into the bathroom and didn't smell any remnants of those little kitties. Well friends, I underestimated the power of dog/cat sniffers and paid the price. With a nose that is infinitely more sensitive to smells than ours, Lucas Kitty picked up on it right away. Turns out that all I had really done was cover the odor of a litter box, not help to eliminate the smells!
PL360's Stain and Odor Remover Spray works with plant-based  neutralizers to penetrate the stinkyness-removing odors that can cause your furry friends to resoil a spot. This spay works best on carpet/rugs, upholstery, and tile-I was lucky enough to try all three! This spray easily handled puppy odors on the carpet, kitty odors on the tile, and substances of unknown origin on the sofa! The verdict-so far so good, no recurrences and no lingering smells!
Odor Neutralizing Carpet Powder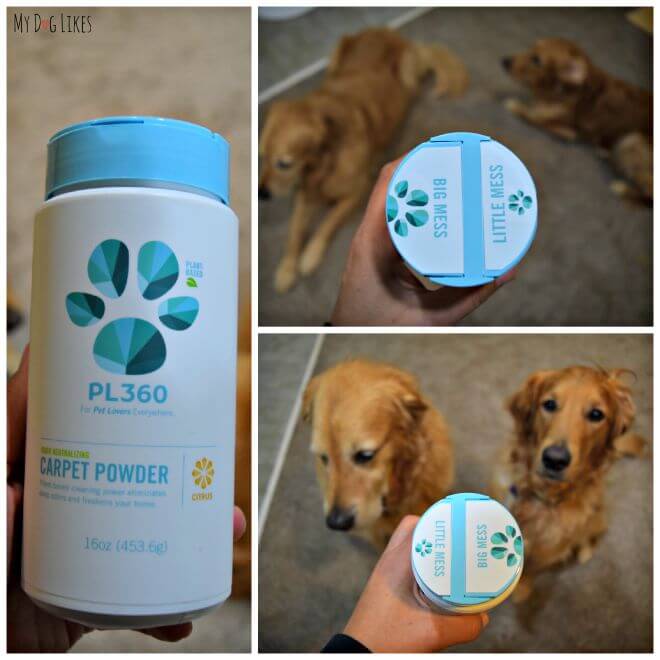 90% of our house is covered in an easily cleanable hardwood floor (so thankful). Naturally, the majority of pet messes occur on the small area rug in the living room or our carpeted family room! Seems like the perfect place for a puppy to pee or a cat to cough up a hairball, don't you think!? Needless to say, we quickly had a few opportunities to give PL360's odor neutralizing carpet powder a try.
It couldn't be easier to use: simply sprinkle onto dry carpet, let sit a few minutes and vacuum.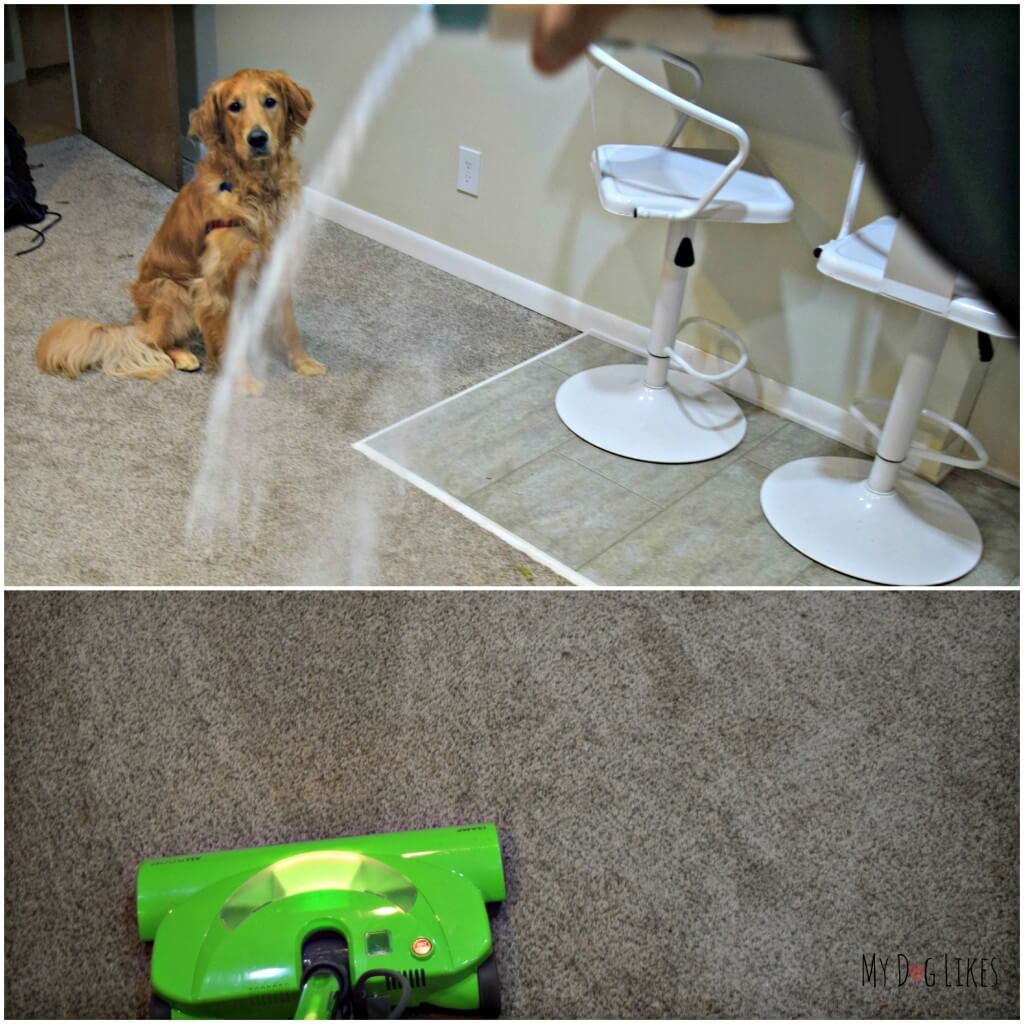 We found that aside from simply cleaning up after messes, the light citrus fragrance freshens up a room without being overpowering! The PL360 Carpet Powder does a great job of tackling the popular spots for daily naps that develop "dog smell" over time, helping the vaccuum to do its job better and penetrating deep into our carpet to remove all sorts of yuk. We are not new to using carpet powders, but I've moved away from them (and their overpowering perfume) over the years and moved toward using baking soda as a carpet refresher. What I love about this product when compared to straight baking soda is its light, non-offensive citrus scent!
Grooming Wipes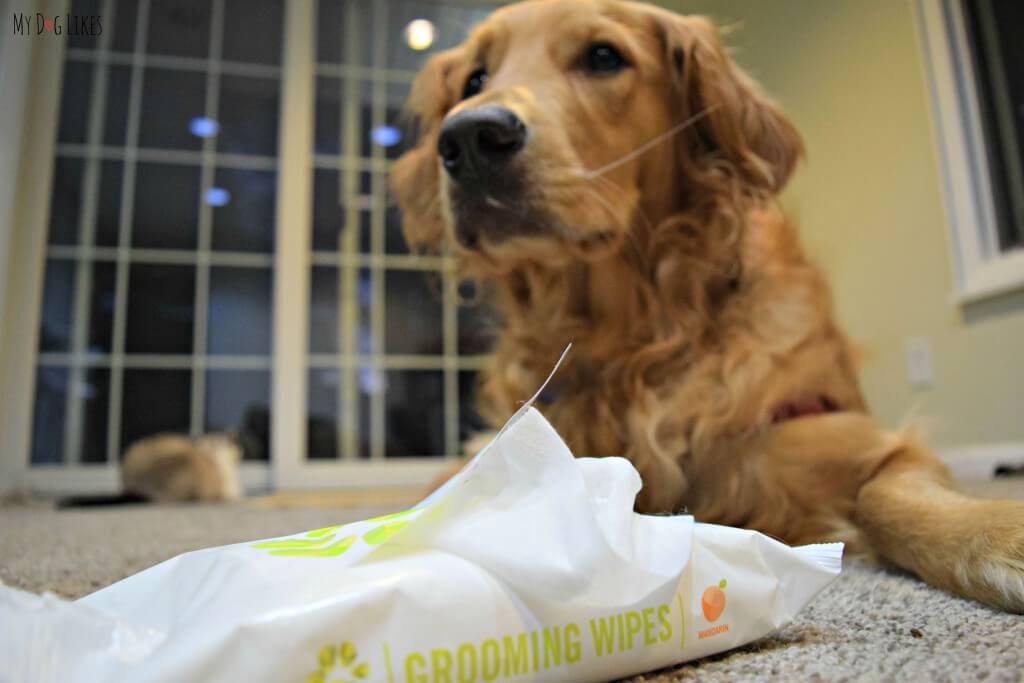 If there is one thing we all know to be true-for a clean house you've gotta hit the problem right at the source! We were lucky enough to get some PL360 grooming wipes in our goody bag and were super pumped to add a little freshness to the pups. Afterall, there is very little point in cleaning the carpet if the pups drag dirt, debris, and stink in with 'em! A few wipes with these naturally perfumed grooming wipes and the pups were feeling pretty spiffy and smelling sweet. The perfect way to freshen up and wipe down allergy prone paws-naturally and without the mess!

Why MyDogLikes PL360 Household Products
No matter if you are Martha Stewart herself, all homes that welcome the unconditional love of pets also welcome in the messes that come with them. It comes with the territory. We have always struggled between finding products that work effectively and at the same time are safe for our fur-babies. This is precisely what we love about PL360's household products-effective cleaning power with none of dangerous chemicals. All of the products are natural and plant based allowing us to use them on the surfaces that we live on without the fear of putting our family at risk. These products were able to handle the many demands that I put on them and helped to curb some pretty dicey situations before they got out of hand (SERIOUSLY-the cat peed on the bathroom floor, WTC!). If you care about what your family eats and plays with, take a minute to think also about the products that you use in your day to day life and choose a healthier option. Rather than blasting the house with fragrance, each of the products left the natural and fresh scent of citrus-allowing us to breath deep and be ready for all of life's challenges!

Could you use some Natural Cleaning and Grooming Products?
Click Here to Browse PL360's Products on Amazon
Leave a comment to let us know about some of the biggest messes your pets have left behind!