I've said it before – I feel bad for people who don't love dogs because they miss out on such pure love, loyalty, and adoration. People who don't like dogs tend to notice things that I don't really think about – like how much they shed, slobber, or yes – smell.
Over the last couple of weeks I have walked in the house from the fresh (but still cold) spring air and noticed that the house smells a bit stale. My nose has awoken and the pent up winter smells associated with having a house full of furry friends has become particularly salient! Normally, I would open all the windows and freeze Kevin out in order to freshen things up, but with a baby in the house I can't let the internal temperature of the house drop into the 50's!
What else is a pet mom to do? Cover the smells up with lots of highly perfumed candles and hope that your house guests don't notice?
Well, thanks to the a new product in our lives, masking odors is no longer the only option!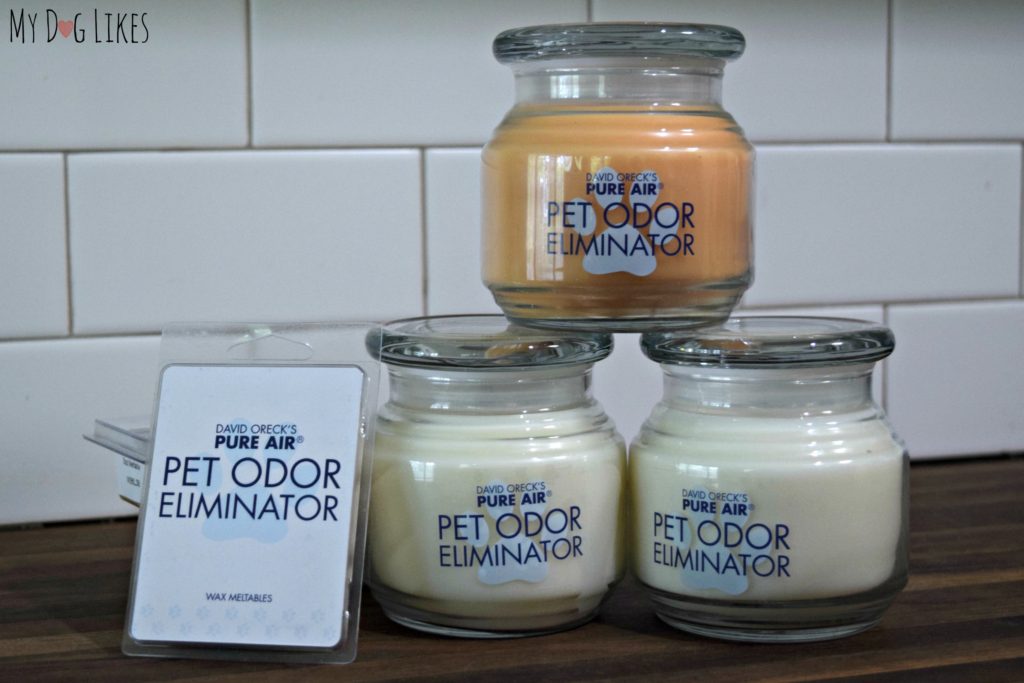 Introducing David Oreck's Pure Air Candles
In 2009, David Oreck, entrepreneur and inventor of the Oreck Vacuum Cleaner, founded David Oreck Candle Company's Pure Air Candles.  A company specializing in hand poured, made in America candles!
What Makes Pure Air Candles Unique?
Natural/Eco Friendly
Whereas most candles are made of paraffin, a petroleum product, Pure Air Candles are made of 100% natural soy and vegetable wax. This natural wax formula is better for the environment and better for the air quality in your home. As an added bonus, it burns 35% longer than standard candles!
If you love jar candles but hate the idea of all having to dispose of the jar afterward (raises hand), rejoice because the natural wax formulas washes out easily with soap and water allowing you to reuse and re-purpose!
Odor Eliminating – Not Masking!
Using their odor eliminating technology, candles are designed to neutralize bad odors not cover them up! Skeptical? All candles come with a "David Oreck Guarantee"-Don't love it? Don't keep it!
Pure Air Wide Wick
The wide wick is made from all natural cotton which allows the candle to burn evenly and cleanly. This means no soot which is great when you have to stick your hand inside the jar to light it and no tunneling which means even burning and less waste!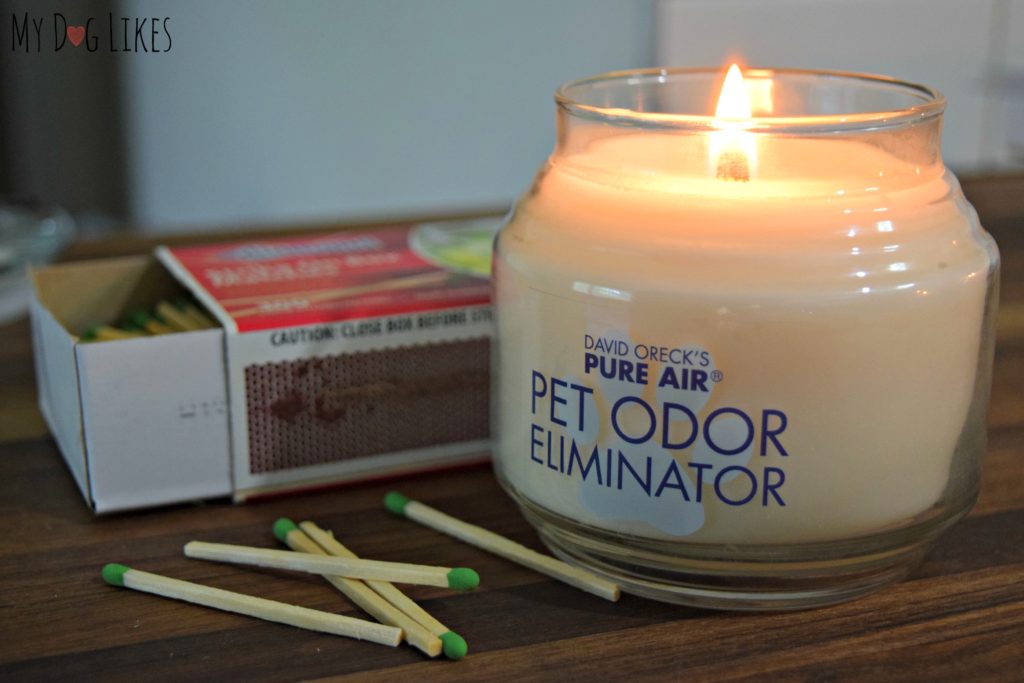 What did we think of David Oreck Pure Air Candles?
I should start by saying I love burning candles in the house. I love the way they warm up the space and to be honest-refresh the house when we have visitors over. My love affair with jar candles is not without complications though.
First – the tunneling. There is nothing more frustrating to me than spending my money on a candle only to have it burn too quickly and create a tunnel effect. The wick is gone and the jar is still full of wax!
Second, I hate the soot! Sticking your hand in a jar candle often leaves your hand black!
Lastly, I know deep down that the candle is just masking the odors in my home with a strong perfume. Likewise, now that we have a baby in the home, I worry much more about the quality of the air in our home and I feel uncomfortable burning a petroleum based, highly perfumed candle!
When the David Oreck Candle Company reached out and asked us to review their candles, let's just say I was ready for a change!
Scents
I loved the options available in the Pet Odor Eliminator Candle. I placed Fresh Linen in the Bathroom, Citrus in the living room that has lots of soft, upholstered surfaces that hold onto pet odors, and the neutral scent in the kitchen because let's be honest – we don't want strong odors interfering with all the yummy ones that come out of the kitchen.
Odor Elimination
I let the candles burn while I left the house (don't worry Kev was still home). When I returned after a few hours of being outside in the fresh spring air, I was pleasantly surprised. Our house smelled neutral but somehow also fresh!
Embarrassingly – I have to also admit that unbeknownst to me – I had left chicken left overs in our pressure cooker which sits on the counter. These candles masked the smell so well that I completely forgot about them. We didn't find it in there until a day later when we went to use it again – so gross!  If that's not odor eliminating, I don't know what is!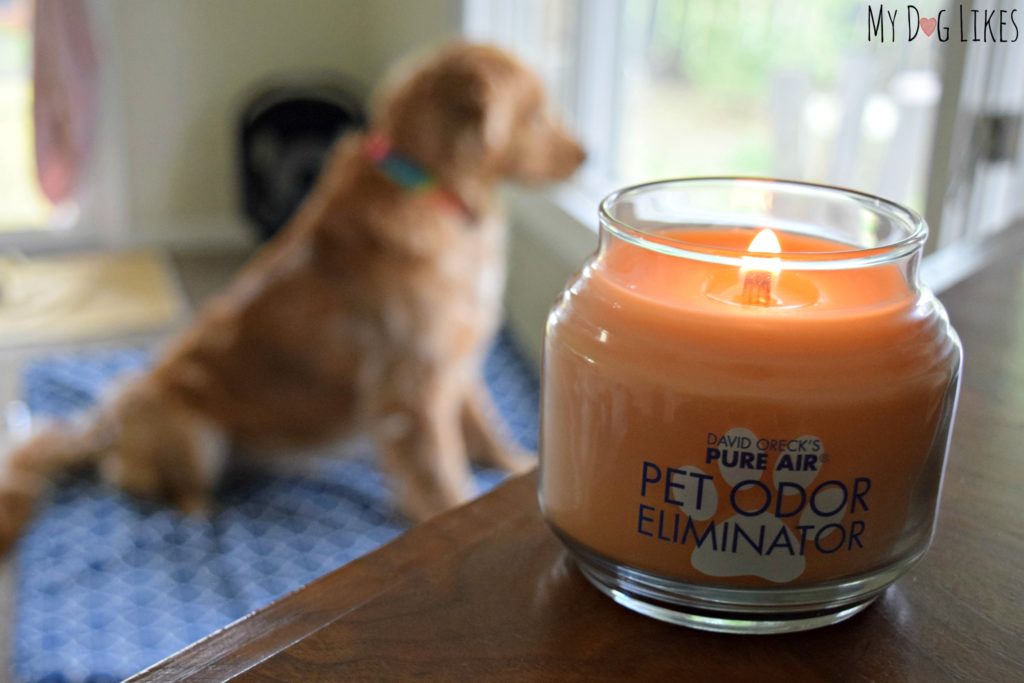 Why MyDogLikes David Oreck Odor Eliminator Candles
In a home full of pets, a long winter with no fresh air can leave the house smelling stale and full of odors. We love our pets but we don't want the first thing people to think of when they walk into our home is that it smells!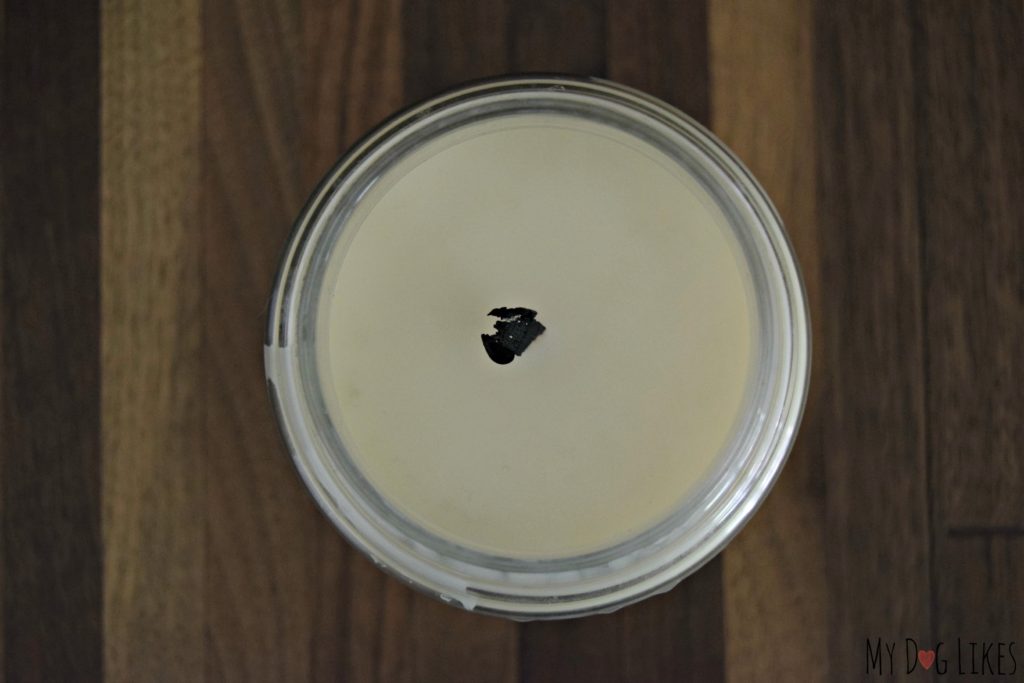 No soot after hours of burning!
Traditional candles mostly mask odors in your home. We really liked that David Oreck Pure Air Pet Odor Candles were mild in their scent but freshened up the house considerably by eliminating odors. The natural soy/vegetable wax burned long and clean – meaning no soot and no tunneling. It was an added comfort knowing that we weren't burning a petroleum product into the air thus reducing air quality in our home.
While the dogs may not care much about the candles the dog mom of the house loves that she gets to see her boys before smelling them!
Want to give Pure Air Candles a Try?