Nobody likes dealing with dog poop, but picking it up is just a part of being a responsible pet parent.
Besides being unsightly, dog waste can actually be an environmental hazard. Left un-scooped, bacteria and parasites from your dogs waste often find their way into nearby groundwater. Unfortunately, knowing that you are doing the right thing by picking up after your pet doesn't make the task any more pleasant!
For us, the biggest annoyance with dog poop is not picking it up, but being stuck carrying it around for the remainder of the walk. Trying to juggle one, or in our case multiple, leashes and a stinky bag of poop is not exactly a pleasant experience. I hate wishing away our time together just so I can get home to a garbage can to toss it out!
Thankfully there are ways to make cleaning up after your pet less disgusting and intrusive, and we are going to be showing you one of those today!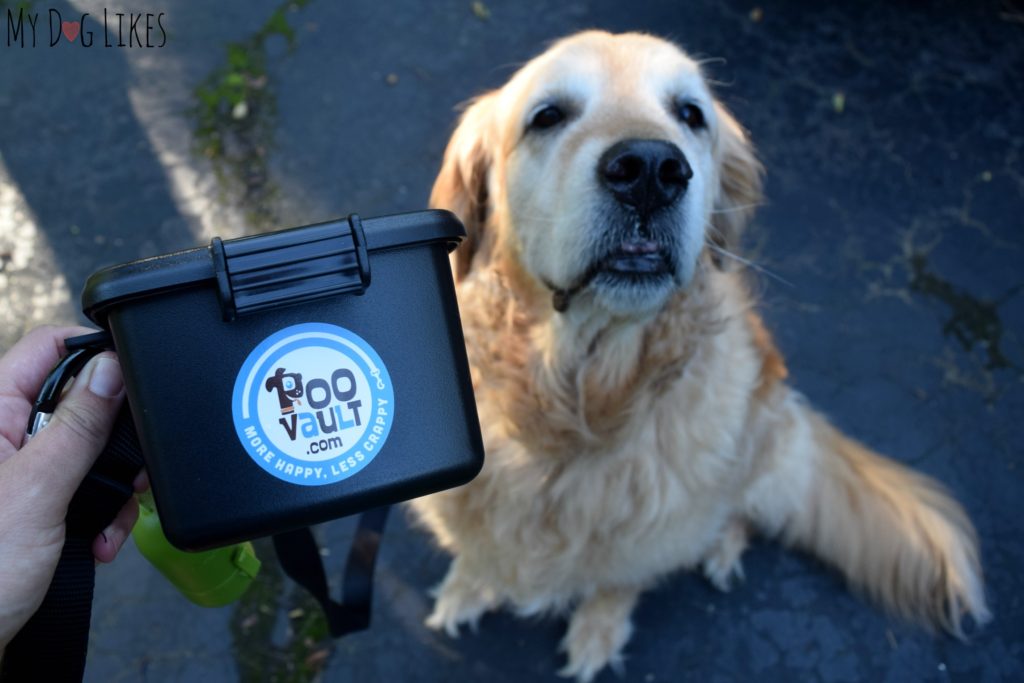 Introducing the PooVault Dog Waste Holder
The PooVault is a leash or belt attachment that is designed to carry your dogs waste after they have done their business. This handy device is made of a durable plastic and snaps closed to keep smells locked inside. The folks over at PooVault were kind enough to send us one to try out, and they are sponsoring this post so that we can help spread the word about their new product!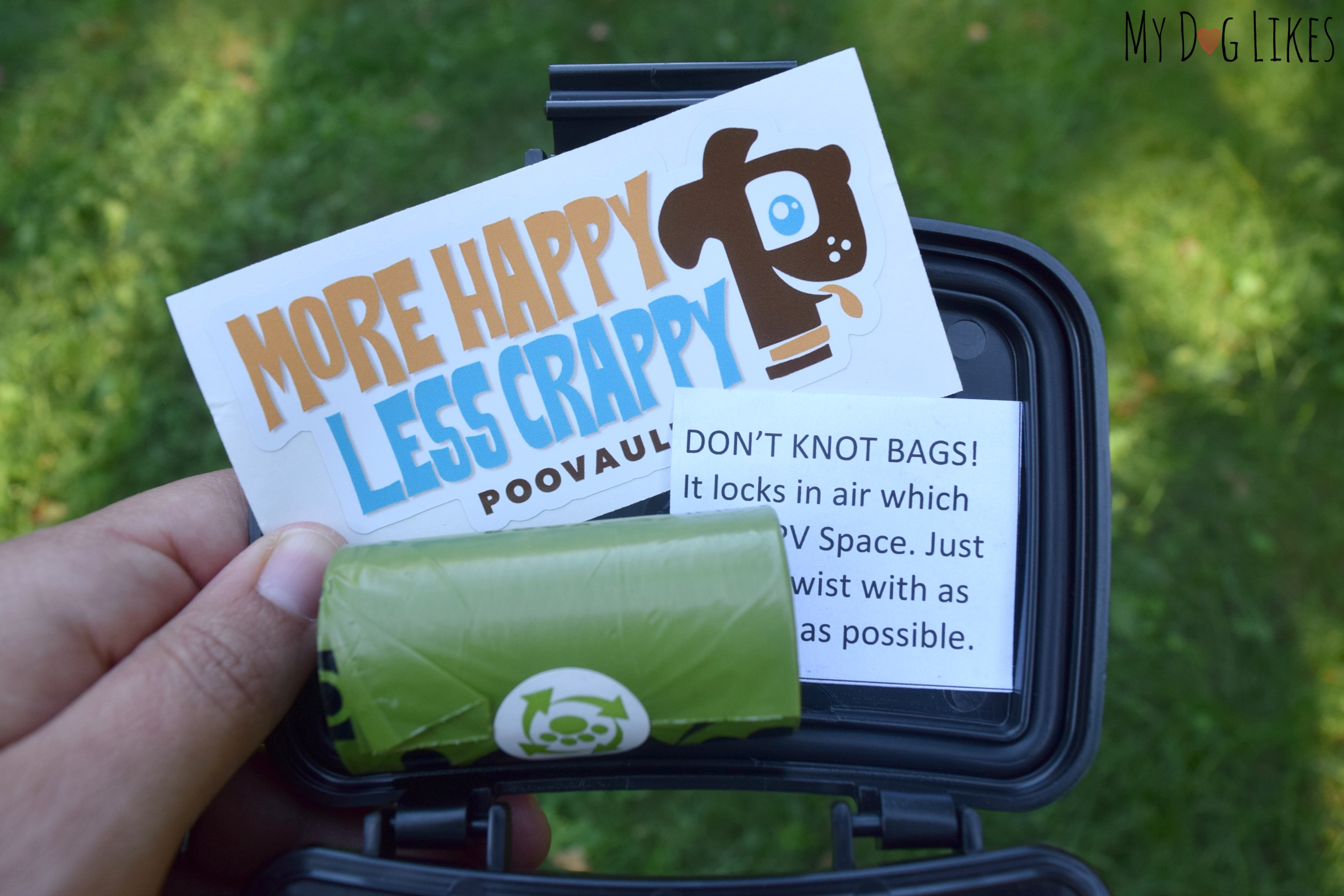 Initial Impressions
The first thing we noticed about the PooVault was how tough it is.
Constructed from High Density Polyethylene (HDPE), this thing is clearly built to last. It is not going to break if (when) you accidentally drop it on the ground and it would also be very easy to clean should the need arise.
When you open your PooVault you will find a roll of poo bags and a hilarious "More Happy, Less Crappy" sticker inside. We thought that including the bags was a really nice touch, and they weren't just any poo bags either – but high quality and eco-friendly ones!
(By the way, if you have ever considered cheaping out on poop bags, don't do it! We recently had a terrible experience with tearing bags that I don't think I need to elaborate any further!)
PooVault Features and Specs
Though on the surface it is a pretty simple device, the PooVault has incorporated several great design features to achieve its goal.
Locking Latch
The latch of the PooVault is very heavy duty, and requires a fair amount of force to open. We felt confident that it wasn't going to accidentally open and that it would work well for years to come.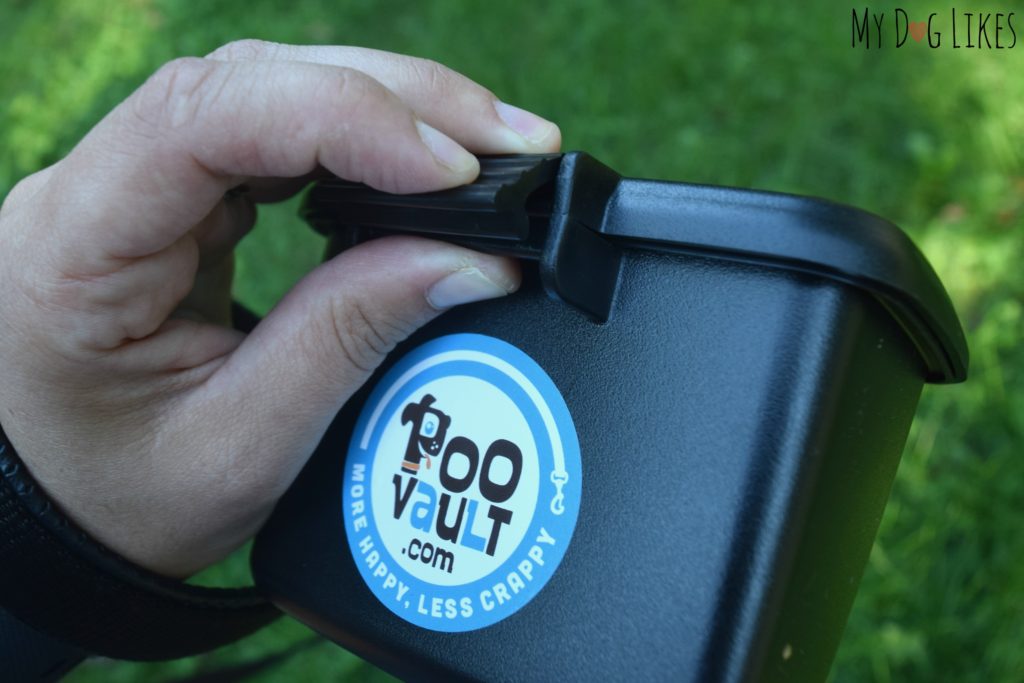 Vault Cavity Specs
The PooVault has an opening of 5" X 2.25" and a depth of 3.5". This gives it an overall volume of 400ml.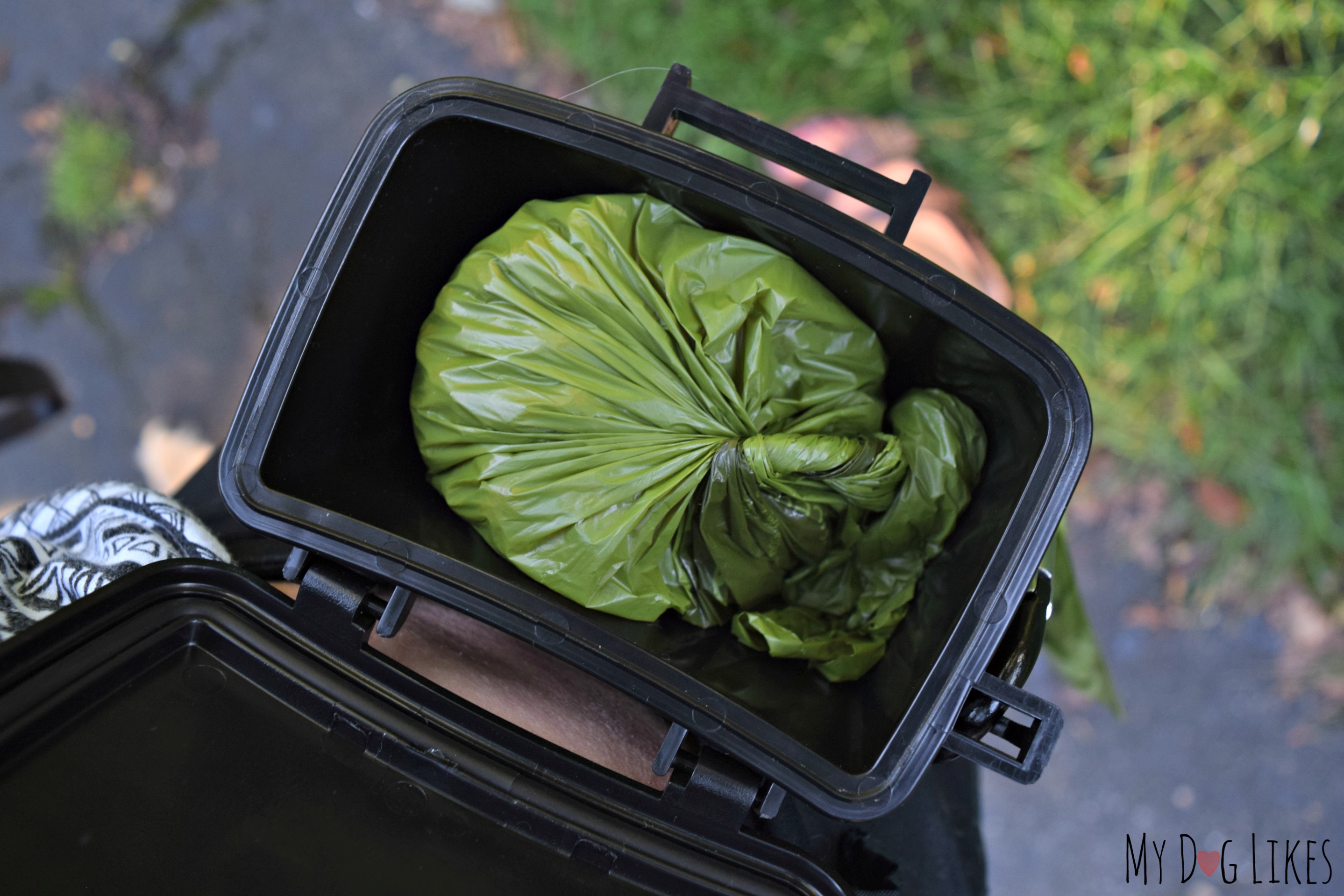 In order to maximize the space inside, the manufacturer recommends spinning your bags instead of knotting them in order to trap less air.
Attachment Options
The PooVault comes with both a caribiner and a belt clip so it can be attached wherever you prefer.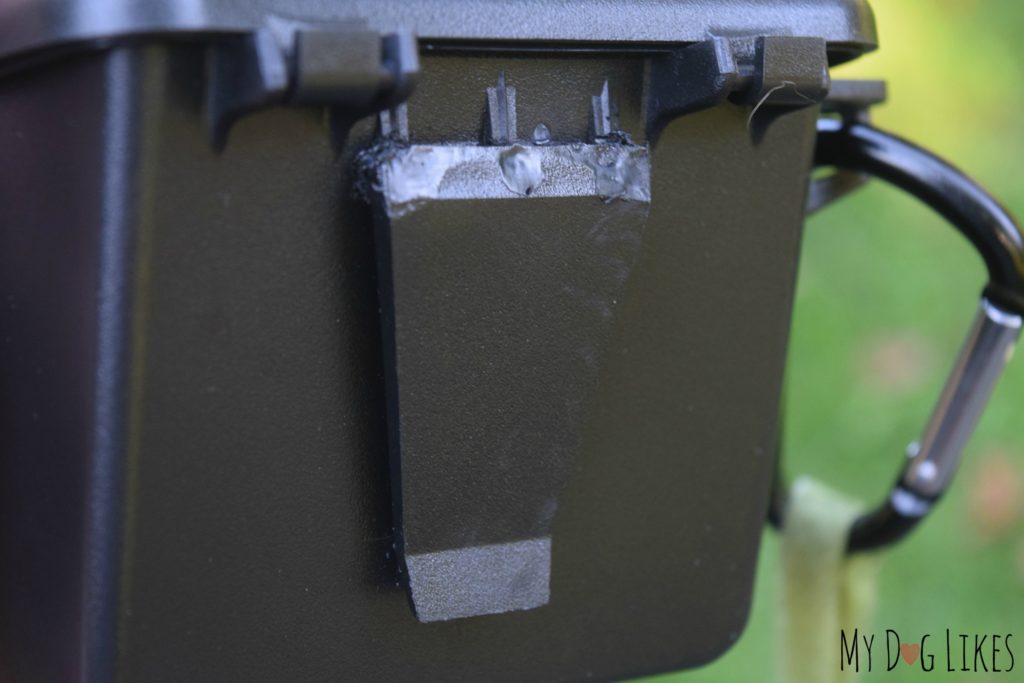 We tried both methods of carrying and have to say that we prefer the belt attachment. The PooVault can be a bit bulky when connected to the leash, especially if you are also carrying a separate poop bag holder.
On the hip it was unobtrusive, out of sight and out of mind.
Smell Proof Seal
One thing that really sets the PooVault apart from similar functioning products on the market is the rubber gasket embedded into the lid.
Thanks to this feature, not only does your PooVault solve the problem of carrying used bags around, but thanks to a 360 seal, it keeps all odors trapped inside!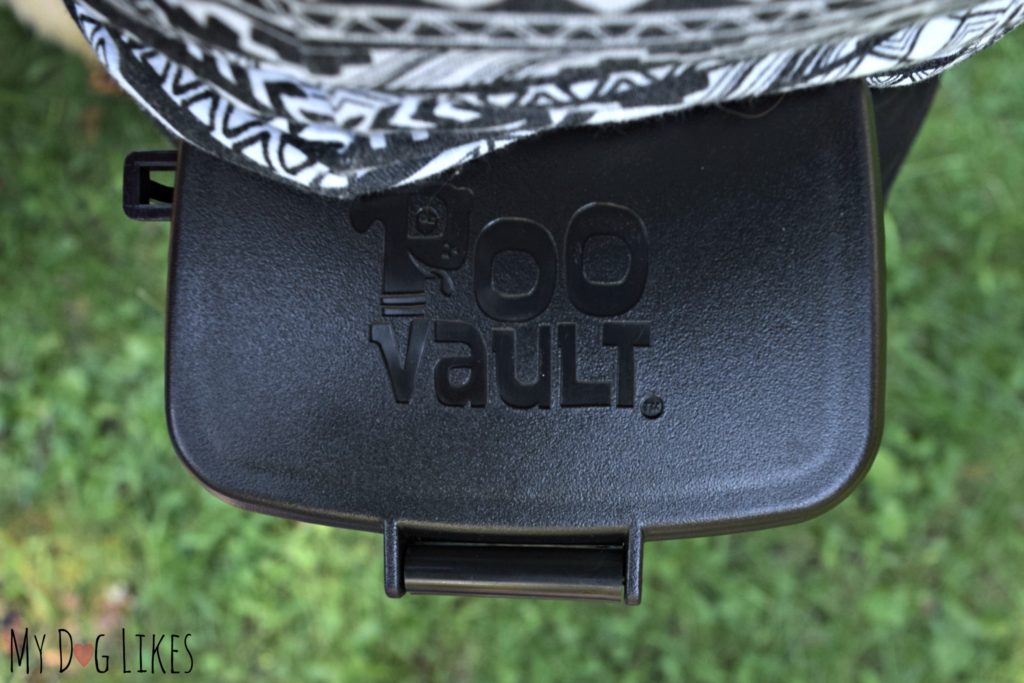 PooVault FAQ's
How much can a PooVault Hold?
While this is somewhat subjective (since all dogs are different) in our case there is plenty of room for the poop of a large golden retriever. Sometime's there is room for both Harley and Charlie's business, but not always! 
Have a bigger dog or pack? Don't worry, a larger version is in the works!
Does PooVault Really Stop the Smell?
Yes.
We were thoroughly impressed with how well the PooVault contained odors and this is thanks to its all around rubber gasket. They didn't skimp on this feature whatsoever as the gasket has the perfect amount of compression – thus making a great seal.
Once you close the snap you can say goodbye to stink for the rest of your walk!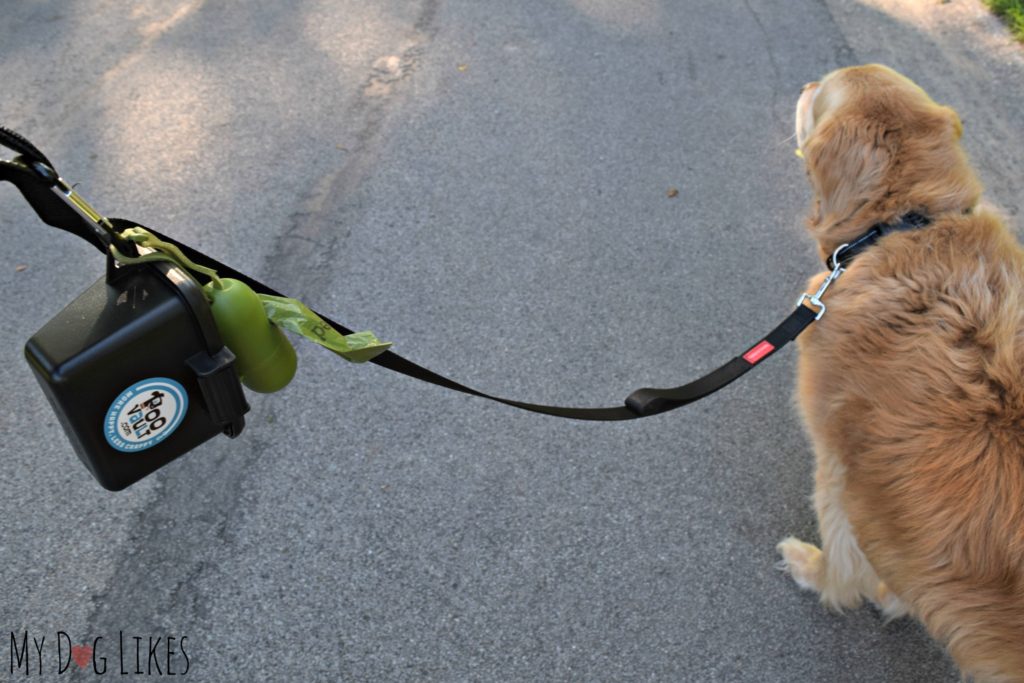 Why MyDogLikes the PooVault
We live in a close knit community and just about every walk includes at least one conversation with neighbors. While everyone loves Harley and Charlie, it is a bit embarrassing to be holding bags of their poop while saying Hello and catching up! The PooVault keeps both the sight and smell of our dogs poop hidden and has made our daily walks more enjoyable.
The PooVault also comes in handy on larger adventures when you're out on a trail and miles from a garbage can when nature calls. In the case of many State and National Parks there may not even be any garbage cans at all! At these carry in, carry out parks, dog poop must leave in the car with you! Eww!! But not a big deal with the PooVault where you won't be stuck smelling it all the way home!
We would highly recommend for any dog owner!
Want to try out the PooVault for yourself?
Click Here to Pick one up on Amazon